Mobile, Alabama, Just Diluted the Black Vote Through Annexation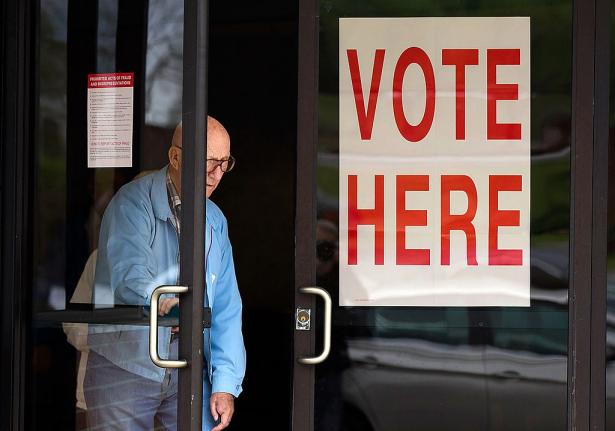 A recent annexation vote in Mobile, Alabama, will shrink the white-black voter gap by thousands.,Win McNamee / Getty Images
Last week's annexation vote in Mobile, Alabama, was pitched as a race to be among the biggest cities in the Southern state. The Gulf Coast city added more than fifteen thousand residents, hoisting Mobile above Montgomery and Birmingham, and just below Huntsville.
"God answers prayers! We're the second-largest city in Alabama!" proclaimed Mobile mayor Sandy Stimpson.
What annexation supporters were more reluctant to talk about was the racial disparity. Only 27 percent of the city's new residents are black, shrinking the white-black voter gap by thousands in a majority-minority city with a history of institutional racism.

The annexation was less God's plan than a years-long effort to "Make Mobile Great Again" by the city's elite Republican power players. The campaigners were led by Stimpson, a wealthy lumber scion who once served as Jeff Sessions's finance chairman.
A History of White Supremacy
Since the era of the civil rights movement, annexing white suburbs has been a tool for Southern and Sunbelt cities seeking to dilute the black vote.
In 1970, Richmond, Virginia, annexed twenty-three square miles and fifty thousand people, primarily white. That instantly changed Virginia's capital from a majority-black to a majority-white city. The Supreme Court later ruled that the annexation had been made for racial reasons and placed an injunction on Richmond's municipal elections for seven years.
The following year, Atlanta mayor Sam Massell tried and failed to do much the same thing in Georgia's capital city. The Justice Department blocked a Houston, Texas, annexation in 1979 that would have added one hundred forty thousand mostly white people to the city's population, diluting the voting power of blacks and Latinos. In North Carolina, Charlotte's boundaries have swollen to the physical size of New York City due to constant annexation over the last several decades.
The July 18 vote was actually plan B for Mobile's annexation plan.
The city council voted 4-3 along racial lines in favor of that first annexation plan. Still, a five-vote supermajority was required as part of the Zoghby Act, reconfiguring Mobile's government in 1985 following a civil lawsuit. The US Department of Justice's Civil Rights Division had previously found that Mobile's city commission form of government was discriminatory, with "smoking gun" evidence in the form of a 1909 letter written by a white state senator, which explicitly said the post-Reconstruction government was set up because "we were trying to exclude not the ignorant vote, but the Negro vote." Little wonder that no black people had been elected in Mobile's city government from Reconstruction until after the Zoghby Act.
After the initial defeat of the 2019 annexation plan, Mobile County sheriff Sam Cochran held a press conference announcing a petition effort to strip the supermajority rule from the city council. The council's three black members condemned the petition as a "full-out assault on our citizens," and it eventually failed.
A Zombie Election
As Stimpson pressed for another annexation vote in 2021, Mobile politics turned darkly surreal.
First, city council president Levon Manzie, who was black, died a few weeks before the municipal election in November 2021. Almost immediately after Manzie's passing, dark money from a conservative PAC chaired by a man with political ties to Tommy Tuberville, Jeff Sessions, and the Alabama Republican Party flowed into the dead councilman's campaign coffers.
Meanwhile, Stimpson appointed Manzie's mother, Jeanette, to serve on the city council for a month in her deceased son's seat. Two black pastors in Mobile said they believed Jeanette was being used as a pawn to vote for annexation before the election. After Jeanette withdrew a day later, a mysterious campaign started to elect the recently deceased Manzie, with mailers claiming that people should vote for him to honor him.
Former Mobile mayor Sam Jones, the city's first black mayor, wasn't convinced. "The attempt was apparently to buy who you wanted into that seat to influence [policy]," Jones said at the time. But the wild scheme to elect a dead man in order to handpick a candidate favorable to annexation failed after William Carroll, another black candidate, won by just four hundred votes.
Carroll's win and the threats of lawsuits put Stimpson's annexation plan on ice. Shortly after the election, the Southern Poverty Law Center sent the City of Mobile a letter warning they'd sue the city if they found evidence of a "racial gerrymandering technique" of "packing" and "cracking" in the city's redistricting plan, or an annexation plan that "would serve to dilute the political power of communities of color."
Mobile's black voters won a victory in August of 2022 when the council voted for a redistricting plan that included majority black council representation for the first time in city history. But thanks to Stimpson, annexation continued to hang over the city like the sword of Damocles.
Stimpson's latest annexation plan was finally successful in last Tuesday's special election, with three of four areas voting to enter the City of Mobile. The new voting age demographics have narrowed from 49.7 percent black and 44.4 percent white to 47.5 percent black and 46.1 percent white.
Shalela Dowdy, a Mobile native, had won a recent victory as a plaintiff in Allen v. Milligan, in which the Supreme Court ruled in June that the state of Alabama had violated the 1965 Voting Rights Act with a racially gerrymandered congressional district map. But Dowdy sees Mobile's annexation as a setback. "Throughout the years, there have been obstacles and voter suppression tactics put in our way to prevent us from voting," she said. "Voter suppression continues, but in disguise through the rose-colored glasses of annexation."
---
Ryan Zickgraf is a journalist based in Atlanta.
Subscribe to Jacobin today, get four beautiful editions a year, and help us build a real, socialist alternative to billionaire media. Donate to Jacobin.