Automakers Hand Billions to Shareholders While Stiffing Workers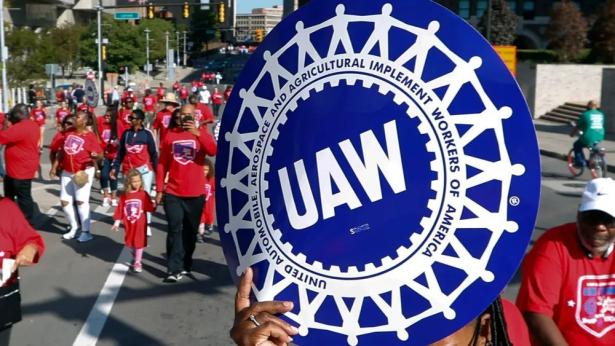 United Auto Workers members walk in the Detroit Labor Day parade.,AP Photo / Paul Sancya
Roughly 150,000 auto workers are preparing to launch what may be the biggest strike in decades this Thursday over their employers' refusal to provide adequate pay and job security. Meanwhile, in the past twelve months, the Big Three automakers — General Motors, Ford, and Stellantis — have authorized $5 billion in stock buybacks, effectively giving billions of dollars to shareholders that could have gone to auto workers.
On top of the stock buybacks, the Big Three have reported $21 billion in profits in just the first six months of 2023. Despite the enormous gains, the companies have cried poverty in response to union demands for wage increases to make up for decades of pay stagnation.
In a statement released last month, General Motors (GM) claimed that the United Auto Workers' (UAW) demands "would threaten our ability to do what's right for the long-term benefit of the team."

As part of its efforts to force the auto companies to spend more on their workers, the UAW has taken aim at the corporations' stock buyback approach, in which companies repurchase their shares to drive up their short-term value. In their negotiations over a new contract, which expires on Thursday, the union proposed automatic payments to workers when the companies authorize buybacks or expand dividends. 
"Our union has also proposed an enhanced profit-sharing formula that would provide workers $2 for every $1 million spent by Ford on stock buybacks, special dividends, and increases to normal dividends," said UAW President Shawn Fain in a Facebook Live event earlier this month. "Ford has responded with a concessionary proposal that would change the profit-sharing formula so that workers would actually earn less."
Costly Buybacks
Last year, S&P 500 companies set records for stock buybacks, spending over $923 billion — far outpacing the $565 billion the top firms spent on dividends, which are profit-sharing payments made to shareholders. The U.S. government banned such stock buybacks as "market manipulation" until 1982, when President Ronald Reagan's administration legalized them as part of his deregulatory "Reagan Revolution." These expenditures, which artificially inflate value for shareholders, come at the cost of long-term investments that ensure a company's ability to exist, including compensation for their workers. 
For the automakers, the latest buybacks reflect an even stronger commitment to speculative payoffs for their shareholders. Ford spent $484 million on buybacks last year, its biggest outlay on the matter since 2014. GM, meanwhile, re-launched its buyback program in September 2022 after a five-year hiatus with a massive $1.5 billion expense, and has issued nearly $3.4 billion in buybacks in the past 12 months. 
Stellantis — formed from the 2021 merger of Chrysler, Fiat, and Peugeot — funneled $1.6 billion in stock buybacks to its shareholders starting in February. The most recent and final tranche of buybacks — totaling $536 million — was announced Tuesday, just days before the impending strike.
The rise in stock buybacks and the decline of organized labor are linked. William Lazonick, a University of Massachusetts economics professor who has studied stock buybacks, traced GM's reliance on this sort of market manipulation to the company's downfall amid the 2008 financial crisis. The company filed for bankruptcy in 2009, in what was then the biggest manufacturing collapse in U.S. history. 
"In the 1980s, when GM was still the biggest car company in the world, it started buying back stock," said Lazonick in an interview with The Lever. "Between 1986 and 2002, it bought back about $20 billion worth of stock."
In a 2015 Harvard Business Review analysis on the matter, Lazonick calculated that if GM had "saved that money and earned a modest 2.5 percent on it, the company would have had $35 billion on hand when the financial crisis and Great Recession hit and probably would not have had to file for bankruptcy protection."
Instead, because the companies were considered "too big to fail," the U.S. spent $11 billion bailing out GM.
At the same time, the UAW agreed to $11 billion in labor cuts, 21,000 layoffs, a wage freeze for workers, a tiered wage system for new workers, a no-strike agreement until 2015, and the transfer of retirees' healthcare and pension benefit costs from GM to the UAW, in order to save GM $3 billion. The union is still fighting to regain the ground they lost from these concessions. 
In 1986, GM employed nearly 900,000 people — today, they have just 167,000 employees.
Effectively, Lazonick told The Lever, GM "distributed the downsides to the labor force and distributed the cash to shareholders." 
In 1982, when stock buybacks were first legalized, the UAW had 1.2 million members. The UAW currently has 380,000 members.
The recent buyback spree comes on top of extraordinary dividend payments made by the Big Three over the past year. 
Ford announced an unprecedented $2.6 billion special dividend in February, on top of its typical quarterly dividend of about $600 million. All told, this year Ford has spent over $4.3 billion on dividends. 
Stellantis has issued about $4.1 billion in dividends this year, while GM is set to distribute half a billion in dividends to its shareholders this year.
On average, the CEOs of the Big Three have received 40 percent bumps in their salaries over the past four years. GM CEO Mary Barra made nearly $29 million in 2022, Stellantis CEO Carlos Tavares made $25 million, and Ford CEO Jim Farley made $21 million. 
Lazonick argues that share repurchases, along with corporate governance, should be a focus for labor unions moving forward. 
"They should be after more influence on how companies are allocating resources, they should be going after board seats," he said. "They should be saying 'no more' to shareholder value."
Fain's recent statements line up with Lazonick's recommendations. 
"While the Big Three executives and shareholders got rich, UAW members got left behind,"  Fain said in a video update to members last week. "A newly hired autoworker at the Big Three today makes less than what they made in 2007. Meanwhile, car sales are down while big profits are way up."
---
Matthew Cunningham-Cook covers labor, private equity, health care and the retirement crisis. He previously worked at the International Business Times and contributed to The Intercept.
Lucy Dean Stockton is a New York-based editor and reporter focused on climate and privatization. She previously worked at The Nation, More Perfect Union, and Insider.
The Lever is a nonpartisan, reader-supported investigative news outlet that holds accountable the people and corporations manipulating the levers of power. The organization was founded in 2020 by David Sirota, an award-winning journalist and Oscar-nominated writer who served as the presidential campaign speechwriter for Bernie Sanders.