Socialists in Office Condemn New York's Failure To Support Immigrants and Asylum Seekers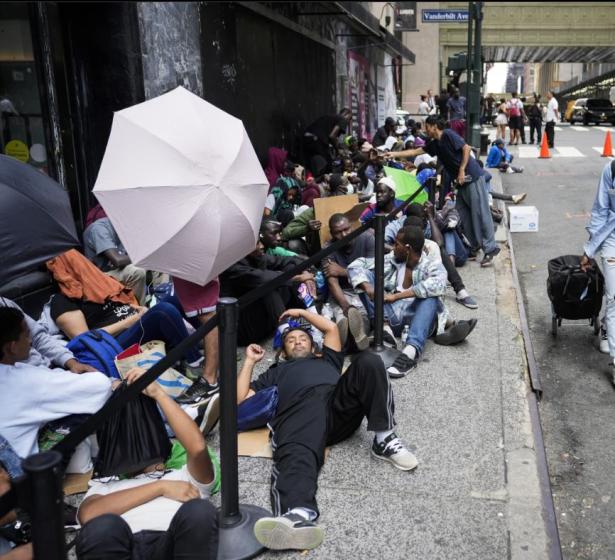 Migrants sit in a queue outside of The Roosevelt Hotel that is being used by the city as temporary house, July 31, in NEw York, Mayor Adams has further tightened shelter rules by limiting adult migrants to just 30 dys to help ease pressures on the , city's struggling shelter system. (AP Photo/John Minchillo // AP News)
In response to Governor Hochul & Mayor Adams' policy proposals and rhetoric towards asylum seekers, twenty legislators in NYS including Congresswoman Alexandria Ocasio-Cortez, Senator Julia Salazar, and Councilmember Tiffany Cabán released the following statement: 
We do not accept New York City and State officials' cruel response to asylum seekers, and the scapegoating of those new arrivals to defund public goods for everyone. Most recently, Mayor Eric Adams has announced a city hiring freeze and cuts of up to 15% for all of New York City's public agencies. This is only the latest in a series of actions that Mayor Adams and Governor Hochul have taken to cut social services and maintain the profits of their wealthy donors. In a city with more billionaires than anywhere else in the world, these cuts are manufactured scarcity, plain and simple. On top of his dangerous policy agenda, Mayor Adams has been echoing the xenophobia of Donald Trump and Curtis Sliwa, pitting working-class New Yorkers against new arrivals. He is trying to distract us from the government's failure to make New York a livable place for everyone. The Mayor wants working people to feel small and afraid, but we know better. Nothing will ever "destroy" New York.
Many of the new arrivals have been displaced as a result of destabilizing economic policies by the United States' ruling class: from the climate crisis caused by multinational corporations to direct foreign interventions against nations like Venezuela, Cuba, and Guatemala. They have been bussed from states like Florida and Texas as a cruel political game only to be met with more of the same exclusionary actions and hateful language; more than thirty counties around New York State have taken steps to block new residents from arriving, in direct contradiction to our constitution's statewide Right to Shelter. But this crisis is not going away; hundreds of millions of people are expected to be displaced globally due to the climate crisis in the next few years, and many more are being displaced by the actions of Wall Street and our federal government. We have to get serious about building public infrastructure with an understanding that there is enough for all of us. 

There is no easy solution to a crisis that has been created by decades of prioritizing private interests over investing in public infrastructure. But as socialists in office, we are part of a movement of working-class people that has been fighting for full investment in schools, housing, transportation, and healthcare we can all benefit from. While our state's executives point fingers and evade responsibility, we as elected representatives on the Federal, State, and Local levels demand these intermediate steps to meet our current moment with courage and humanity.
New York City

Stop violent budget cuts: When it comes to priorities, New York City has an overinflated police and corrections budget. The Vera Institute has identified almost $1 billion in "duplicative and unnecessary enforcement." That, and much more, can be redirected towards more useful ends. All across New York State, we must prioritize the lives of the people living here, rather than engage in austerity politics.
Expand rental assistance voucher programs: New York City must move quickly to implement the expansion of the CityFHEPS program that the city council passed earlier this year, over the attempted veto of Mayor Adams. By getting people out of shelters and into permanent housing, we can ease the strain on our shelter system and create more room for incoming asylum seekers. Shelters were never meant to be a permanent solution, and localities across the state must act with urgency to fund pathways to affordable housing.
Greater transparency around respite centers: The unnecessary secrecy around the opening and closing of respite centers has created uncertainty for those being housed and fostered reactionary fear in nearby communities. More clear communication around these respite centers will normalize the process as well as enable mutual aid groups to more easily support new residents where local government has failed. Additionally, many of the corporate providers the city has chosen to contract with have a track record of abuse and mismanagement. We need to include and prioritize local organizations who know our city and provide them with the resources they need to be successful.

Local Jurisdictions Outside NYC

Welcome new arrivals outside of New York City: As migration fueled by a displacement and climate crisis becomes the new norm, areas outside of New York City must be part of the solution. Underfunded infrastructure and housing insecurity have impacted the entirety of New York, not just New York City, and our focus must be on building a strong foundation for all of us, old and new, instead of playing into the divisions the rich have created.

New York State

Utilize the $13 billion "economic uncertainties" fund: Although the state budget cycle is months away, the Governor has amassed more than $13 billion in an "economic uncertainties" fund that allows us to have budget flexibility to meet moments like these. While the Governor claims that "New York City and New York State are deploying all available resources," there is funding from previous budget cycles that is already available in the short-term, but is apparently not being utilized. 
Enforce statewide Right to Shelter as written in New York's constitution: Although New York City is the only locality with a consent decree enforcing right to shelter, that right exists across our entire state. It's time for Governor Hochul to enforce this outside of New York City, rather than seeking to dismantle it entirely. 
Pass real housing solutions in next year's legislative session: We have failed to meet the housing crisis despite near-constant protest from tenants across the state. We must finally meet the affordability crisis by passing Good Cause Eviction, fully funding existing public housing, building new public and social housing, and investing in statewide rental assistance. 
Fund resources for all New Yorkers: The vast majority of us have felt the strain of rising prices from the grocery aisle to the housing market. Meanwhile, the richest New Yorkers have grown their wealth since the pandemic, and it's past time they pay their fair share. Along with real housing solutions, socialists in office have been fighting for full funding of schools, higher-education, and healthcare. We can pay for these public services by raising taxes on the top 5% of New Yorkers.

Federal Government

End the Rubio-Trump 2017 sanctions on Venezuela: The root causes of the economic precarity and destabilization that has forced thousands to leave their homes and seek shelter in the United States can be attributed to US foreign policy: sanctions, exploitative trade agreements, and political coups. By ending sanctions on Venezuela, we can begin to improve the economic conditions contributing to destabilization and displacement. 
Work Authorizations: According to the Biden administration, only 16% of recent arrivals who are eligible to work have applied for work authorization. The Administration should improve outreach to eligible asylum seekers, provide language accessible ways for them to apply for their Employment Authorization Documents and reduce bureaucratic and financial barriers to obtaining work authorization. Moreover, re-designating Venezuela for TPS and expanding parole for Venezuelans is the fastest way to get people work authorization. 
Release federal funds to New York State to improve public services in this time of need: The amount of federal aid to municipalities and organizations serving new arrivals should be proportionate to the population. With 110,000 migrants arriving in New York City since April 2022, and with over 60,000 currently in its care, federal agencies including HUD, FEMA, USCIS and EOIR should coordinate an interagency response that 1) frees up housing vouchers 2) provides funds to the city and service organizations 3) streamlines the asylum seeker process and 4) clears up the application backlog. The federal government that has been driving displacement abroad bears a financial responsibility here.
Comprehensive immigration reform: We must stop toggling between xenophobic immigration policy and rapid response that stresses our existing infrastructure. The U.S. must address the legal status of 11 million undocumented immigrants in this country and reform our outdated immigration legal system, including digitizing applications. Not only do we need to meet the needs of recent arriving immigrants, we must lay out a pathway for citizenship for longtime residents who have placed roots in this country, and proactively plan for 21st century labor needs.
Electeds Signed On: 
Alexandria Ocasio-Cortez, Member of Congress, NY District 14
Julia Salazar, New York State Senator, District 18
Jabari Brisport, New York State Senator, District 25
Kristen Gonzalez, New York State Senator, District 59
Emily Gallagher, New York State Assemblymember, District 50
Marcela Mitaynes, New York State Assemblymember, District 51
Sarahana Shrestha, New York State Assemblymember, District 103
Zohran Mamdani, New York State Assemblymember, District 36
Phara Souffrant Forrest, New York State Assemblymember, District 57
Tiffany Cabán, New York City Councilmember, District 22
Alexa Avilés, New York City Councilmember, District 38
Phil Erner, Ulster County Legislator, District 6
Megan Deichler, City of Poughkeepsie Councilmember, Ward 8
Giselle Martinez, City of Newburgh Councilmember, Ward 1
Jorge DeFendini, Ithaca City Councilmember, Ward 4
Carolyn Delvecchio Hoffman, Monroe County Legislator, District 25
Mary Lupien, City of Rochester Council Vice President, East District
Kim Smith, City of Rochester Councilmember, At-Large
Stanley Martin, City of Rochester Councilmember, At-Large
Colin Palmer, Town of Riverhead President of the Board of Education
Veronica Pillar, Tompkins County Legislature, District 2
Gabriella A. Romero, Albany Common Councilmember, Ward 6
###
ABOUT NYC-DSA: New York City Democratic Socialists is the local chapter of Democratic Socialists of America—the largest socialist organization in the United States with over 85,000 members. NYC-DSA is run by its 6,000+ members and activists who are working together to build a democratic socialist organization in the five boroughs.