Tidbits - April 4, 2013 - 45 Years Ago Today Martin Luther King Murdered in Memphis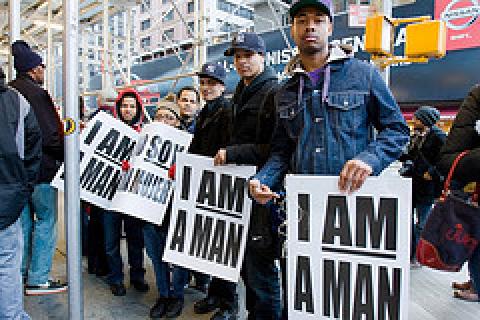 April 4th Strike to Move Fast Food Forward - New York, Soohang Lee / Fast Food Forward
In Memoriam:
Today, fast food workers Fast Food Forward across New York City are marking the 45th anniversary of the assassination of Rev. Dr. Martin Luther King, Jr. by standing up for what's right and going on strike to demand better wages and the right to form a union without intimidation.
To: The CEOs of Wendy's, McDonald's, Pizza Hut, Domino's, KFC, Taco Bell, and Burger King
I stand with the fast food workers of New York City who are fighting for $15 and the right to form a union without interference.
I believe that, here in America, everyone who works hard should be able to afford basic necessities like groceries, rent, and transportation for themselves and their families. Supporting your employees and their families with living wages is a critical contribution to achieving this vision.
Bill Fletcher, Jr. is, painfully, correct. I, too, was there fifty years ago. It was very much a JOBS event, which is why I was present as an officer of ILGWU.
This anniversary might be an opportune moment to suggest to Rich Trumka, who is speaking about the need for new strategies by organized labor, that he repair the damage done by his predecessor, George Meany, who dissed the March. 
MLKing's role can be remembered best by recalling where he was and why he was there when assassinated.
Some of us have been concerned that the energy (and enlightenment) brought about by the Occupy movement has lacked a forward looking purpose that can retain the breadth of the anti-establishment sentiment of OWS with a goal that is both specific and all-embracing. This may be it.
Maybe May Day can be an opportunity for a bunch of dress rehearsals across the land in preparation for the MARCH on OUR nation's capitol --  and against ravenous capitalism.
Martin Morand
The apparent success in further consolidating BRICS sparks divergent impulses: A surge of hope that the near-hegemony of Western capitalism may be challenged, meaningfully, and the dark memory of George Orwell's vision of a few authoritarian mega-states in competition for such hegemony.  Stay tuned for further developments. 
James Young
By a strange stroke of fate, the article, "The NCAA -- Poster Boy for Corruption and Exploitation", appears in Dave Zinn's column just in the midst of the controversy going on in New York City about the issue of sick pay for working men and women.  Could it be any more appropriate that the parallelism between college athletes and working people should arrive on the front pages of our newspapers within hours if each other?  If working men and women are deserving of sick pay, what shall we say about athletes who are daily besieged and battered, but who bear the mythical title of "amateurs?"
One thing we can say for sure is that the fate of college athletes, like that of our working men and women, deserves the most serious consideration -- much more serious than that allotted to lathe NCAA, whose initials might very well be transposed to stand for  [the "National Collectors of Available [Cash] Artifacts,"
Henry Foner
If the courts and employers want to make it impossible for a union to exist, if due process goes out the window, what companies and the law are encouraging is repression firstly, and then rebellion.
Laurel MacDowell
Toronto, Canada
MSNBC has dearth of Latino commentators but more than a token of African-American news commentators
Brad Smith
Thank you for what you do. Thank you for providing the valuable information you make available. However, you are complicating my life. I spend waaay too much time reading these valuable articles.
Luis R Torres
THE TIME IS NOW
Rally for Immigration Reform
We are coming together by the thousands at Liberty State Park in Jersey City to make our voices heard. We will demand that the President and Congress pass humane and just immigration policy that values family unity, human rights and dignity.
For more information or to reserve a seat on the bus leaving from the AFSC Newark office (at 11am), call 973-643-1924
Immigrant Rights Program
American Friends Service Committee (AFSC)
Where we are headed.  What we can do.
In addition, LABOR ARTS has organized a special visual presentation about the history of the safety net. Joining us, as co-sponsors, are the No Bad Grand Bargain Coalition, Caring Across Generations, the New York City Alliance for Retired Americans, the New York City Managerial Employees Association and the Council of Municipal Retiree Organizations (list in formation). We begin at 5:30 with light refreshments; the program starts immediately at 6:00 with a wrap up by 9:00. 
Washington politicos can only deny us what we have a right to, if we let them. 
Borough of Manhattan Community College
Richard Harris Terrace
199 Chambers Street, Manhattan 
Subway directions: 1,2,3, A & C to Chambers St.; E to WTC; R to City Hall; 6 to Brooklyn Bridge.
I am pleased to invite you to a labor breakfast forum entitled "The U.S. Prison Industrial Complex: Is It a Labor Issue?" to be held at the Institute on
After decades of get-tough-on-crime policies, the nation's prisons now house more than 7.1 million Americans, destroying lives and communities, depressing wages, and increasing poverty, especially in already poor and under-serve neighborhoods. At the same time, the expansion of for-profit prisons, and the increasing use of prison labor is weakening the labor movement's ability to address these problems. What strategies are being developed to stop the corporations and politicians who overwhelmingly reap its benefits? Is organized labor doing enough?
Our speakers will take up this question, sharing their experience and insights as organizers, researchers and policy advocates.
Heather Ann Thompson, Professor of History at Temple University and author, most recently of "The Prison Industrial Complex: A Growth Industry in a Shrinking Economy," which appeared in the fall 2012 issue of New Labor Forum;
Nicole Porter, Advocacy Director of the Sentencing Project: and
Eric Lotke, Senior Research Analyst at the Service Employees International Union, which represents a range of prison workers, including mental health providers.
Ed Ott, Distinguished Lecturer at the Murphy Institute, will moderate the discussion, including a Q&A with the audience.
We hope you will join us on April 18th to begin to open up a discussion on this important issue.
Sincerely,
Greg Mantsios,
Director
(thanks to Laura X for sending this to Portside)
On March 23, the South African Ambassador to the United States, Ebrahim Rassol, spoke at a ILWU Local 10 meeting in San Francisco honoring the life of activist member Leo Robinson, who died January 14, and his local for their militant labor actions in opposition to apartheid. Introduced by Local 10 leader Clarence Thomas, Ambassador Rassol presented the Nelson Mandela Humanitarian Award to the wife of Leo Robinson and Local 10.
FOOTNOTE
At the 1994 Longshore Caucus, Brother Leo Robinson, retired Local 10 member and a founder of the African American Longshore Coalition, spoke about the pervasive discrimination in the Pacific Northwest. Evidently referring to Local 8's fight with 23 black longshoremen before the Federal District Court in 1968, the legal costs of which Portland Local 8 asked the International to pay, Robinson said
"I wrote a very simple resolution that has its genesis some years back when Local 10 refused to pay part of the lawsuit that Local 8 had lost which was a discrimination case. It is the position that I take now, that as a person of color, that [the ILWU] founded on the principles of democracy and fairness for all should not have to bear the burden of those who choose to step outside of that framework for asserting some illusionary superiority over their fellow workers, and then when they're taken to task for that, they turn around and say to me, `I want you to pay for my privilege'. The brothers and sisters of this union, whether they be of color or of the majority population of this society, have one thing in common, a threat to one from our enemy which is a class enemy, is a threat to us all and we will respond accordingly."
(thanks to Michael Munk for sending this to Portside)
By Cathy Feingold
April 3, 2013
Stephen Coats, executive director of the U.S. Labor Education in the Americas Project (USLEAP) and a longtime global worker rights activist, died yesterday morning in his sleep. In 1987, Coats founded the U.S./Guatemala Labor Education Project, which later became USLEAP.
For more than 20 years Coats was a leading advocate for workers and a great partner and ally for unions and working families. He pioneered some of the earliest campaign strategies to improve workers' rights in the apparel, cut flowers and banana industries in Central America, Ecuador and Colombia. He challenged the idea that trade could be fair if it did not include enforceable rights for all workers throughout the supply chain. His advocacy led to concrete improvements in the lives of thousands of workers, including many who worked under terrible sweatshop conditions.
Coats played a key role in convening a wide array of stakeholders to strengthen worker's rights. He helped to build effective relationships between Latin American unions, U.S. unions, global union federations, NGOs, companies and shareholder and consumer advocates, resulting in groundbreaking agreements to protect workers' rights throughout the region.
Coats advocated for including enforceable labor rights in trade agreements, which led to real gains for workers throughout the Americas. From 2006 to 2007 he wrote a report on workers' rights in Colombia that was released by the AFL-CIO. His work documented the ongoing violence in the country and provided the basis for a strong critique of the proposed Colombia trade agreement.
Coats' commitment to workers' rights resulted in the improvement in the lives of many workers. The AFL-CIO honors the many lasting contributions Coats made to our movement. He will truly be missed.
by Jane Slaughter
April 3, 2013
Labor Notes
Harry Kelber (1914-2013) spent 80 years as a labor activist. Through it all he championed worker ownership of their unions. When Labor Notes commissioned a roundtable on "organizing the unorganized" in 2007, Harry's contribution argued that rank-and-file workers should be part of organizing drives.
In 1933 a teenaged Harry led a four-month strike that ended in victory. By age 25 he was editor of two weekly labor papers. In the 1962-63 printers strike that shut down New York's daily newspapers for 114 days, Harry was editor of the union's daily strike bulletin.
Harry was a union organizer and labor educator, but in recent years was best known for his pamphleteering and blog writing. He wrote two weekly web columns, "LaborTalk" and "World of Labor," the latter devoted to international issues. We received emails from him as recently as February 25, with a list of questions AFL-CIO leaders should have to answer to be qualified to run for office, and March 27, giving reasons why unions should oppose the Keystone XL pipeline. His 2006 autobiography was My 70 Years in the Labor Movement.
Harry was a professor at the Labor College of Empire State College until his "retirement" in 1984-at which point he became education director of a big Electrical Workers (IBEW) local in New York.
In 1995, he forced the AFL-CIO to hold the first contested election for its executive council in 30 years. In 2009, he tried again, telling followers exactly "what makes Harry run." And last year, he announced he would run against Rich Trumka at this fall's AFL-CIO convention.
In 2006 Harry addressed the Labor Notes Conference when he and two others of his generation received our Troublemaker Award (and Herman Benson and Erwin Baur are still with us). He recited from memory his poem "Wall Street Daydream" which began:
I wish I had a monopoly
Of the air that people breathe for free.
I'd have the world within my grasp
And I could squeeze and watch it gasp.
Every house would have a meter
And I'd charge so much a liter.
If anyone complained it wasn't fair,
I'd simply disconnect his air..
Many articles about Harry dwell on his age, but we prefer to remember him for his lifetime of troublemaking.