Media Bits & Bytes - Three Card Monte Edition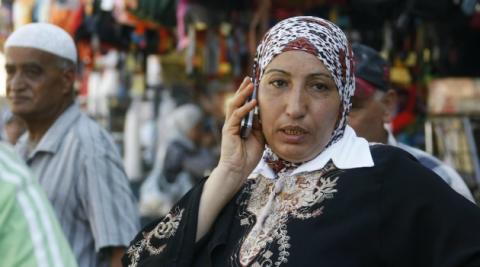 Cell phones are ubiquitous in the West Bank. But Israeli rules prevent providers from offering even 3G service, angering tech-savvy Palestinians., Forward / Getty Images
Palestinians Suffer in Cell phone Dark Ages- and Point Finger of Blame at Israel
By Ben Lyfield
July 27, 2013
For the past seven years, Israel has refused to grant the Palestinian Authority electromagnetic spectrum for 3G service that it exclusively controls despite provisions in the 1993 Oslo Accords that appear to obligate Israel to provide this.  The restriction has relegated the Palestinians to 2G, even as Israel prepares to launch 4G for its own citizens. The Israeli veto on Palestinian firms seeking to offer 3G leaves the Palestinian companies far behind even the standards of the region: Algeria and Iraq are the only other two countries in the Middle East to lack 3G. Palestinians see Israel's policies on the frequencies as reflecting a larger Israeli approach that stunts their economic development.
NSA Says It Can't Search Its Own Emails
By Justin Elliott
July 23, 2013
The NSA is a "supercomputing powerhouse" with machines so powerful their speed is measured in thousands of trillions of operations per second. The agency turns its giant machine brains to the task of sifting through  unimaginably large troves of data its surveillance programs capture. But ask the NSA, as part of a freedom of information request, to do a seemingly simple search of its own employees' email? The agency says it doesn't have the technology.
"There's no central method to search an email at this time with the way our records are set up, unfortunately," NSA Freedom of Information Act officer Cindy Blacker told me last week.  The system is "a little antiquated and archaic," she added.
"It's just baffling," says Mark Caramanica of the Reporters Committee for Freedom of the Press. "This is an agency that's charged with monitoring millions of communications globally and they can't even track their own internal communications in response to a FOIA request."
Who Owns Your Data When You're Dead?
By G.F.  - The Economist explains
July 18, 2013
After we die, our bodies are reduced to dust or ash, through burial or cremation. The fate of the digital corpuses we leave behind is rather more complicated. Before the advent of internet-hosted storage and services, your digital remains would have been accessible only to those with physical access to your computers, and only then if you had not applied encryption or password protection. But these days many people leave traces of their lives spread across the internet. Facebook knows who we love and hate, Google knows what we are interested in, Amazon knows what we buy, and so on. Specialist services may even store information about your genetic makeup (23andme) or archives of your files (Dropbox, CrashPlan, and many others). Who owns your data when you're dead?
Digital assets that are stored on shared servers in the cloud are so new that legal systems have not yet caught up. To complicate matters further, internet firms may be based in different countries from their users and may store data in servers in many countries, making it unclear whose laws would apply. A paper by Maria Perrone http://commlaw.cua.edu/res/docs/21-1/Perrone.pdf in the journal CommLaw Conspectus explains how internet firms and digital service-providers sit in final judgment when it comes to deciding the fate of data belonging to the dead.
Why the Google-NASA Partnership Signals a Completely New Computing Paradigm
By Greg Satell
May 29, 2013
Genuine paradigm shifts come in strange guises, with little tangible effect on immediate life and often take decades to make an impact.  Nevertheless, we should take notice at the recent news of the Google-NASA quantum computing partnership which marks the beginning of a new digital paradigm.  Although we must account for that which is beyond our present understanding, even the projects currently underway promise a future that seems more science fiction than science fact.
In many ways, the Google-NASA partnership represents a new Manhattan Project, but instead of the aim being a nuclear explosion, the goal is to simulate the human brain, a feat that Google's Director of Engineering Ray Kurzweil believes will be completed before the end of the next decade.  Following Kurzweil's line of reasoning, the vast increase of computing power enabled by quantum computers will result in a technological singularity   by the mid 2030's, where machines will self-replicate, power similar trends of accelerating returns in fields such as nanotechnology, genomics and energy and, eventually, merge with humans.
GED Test Going Digital at Nearly Double the Cost
By Michael Auslen
July 24, 2013
Come Jan. 1, an overhaul of the nation's leading high school equivalency program will make the test more difficult and will nearly double the cost to test takers in most states. The changes to the exam are part of an attempt by the GED Testing Service to standardize its program throughout the United States and bring its high school equivalency requirements up to the level achieved by traditional high school graduates.  In doing so, the non-profit testing service has eliminated the paper-and-pencil version of the test and partnered with education giant Pearson VUE to create a computer-based exam. Meanwhile, competitors are starting to move in. Some states are moving away from the GED program entirely in favor of new options that better fit their needs.  A group of states recently approached Educational Testing Service to build an alternative, and the result was HiSET, which will be available as both a paper-and-pencil and computer-based test. It's cheaper than the GED and has already attracted four states - Montana, New Hampshire, Missouri and Tennessee.  Some states, like New Jersey and Wyoming, intend to offer multiple paths to high school equivalency, including the GED, HiSET and other tests.