labor
Labor union 'raids' on rise as rivals seek to boost membership, Clout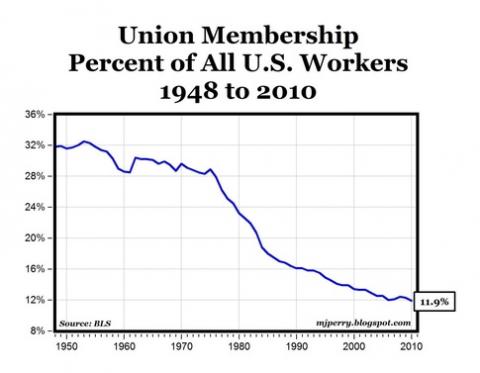 ,
Mechanics for American Airlines may soon check their mail and find a strange package: airplane vomit bags.
They're part of a campaign by the Transport Workers Union to fend off a challenge from a rival union: the Teamsters, which wants the mechanics to defect to its ranks. The bag is part of a Transport Workers' defense campaign, which includes ads on billboards and in magazines with the slogan: "Teamster Air: More job departures to China than any other union."
Members are valuable to labor unions for the millions they pay in dues, as well as the clout that comes along with the potential votes members cast in U.S. elections. And right now, they may be especially vulnerable to promises from another union trying to win their allegiance.
Union members are going to be angry at their leadership "in an environment in which there are givebacks, cutbacks, concessions in bargaining and the union movement is in retreat," said Nelson Lichtenstein, director of the Center for the Study of Work, Labor and Democracy at UC Santa Barbara. "And when that discontent happens, they may look around for another or a better union."
In the face of a steadily declining labor movement, unions are increasingly battling one another, devoting resources to gaining members from rivals rather than focusing on the 88.2% of the workforce that is not unionized. Recent "raids," as they're often called, have been especially big with tens of thousands of members at stake. They've become easier to carry off because many unions don't just represent one profession anymore, and can rationalize expanding into rival turf.
In California, 45,000 healthcare workers were recently wooed by the National Union of Healthcare Workers. They ultimately voted to stay with the Service Employees International Union.
The Teamsters union is also going after US Airways mechanics who are members of the International Assn. of Machinists. In Vermont, home healthcare workers were going to choose in September between the SEIU and the American Federation of State, County and Municipal Employees until the SEIU recently pulled out of the election.
"It can reflect frustration in many cases among workers who are angry at the broader context of their current situation," said Harley Shaiken, a UC Berkeley professor familiar with labor issues. "It certainly stands out in context at a time when union membership itself has declined."
The campaigns can be extremely costly, with unions buying ads on television and billboards. They also build loyalty with free food, phone banks and mailings, and visits to union members' homes.
At stake can be millions of dollars.
The healthcare workers in the SEIU, for example, each paid about $51.74 in dues a month, according to union financial forms. That translates to some $28 million a year.
The high stakes often lead to allegations of cheating and intimidation on both sides. A lawsuit filed by the nurses union against the SEIU, for example, accuses the union of "acts of assault, battery, intimidation, threat and coercion." The Transport Workers Union has also filed petitions accusing the Teamsters of forging signatures.
It's no wonder that observers in the labor movement worry that these campaigns could further damage the reputation of an already limping labor movement.
"Union rivalry creates bad public relations and shows the seamy underside of the union movement," said Gary Chaison, professor of industrial relations at Clark University. "Fights between unions seem to contradict the idea of solidarity between all unions and between all workers."
The AFL-CIO, a federation of 56 unions, has helped unions establish boundaries to end raids. In 2009, its newly minted president pledged to aid any member union that got raided.
But the boundaries have broken down since major unions including the SEIU and the Teamsters left the federation in 2005, said J. Justin Wilson, managing director for the Center for Union Facts, a group that is critical of unions.
"Generally speaking, we have seen these unions launch more raids and break more peace," Wilson said. "It seems that the traditional breakdown is falling apart."
Battles seem to often home in on healthcare workers, one of the few occupations in which labor is gaining members. The SEIU, which represents many healthcare workers, is one of the few unions to gain members in recent years.
But the unions conducting raids say they're not after the money. They say they're trying to bring better representation to members, and give them an escape route from unions that don't operate democratically.
"If a union isn't doing its job, it should be voted out," said John Borsos, secretary-treasurer of the National Union of Healthcare Workers, which recently lost an attempt to raid the SEIU. "It's like if you're in Congress, you run for election every two years. Otherwise, once workers are in a union, there's nothing they can do about it."
The Teamsters union says that airline mechanics approached them about taking over for the Transport Workers Union, and that their efforts are not, in fact, a raid. Further complicating issues is the fact that the union is trying to take over at a vulnerable time for the airlines, as US Airways and American Airlines try to merge.
"Quite frankly, we've got to deal with what the folks on the floor want," said Chris Moore, who organizes airline workers for the Teamsters. "The members came to us and said, 'We need stronger representation.'"
But Stephanie Patiga, 41, who used to be an organizer for the Teamsters in Tulsa, Okla., says the group would approach members of other unions and try to persuade them to join the Teamsters. The campaigning was often intense: Teamsters organizers did one-on-one home visits, flooded the workplace with literature, delivered cakes to break rooms, and wined and dined members who successfully recruited new members, she said.
"They're desperate for members and really hurting labor in this country," said Frank McCann, organizing director for the Transport Workers Union. "But this isn't what labor's about. It's about fighting for a voice for the workers that don't have a voice. That's where the focus should be."
David Regan, the president SEIU-United Healthcare Workers West, which represents 150,000 healthcare workers in California, thinks the recent raids illuminate the problems with labor in America. Unions short on cash would rather spend money to go after people who are already friendly to labor, rather than spend money converting new people, he said. Culturally, unions might have been more willing to work together in the past. Now they're just in open war.
"I feel confident saying this: There were more resources devoted to trying to argue over which organization these Kaiser members ought to be part of than any effort that will be made in the country this year to bring any non-union members into a union," he said. "It's the classic example of, 'Let's rearrange the deck chairs on the Titanic.' "