Tidbits - January 16, 2014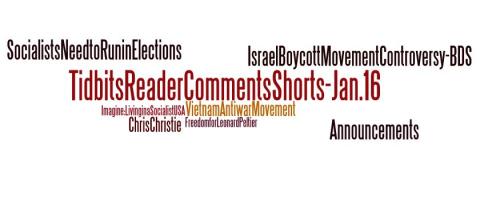 Tidbits, Reader Comments, Shorts, Announcements - Jan. 16, 2014 ,Portside
Re: Why Socialists Need to Run in Elections, and What They Can Do When They Win - Tidbits - Jan. 9 (Michael Munk)
Re: Demolishing the Mythology Around the Vietnam Antiwar Movement (David McReynolds, Jim DeMaegt, Daniel Millstone,Bob Zellner, Cliff Smith)
Re: The Israel Boycott Movement and Controversy - Differing Views (Peggy Powell Dobbins, Neal H Hurwitz)
Re: Chris Christie's Not in the Clear Yet. These Text Messages Show Why (Jeanne C Majors, Lisa Schwartz)
Re: Moderator Message re: "Clone of..." messages (David Mott, Andy Pollack, Jesse Walker, Peter Marcuse)
Re: I Wear the Badge of Socialist With Honor
I hail the election of Kshama Sawant to Seattle's City Council. And her inaugural speech was 99 percent on the money. The 1 percent that bothered me was that old bugaboo "Democratic and Republican politicians alike." No one doubts that most, possibly all, Democrats are pro-capitalist. But a distinction must be made between an Elizabeth Warren and a Max Baucus. And if ever there was a need to make distinctions between Democrats and Republicans generally it is today.
Would any objective assessment conclude that all members of Congress are "alike" in addressing the needs of the American people? It's obvious that Bernie Sanders understands this. And I'm sure that Kshama Sawant does too, but when she speaks of a "completely dysfunctional Congress" she should indicate why it is dysfunctional - and the blame is not monolithic.
Socialism will come about only through the unity of all forces - within and without the political establishment - who, despite their current beliefs in capitalism, have the best interests of the American people at heart.
Seymour Joseph
Re: Why Socialists Need to Run in Elections, and What They Can Do When They Win - Tidbits - Jan. 9
Kshama Sawant has "renewed discussion" about elections in the white (Occupy) left which is found in i.e. Seattle.   Ras Baraka has been on city council in Newark, NJ for years and is leading candidate for mayor in the May election.
Did Baraka get elected as a socialist? Tell us more.
Michael Munk
Re: Demolishing the Mythology Around the Vietnam Antiwar Movement
I do hate to disagree, but this is what happens when you turn scholars loose on the past. They get it wrong. In fact the popular image was closer to the truth. Yes, working people hated  the war - but a large percentage of them (at the time) favored dropping an atom bomb on Vietnam. Yes, Blacks and Hispanics were a hell of a lot more likely to oppose the war. And I don't mean the white working class supported it with enthusiasm. But it was one hell of a job to get the peace movement to seriously relate to labor!!
David McReynolds
     ====
     
What made the Vietnam Antiwar Movement - Strong - was the DRAFT!  And the government today is smart enough to conduct its Wars - without the Draft - and thus the Anti-War movement today is much less strong than during the Vietnamese War.
Jim DeMaegt
     ====
     
Here's a review of a book by Penny Lewis which makes me want to read the book. Kevin Young writes that the book refutes much of my own experience. Hardhats were not hawkish supporters of the war in Vietnam? Personally, I'm ready to be surprised. The elected misleaders of the construction trades unions were vitriolic war enthusiasts. At least at the beginning of the anti-war movement, so were many of their members.
Daniel Millstone
Posted on Portside's Facebook page
     ====
     
Dear Kevin Young,
Thank you for this useful review.  You are right that working class organizing is at the top of the priority list of things to do.  We are beginning to do it in North Carolina with a six year project.  I would like to talk to you about the effort lead by Rev. Dr. William Barber and the state NAACP.  
Bob Zellner
     ====
     
I took Bruce Franklin's class "Vietnam War and America" at Rutgers Newark in 1993 and he demonstrated this showing that the rate of draft dodgers was greatly exceeded by that of active soldiers awol and fragging.  To say that the anti war movement was stronger within the working class draftee military than in the student/academic protest movement.
Cliff Smith
Re: Two Roads Forward: The AFL-CIO's New Agenda
(posted on Portside Labor)
The AFL leadership of the Meany-Kirkland decades, so staggeringly incompetent and encouraging of corruption of all kinds, was overthrown in 1995 but left almost nothing behind to build on. I tried to show in TAKING CARE OF BUSINESS how they embraced Cold War policies in expectation of gratitude from the world's businesses. A stupid idea.
Paul Buhle
Re: Book Review: Imagine: Living in a Socialist USA
Now that's what I call a bracing review! When it comes to theorizing about socialism, there are the twin problems of "can't" and "cant" -- rightwing and leftwing disorders.
John Woodford

Re: Tangled Up in Dogma: Religious Freedom, or Reproductive Freedom?
The "little sisters" need to grow up and become adults and join with other nuns who choose not to use birth control themselves but not to prevent other women from using it.  This is a male, bishop initiated response.  I have no specific animosity toward Catholicism. Ad a Jew, Orthodox Judaism's barefoot, pregnant and in the kitchen ruling of women heads the list.  But the Little Sisters of the Poor, if only because of their name, are pretty bad.
Claire Carsman
Re: A New Power in Conservative Media - Media Bits & Bytes-Jan. 14 edition
The new power in conservative "Christian" media is SALEM?  Really?  How appropriate for the 18th century!
 
Jim Young
Harrisburg, PA
Re: The Israel Boycott Movement and Controversy - Differing Views
I spent a week informally interviewing an Israeli political science professor in 2003. He is son of German Jews who became Israelis after 1948. He is an atheist, a socialist and a democrat. He insisted the preservation of Israel as a majority a jewish state is necessary to preserve Jewish culture. I was struck that his language and logic and rational tone of voice was almost exactly that of my father explaining how the Voting Rights Act would destroy "the aristocratic culture of the Southern Way of Life
Peggy Powell Dobbins
Posted on Portside's Facebook page
     ====
     
Mistreatment of anyone is terrible! There is a context here for Israelis.
The BDS movement is sad.
Thanks,
Neal H Hurwitz
Re: In Defense of an Academic Boycott of Israel
Interesting debate!
Martine Spensky
Posted on Portside's Facebook page
Re: Chris Christie's Not in the Clear Yet. These Text Messages Show Why
Have the Republicans set him up?
Jeanne C Majors
Posted on Portside's Facebook page
     ====
     
HMM! Charles McKenna, Christie's chief counsel, and the guy chosen by Christie to investigate the lane closures, praises Baroni's bogus testimony??
Lisa Schwartz
Posted on Portside's Facebook page
Re: Springsteen and Fallon Jam Gov. Christie (Video)
I hope this finishes him off!!!
Howie Leveton
Posted on Portside's Facebook page
Re: What Bill de Blasio Can Learn From New York City's Last Radical Mayor
I would like to share with correspondent Guttenplan this take-off on Gilbert and Sullivan's Little Buttercup, written more years ago than I care to acknowledge, in response to his homage to my generational hero.
Henry Foner
    I'm called "Fiorello," an A-1 good fellow --
    The mayor of good old New York.
    I've worn out a tonsil addressing the Council,
    But they don't like my kind of talk.
    I've bequested our city with mem'ries so pretty,
    Like parks with both flowers and palms --
    And a broadcasting station to give information,
    As well as sweet music by Brahms.
    So hearken, dear voters, while we fulfill our quotas
    Of schools for our children and more --                       
    While we banish the touches of Tammany's clutches
    And settle the Steingutian score.
Re: What Happens to All the Salt We Dump On the Roads?
When I lived near the NY-Canada border they used to spread sand, not salt on the roads.  They also didn't plow down to the pavement so eventually you drove on a foot or more of sand packed snow--avoiding road damage as well as pollution.
 
Stan Nadel

Re: How Toxic Are Your Personal Care Products? California Wants You to Know
Glad to see Portside putting this up. Sometime around mid 1980s some of us women began to be very aware of the poisonous crap put in our Personal Care Products, some of which are not only toxic to the users, but people around them as well.
Phyllis Mandel
Posted on Portside's Facebook page
Seems to me, there needs to be a concerted effort to make the national/international media turn its attention to the plight of American Indian Movement leader/activist Leonard Peltier as a US political prisoner incarcerated most of his life for crimes he did NOT do. And whomever reads this to also become involved to seek justice for him.
JJ Barrera
Posted on Portside's Facebook page
Re: Moderator Message re: "Clone of..." messages
Ok....That explains it....I was wondering what it all meant....Thanks.
David Mott
     ====
Boring indeed. You should have made up a science fiction tale about evil scientists cloning emails for the NSA... come to think of it, it's not science fiction after all! :) Keep up the good work.
Andy Pollack
     ====
     
I was hoping they were a lead-in to this:
Parliament - The Clones Of Dr. Funkenstein (Full Album)
Jesse Walker
     ====
     
Never mind, you all do a great job!
Peter Marcuse
Ruth Tregay Siegel (Ramirez) Memorial Service - Chicago - Jan. 18
Ruth Tregay Siegel (formerly known as Ruth Ramirez), retired UE staff member and longtime social justice activist in Chicago, passed away in October after a battle with cancer.  Her family has scheduled a memorial, a celebration of her life, for this coming Saturday, January 18th at 2:00 p.m.  It will be at Third Unitarian Church, 301 N. Mayfield at Fulton, Chicago, 60644.
 
The church has a website with some directions and information about parking:  http://thirdunitarianchurch.org/where-to-find-us/
 
The family has asked that anyone who receives this notice pass the word on to others that you think may be interested because they do not have a complete contact list for their mother's friends and colleagues.
Book Reading - Imagine: Living In A Socialist U.S.A - New York - Jan. 21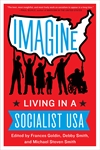 Fran Goldin is having a reading of her newly published book:  IMAGINE: LIVING IN A SOCIALIST U.S.A.  It will be at our favorite, but endangered LES Bookstore:  ST. MARKS BOOKS on the corner of 9th St. & 3rd Ave. 
The reading will take place on  Tuesday, January 21st at 7:00pm. Mark your calendar and join us.
Victor Menotti speaks on the Trans Pacific  Partnership (TPP) - Berkeley - Jan 22
Another Free Trade Disaster: The Trans-Pacific Partnership (TPP) and What We Must Do About It
with Victor Menotti, Executive Director of the International Forum on Globalization
Wednesday, January 22, 2014 at 1:30 PM
North Berkeley Senior Center
1901 Hearst, at MLK,
Berkeley.
The Berkeley-East Bay Gray Panthers presents Victor Menotti, Executive Director of the International Forum on Globalization to talk on the dreadful new Trans Pacific Partnership (TPP) "free trade" agreement now considered by Congress.  TPP will benefit U.S. extraction companies and turn much of the pristine Pacific region into a slag heap.
Menotti is expert on the impact of globalization on ecosystems, and has helped build international networks among the traditional farming, forest, fishing, and indigenous communities whose survival depends on them.  He is the author of the IFG report, â_oFree Trade, Free Logging: How the World Trade Organization Undermines Global Forest Conservation,â_? â_oThe Other Oil War: The Halliburton Agenda on WTO Energy Services,â_? the chapter â_oWTO and Native Sovereignty" in Paradigm Wars: Indigenous Peoples' Resistance to Economic Globalization, and, â_?The WTO and Sustainable Fisheriesâ_? for the Institute for Fisheries Resources. Victor learned to speak Spanish, Portuguese, French, Italian, and some Slovak, after earning his degree in International Relations from UCLA. For information contact the Berkeley-East Bay Gray Panthers at 510-598-9696 or GrayPanthersBerk@aol.com or The International Forum on Globalization.
.
CONTACT
Margot Smith
1300 A Shattuck Ave
Berkeley, CA, 94709
510-486-8010
margots999@aol.com
BOOK RELEASE: When Mandates Work - Berkeley - Jan. 22
When Mandates Work - Raising Labor Standards at the Local Level
Edited by Michael Reich, Ken Jacobs, and Miranda Dietz

Starting in the 1990's, San Francisco launched a series of bold but relatively unknown public policy experiments to improve wages and benefits for thousands of local workers. Since then, scholars have documented the effects of those policies on compensation, productivity, job creation, and health coverage. Opponents predicted a range of negative impacts, but the evidence tells a decidedly different tale. This book brings together that evidence for the first time, reviews it as a whole, and considers its lessons for local, state, and federal policymakers.
JOIN THE DISCUSSION AND MEET THE AUTHORS!
Wednesday, January 22, 2014
5:00-6:30 pm
UC Berkeley Labor Center
2521 Channing Way
Berkeley, CA
     ====
Thursday, February 6, 2014
San Francisco
Details coming soon
EVENT SPEAKERS:
Michael Reich is Professor of Economics and Director of the Institute for Research on Labor and Employment at UC Berkeley.
Ken Jacobs is Chair of the Center for Labor Research and Education at the University of California, Berkeley.
Miranda Dietz is a researcher at the UC Berkeley Center for Labor Research and Education working on employment and health care issues in California.
This event is free and open to the public.
Light refreshments will be served.
Books will be available for purchase at the event. If you are planning to buy a copy of the book, please be prepared to pay by check or credit card.  
RSVP on our Facebook event page or contact Sandy Olgeirson at 510-642-4072 or sandyo@berkeley.edu.
Purchase a copy of the book online from UC Press (available to ship on January 17).
"What's Driving the Widening Wage Gap?" Forum - New York - Jan. 24
We are pleased to invite you to join us for a Labor Breakfast Forum, entitled "What's Driving the Widening Wage Gap."  The forum will be held on Friday, January 24, 2014, from 8:30 to 10:15 a.m. at the Murphy Institute, 25 West 43rd Street, 18th floor.
The forum will provide an opportunity to discuss the recent, landmark study by the Economic Policy Institute (EPI) and the Center for Economic Policy Research (CEPR),  "Don't Blame the Robots: Assessing the Job Polarization Explanation of Growing Wage Inequality."
"What's Driving the Widening Wage Gap?"
Speakers:
Heidi Shierholz; Economist, Economic Policy Institute, Co-Author, "Don't Blame the Robots: Assessing the Job Polarization Explanation of Growing Wage Inequality."
Stanley Aronowitz; Distinguished Professor of Sociology, CUNY Graduate Center, Consortial Faculty Member, The Murphy Institute
Friday January 24, 2014
8:30 to 10:15 am
Murphy Institute, SPS, CUNY
25 West 43rd St, 18th floor
A light breakfast will be served.
RSVP to Eloiza Morales at 212-642-2029 or eloiza.morales@mail.cuny.edu
The Murphy Institute is part of the School of Professional Studies and the CUNY Graduate School.
Expand & Protect Social Security, Medicare & Medicaid - Forum - New York - Jan. 30
Metro NY CCDS Invites You to a Forum and Discussion:
EXPAND AND PROTECT SOCIAL SECURITY, MEDICARE AND MEDICAID
with Mark Hannay, No Bad Grand Bargain
Thursday, January 30, 2014
6:00 PM
SEIU Local 1199
310 43rd Street (btw 8 & 9th Aves.)
In the Cafeteria - lower level
(There is reduced rate parking in the lot just west of the building. Get your ticket stamped in the building lobby.)
The NY Metro CCDS will host a discussion with Mark Hannay who has been at the forefront of coalition work with the Metro NY Health Care for All Campaign for more than 20 years. As the Republican-led deficit reduction talks in Washington turned to cuts in Social Security with a "chained CPI" and other schemes to cut Medicare and Medicaid, Mark worked to form a new network of unions, community, advocacy and religious organizations to defend the social safety net from austerity cuts and privatization.
Come learn the latest in the campaign, hear how we are going on offense to expand not cut social programs, and discuss what we must do to demand that our elected representatives, both Democrat and Republican, do the right thing.
Light food and refreshments will be served.
Metro NY Committees of Correspondence for Democracy and Socialism
(212) 868-3733 - metroccds@gmail.com
Today in History - First Gulf War begins with U.S. Bombing of Baghdad - Jan. 16, 1991
And today, thousands of deaths and 23 years later and four administrations - Bush, Clinton, Bush and Obama - U.S. troops are still stationed in Afghanistan; and U.S. private contractors are still fighting in Iraq.