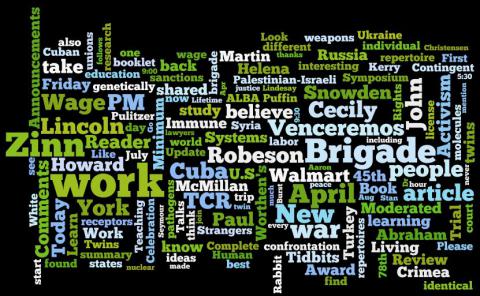 Tidbits, Reader Comments, Announcements - April 17, 2014 ,Portside
#Justice4Cecily- PACK THE COURTS!!
UPDATE 4/15: Today was a very interesting day in court! We heard testimony from Officer Bovell (the officer bringing the allegations against Cecily) all day and watched the prosecution's videos from the incident, which were curiously shortened. This morning Hon. Judge Zweibel ruled that Cecily's lawyers can't bring up the pending lawsuit against Bovell for violent conduct against Austin Guest, also on M-17 2012. He also ruled that Cecily's lawyers are no longer allowed to speak to the press, despite the fact that everything they have said has been on public record. We will not be in court tomorrow, 4/16, but we will be in session again on Friday from 9:30am-12:00pm (ending early for Good Friday). Thanks to all who came out to support today ? ? ? It truly is powerful to watch our community rallying around Cecily in this very exasperating, frightening court case.
Re: Why the Palestinian-Israeli Talks Bubble Burst
Uri got it right about the inherent problems facing John Kerry and the Obama administration - and every administration before - in mediating between the Israel and the Palestinians.  But one has to start to believe that the U.S. never has been an advocate for a just peace.  
First off, their are too many people with financial interests in keeping the middle East in chaos.  Iraq, Afghanistan, and now Syria. I have to believe that the Palestinians know this.  The Syrians definitely know it. And thank John Kerry?  Please.  One only has to look at what has happened ion Ukraine to see what John Kerry and his gang are all about.   The "West" led by the U.S. are about destroying any obstacle in the way of spreading their NeoCon bulldozer over the world. Unfortunately they are setting the world onto a dangerous path. It will surely come back and bite us on the ass.
Lincoln Smith
Re: If Walmart Paid a Living Wage, How Much Would Prices Go Up?
Great article on how greedy Walmart is on their compensation packages, I say we do everything we can to try to organize the workers, truck drivers, pharmacists and managers and see if they don't start increasing the pay, they always do. And thanks to organized labor groups and occupy movement for all they have done to this point.
John Christensen
     ====
greetings.
actually prices remain the same. the 1.4% increase is taken out of the over-inflated ceo, board, pres, & vp salaries.
of course i am idealistic here. the real question, is why are the above mentioned being overpaid for the little work that they do. to me, this is an issue that needs to be addressed.
my $0.02
Don Ptak
     ====
We have Walmart and Aldi in our town.  Aldi pays $ii.50 to $15.50 an hour and beats Walmart's prices.  People who work only 20 hours a week get full benefits.  The store is always full of shoppers.
Pam Wright
Re: Why The Minimum Wage Should Really Be $15
Dear Robert Reich,
Your seven arguments are sound and clear. Easy to grasp for all of us who are not economists. I was shocked to realize the U.S. minimum wage is as little as 7.25 an hour. How can people afford cars and houses with those earnings?! How can they afford even food and a rented apartment. Medication? Illness?
Kind regards,
Katarina Wallin
Stockholm, Sweden
who follows Portside Moderator with great interest


Re: Seymour Hersh Gasses Turkey
Not a very tasteful headline!
Lindesay Irvine
Re: Pulitzer Vindicates: Snowden Journalists Win Top Honor
This is really great..As is the article on Snowden in the new Vanity Fair,,,
Selma Ehrenfeld
Re: Friday Nite Videos - White Rabbit, Live from Woodstock
Just a thanks for posting "White Rabbit" video from Woodstcck. Brought back many personal memories of the glorious weekend at Yasner's farm when love and peace reigned in our hearts.
Susan Ackoff Ortega
Re: Paul Robeson, A Life - Book Review
I find it strange that this review fails to mention Martin Duberman's magisterial biography of Paul Robeson, anyone who want to know anything about Robeson's life & ideas should turn to this work.
Stan Nadel
     ====
     
Why no mention of his meeting Pres. Truman to call for federal action to stop the wave of southern lynchings in the post war period.
Aaron Libson
     ====
I remember a documentary which showed FBI files on Robeson, with all mentions of his illness blacked out.  Was dirty work in play? I saw him after a concert in Bristol, England in 1958 and he was sweating profusely.
Dan Morgan,
Chile
I found this an interesting analysis, however I think the translation leaves a lot to be desired.
"Contrary to the ideas of liberals and conservatives (who suffer, surprisingly enough, from the same hallucinations), the policies of the Russian authorities do not stem from any conscious decision to enter into confrontation with the West, but from an attempt to keep this confrontation - which is objectively inevitable, and does not depend on the will of the Kremlin - to a minimum."
I do not think, or hope that Boris Kagarlitsky, does not believe that war - "this confrontation" is "objectively inevitable".
As one who marched for an end to nuclear testing in the early 60s, in an age when weapons of mass destruction, including nuclear weapons, can bring an end to the world as we know it, I firmly believe that a progressive left, especially a socialist left needs to be opposed to war. I do not believe in the inevitability of war, then nor now.
I think a clearer translation of Kagarlitsky is what appears a few paragraphs below:
"A hundred years after the First World War, there is no point in alluding to Lenin, to the Zimmerwald conference or to anti-imperialist "defeatism". First of all, this is for the reason that, unlike the case in 1914, there is no war, will not be and cannot be."
Jay Schaffner
Re: Twins' Immune Systems Look Like Those Of Complete Strangers
The headline and summary of the article "Twins' Immune Systems Look Like Those of Complete Strangers" totally misconstrued the  results of the described scientific study as described in the cited research paper.  The researchers did not find that "When it comes to our immune response, genetics takes a back seat to pathogens," as the article summary states.  I read the actual study.  There you will find, at the top of the article, what the scientists who conducted that study stated to be its significance, quoted verbatim as follows:
"Significance: The power of adaptive immunity in humans is realized through the hypervariable molecules: the T-cell receptors (TCRs). Each of those is built from genetically encoded parts with the addition of random nucleotides finally forming individual TCR repertoire. Despite that the individual TCR repertoire potentially can include 1011-1014 different variants, substantially less molecules are found in a single individual. "The particular genetic impact on the final set of TCR molecules is still poorly understood". In this study, for the first time to the best of our knowledge, we compare deep TCR repertoires of genetically identical twins. "We found that, although TCR repertoires of any pair of individuals have the same amount of identical receptors, twin repertoires share certain specific features. "
Further, the article, which was originally published by ARS Technica, made these points that contradict the article's title and summary:
"A number of caveats. Obviously, six girls is hardly an adequate sample size to conclude much of anything. In addition to sharing genes, the twins also shared an environment, so this might not be the best system to tease out genetic from environmental contributions to the TCR repertoire. . .
"However, the researchers did note that the receptors shared by the twins shared different features than those shared by the strangers; it was not just that they recognized the same common pathogens,  but they recognized the exact same proteins made by those pathogens.
"This work has raised the tantalizing possibility that we can possibly figure out how much of our immune diversity is genetically determined. But as with most twin studies, the really interesting data will be generated by analyses of identical twins raised in different environments."
Marc Beallor
Book Review on learning, work and unions - Helena Worthen's What Did You Learn at Work Today?
Helena Worthen's What Did You Learn at Work Today? The forbidden lessons of labor education grabs us with the vividness and force of her stories and impresses us with the range of her research. Worthen humbles us with the depth of her respect for workers, and she moves us with her passion for justice. Then she challenges us with the intricacy of her theories. She starts from the premise that "a theory is an idea that relates things to each other", and goes on to illustrate such relations in one context after another. As she wryly observes: "In most states, when people go in to take the tests for a driver's license, they get a booklet that explains the rules of the road. No such booklet accompanies job applications". Such a booklet is embedded in her writing.
About halfway through I went back to the start to savor the sharp images and reflect on the depth of the ideas. This book is slow food for the mind. I experienced no crashes and no whiplash on the second ride.
Helena Worthen's work is brave, exciting and profound. It is the product of a good heart and a good mind. Here is a gift to all of us who are groping towards a theory and practice that promotes learning for justice.
Dr. D'Arcy Martin, a longtime Portside subscriber, has directed education work for four Canadian unions and has coordinated a research centre on learning and work at the University of Toronto. He is a connected critic of the union culture, passionate about designing and facilitating the best education programs possible within it.
what is the magic word of the day? for me it's "sanctions". if the united states doesn't like what you are doing they'll slap you with sanctions. it could be iran and their weapons. it could be syria and their civil war. and, now, it's russia taking the blame for the developments in the ukraine. why doesn't anybody have the guts to slap the usa with sanctions for war crimes in iraq and afganistan. for their torture in cuba. for their slavery at home. for their destruction of indians. take your pick. add your crime. close a bank. pick a guilty party. take their money. does russia, china, latin america, etc. have the guts. i'm waiting.
john shelton ivany
The Frederic Ewen Academic Freedom Center & The Tamiment Library at NYU Present Howard Zinn - A Lifetime of Teaching, Writing, and Activism - A Symposium
Thursday, April 24, 2014  --  9:00 AM to 6:00 PM
Vanderbilt Hall
NYU School of Law
40 Washington Square South
New York, NY 10012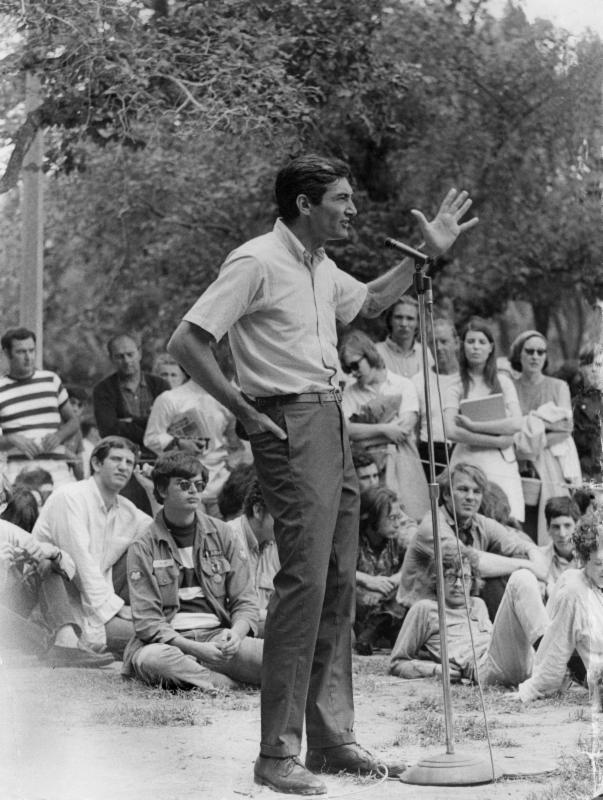 Please RSVP to: rsvp.bobst@nyu.edu
with guest name(s) and title/date of the event.
 
Visit library.nyu.edu/zinnconference for more information.
 
Schedule
 9:00 - 9:30 AM  --  Continental Breakfast
 9:30 - 9:45 AM  --  Welcome from
Dean of Libraries Carol A. Mandel
9:45 - 10:30 AM  --  Zinn at Tamiment
Jan Hilley, Kristin Maria Catrone, Rustin Finkler, Frances Fox Piven
Moderated by Robert Cohen
10:30 - 10:45 AM  --  Coffee Break
11:00 AM - 12:30 PM --  Zinn as Historian
Wesley Hogan, Michael Kazin, Robyn Spencer, Sam Wineburg
Moderated by Timothy Naftali
1:45 - 3:15 PM  --  Zinn as Activist
Martin Duberman, Irene Gendzier, Alice Walker
Moderated by Marilyn Young
3:15 - 3:45 PM -- Coffee Break
4:00 - 5:30 PM  --  Teaching Zinn
Introduction by Alice Walker
Julian Hipkins, Katy Swalwell, Deborah Menkart
Moderated by Carl Mirra
 
5:30 - 6:00 PM  --  Reception
Conference funded in part by a grant from the Kurz Family Foundation
78th Annual Celebration commemorating the Abraham Lincoln Brigade & presenting the ALBA/Puffin Award for Human Rights Activism - April 27 - New York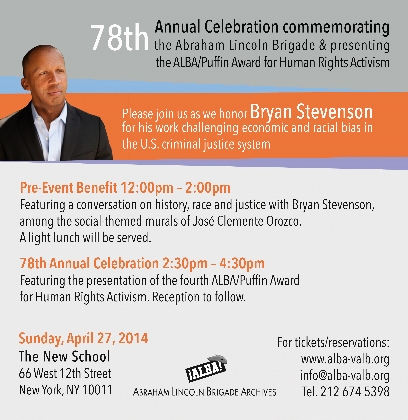 45th Contingent of the Venceremos Brigade - July 20 - Aug. 4
This coming summer the 45th contingent of the Venceremos Brigade will be traveling to Cuba.  See below for some information about the brigade.  I have traveled with the brigade several times and have enjoyed every trip.  The cost is about $1500, including most travel, so it is probably the most affordable trip to Cuba.
Reply directly to the VB at vbrigade@gmail.com
Every year since 1969 the Venceremos brigade has traveled to Cuba in Solidarity with the Cuban people. We take a stand against the US imposed economic blockade, travel ban that required US citizens to apply for a license, we stand for the freedom of the Cuban 5 (political prisoners) and that Cuba is a sovereign nation. The VB is a 45 year old anti-imperialist work project that believes we need to see Cuba own eyes and learn directly from the Cuban people. Please join us in our effort to take 100 people from across the US to join us for a two week solidarity trip (estimate dates July 20th - August 4th), an act of civil disobedience, as we have never requested a license. Contact vbrigade@gmail.com for an application.
APPLICATIONS DUE MAY 1st. SCHOLARSHIPS OF UP TO $500 AVAILABLE (LIMITED FUNDS AVAILABLE SO APPLY EARLY).