Dispatches from the Culture Wars - For Whom the Twitter Tweets Edition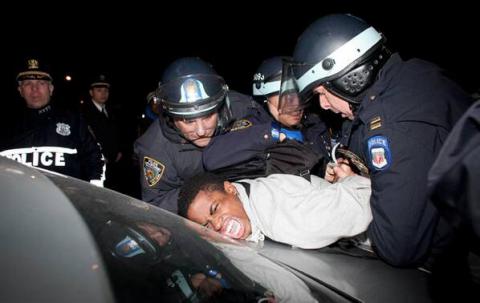 The New York Police Department's attempt to connect with the community, using the #myNYPD hashtag, backfired in a #epicfail way., pbs.org
#myNYPD Twitter campaign boomerangs across the nation
By Michael Muskal
April 24, 2014
Los Angeles Times
The New York Police Department has learned the hard way that Twitter is a two-edged sword with a point that has deeply embedded itself into the department's self-image.
The department this week decided to stick a virtual toe into the 21st century by launching a Twitter campaign to allow everyone to post pictures that glorified New York's finest under the hashtag #myNYPD. It didn't exactly work out that way. Instead of the hoped-for pictures of police helpfully aiding citizens and happy cops on bicycles -- staples of the department's official news feed -- it got an outpouring of pictures of apparent police brutality, misconduct and just downright nastiness.  
Worse, the anti-police campaign that was sparked by the #myNYPD campaign has spawned a slew of copycat denigrations including #MYLAPD, #MYCPD and #MYAPD, chronicling the alleged police ills in Los Angeles, Chicago and Albuquerque, the latter still reeling from a series of police shootings. The anti-cop campaign was spearheaded by Occupy Wall Street protesters who essentially were able to hijack the public relations effort that was fed by pockets of unhappiness.
Neil deGrasse Tyson Said Earth Is 4.5 Billion Years Old on TV: Creationists' Heads Explode
By Dan Arel
April 23, 2014
AlterNet
It did not take long for the creationists to take issue with Neil DeGrasse Tyson and the latest episode of Cosmos on Fox. Why you ask? Well, because Tyson dared to declare the age of the earth to be 4.5 billion years old.
Answers in Genesis (AiG), the organization run by "young Earth" creationist Ken Ham, known for his recent debate against Bill Nye on the topic of evolution has now taken issue with episode 7 of Cosmos. AiG takes issue because early on Tyson declared that the true age of the earth couldn't be found without a reliable historical record. The Bible was once believed to be this historical record, but as Tyson explains, it is no longer.
Tyson has become public enemy number one since the first episode of the Cosmos reboot aired just a month back. Since Tyson showed the world the Grand Canyon as a source for understanding the age of the earth and using the many layers of rock and explained how old each layer is and how the canyon itself formed, AiG had to attempt, as always, to dispute that claim.
Hobby Lobby's Steve Green launches a new project: a public school Bible curriculum
By David Van Biema
April 15, 2014
Religion News Service
The Mustang, Okla., school board voted Monday (April 14) to adopt a Bible course developed by Steve Green, clearing the way for the Hobby Lobby president, whose suit against the Affordable Care Act is currently before the U.S. Supreme Court, to enter another charged arena at the borderline of church and state.
The board, whose district is practically in Hobby Lobby's Oklahoma City backyard, agreed to beta-test the first year of the Museum of the Bible Curriculum, an ambitious four-year public school elective on the narrative, history and impact of the Good Book. If successful, Green, whose family's wealth is estimated at upward of $3 billion, would galvanize the movement to teach the Bible academically in public schools, a movement born after the Supreme Court banned school-sanctioned devotion in the 1960s but whose steady progress in the last decades has been somewhat hampered.
Council passes Indigenous People's Day resolution
By Eric Roper
April 25, 2014
Minneapolis Star-Tribune
The second Monday in October will now be referred to as "Indigenous People's Day," rather than Columbus Day, on all official city communications in Minneapolis following a unanimous City Council vote on Friday morning. The resolution brought hundreds of people to City Hall to commemorate the vote, which Native American activists have been seeking for many years.
"It's been a long time coming," said Clyde Bellecourt, a civil rights organizer. "For me, it's been almost 50 years that we've been talking about this pirate."
The language of the resolution notes that the federal
government, state government and city government still recognize Columbus Day "in accordance with the federal holiday established in 1937." But the new holiday will be reflected on city messaging, including the official calendar of the City Council and committee meetings.

It's Buffalo Jills Vs. Buffalo Bills in Ex-Cheerleaders' New Lawsuit
By Emily Shire
April 24, 2014
Daily Beast
Hundreds of unpaid hours of work, `degrading sexual comments,' and even menstrual hygiene rules - this was life as a Bills cheerleader, according to a lawsuit filed this week.
Cheerleaders, a mainstay of the National Football League, may be nearly as essential to the viewing experience and commercial brand as the players themselves. But a new lawsuit from five former Buffalo Bills cheerleaders adds to the mounting evidence that the women glamorized in calendars and ogled at halftime shows also can fall prey to financial exploitation and sexual harassment by their teams.
The Buffalo Bills are the third NFL franchise this year to face allegations of employment violations from their cheerleaders. Current and former Oakland Raiderettes sued their team in January, alleging wage theft and failure to meet minimum wage salaries. And in a suit filed against the Cincinnati Bengals in February, Ben-Gal Alexa Brenneman claimed she was paid less than $2.85 an hour for her work that season. While the Buffalo Bills generate $256 million in annual revenue, the five Buffalo Jills each made at most $1,800 and as little as $105 during a single season over the past four years, according to the suit.
What do average Americans think about inequality?
By Claude Fischer
April 10, 2014
The Berkeley Blog
One thing that remains quite unclear is how average Americans think about inequality. Do they know about it, care about it, understand it, want to do anything about it?
In her 2013 book, The Undeserving Rich: American Beliefs about Inequality, Opportunity, and Redistribution, sociologist Leslie McCall methodically tries to figure out Americans' thinking about inequality. She disentangles the way Americans have answered a wide variety of survey questions on the topic over the last quarter-century or so, looking for the thread of logic that makes Americans' knotted-up answers to all those questions coherent. In the end, she concludes that Americans are indeed aware, are concerned, and want action - and in a notably American way.