labor
Global Strike Hits Fast Food Industry as Turkish Workers Demand Justice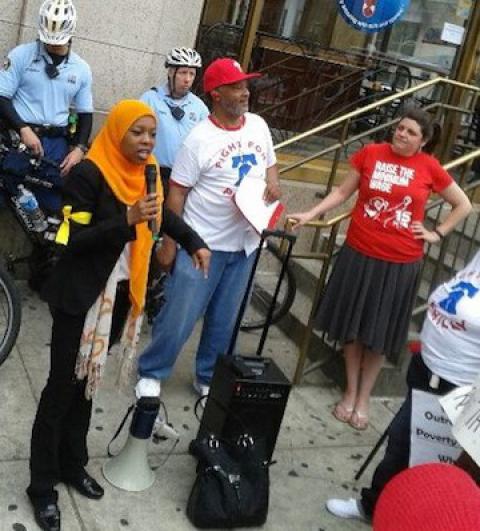 Striking Subway worker Justice Wallace addresses Philadelphia rally outside McDonald's, Marc Beallor
Simone Pathe
May 15, 2014
At $9.85 an hour, 25-year-old Terran Lyons supports herself and two kids as a crew trainer at a McDonald's in Seattle's university district. That's a jump from the $9.19 an hour the high school dropout got when she started, and a step above the state's $9.32 minimum wage.
But it's hardly enough to be self-sufficient. Lyons is on food stamps. She wouldn't even be able to afford a Big Mac if it weren't for the 50 percent employee discount.
Fast food CEOs in 2013, meanwhile, were compensated an average of $23.8 million. Based on 2012 figures, CEO compensation in the industry exceeds what workers earn by 1,200 times, according to a report from the Demos Institute.
Forget that disparity. To simply be able to live independent of any public or private assistance, Lyons would need to earn $27 an hour, according to the University of Washington's Diana Pearce, who created the Self-Sufficiency Standard.
McDonald's own "McResource" website for employees, which no longer exists online, advised employees in their sample budget to find a second job to make ends meet. More than half of all fast food workers receive public assistance of various kinds, which costs taxpayers $7 billion, according to researchers at University of California, Berkeley's Labor Center.
Lyons isn't asking for $27 an hour. She told us she could live better on even $12 an hour.
A reasonable rate, labor organizers think, is $15 an hour. Fast-food workers in 150 cities across America and in 33 countries were scheduled to strike for that higher minimum wage and the right to join a union without retaliation Thursday.
It's not their first strike. Two hundred workers from 60 Burger Kings, Taco Bells, Wendy's and McDonald's chains walked off the job in New York City in November 2012, and walk-outs organized by Fast Food Forward, which is financed by Service Employees International Union, spread across the country last December.
Fast Food Forward announced Thursday's strike outside a New York City McDonald's on Wednesday. Those golden arches have become a prime target for the left's fight for a higher minimum wage, captured in the scathing "Mockumentary" produced by the Agenda Project, a liberal public relations firm best-known for the 2012 "Granny off the Cliff" video.
McDonald's has done an excellent job of branding themselves as America's caterer, Agenda Project President Erica Payne says, noting their Olympic sponsorship and the all-American-sounding "happy" and "family" meals. It's that image that Payne and her team wanted to go after in their video villainizing Ronald McDonald for running over — in the video, quite literally — America's fast-food workers.
McDonald's hauls in more than ten times the revenue of its nearest fast food competitors, according to Demos. And they're the loudest opponent of raising the minimum wage, says Payne, because they say they can't make money if they pay workers any more.
Quite to the contrary, Payne and the video suggest, McDonald's operates 830 franchises in Australia, where the minimum wage is much higher — $16.88 an hour.
"They are lying to the American people and lawmakers about their ability to sustain their business model in the face of higher wages," Payne tells the NewsHour.
Indeed, the New York Times reports that getting international workers to participate in May 15's strike, organizers hope, will bring attention to fast food franchises overseas, which for corporations like McDonald's, have become an important source of revenue while fast food consumption in the U.S. has slowed.
So when McDonald's paid their CEO $7,726,977 in total compensation last year, why do they need to pay their workers so little?
The corporation likes to highlight that about 80 percent of its restaurants across the world are owned by franchisees. (The mom-and-pop operations the Agenda Project mocks for making over $200,000 a year). In recent months, some of these franchise owners have reinforced the negative publicity around the company, with one New York City owner settling a class-action lawsuit over labor law violations, and similar wage-theft cases pending in Michigan and California.
But as small business owners, McDonald's franchisees are hardly alone in worrying about what paying more could do to their bottom lines. Plenty of small business owners, even liberal restaurant owners and nonprofit leaders in Seattle, are concerned that a $15 minimum wage would mean laying off staff.
That's the argument the restaurant industry's top lobbyists make too. Denouncing Thursday's protests as "made-for-TV moments," Scott DeFife, an executive vice president of the National Restaurant Association, reiterated the concern that a higher minimum wage would put a damper on hiring.
February's Congressional Budget Office report on a $10.10 minimum wage hike confirmed that a higher wage could reduce total employment by 500,000 jobs by the second half of 2016.
The flip side to that CBO report, however, was that such a wage could increase the purchasing power of 16.5 million low-wage workers per week. For folks like Terran Lyons, who has a job but can't afford to buy a burger from her own employer without a discount, a higher minimum wage would mean increased consumption power — a plus for the economy, and presumably, McDonald's.
Entrepreneur Nick Hanauer, whom Making Sen$e interviewed in Seattle, explains that even if McDonald's has to compress their margins in the short-term, boosting the minimum wage would be a long-term boon. "If you earn $16,000 or $18,000 a year, you're not going to McDonald's to eat," he says. "If you earn $30,000 a year, or earning a $15 minimum wage, now you can afford to be a customer of McDonald's."
"Why would you not want to hand your customer base a raise?" Payne echoes.
A higher minimum wage would also save the American taxpayer, critics of the fast food industry argue. Right now, Hanauer and Payne explain, the American people are effectively subsidizing lofty CEO compensation because their employees subsist on publicly funded food stamps.
Raising the minimum wage to at least $9 an hour has the support of more than three-quarters of Americans, according to last fall's Gallup Poll. But that's a fight still dividing Congress between Democrats pushing for $10.10 an hour and Republicans unwilling to entertain an increase.
Conservative media have blasted the Agenda Project video for its outwardly partisan slant that singles out Sens. Mitch McConnell, Ted Cruz, R-Texas, and Rand Paul, R-Ky., for doing McDonald's bidding.
In recent days, several high-profile Republicans (not in Congress) have come out in support of a higher minimum wage — albeit not as high as the president's proposed $10.10 an hour. And in the originally released version of the Agenda Project's video, taken down because Payne said it was too long, Ronald scolds Fox host Bill O'Reilly for his support of a higher minimum wage.
So while the American people seem to support a higher minimum wage, the fight for Washington is still very much at stake.
So far this year, McDonald's has spent $540,000 on food and beverage industry lobbying, just behind the National Restaurant Association. And while they've given twice as much to the National Republican Congressional Campaign Committee as to the Democratic counter group, like most corporations seeking to maximize their influence, they've split direct contributions fairly equally between candidates of both parties. Interestingly, however, their top Senate recipient this cycle is Mark Begich, D-Alaska, who co-sponsored the Senate's Minimum Wage Fairness Act.
The Agenda Project, which recently relocated from New York City, is also looking to maximize their influence in Washington. They plan to cut and re-release their video in smaller chunks suitable for ad buys in about 30 of the most competitive congressional districts. Also on their target list this fall: the Kentucky seat of Senate Minority Leader Mitch McConnell, whom Ronald telephones to thank for squashing the Senate's latest effort to raise the minimum wage.
If McDonald's 2013 annual report is any indication, they're taking notice of the public pressure from labor activists and its potential impact on their business. Among risks to their shareholders listed in the report is "exposure to reputational and other harm as a result of perceptions about our workplace practices or conditions or those of our franchisees."
McDonald's did not respond to requests for comment for this story.
In a statement on the company's website about Thursday's protests, McDonald's spokesperson Heidi Barker Sa Shekhem said, "McDonald's respects our employees' right to voice their opinions and to protest lawfully and peacefully. If employees participate in these activities, they are welcomed back and scheduled to work their regular shifts."
 Constanze Letsch and Ian Traynor
May 14, 2014
Turkey is convulsed with grief and swelling anger after an explosion in a coalmine in the west of the country left at least 282 people dead, though there are fears that the bodies of scores more need to be recovered.
The accident at Soma, in the western province of Manisa, north of Izmir, is the worst modern mining disaster in a country already notorious for its poor labour safety record. A gas explosion in 1992 near the Black Sea port of Zonguldak killed 263 workers.
Rescue teams found eight more bodies overnight, a government minister said. Survivors told Turkish media there were still countless corpses in the galleries, while local opposition MPs spoke of more than 350 dead.
Unions have called for a national strike on Thursday in response.
The prime minister, Recep Tayyip Erdoğan, cancelled other engagements and went to the scene of the disaster, pledging a full investigation of the causes of the accident. But he was confronted by angry people who mobbed and kicked his car, shouting "murderer!" and "thief!".
As hopes for some 150 other miners trapped underground faded, the energy minister, Taner Yildiz, said rescue efforts were focusing on two areas inside the mine but that the operation was hampered by a fire.
Tuesday's explosion tore through the mine during a shift change, which contributed to the high death toll, said Yildiz. Some 787 people were underground when faulty electrical equipment sparked an explosion.
The subsequent blaze caused a larger power failure, disabling the lifts.  Carbon monoxide poisoning was blamed for the deaths. The government said 363 people had been rescued, including scores of injured.
Locals had complained about haphazard practices at the mine, whose owners are linked to Erdoğan's governing Justice and Development party (AKP), and skirmishes broke out between youths and police outside the local AKP office.
Tensions were high as hundreds of relatives and miners gathered outside the mine, waiting for news. Women wailed in grief as others shouted angrily at local authorities, and riot police with gas masks and water cannon stood by.
Coming in the wake of multiple scandals implicating the ruling party and Erdoğan's family over the past six months, as well as nationwide protests against his robust style of rule, there were prompt accusations that crony capitalism had contributed to the disaster, and allegations that local authorities had failed to enforce safety regulations and ensure decent working conditions.
Protests also broke out in Istanbul at the offices of the mine owners, and in Ankara, where riot police used teargas and water cannon to disperse demonstrators.
Erdoğan arrived at the scene armed with data that suggested he anticipated protests, given that the International Labour Organisation, a UN body, has graded Turkey as the world's third worst offender on industrial safety standards.
Erdoğan vowed that the causes of the explosion would be scrupulously laid bare and his government claimed there had been regular safety checks on the mine in recent months. His party dismissed calls from a local opposition MP in recent weeks demanding an inquiry into safety and labour conditions at the mine.
The prime minister drew parallels with 19th-century Britain to declare: "This is what happens in coalmining. There is no such thing as accident-free work."
"Let me go back to the past in England," he said.
"In a slide in 1862, 204 people died, in 1866, 361 people died, and in an explosion in England in 1894, 290 died. So let's please not say that these things never happen elsewhere in coalmines. These things happen. We do have something called an accident at work."
He also warned against "extremists" who would seek to exploit the disaster to tarnish his government. "There are some groups, extreme elements, that want to abuse developments like this one. I would like to reiterate that, for the peace and unity of our nation, it is very, very important not to pay heed to them," he said.
Questions were swiftly raised about the political connections of the mine's owner, whose wife was reported to be a local councillor for the governing party.
Three weeks ago, Erdoğan's party rejected opposition calls for an investigation into safety at the mine, but the labour ministry said the mine had been checked on 17 March and a clean record had been issued.
However, the national association of electrical engineers said the disaster represented "murder, not an accident". It accused the mine operators of neglect and using obsolete equipment. Inadequate ventilation systems meant carbon monoxide and other toxic gases could spread more quickly, it said.
"A massacre of workers," said Kani Beko, head of the leftwing trade union federation, DISK. The mine was a "first-class place to work", countered Ali Gurkan, chairman of the board of the company owning the mine, Soma Komur. Its offices in Istanbul were guarded by riot police.
The tragedy looked likely to raise the number of deaths in mining disasters in Turkey to about 1,500 since 2002.
"We have dead and injured every three months from mining accidents," said the local opposition MP Oezguer Oezel. "We've had enough of being at miners' funerals. Neither we nor the hearts of the families can take any more of this."