How Fast Food Worker Strikes Ignited Across the Country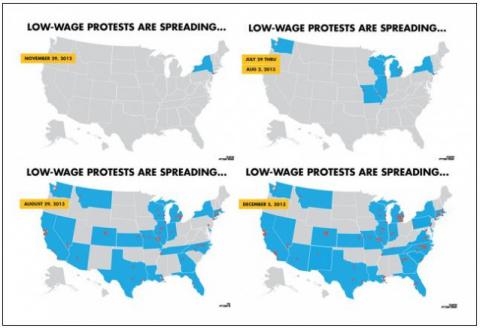 ., Think Progress
As fast food workers strike in 150 U.S. cities Thursday and solidarity protests spring up in 30 other countries, it's worth a look back at how their cause grew from a handful of people to a globe-spanning movement.
The fast food strikes began on November 29, 2012, with workers at a Manhattan McDonald's. A few months later, a larger group of New York City fast food workers walked out. Then low-wage workers in Chicago got in on the act two weeks later. Last May, the strikes jumped to Detroit, St. Louis, Milwaukee, Washington D.C., and Seattle.
By late summer, that trickle had become a torrent, with strikes in about 60 cities in August that expanded the campaign to new regions of the country. Then in December, 100 cities saw fast food walk-outs and strikes by other low-wage workers.
August's strikes were the biggest fast-food worker action on record until December's happened. Now, about 18 months since the campaign began, workers will break their own record once again.
While Republican opposition to the minimum wage continues to stymie progress on the federal level, the fast food worker effort has shifted the political playing field and revealed cracks in both the business community's resistance to raising worker pay and in the conservative political movement's opposition to higher wage mandates. Workers have even dragged President Obama along in their wake. The White House hasn't joined workers in demanding $15 an hour, but it has raised its targeted minimum wage level from $9 an hour to $10.10 an hour over the course of the campaign.
All that momentum could eventually produce tangible progress for the millions of workers who currently work for poverty wages and are often not even paid properly for the hours they worked. The vast majority of them are grown-ups, many of them are parents, and almost all of them are paid so little that a full-time job isn't enough to provide economic security.
The industry's CEOs, by contrast, earn 1,200 times what their workers do. The fast food sector has the widest disparity between executive and worker pay of any American industry.

Workers went on strike in a total of 158 American cities Thursday, according to a press release from FastFoodGlobal.org, including in 56 U.S. cities where there had not been a strike during the most recent December wave of worker actions. In addition, international worker solidarity actions are taking place in 93 international cities spread across 36 countries. From the release:
Fast-food workers went on strike in the following U.S. cities:
Alameda, CA; Arvada, CO; Atlanta, GA; Auburn Hills, MI; Aurora, CO; Austin, TX; Ballwin, MO; Belleville, IL; Bellevue, PA; Berkeley, CA; Bloomfield, CT; Bloomington, IN; Boston, MA; Cahoka, IL; Cary, NC; Central Falls, RI; Charleston, SC; Charlotte, NC; Chesterfield, MO; Chicago, IL; Commerce City, CO; Concord, NC; Creve Coeur, MO; Dearborn, MI; Decatur, GA; Denver, CO; Dublin, CA; Durham, NC; East St. Louis, IL; Eastpointe, MI; El Cerrito, CA; Fairfield, CA; Farmington Hills, MI; Ferguson, MO; Ferndale, MI; Flint, MI; Flint Township, MI; Florissant, MO; Forsynth, MO; Fremont, CA; Glendale, CA; Glendale, WI; Greendale, WI; Greenfield, WI; Goldsboro, NC; Greensboro, NC; Greenville, NC; Grandview, MO; Gretna, LA; Haines City, FL; Hamden, CT; Hamtramck, MI; Hartford, CT; Harvey, LA; Hayward, CA; Henderson, NV; Henrico, VA; Highland Park, MI; Houston, TX; Huntington Park, CA; Indianapolis, IN; Inglewood, CA; Independence, MO; James Island, SC; Jennings, MO; Kannapolis, NC; Kansas City, KS; Kansas City, MO; Knightdale, NC; Lakewood, CO; Lansing, MI; Las Vegas, NV; Lenaxa, KS; Lincoln Park, MI; Livonia, MI; Los Angeles, CA; Madison, WI; Milwaukee, WI; Melvindale, MI; Memphis, TN; Metarie, LA; Miami, FL; Miami Beach, FL; Miami Gardens, FL; Morrisville, NC; Mt. Olive, NC; Nanuet, NY; Nashville, TN; New Haven, CT; New Orleans, LA; New York, NY; North Charleston, SC; North Las Vegas, NV; Oak Park, MI; Oakland, CA; Opelika, AL; Orlando, FL; Overland Park, KS; Pawtucket, RI; Peoria, IL; Philadelphia, PA; Pittsburgh, PA; Pleasant Hills, PA; Phoenix, AZ; Pleasanton, CA; Plymouth, NC; Pontiac, MI; Providence, RI; Pueblo, CO; Raleigh, NC; Raytown, MO; Redford, MI; Redford Township, MI; Richmond, CA; Richmond, VA; River Rouge, MI; Rockford, IL; Roeland Park, KS; Sacramento, CA; San Antonio, TX; San Diego, CA; San Leandro, CA; San Lorenzo, CA; Seattle, WA; Seekonk, MA; Slidel, LA; Southfield, MI; Southhaven, MS; Spencer, NC; Springfield, MO; St. Louis, MO; St. Petersburg, FL; Tampa, FL; Taylor, CA; Taylor, MI; Temple Terrace, FL; Union City, CA; University City, MO; Warren, MI; Warwick, RI; Waterford, MI; Wayne, MI; Wausau, WI; Wauwatosa, WI; West Allis, WI; West Milwaukee, WI; Westin, WI; West Memphis, AR; Westview, PA; Wilkinsburg, PA; Wheat Ridge, CO; West Haven, CT; Wethersfield, CT; Wilmington, DE; Windsor Locks, CT; Wentzville, MO; Wiliamston, NC; Winston-Salem, NC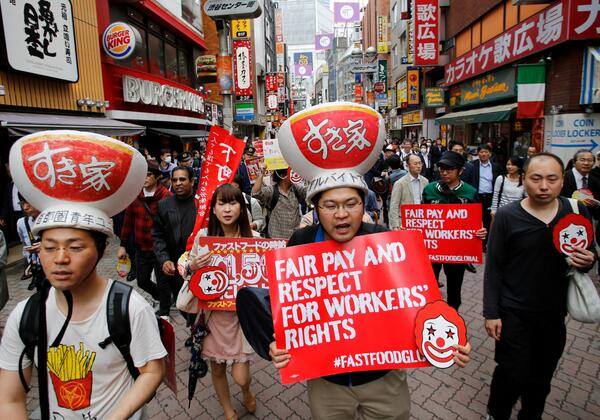 Workers are mobilizing in every continent where McDonald's operates today in solidarity with workers in the US fighting for $15 and a union. Here's a photo from Tokyo.
credit - Wisconsin State AFL-CIO post on Facebook
Fast-food workers protested in the following global cities/countries:
Akita, Japan; Aomori, Japan; Antigua; Auckland, New Zealand; Auxerre, France; Bandung, Indonesia; Bangkok, Thailand; Batangas, Philippines; Belfast, Ireland; Berlin, Germany; Bermuda; Bogota, Colombia; Bologna, Italy; Bordeaux, France; Brasilla, Brazil; Brussels, Belgium; Buenos Aires, Argentina; Busan, South Korea; Cardiff, United Kingdom; Casablanca, Morocco; Cebu, Philippines; Cesenatico, Italy; Colombo, Sri Lanka; Copenhagen, Denmark; Cork, Ireland; Curitiba, Brazil; Davao, Philippines; Djakarta, Indonesia; Dublin, Ireland; Florence, Italy; Fukuoka, Japan; Fukushima, Japan; Geneva, Switzerland; Gifu, Japan; Glasgow, United Kingdom; Goias, Brazil; Hachinoche, Japan; Helsinki, Finland; Hirosaki, Japan; Hong Kong; Kagoshima, Japan; Karachi, Pakistan; Kathmandu, Nepal; Kofu, Japan; Kyoto, Japan; Lahore, Pakistan; Leicester, United Kingdom; Lilongwe, Malawi; London, United Kingdom; Manaus, Brazil; Manila, Philippines; Matuyama, Japan; Milan, Italy; Mito, Japan; Morioka, Japan; Mumbai, India; Nagano, Japan; Nagasaki, Japan; Nagoya, Japan; Nara, Japan; Newcastle, United Kingdom; Oita, Japan; Okayama, Japan; Osaka, Japan; Oslo, Norway; Panama City, Panama; Paris, France; Porto Seguro, Brazil; Rawalpindi, Pakistan; Rome, Italy; Saga, Japan; San Juan, Puerto Rico; San Salvador, El Salvador; Santo Domingo, Dominican Republic; Sao Paulo, Brazil; Sapporo, Japan; Sendai, Japan; Seoul, South Korea; Sheffield, United Kingdom; Shizuoka, Japan; Stockholm, Sweden; Swansea, United Kingdom; Taipei, Taiwan; Takasaki, Japan; Tokushima, Japan; Tokyo, Japan; Trinidad; Valletta, Malta; Venice, Italy; Wigan, United Kingdom; Yamagata, Japan; Yogyakarta, Indonesia; Zurich, Switzerland. (Note that the Italian strikes are taking place May 16.)