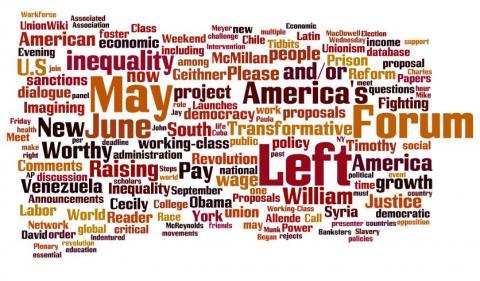 Tidbits, Reader Comments, Shorts, Announcements - May 29, 2014, Portside
Re: The Crime of Peaceful Protest - The Jailing of Cecily McMillan
It is not only a sad day for American democracy, it is scary. Totalitarian regimes are common and when people revolt in such countries, there are vicious civil wars. Democratic countries and especially established democracies are rarer and with strong civil libertarian strains, they can evolve. America has always presented itself to the world as the beacon of democracy. But now it seems to be an example of corrupt capitalism where the 1% are protecting their great wealth and influence by using and influencing Congress and the courts.
Laurel MacDowell
Re: Modern-Day Slavery in America's Prison Workforce
"Under current law, all physically able inmates who are not a security risk or have a health exception are required to work, either for UNICOR or at some other prison job. Inmates earn from US$0.23 per hour up to a maximum of US$1.15 per hour, and all inmates with court-ordered financial obligations must use at least 50% of this UNICOR income to satisfy those debts."
http://en.wikipedia.org/wiki/Federal_Prison_Industries
Orland Foster
Posted on Portside's Facebook page
William Worthy, who was a CO in WW II and earned his living as a journalist, traveling (with or without a passport) to China, the USSR, Cuba, died on May 4th in Brewster, Mass. from complications of Alzheimer's.
The New York Times had a good obit on him in Sunday's NY Times.
William Worthy was a credit to journalism, a man of courage, arrested for travel without a passport (he was arrested in 1962 on his return from Cuba).
He was remembered in song by Phil Ochs - an honor few can claim.
David McReynolds
Re: 5 Concrete Steps the US Can Take to End the Syria Crisis
These reasonable steps, as acknowledged, require Obama to act first and unilaterally. As CiC, he must order an end of his support of the opposition and cut off his military weapons, supplies and training, as well as his financial and intelligence activities for the groups he favors.
I doubt he is able to do that, but if he does, there's a chance the dependent steps could follow.
Mike Munk
Re: How Timothy Geithner Failed His Stress Test
This was the largest Ponzi scheme ever contrived in modern history.
Of course, this shaky house cards was destined to collapse eventually, as all Ponzi schemes do.
Why is this still difficult to understand?
Charles Ostman
Re: Students Now Indentured to the Banksters
Please recommend ACTION
Martin Gittelman
Re: U.S. Covert Intervention in Chile: Planning to Block Allende Began Long before September 1970 Election
I guess we knew this; interesting photo.
Paula Meyer
Posted on Portside's Facebook page
     ====
And just now Kissinger is hobnobbing with fellow Bilderbergers in Copenhagen. A decent country would arrest the bastard.
Michael McCarthy
Posted on Portside's Facebook page

South America rejects US sanctions on Venezuela
Associated Press (AP)
May 25, 2014
Miami Herald
CARACAS, Venezuela -- South American governments have rejected an effort by U.S. lawmakers to apply sanctions on Venezuela over human rights concerns.
Foreign ministers from the 12-member Union of South American Nations issued a statement Friday saying that the proposed legislation would constitute a violation of Venezuela's internal affairs and undermine attempts by regional diplomats and the Vatican to foster dialogue between the government and opposition.
Sanctions represent "an obstacle for the Venezuelan people can overcome their difficulties with independence, and in democratic peace," according to a statement after a meeting in the Galapagos Islands in Ecuador.
The U.S. House of Representatives on Wednesday is expected to debate a bipartisan bill that would order the Obama administration to ban visas and freeze the assets of Venezuelan officials who've committed abuses during the past three months of unrest. Similar legislation has already cleared the Senate foreign relations committee.
The Obama administration has condemned President Nicolas Maduro's crackdown on protests but wants to hold off on applying sanctions to give more time to dialogue.
It's This Weekend - Left Forum (May 30 - June 1) - Reform and/or Revolution: Imagining a World with Transformative Justice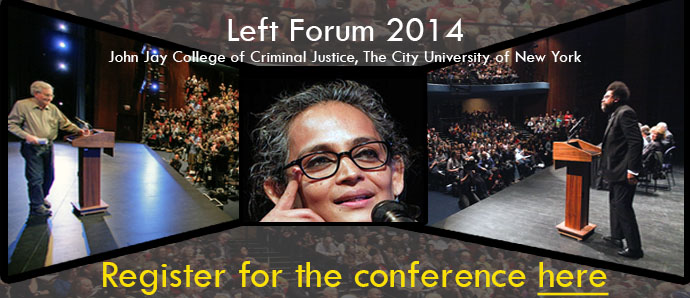 More information here
John Jay College of Criminal Justice
The City University of New York
524 West 59th. Street, New York, NY, 10019
Left Forum provides a context for the critical dialogue that is essential for a stronger Left and a more just society.
Each spring Left Forum convenes the largest gathering in North America of the US and international Left. Continuing a tradition begun in the 1960s, we bring together intellectuals and organizers to share perspectives, strategies, experience and vision. For the US and the world, revitalizing an American Left has never been more urgent; Left Forum has a critical role to play in that undertaking.
Our work parallels and cross-fertilizes with the renewal of left, progressive, radical and social movement strength elsewhere-from indigenous movements in Bolivia to the South Korean farmers to the electoral gains of European and Latin American left parties. Like many movements abroad, Left Forum seeks to link the critique of neo-liberalism to anti-capitalism, and to foster radical alternatives to the established order. Left Forum provides a context for critical engagement by people of different persuasions who, nevertheless, seek common ground. Please join with us for the 2014 Left Forum conference, taking place on May 30- June 1st at John Jay College in New York City.
Please come analyze, debate, build, ally, and strategize at Left Forum 2014.
Full conference schedule here.
Download Conference Program (pdf)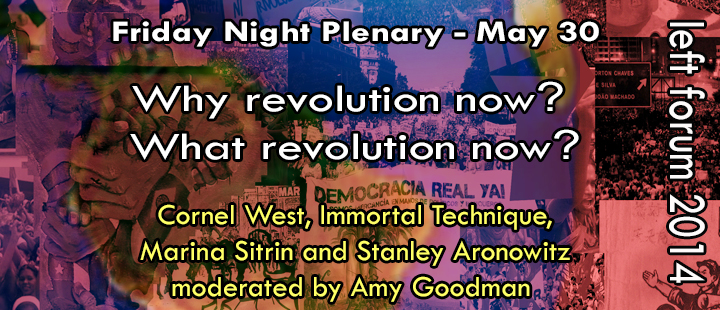 Friday Evening Plenary at 7:00 - 9:00pm
Cornel West, Immortal Technique, Marina Sitrin, and Stanley Aronowitz
Amy Goodman, moderator
Why revolution now?
What revolution now?
Saturday Evening Feature Event at 7:30 pm:
Harry Belafonte, Angela Davis and David Harvey
Imagining a World with Transformative Justice:
Reform and/or Revolution Today
Sunday Evening Plenary at 6:00 pm:
Barbara Bowen, Kshama Sawant, and Rob Robinson
Amy Goodman: moderator and interlocutor
Everyday Revolutions and Transformative Organizing:
Dialgoues, Strategies, Hope, and Trust
A dialogue in three parts - with audience questions
with a welcome from Dolores Canales
Left Forum | Department of Sociology
CUNY Graduate Center | 365 Fifth Avenue | New York, NY 10016
leftforum@leftforum.org | 212-817-2003
Raising America's Pay - Launches June 4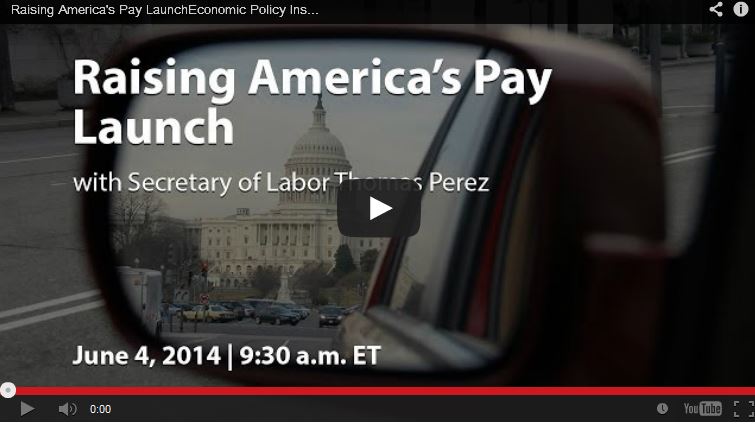 Raising America's Pay - You Tube
Raising America's Pay is a new initiative making the case for wage growth as the key economic challenge of our time - essential to addressing income inequality and boosting living standards.
Please join the Economic Policy Institute on Wednesday, June 4th at 9:30 a.m. ET, for the launch of Raising America's Pay, a new research and education initiative to make wage growth an urgent national policy priority. Secretary of Labor Thomas Perez will deliver the keynote address.
Income inequality is a hot topic now among economists, policymakers, and the media but the discussion around preventing the growth of inequality too frequently sidesteps the need to foster wage growth for the vast majority of Americans who rely on their paychecks to make ends meet.
The event will include a panel discussion that highlights the failure to provide broad-based wage growth, and explains the role of labor market policies and practices in suppressing pay. A second panel will feature leaders from on-the-ground efforts to raise wages.
This event is free and open to the public, but RSVP here.
Meet UnionWiki - The global union database project
from the New Unionism Network & friends
The global union database project - UNIONWIKI - was launched today (May 25, 2014). In true Wiki tradition, the project has soaked up thousands of hours of collaborative work from volunteers within the New Unionism Network, with practical support from the ITF. Next step, if all goes to plan, is to create national union directories and then a facility for free wikis for individual unions. Along the way we also want to find out where our true strengths and weaknesses lie -- with graphs showing the data by country, region, sector, confidence level and national income. If you'd like to know more about the project and future plans, please email unionwiki@newunionism.net.
Call for Papers - Fighting Inequality: Class, Race, and Power (May 28 - 31, 2015 - proposal deadline: Sept. 15, 2014)
Joint Conference of the Labor and Working-Class History Association and the Working-Class Studies Association
May 28-31, 2015
Georgetown University, Washington, DC
Economic inequality, while long a challenge for working-class people, has grown and become increasingly central in public life. It has been a theme in struggles for justice for low-wage workers and has shaped policies related to education, housing, health care, and the right to organize. Fifty years after the passage of the 1965 Voting Rights Act, even access to the most basic democratic right faces new threats. We see concern with inequality growing in religious institutions, and it has been a theme in the media and the
arts, as well -- in spoken-word poetry about the link between mass incarceration and slavery, in documentaries about individuals and communities struggling to "recover" from economic restructuring, and in a variety of commentaries and reflections.
Fighting Inequality will bring together scholars, activists, and artists to explore some core questions about economic inequality and strategies for resistance, both historically and in the current moment:
What forces - social, political, economic, and cultural - have contributed to inequality and influence people's responses to it?
How do working-class people gain power within democracy when access and rights are limited by policy and ideology?
How have the complex relationships among class, race, and power sometimes enabled and sometimes constrained working-class resistance?
We welcome proposals that address these questions or other aspects of working-class life through historical, cultural, social, and/or political lenses. Because we will meet in the nation's capital in a period when past democratic achievements are under assault, we particularly encourage those that wrestle with issues of democracy and public policy. We invite proposals for varied formats, including roundtables, debates, working groups, workshops, teaching sessions, and performances. Whenever possible, session proposals should involve participants from multiple disciplines and roles, linking scholars across fields and connecting academic research with activism and/or the arts.
Guidelines for Proposals
Sessions will be scheduled for 75 minutes, including 30 minutes for discussion among speakers and attendees. Proposals may take one of the following forms:
Panel, roundtable, or workshop with multiple presenters
Individual presentation
Performance, reading, display, or screening
Proposals should include:
Proposed title and a brief (150-word) description
Suggested topic category (see website for details)
One-paragraph biography for each presenter
Contact information for each presenter, including mailing and e-mail addresses
Technology needs, if any
While individuals may submit more than one proposal, due to time and space constraints, no one may present more than once at the conference. Submit proposals online at fightinginequality.org. Questions?
Contact Sherry Linkon, sll5@georgetown.edu, or Vail Kohnert-Yount, avk26@georgetown.edu.
DEADLINE for submissions is: September 15, 2014 at fightinginequality.org (website won't be live until June 1)
+++ Please help us share the call for papers widely through your own networks