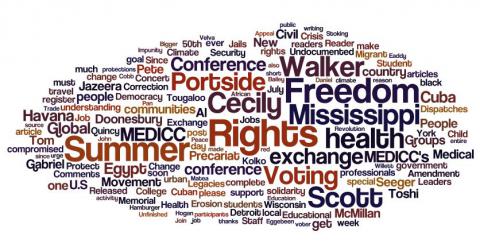 Tidbits - Reader Comments and Announcements - June 26, 2014, Portside
Correction: WikiLeaks Reveals Secret Global Trade Deal for Corporations to Operate with Impunity
Moderator's Note: When originally published on Portside, this post had the wrong attribution. The original source is Truthout, and Mike Ludwig is a staff reporter for Truthout. (The post on the Portside website has now been corrected.]
Re: Send Undocumented Student Leaders to Mississippi Freedom Summer 50th Conference!
I enjoy Portside commentary. We acknowledged these young people at the Conference. The presence of the youth is so inspiring and promising.
Tougaloo College is the host site for MIssissippi Freedom Summer 50th Conference. Tougaloo is a historically black college that served as the intellectual battleground for the Civil Rights Movement in Mississippi. It was the safe haven, the place where the volunteers, activists and leaders came to organize, train, strategize and rest. Commonly referred to as the cradle of the Civil Rights Movement in Mississippi, the College sits on the northern borders of Jackson, Mississippi.
Beverly W. Hogan
President
Tougaloo College

Re: Scott Walker Suspected of Coordinating with Outside Groups
I live in Wisconsin and most of the people in our capitol city of Madison are feeling so dam happy and even hopeful that Scott Walker will actually get busted for the stuff that all of us here have known was true since day one. Thanks for reporting about it and thanks for the many emails I receive from you. You do a great job.
In Solidarity,
Cindy Johnson from Wisconsin
     ====
On the 19th Matea Gold and Tom Hamburger wrote an article full of lies about Scott Walker.  This kind of one-sided story-telling (can you say LIE) about Scott Walker being suspected of collaborating with outside groups and your insinuation that this was how he escaped recall is not only the worst writing I have ever seen, is an absolute lie to call it journalism, and is despicable for you to publish.  Walker has been cleared of these allegations and it's obvious to me that you are owned by anti-liberty, anti-freedom, anti-constitution, anti-conservative communist, Marxist, socialist idiots.
Matea Gold and Tom Hamburger must be your most dedicated and totally bought hacks.  This kind of article is the reason I never read your publications, and the reason I tell all my friends that you have an agenda driven by the lying leftist Marxists who are running out country and apparently your publication.
GO INTO ANOTHER KIND OF BUSINESS!  YOU ARE NOT WORTHY TO BE CALLED A NEWS MEDIUM.
Bob Myers

Re: For Scott Walker, Jobs Count May Be Bigger Headache Than John Doe
He's been the leash-pet of the Koch Boys ... he gave himself away, and when he's all done and washed up, the Koch Boys will find another pet.
Tom Eggebeen
Posted on Portside's Facebook page
Democracy cannot be compromised - Protect the Voting Rights Amendment
Democracy hinges on the participation of the many, not the select few. Even so, the United States Supreme Court weakened the Voting Rights Act last year by taking away key voting rights protections for our most vulnerable populations.
Today, one year after this shocking Supreme Court decision, we need your voice to urge our lawmakers to rebuild the VRA by introducing the Voting Rights Act Amendment.
The first step towards victory is letting your community know what's at stake.
Write a letter to the editor of your local paper-start with our template and add your personal story.
This week, we're celebrating a significant milestone: 50 years since brave youth volunteers, black and white, risked their lives during Freedom Summer to register African Americans to vote in Mississippi. We must honor the bold efforts of these civil rights warriors with our action today.
African Americans, Latinos, young people, and senior citizens are some of the groups most susceptible to voter suppression attacks. A fix to the VRA is needed to restore the protections once guaranteed to all of these vulnerable populations.
Write a letter to the editor of your local paper to urge fellow citizens to stand up for voting rights:
http://action.naacp.org/Voting-Rights-Letter
To assure our democracy is not compromised, it is necessary to raise your voice-and for all to know what's at stake!
In solidarity,
Jotaka Eaddy
NAACP Sr. Voting Rights Director
Re: Stoking Fire: Why Are Some Teachers Being Asked to Swear Allegiance to Catholic Doctrine?
Because the church is terrified about ever decreasing members and needs propaganda pushers to try and keep the ever smaller herd intact... Doomed to fail of course.
Michael Wafkowski
Posted on Portside's Facebook page
Re: The U.S.-Created Child Migrant Crisis
thanks. a good piece. but how he can continue to quote the stupid slogan "all politics is local" with that headline beats me.
Peter Marcuse
     ====
Gracias!!!!
Velva Spriggs
     ====
A different way to think about immigration, then current policy. What is our country doing that created the conditions that make people decide to leave their homes, families and country of birth. I am the child of immigrant parents who fled czarism, anti-semitism, racism and exploitation. I believe that they and their generation helped make this country a better place than what they found. I believe that today's immigrants will do same. I welcome you, brothers and sisters.
Jay Schaffner
Posted on Portside's Facebook page
     ====
What the US needs to do is provide the financial resources to the CHOSEN governments of those Central American nations, to make them habitable again. Not the governments and investors/investments of our choosing.
Phyllis Mandel
Posted on Portside's Facebook page
Re: Outrage as Egypt Jails Al Jazeera Staff
My suspicious mind wonders about Kerry's presence in Egypt the day before these sentence were handed down.
Furaha Youngblood
Posted on Portside's Facebook page
Re: The Precariat and the Global Erosion of Job Security
(posted on Portside Labor)
Such an important issue but the article is so poorly written and /or edited that it diminishes the critical nature of the topic.
Ralph Lawrence
Posted on Portside's Facebook page

Re: Groups Appeal to UN for 'Humanity' as Detroit Shuts Off Water to Thousands
Detroit is engaging in psychological extermination. Their aim is to frustrate the destitute into Mentacide, and illnesses by proxy. Unclean, or no water equals illnesses and disease. Until the Black adults act like adults and come face-to-face with "Mr & Mrs Charlie's" schemes of population control, more (Ethnocidal) doomsday tactics will creep up.
Pan Afrikan
Posted on Portside's Facebook page

Re: Armed Resistance in the Civil Rights Movement: Charles E. Cobb and Danielle L. McGuire on Forgotten History
Peace is not only the goal, peace is the means to achieve the goal.  I don't buy the guns thesis.  Non violent resistance yes, guns , no. You get a dunce cap.
Peace,
Mark Bailey

Re: Dispatches from the Culture Wars - Freedom Summer Legacies special edition
Can we obsess too much about Mississippi Freedom Summer? Maybe but imo we're not there yet. Here, via Portside and Patrick Jones a good collection.
Daniel Millstone
Posted on Portside's Facebook page
     ====
This group of articles, if complete, could have been a valuable collection. But unfortunately what you chose to print was extremely sketchy: you reprinted only the opening paragraphs of each of the six of them without informing us, your readers, that you had made these cuts.
It was possible for us to read the entire articles, but, in order to do that, the readers had a) to figure out that the cuts had been made and b) to leave Portside and click on each of the original sources.
Portside should not be disguising information; it should be helping us to glean it.
Gene Glickman
     ====
Portside Moderators' response:
Thanks for your note concerning our Dispatches features -- we're glad you appreciate them!
Our goal is to get as much info to the readers as we can, short of reprinting entire articles, because some of them can be quite long. So instead of complete pieces, we post "Teasers", a short summary of each selection, as a way to introduce reader
Re: Gabriel Kolko's Unfinished Revolution
I have a number of problems with this essay. For one thing, lack of understanding that there is no absolute contradiction between human activity and "impersonal forces." Economic laws, "impersonal forces, are played out through human activity. A little understanding of dialectics would help.  
The fact is that Big Business did oppose government regulation, furiously, attacked the proposed reforms of the era of Populism. But seeing that was a losing strategy, they came to the understanding that government regulation could be turned to their own advantage, so that a government regulatory agency, for example, could reassure the public that its interests were being guarded, while that agency could be coopted by the elite and actually give the elite a free hand.
Neither Kolko nor Eli Cook question why it was the "libertarian Right" who became a champion of his views, found them so useful. A terrible misunderstanding by all or a terrible contradiction between his message and his intentions?
Joseph G. Kaye

Doonesbury on Climate Change - 99%? So what.
Check out this Doonesbury cartoon on climate change!
Steve Willett
Cecily McMillan to be Released Next Week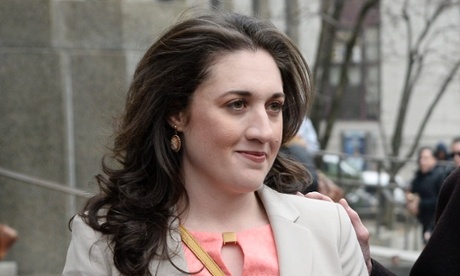 Cecily will be released one week from yesterday! We are all very excited. Since she'll be leaving Rikers so soon, any letters you want to send to her from this point on should be addressed to 274 Quincy St., Brooklyn, NY 11216. The letters have been an incredible source of solace for her throughout this process and she'll need lots of support when she gets out, so please keep writing to her!
On July 4th, we will be having a party at Quincy House (274 Quincy St) to celebrate her release. All supporters are encouraged to attend! There will be DJs and a dance floor, as well as beer pong, zines, and our own leftist drinking games. We will have wine and beer available for donations to the trial fund. Since the red, white, and blue put Cecily behind bars we will be celebrating in our own colors - red and black. Please dress accordingly! RSVP here.
This Sunday, we will also be marching with a political prisoner contingent in the Pride Parade on behalf of Cecily and other prisoners such as Mumia, Nestora Salgado, Marissa Alexander, and Chelsea Manning. We'll be meeting up at 11am on 39th st. between 5th and 6th avenues. RSVP on Facebook here. We hope to see you there!
Once again, thank you all so much for your support during this incredibly horrific process. Cecily will be back with us soon, and we fully plan to do everything we can with our momentum to create positive change in the world. See you soon!
Love and solidarity,
Lucy and the rest of the Justice for Cecily support team
CecilysTrial@gmail.com
A Memorial Concert for Pete and Toshi Seeger - New York - July 20
Sunday, July 20, 2014 4:00 PM
Damrosch Park Bandshell
More information here.

Join MEDICC's Educational Exchange to Havana Sept. 29-Oct. 4

MEDICC announces a five day People-to-People educational exchange to Havana, Cuba, departing from Miami on September 29 and returning October 4. The exchange is open to any U.S. citizen or legal resident interested in promoting health and well being for under served communities in urban environments.
Participants will participate in a full-time schedule of activities from Monday to Friday, and will be accompanied by a MEDICC expert and a specialized medical interpreter to facilitate communication with Cuban health professionals and other Havana residents. The program includes visits to:
A community-based clinic, and doctor and nurse offices
Community arts and culture projects focused on health and wellbeing
An urban garden
A neighborhood housing transformation project
Other initiatives, public and private, that promote healthy living and obesity prevention
Travel on the exchange is fully legal, authorized by the Office of Foreign Assets Control (OFAC), U.S. Treasury Department, under the license number CT-2012-299159-1.
The dates of the exchange coincide with the internationally-sponsored 2nd International Conference on Medical Education for the 21st Century, to be held from September 30 to October 3, 2014, at Havana's International Conference Center. The conference's theme is "The Role of Medical Sciences Universities in Population Health." U.S. health professionals and students who wish to attend the conference must register and arrange travel through Marazul Charters, Inc., a licensed travel service provider. Both the People to People exchange participants and conference attendees will be housed at the Palco Hotel, adjacent to the conference center.
MEDICC's Gateways Program Manager Elizabeth Sayre commented, "While the 'Urban Environment, Health and Wellbeing' exchange is open to all, it also provides a special opportunity for those accompanying conference participants but not registered at the conference, to get an insider's look at Cuban health care in an urban setting."
To register for the People to People educational exchange, please complete MEDICC's online registration form here.
For more information, please contact:
Elizabeth Sayre, Gateways Program Manager
Tel: 510.350.3564
esayre@mediccglobal.org  
About Medical Education Cooperation with Cuba
Since 1997, MEDICC has worked to enhance cooperation among the US, Cuban and global health communities aimed at better health outcomes and equity.  MEDICC produced the feature film ¡Salud! and publishes the MEDLINE-indexed journal MEDICC Review.    MEDICC supports research in Cuba by US health professionals, assists US students and graduates of Havana's Latin American Medical School to return to US underserved communities, and organizes Community Partnerships for Health Equity to improve health care and access in communities such as South Los Angeles and Oakland, California; Albuquerque, New Mexico; and The Bronx, New York.