Berkeley Free Speech Movement at 50 and Today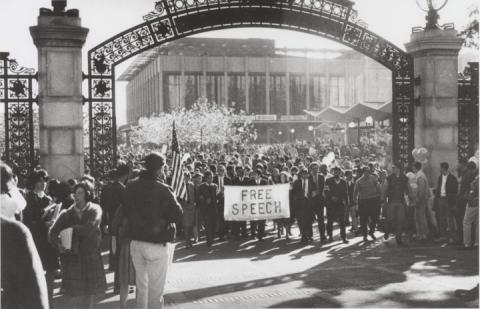 The Free Speech Movement, which erupted on the Berkeley campus 50 years ago. Oct. 1 marked the 50th anniversary of the Free Speech Movement, a protest that only lasted for three months but set the stage for the turbulent 1960s.,Photo: UC Berkeley Libraries // Berkeleyside.com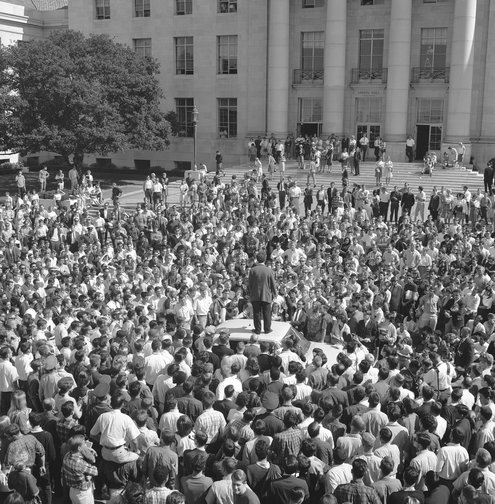 A protest at Berkeley during the Free Speech Movement of 1964, which spread to other campuses.
Credit Steve Marcus, via The Bancroft Library/University of California, Berkeley // New York Times

One Struggle: Berkeley Marks 50th Anniversary of the Free Speech Movement with a Message of Solidarity
By Lilith Claire
October 1, 2014
The Berkeley Graduate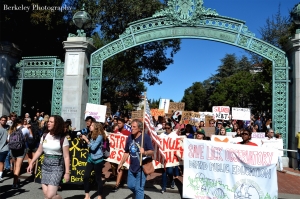 Celebrations marking the 50th Anniversary of the Free Speech Movement at Berkeley climaxed today, in a day of events commemorating the October 1st, 1964 arrest of graduate student Jack Weinberg for tabling on Sproul Plaza. Students responded by deflating the tires of the cop car in which police were holding Weinberg, and formed a rally, sparking the Free Speech Movement.
In remembrance, FSM veterans re-converged on Sproul Plaza, with movement luminaries such as Dolores Huerta, Jackie Goldberg, Bettina Aptheker, and Weinberg, giving speeches on the Mario Savio steps, named for one of the charismatic FSM leaders. Even Edward Snowden addressed the rally, albeit through a letter read aloud.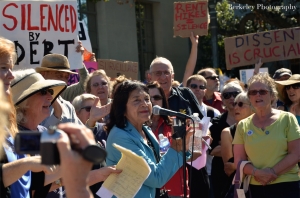 Dolores Huerta addressing the rally yesterday commemorating the FSM at UC Berkeley.
The Cal Progressive Coalition organized graduate students and undergrads to create posters in front of California Hall, and then march through Sather Gate to join the rally. The CPC's organizing brought into conversation issues as wide ranging as civility, class size, deportation, the environment, food insecurity, fossil fuel dependence, the gender binary, incarceration, labor rights, Janet Napolitano, Palestine, police violence, privatization, rising rents, sexual assault, student debt, tuition, and the current actions in Hong Kong. Pushing back against the silencing these injustices perpetrate, they emphasized the need for free speech.
The speakers, including Rhetoric PhD candidate Amanda Armstrong, emphasized the interconnections between and the need for solidarity across these movements.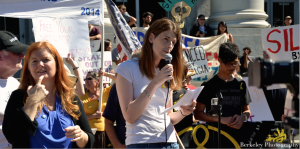 Amanda Armstrong
A quotation from Mario Savio, repeated in several of the speeches then broadcast in Savio's own voice at the close of the rally, brought the resonances between the movements into focus:
There's a time when the operation of the machine becomes so odious-makes you so sick at heart-that you can't take part. You can't even passively take part. And you've got to put your bodies upon the gears and upon the wheels, upon the levers, upon all the apparatus, and you've got to make it stop. And you've got to indicate to the people who run it, to the people who own it that unless you're free, the machine will be prevented from working at all.
Mario Savio's famous Dec. 2 1964 speech, on the steps of Sproul Hall, when he talks about the "odious gears of the machine."
Weinberg powerfully conceded that he no longer considers the Free Speech Movement the most important student movement, given the organizing in Hong Kong over the last week.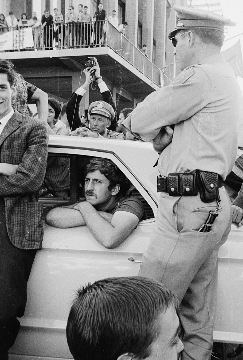 Jack Weinberg, who was arrested for distributing information about CORE, the Congress of Racial Equality, sat in a police car for 33 hours.
Photo: Steven Marcus/Bancroft Library // Berkeleyside.com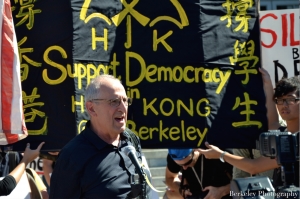 Jack Weinberg, speaking at the rally
The need for a broad-reaching movement for freedom across social justice issues was evident in explanations marchers offered for why they found it so important to come out today. Graduate Division staff member and Berkeley alumnus Juan Garcia commented, "sometimes, we must come out of the shadows and speak up for not only ourselves, but for the others dear to us and for the working class and oppressed everywhere. Hasta la victoria siempre!"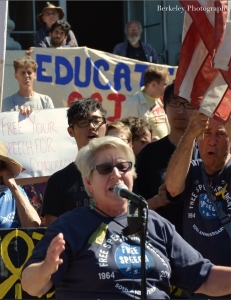 FSM leader Bettina Aptheker addressing 50th anniversary commemoration rally
Graduate student spouse and University Village resident Caitrin Connolly Olszewski attended today's events to speak up against
exploitative UC policies like the privatization of public property and the silencing of students [that are] affecting my family and other student families in two ways. First, we are being financially exploited by the UC system because we have to pay so much more to access the housing that allows us to access the education, this exploitation trickles down to our children as our heavy debt burden affects our ability to be upwardly mobile. Second, with the system privatizing at such a rapid rate, there is no guarantee that our children will even have a public university system available to them. We may have won the right to free speech back in the 60's, but now we have to fight for the right for that speech to be heard. We need to force the system to be accountable to us.
Following the rally, the Cal Progressive Coalition held panels relating contemporary struggles to those of the FSM, and charting the past 50 years of free speech. Students then proceeded to Capital Projects, where they staged a sit-in to demand a meeting with Chancellor Dirks and documents on land development.
CPC is marching to make it clear that this anniversary should not be a moment for the university to congratulate itself on a legacy of social justice, but rather a time to recognize that each of the major student struggles over the past 50 years made gains in spite of repression by the university. UC Berkeley continues to actively target and silence dissenters.
The University has been commemorating the FSM legacy as a badge of Berkeley's progressive accomplishments, with Constitution day film screenings, a poster contest, a controversial letter from Chancellor Dirks on civility, and surveilling students organizing for the rally. The CPC objects to the University's approach, declaring in their press statement for today's rally,
CPC is marching to make it clear that this anniversary should not be a moment for the university to congratulate itself on a legacy of social justice, but rather a time to recognize that each of the major student struggles over the past 50 years made gains in spite of repression by the university. UC Berkeley continues to actively target and silence dissenters.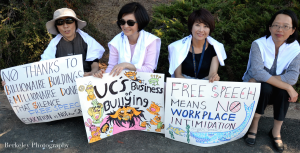 Throughout the day, a chant echoed in the signs and speeches, the beats of marching students' feet, a call for free speech and solidarity between movements:
Free Speech? Not if you are speaking for freedom.

Free Speech? Not for students beaten by the increasingly militarized UC police.

Free Speech? Not for UC Berkeley workers who are intimidated by their employers.

Free Speech? Not for the 1% of the population that is currently incarcerated.

Free Speech? Not for students intimidated under augmented campus surveillance.

Free Speech?  Not for UC unions.  In July the UC administration told UPTE-CWA 9119 that if they wanted to set up a table to talk to members and eligible employees outside the Haas School of Business, the union would have to pay $245.

Free Speech? Not for Students for Justice in Palestine activists. The UCOP (former and current) and UC Chancellors have issued statements condemning activism that is critical of Israel.

Free Speech? Not for Fossil Free. Just last week, the UC Regents voted down divestment after a closed-door task force session that shut out the student advocates on this council.

Free Speech? Not for the Gill Tract Farm advocates. For twenty years, the University has been steamrolling against community and student demands for sustainable alternatives to the corporate development on this historic farmland.

Free Speech? Not for the student families in University Village. Families who were already struggling with invisible poverty and food insecurity have been slammed with rent increases without any chance for community input.

Free Speech? Not for the millions of students, workers, and community members who were deported under President Napolitano's tenure as the head of homeland security. Students of color continue to feel intimidated and targeted under her presidency.

Free Speech? Not if it violates Chancellor Dirk's ideas of "civility".
[Lilith Claire is a PhD candidate and GSI in the Rhetoric Department. As the Politics Staff Writer for The Berkeley Graduate, Lilith covers politics, activism, art, and their intersections, is dedicated to sharing relevant political news with the graduate community, and welcomes recommendations of stories to cover. You can visit Lilith's photography website at http://berkeleyphoto.wordpress.com ]
One Prof's Memory of the FSM Years
By Leon Wofsy
September 19, 2014
Leon's OpEd Blogspot
Fifty years.
Most students who experienced FSM are alive to tell the tale. Probably most members of the faculty of 1964 are not. They would surely be astonished to see "what time hath wrought", how warmly UC has come to embrace the unruly band that refused to abide by institutional "norms" in 1964.
Image change over time is not uncommon, though it can be quite spectacular. When we celebrate Martin Luther King's birthday as a national holiday, the conventional narrative overlooks how he was vilified for opposing the Vietnam War, how much the entire civil rights movement was hounded by the FBI and considered by successive presidents of the United States to be a thorn in the side.
So we might well remember how hard the authorities fought against the free speech demands. The UC administration and the Regents resisted stubbornly; campus protesters were confronted by police and, over the next few years, by a hostile governor who ordered in the National Guard.
I was almost 43 when FSM burst on to the Berkeley campus, having joined the faculty only two months earlier.
FSM took us, the faculty, on a very bumpy ride. A few got on board when students surrounded the police car in Sproul Plaza. Most were unresponsive, a few annoyed and hostile, most assuming the disturbance would soon blow over. The mass arrests at Sproul Hall on December 2nd changed the mood, a majority shocked by the use of such force at the behest of campus administrators.
I remember standing with Professor Howard Schachman at Sproul Hall right after the students were dragged out and arrested. We decided to enlist our colleagues to convene an ad hoc meeting of faculty that evening. That meeting in the old Life Sciences Building formed the Committee of 200, which rallied a large majority of the faculty to the side of free speech, culminating in the historic Academic Senate vote of December 8th. Of course that landslide vote marking the FSM's victory was guaranteed in advance when campus police tried (and failed) forcibly to keep Mario Savio from speaking at the Greek Theater convocation.
We listen in awe today to the remarkably thoughtful, poetic and inspired speeches of Mario Savio, but I'm reminded that some administrators were so blinded by rage that they could say, as one did to me: "he speaks the language of the gutter".  I've told the story elsewhere (a chapter in the Zelnik and Cohn book about FSM) of my being asked for advice at high levels of the UC administration, advice that was rejected because it was supportive of the students. Moreover, adding injury to insult, a record of that "confidential" encounter was passed on to the FBI and appeared in my FBI file obtained under the Freedom of Information Act.
FSM gave something very important to faculty who came to its support. It gave (or evoked) courage and a sense of community with the students.
Soon after the FSM prevailed, students and much of the faculty used their "free speech" to protest the Vietnam War. Governor Reagan, who had conspired with J. Edgar Hoover to oust UC President Clark Kerr as too liberal, felt that speech shouldn't be free after all. When students and faculty decided to hold a "Vietnam Commencement" supporting graduating seniors who had pledged not to fight in Vietnam, Reagan and the Regents banned the event. But it took place anyway, thousands filling Sproul Plaza, and 300 faculty standing together on the steps of Sproul Hall in direct defiance of the ban. Threatened punishment failed to materialize.
Later still, during the Regents' effort to eliminate People's Park, Governor Reagan ordered the National Guard to the Berkeley campus, unleashing tear gas indiscriminately from swooping helicopters. A delegation of faculty went to Sacramento to plead for sanity. When the Governor called them in for a tongue lashing in front of massed news cameras, the faculty delegation took him on and actually achieved remarkably favorable coverage by the media.
So FSM wasn't the end of the fight for free speech. For some, it continued in support of efforts for affirmative action and establishment of ethnic studies. For many more, it carried on to divestment of UC's holdings in apartheid South Africa. And that didn't come easily either.
FSM turned out to be an important part of many lives, my own included. We have every reason to be proud of what happened at UC, of the spirit that added to the University's greatness.
Among other things, those years gave me some of the most valued friendships of a lifetime. There were Mario Savio, Bettina Aptheker and Jack Kurzweil; Conn Hallinan and Brian O'Brien, who helped form the union of graduate assistants; and many more who were students back then. Among faculty, my dearest memories are of Reggie Zelnik and Larry Levine, young assistant professors in 1964 who risked their careers without hesitation to stand for free speech before most of the faculty was ready to pay attention. Like Mario, they died much too soon. So did Pat St. Lawrence, another good friend who in 1964 was the only woman among tenured faculty in biology.
Then there are Howard Schachman, Charlie Sellers, and a few other nonagenarians like me, still rolling along with no regrets that our part in UC's story is more than academic.
I'm still using my free speech. You are invited to share your views with me.
[This is my article in a book published in observance of the 50th Anniversary of the Free Speech Movement.  Fifty Years of Free Speech: Perspectives on the Movement that Revolutionized Berkeley, with editors Meg Elison, Gina Cova, Chloe Hunt and Alex Berryhill, published by The Daily Californian and Independent Berkeley Student publishing company, (Berkeley, CA)]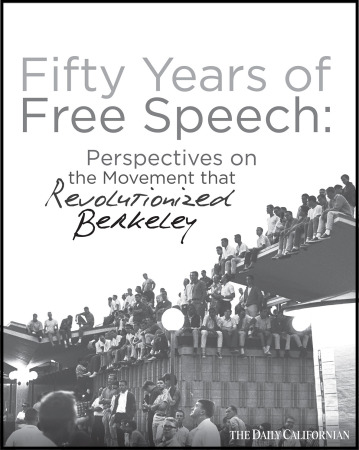 Fifty Years of Free Speech - Perspectives on the Movement that Revolutionized Berkeley
"For the first time in a half century, (this book) brings back into print a generous selection of the Daily Cal's coverage of Berkeley's free speech crisis."
"No newspaper did more than the Daily Cal to report on the emergence of the Free Speech Movement in the fall of 1964."
- From the introduction by Robert Cohen,
FSM historian and professor at New York University
Events commemorating the Free Speech Movement
There are numerous events and exhibitions happening in the next few months to mark the 50th anniversary of the protest against the police car in Sproul Plaza.
On-going:
Bancroft Library exhibition commemorating the Free Speech Movement, pictures and documents. Runs September 22 - May 29, 2015 in The Bancroft Library Corridor, Doe Library Building, UC Berkeley. Exhibit is open Monday - Friday, 8am - 5pm.
Free Speech Movement play Stagebridge's production FSM, an original play with music, written by Joan Holden, commemorates the 50th anniversary of the 1964 Free Speech Movement with performances at Brava Theater in San Francisco and Berkeley Rep. Previews start on Saturday Sept. 20. The widow and son of Mario Savio are members of the Stagebridge community and were heavily involved in the creative process and production of the play. Here's what Stagebridge says about it: "FSM takes 60's politics seriously. It celebrates the joy, moral purpose, newborn freedom and occasional absurdity of being young, part of a movement and passionately political, from a distance that takes account of the consequences." The play only runs two weekends. Find details and buy tickets at stagebridge.org
Berkeley Historical Society, Looking Back: The Free Speech Movement at Fifty. Opening reception Sunday, September 28 4:30-6:30 pm, with Bettina Aptheker. Exhibit features photographs, document, oral history excerpts. Veterans Memorial Building, 1931 Center Street, Berkeley.
Events that commemorated the Free Speech Movement:
Tuesday, Sept. 23: A Free Speech All-Campus Sing-In on Sproul Plaza at 5 p.m. followed by a lecture, "Can Students Change the World? Mario Savio and the Radical Legacy of the 1960s," by Robert Cohen, a New York University professor and author of "Freedom's Orator," which incoming students are reading as part of the campus's On the Same Page program.
Friday-Sunday, Sept. 26-28: A Free Speech Movement 50th anniversary reunion. Veterans and friends of the movement will reunite for panel discussions, social events, debates and conversations.
Wednesday, Oct. 1: Anniversary rally on Sproul Plaza with Free Speech Movement veteran speakers including Lynne Hollander Savio, Bettina Aptheker and Jack Weinberg, along with Dolores Huerta, labor organizer and immigrant and women's rights advocate.
Thursday Oct. 2: Mario Savio Memorial Lecture: Saru Jayaraman, Out of the Kitchen and Into the Streets? Wheeler Auditorium, 8 p.,.
Wednesday, Oct. 29: Conversation with Dr. Bassem Youssef, a champion for free speech in Egypt, moderated by Chancellor Nicholas Dirks, at Zellerbach Hall. Youssef is the host of Al-Bernameg ("The Program"), a satirical news show recently taken off the air by Egyptian authorities. In 2013, he was named one of the 100 influential people in the world by TIME magazine.
See a listing of events sponsored by the FSM Archives.
UC Berkeley list of events.
UC Berkeley's website on the FSM.
An interactive timeline of the FSM