Dispatches from the Culture Wars - Oscar mop-up edition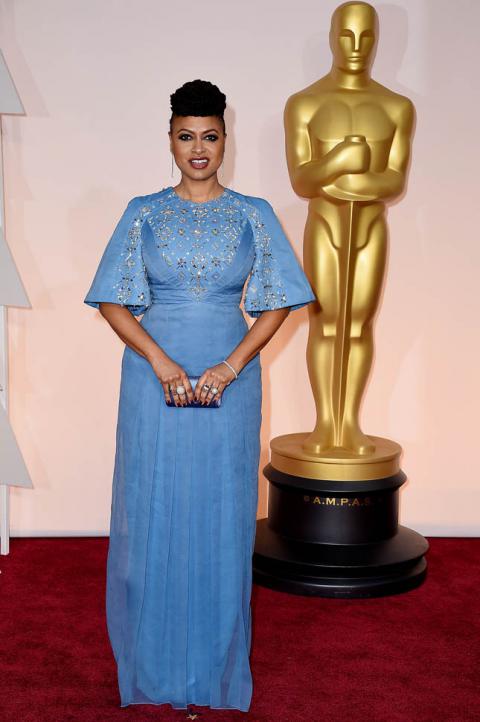 Selma director Ava Duvernay standing next to the Oscar she should have been nominated for. ,
Lowest Ratings Since 2009: Did the Selma Oscar 2015 Boycott Work?
By Lauren Victoria Burke
March 1, 2015
Politic365
Black buying power has always been written about and talked about.  But now, it's actually being demonstrated in living color and in front of everyone who is paying any attention. It was the energy of the BlackLivesMatter movement after the shooting death of Michael Brown in August of 2014 that ignited a Black Friday boycott effort in November 2014.
For the Oscar broadcast on February 22, 2015, Black Twitter showed what can happen when people are organized to simply watch something else.  Anyone who believes the Oscar folks weren't paying attention need only look at the endless parade of Black actors who were presenters on Oscar night.

In Their Moment of 'Glory,' Common and John Legend Showed the World Why the Selma Struggle Truly Is 'Now'
By Peniel E. Joseph
February 23, 2015
The Root
Legend and Common shut down the Academy Awards. The audience of Hollywood heavyweights, including Oprah Winfrey and an emotional David Oyelowo—the actor who played Martin Luther King Jr. in Selma—was in tears.
But the triumph wasn't over. A few minutes later, Legend and Common bounded up the steps to the stage, after being awarded the Oscar for best original song, where both artists eloquently dedicated their victory to America's ongoing struggle for civil rights and racial justice.

On Patricia Arquette, Coded Language and the Hotness of 'Intersectionality'
By Akiba Solomon
February 23, 2015
ColorLines
I think it's a mistake for people to assume that everybody knows what "intersectionality" is. I've seen tweets that treat a term and concept that Crenshaw herself says is difficult as if it's as common as the alphabet. My favorites so far (I'm not linking to them because I don't want to blow up private citizens): "Oh, Patricia Arquette… Ever heard of intersections? Maybe you should look that up," and "Okay so I was with Patricia Arquette until she decided to be like 'INTERSECTIONALITY WUT IS THAT.'"
I get how intersectionality becomes common sense if you've heard of it. But if you haven't had the privilege of taking women's studies courses, haven't been exposed to the black feminist canon, or you haven't had the time or tech to consume the online cultural products of young feminist thinkers, that term might not be that hot in your streets.
Oscars 2015: 'CitizenFour,' that treason joke and an onstage surprise
By Mark Olsen
February 23, 2015
Los Angeles Times
As the filmmakers behind "CitizenFour" left the stage Sunday night after accepting their Oscar for documentary feature, host Neil Patrick Harris made the remark, "The subject of 'CitizenFour,' Edward Snowden, could not be here for some treason."
In an interview on Monday, the film's director Laura Poitras responded by saying, "At best it's a bad joke. On those questions, I think everyone can reach their own conclusion, but I think I'm pretty sure that history is going to answer that question and that Neil Patrick Harris is wrong.
 "What [Snowden] did, he's a whistleblower and this is an act of conscience," she added. "That's my feeling about it and I'm pretty sure that's what history is going to say too."
"American Sniper's" Muslim problem: How Clint Eastwood embraces Chris Kyle's toxic ideas
By Nico Lang
February 5, 2015
Salon
Muslim groups have asked Clint Eastwood and Bradley Cooper to speak out against the violence and take a stand against Islamophobia, but Cooper has thus far shied away from the debate by insisting that American Sniper "isn't political." While that statement likely means that the film doesn't take an overt stance on the morality of the Iraq War, just because American Sniper doesn't take sides doesn't mean it doesn't make a statement. Any movie that, yet again, goes to Middle East without saying anything meaningful about the Iraqi people who deal with this violence day in and day out is political. Any movie that makes Arabs another voiceless mass for white heroes to play target practice with is inherently political. Any movie that, through its profound lack of empathy, encourages more men to be like Chris Kyle is political.