Victims of Chicago Police Savagery Hope Reparations Fund is 'Beacon' for World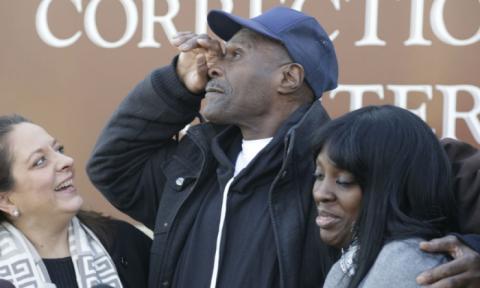 Chicagoan Stanley Wrice claimed for decades that he was coerced into confessing to a rape by Jon Burge., Photograph: Spencer M Green/AP // The Guardian

Victims of Chicago Police Savagery Hope Reparations Fund is 'Beacon' for World
By Spencer Ackerman in Edmonton and Zach Stafford in Chicago
May 7, 2015
The Guardian (UK)
For the black men who lived through torture orchestrated by Chicago police commander Jon Burge, and for the lawyer and journalist who pursued him, the city's establishment of a reparations fund has transformed an impossible dream into a model for a country currently reckoning with racialized police brutality.
"This is something that sets a precedent that has never been done in the history of America," said Darrell Cannon. "Reparations given to black men tortured by some white detectives. It's historic."
Cannon survived an act of badge-protected savagery. In 1983, officers who suspected him of murder and who answered to Burge took an electric cattle prod to Cannon's testicles. They opened his mouth and pushed in the barrel of a shotgun, pulling the trigger three times on a weapon Cannon did not know was empty.
Like torture inflicted by security forces throughout history, what happened to Cannon was not a random act of sadism. It had a specific result: getting Cannon to confess to a murder he did not commit. Only after 24 years of incarceration, including a stint on death row, did Illinois release him.
"If you stay the course," Cannon, now 64 years old, told the Guardian hours after the Chicago city council voted on Wednesday to establish a $5.5m reparations fund for Burge's victims, "you can affect the change."
The funds will be used to pay up to $100,000 per individual for living survivors with valid claims to have been tortured in police custody during Burge's command
Gregory Banks was 20 years old when Burge associates John Byrne and Peter Dignan came for him. Handcuffed to a bolt in the wall of Burge's Area 2 headquarters in 1983, Banks had Byrne's gun stuffed in his mouth after he denied, truthfully, committing a different murder. He was hit with a flashlight, kicked and had a bag stuffed over his head to suffocate him.
Before the bag came on, Banks would later testify, Dignan told him: "We have something special for niggers."
Banks served seven years in prison before his own exoneration. On Wednesday, he told the Guardian: "This is just the beginning. There's a lot more work we have to do, a lot more individuals locked up that must be free" - victims of police abuse, coerced confessions, illicit surveillance, prosecutorial misconduct and other excesses institutionalized in what activists call America's "carceral state".
"Nobody believes them, but we believe them," Banks said, "because we know it happens, because it happened to us."
Flint Taylor believed them. With his colleagues, Taylor, a longtime civil rights attorney in Chicago, spent three decades pursuing Burge and seeking justice for the police commander's crimes.
Like Cannon and Banks, Taylor was less interested in reflecting on a milestone achievement than he was in looking forward to the implications the reparations fund has for addressing the racialized police crisis that a new generation of activists nationwide has brought out of the shadows.
"Hopefully it'll be a beacon for other cities here and across the world for dealing with racist police brutality so prevalent in the past in this country and, we're unfortunately seeing, continues to this day," Taylor said.
John Conroy also believed men like Cannon and Banks. As a reporter for the alternative Chicago Reader, Conroy dug into the shocking stories of people like Andrew Wilson, a cop killer whom Burge's police tortured. While he and his editors thought they would soon get scooped by the larger local media, other journalists showed little interest.
Conroy said he thought "the dailies were going to pick this up and we couldn't compete. They didn't. A couple years later there were police board hearings about other torture and it was covered like a fire: [for just] one day. There was sort of daily coverage, but no one said: `If he tortured Andrew Wilson and maybe it looks like other people, [then] what about those other people?'"
Now out of journalism and working as director of investigations for DePaul University's legal clinic, Conroy considers Burge "not a monster, as people make him out to be", but instead the product of a comprehensive institutional failure.
"This would not have happened if he had been properly supervised; it would not have happened if the courts stepped in; if prosecutors had not turned a blind eye; if courts had not ignored patterns they'd seen. The media shares some blame, as does the clergy, the bar associations - look wherever you want," Conroy said.
"The ordinance is part of a very long history here in Chicago," Jason Tompkins, a lead coordinator of Black Lives Matter Chicago, told the Guardian.
Tompkins says it is important that people be reminded that the survivors of Burge's torture were mostly young black men like Banks at the time. And with almost all living survivors now well into their 60s, he sees this passage as a testament to their own persistence.
Over the past few months, Tompkins' group has been helping organize rallies for both this fund and more recent allegations of police misconduct at the Chicago police facility known as Homan Square.
"With this ordinance, we are talking about very specific survivors under Burge, but we know full well that a lot of things that would fit the international definitions of torture have happened in this city after Burge."
The establishment of the fund comes at a time where the nation is seeing national organizing around police violence led by groups such as Black Lives Matters. Those in Chicago who have helped organize for this package see the national context as a vital part to its success.
"I think the national context has perhaps given Chicago elected officials the courage to be different," Martha Biondi, chair of the African American Studies department at Northwestern University and a member of the negotiating committee for the ordinance said on Wednesday.
A scholar of social movements, she said she hopes the fund will be seen as a model for justice by others across the country and a way to "imagine a different future" in regards to justice for victims of police violence.
Mariame Kaba is the executive director of Project NIA and has been actively raising awareness of the ordinance. She found Wednesday to be a testament to "years of organizing and protests and investigative journalism" that helped bring to light survivors' stories that led to justice.
While she said she could talk about the struggle and all the work that still needs to be done in the city, she instead took the day to "savor that sometimes we do win .We sometimes do."
Cannon said he considers the fund "a beautiful start", and hopes the long, persistent, patient struggle of torture survivors and activists will resonate around the country - particularly after the riots in Baltimore from people fed up after the death of Freddie Gray.
"Here in Chicago we didn't burn anything down, we didn't destroy any of our buildings and property. I'm not downgrading anybody else who chose whatever route they chose; it's what they felt they needed to do, in Baltimore, et cetera. But here in Chicago we tried to do it the right way by being within the law. It's a prime example of what we can do," Cannon said.
Cannon continued: "Nothing is easy, especially of this nature, getting people to change their way of thinking how they view people. I'm hoping this will be a catalyst this coming summer, so they'll say: `Chicago did not burn, they pushed for reparations, they went on a campaign to do it the proper way, without violence.' I hope it'll be a springboard for other cities this coming summer."

Closing a 'Dark Chapter' - Chicago City Council Approves Historic Reparations Ordinance
By Katie O'Brien
May 5, 2016 - Updated May 6, 2015
WBEZ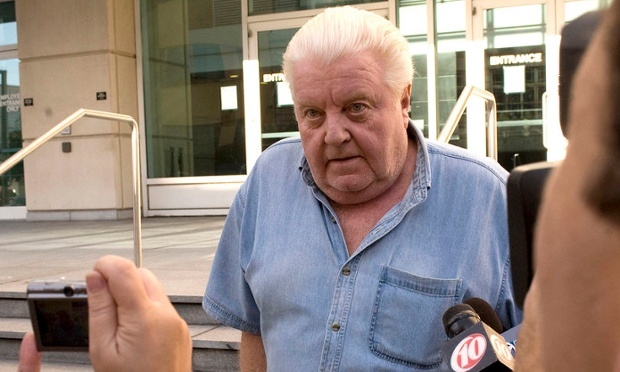 From 1972 through 1991, Burge and officers under his command tortured more than 100 African Americans.
Photograph: AP // The Guardian
For Chicagoans, it's now a familiar story.
More than 100 African American men were tortured between 1972 and 1991 by former Chicago Police Commander Jon Burge and officers under his command. Last month, for the first time, survivors had the opportunity to share their experiences with some members of Chicago's City Council.
"Up until November 2, 1983, I had a partial idea of how black people felt in the South when they were terrorized by the Ku Klux Klan," Darrell Cannon, a Burge victim, testified.
"In my case, I was tortured by the new wave klan. The new wave klan wore badges instead of sheets," Cannon explained.
According to his testimony, three detectives drove Cannon out to an empty lot on the city's far South Side. There, they held a shotgun to his head and played Russian roulette. They told Cannon the game would go on until he told them what they wanted to hear.
Cannon spent two dozen years in prison for murder he says he didn't commit. In 1988, the city offered Cannon, and he accepted, $3,000 to settle his torture complaint. Only a handful of Burge's survivors have received compensation from the city.
That's because the city doesn't have to pay the victims--the statute of limitations has expired in most cases. But there have been strong arguments that for these men and the whole city to heal and move forward, Chicago must confront what Mayor Rahm Emanuel has called a "dark chapter" in the city's history.
More than money
The reparations package, passed by the outgoing City Council Wednesday morning, calls for $5.5 million to be shared by living survivors with credible claims. The People's Law Office, which has been working with victims for more than 20 years, estimates some 120 men would be eligible for reparations; each individual award would be capped at $100,000. The package also calls for a public apology, a permanent public memorial and a counseling center for victims and families on the city's South Side. The ordinance does not specify how it will pay for the counseling center or where, specifically, it will be located.
And the "dark chapter" is to be taught in Chicago public schools. According to the city's corporation counsel, Steve Patton, students in 8th and 10th grades would learn about the Burge torture cases in history class, beginning in the 2015-2016 school year. They'll analyze primary source documents, review current cases of police brutality, and they'll discuss ways to improve accountability and protections of civil rights.
Such public acknowledgment could help repair the public's perception of police, according to former Chicago police officer and current 20th ward Ald. Willie Cochran.
"Just like all of the shootings and killings we see going across the country now, it makes it much more difficult for officers to get the respect from the communities that we deserve," Cochran told a packed gallery at last month's hearing.
Unanimous support
Before the City Council vote Wednesday, the names of more than a dozen torture victims and survivors were read and they stood while the council gave them a standing ovation.
"This stain cannot be removed from our city's history, but it can be used as a lesson of what not to do," Mayor Emanuel said.
The council voted 42-0 in favor of the reparations package, making Chicago the first city in the nation to do so.
Martha Biondi is a scholar of reparations and chair of the department of African American studies at Northwestern University. She said that by passing the reparations ordinance, Chicago could shift the national narrative around the relationship between people and the police.
"This reparations ordinance models a new paradigm, it models a new pathway to justice," Biondi said.
Biondi believes America is at a crossroads.
"We're in this crisis...it's really becoming a crisis of governance, of democracy and of public safety," she said.
But, she added, it's up to the public to rethink and help change the rules around policing.
"Why have we accepted this kind of policing, in city after city after city, in the United States? In which there will be large financial settlements paid out to survivors or family members of police brutality but nothing happens to those officers," Biondi said.
For his part, Darrell Cannon told the finance committee last month that no amount of money will make up for what he went through, or bring back the family that he lost while he was in prison. But still, he said, to make it this far was a victory in itself.
But, he added, if he gets some money from the city--he's going to buy a motorcycle.
"I'm going to ride around City Hall--I'm gonna do a lap, to say, `Hey, thank you, for finally stepping up and doing the right thing,'" Cannon said with a smile. He even got a chuckle out of Finance Committee Chair Ald. Ed Burke.
He told the aldermen he was thankful that he was alive to witness the historic action--and asked them never to allow injustice of this nature to go this long unchecked.
"We are making history...we're doing something that has not been did in any other state in the union. That's saying something about Chicago, that's saying something about Chicago politics," Cannon concluded.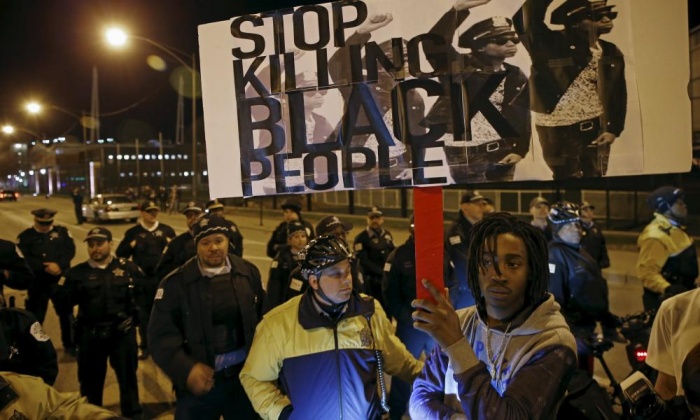 A protester demonstrates in front of a line of police officers in solidarity with protests over the Baltimore death of Freddie Gray, in Chicago.
Photograph: Jim Young/Reuters // The Guardian
 
City Council Makes History in Passing Reparations Legislation for Burge Torture Survivors
May 6, 2014
Chicago Torture Justice Memorials
This morning Chicago Police torture survivors and their family members attended a Chicago City Council hearing to witness passage of historic legislation providing reparations for the torture they and scores of other African American men and women survived at the hands of Chicago Police Commander Jon Burge and officers under his command.  Some of the torture survivors and family members traveled out of the City and State to attend the hearing.
The reparations package is the product of decades of organizing, litigation, and investigative journalism, and represents the culmination of an inspiring intergenerational and interracial campaign led by CTJM, Amnesty International, USA, Project NIA and We Charge Genocide, re-invigorated by the #BlackLivesMatter movement.  Forty-six organizations endorsed the ordinance, the U.N. Committee Against Torture specifically called on the U.S. Government to support the passage of the legislation and scores of Chicagoans attended demonstrations, rallies, sing-ins and a Citywide Teach-ins over the last six months to urge Mayor Emanuel to support the reparations ordinance.
"Over the course of the past 6 months, a coalition of individuals and groups organized tirelessly to achieve this goal. Today's historic achievement, passage of the reparations ordinance, is owed to the decades of organizing to bring some justice to the survivors of Burge and his fellow officers' unconscionable torture. We have successfully organized to preserve the public memory of the atrocities experienced by over 110 black people at the hands of Chicago police torture because we refuse to let anyone in this city ever forget what happened here," said Mariame Kaba, founder and executive director of Project NIA.
The reparations resolution represents the first time Chicago's City Council has formally acknowledged and taken responsibility for the police torture that occurred in Chicago, and recognized its obligation to provide concrete redress to the survivors and family members.  In addition to the establishment of a $5.5 million Reparations Fund for Burge Torture Victims, the City will provide survivors and their families specialized counseling services at a center on the South side, free enrollment in City Colleges, and priority access to job training, housing and other city services. Additionally, a history lesson about the Burge torture cases will henceforth be taught in Chicago Public schools and a permanent public memorial will be erected to commemorate the torture and survivors.
"It is the first time that a municipality in the United States has ever offered reparations to those violated law enforcement officials," said Joey Mogul, a co-founder of Chicago Torture Justice Memorials, partner at the People's Law Office and drafter of the original reparations ordinance. "This holistic model should serve as a blueprint for how cities around the country, from Ferguson to Baltimore, can respond to systemic racist police brutality."
The final legislation was the product of an agreement reached with Mayor Emanuel, CTJM and Amnesty International, USA on the eve of an April 14, 2015 hearing on the original reparations Ordinance introduced into City Council by Aldermen Proco Joe Moreno (1st Ward) and Howard Brookins (21st Ward) in October of 2013.
While torture survivors, family members, and activists were pleased with the reparations package passed today, they noted that much more work needs to be done to address racially motivated police violence in the City of Chicago.
"Today is an important and historic day, and the result of a courageous, decades-long effort to seek justice. But this is not the end. We must make sure that this curriculum places torture under Burge in a broader context of ongoing and endemic police violence. We must expand counseling and treatment services so they're available for all survivors of police violence. And more broadly, we must fight for an end not only to these horrific acts of torture, and police shootings of Black youth, but also against the daily police harassment and profiling of young people of color in Chicago and across the country," said Page May, an organizer and activist with We Charge Genocide.
The Reparations Ordinance was drafted to provide redress to approximately 120 African American men and women subjected to racially-motivated torture, including electric shock, mock executions, suffocation and beatings by now former Police Commander Jon Burge and his subordinates from 1972 through 1991.  Although Burge was convicted on federal charges for perjury and obstruction of justice stemming from the torture cases in 2010, he continues to draw a taxpayer funded pension.
* Top quote from Adeshina Emmanuel, Human rights practices inform Chicago ordinance in police torture case, in The Chicago Reporter