Dispatches From the Culture Wars - The Fighting Arts Edition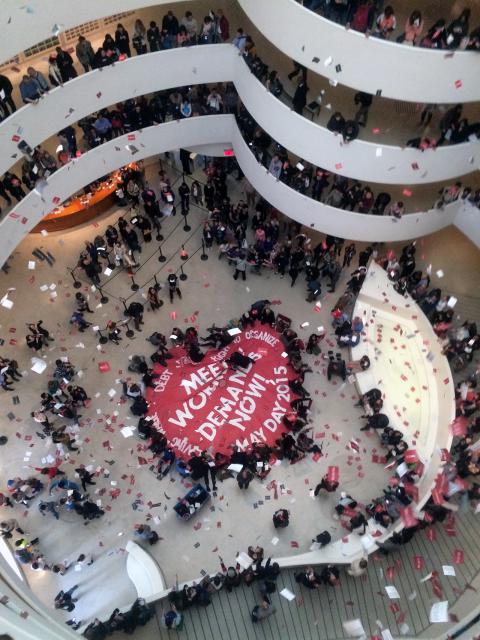 Member of the Gulf Ultra Luxury Faction (known as G.U.L.F.) unveiled a large parachute in the Guggenheim Museum rotunda with the words "Meet Workers Demands Now" , all images by the author for Hyperallergic

Sadly Mayweather Beats Domestic Abuse History, Too
By Ken Hoffman
May 8, 2015
Houston Chronicle
As the fight hype grew hotter, Mayweather was confronted with questions about his documented assaults against women. In one fiery interview, CNN's Rachel Nichols backed him into a corner and pummeled him with his own violent past. If that interview were scored like a fight, the referee would have stopped it in the first round and raised Nichols' hand.
The Mayweather fight put domestic abuse back in our national conversation. The National Domestic Violence Hotline received almost double its normal donations the week before the boxing match.
Banksy Finds a Canvas and a New Fan Base in Gaza's Ruins
By Majd Al Waheidi and Isabel Kershner
April 30, 2015
New York Times
GAZA — Very little of Abu Shadi Shenbari's family home remains in Beit Hanoun, in the northern Gaza Strip. Only a concrete bathroom wall was left standing when Israeli forces flattened the neighborhood near the border with Israel during the war with Hamas last summer.
Though Mr. Shenbari had all but abandoned that last panel of erect concrete, in recent days he began building a wood and wire-mesh fort with a flimsy nylon roof to protect the bombed-out bathroom wall, which is now home to a 10-foot-tall depiction of a kitten.
The spray-painted mural was created by the elusive British graffiti artist Banksy, who slipped in and out of Gaza in February, leaving his mark on three slabs of rubble left from Israel's 50-day fight with Hamas, the Islamic group that controls Gaza.

May Day Occupation at Guggenheim Closes Museum #GuggOccupied
By Benjamin Sutton
May 1, 2015
Hyperallergic
At noon today, a group of artists and activists including members of the Gulf Ultra Luxury Faction (known as G.U.L.F.) unfurled a large parachute in the atrium of the Guggenheim Museum, demanding to meet with a member of the institution's board of trustees to discuss the labor conditions at its Abu Dhabi site. At the appointed time, members of the collective threw leaflets inspired by the current On Kawara exhibition from the museum's upper levels and the protesters articulated their demands through a human microphone chant.
Whitney Curators on the Decision to Display 5 Provocative 1930s Anti-Lynching Prints
By Kyle Chayka
May 7, 2015
Vulture
The Whitney's new building allowed the museum to send curators deep into its archives to resurface artworks that hadn't been seen in many years and tell new stories. One of the more disturbing, and thought-provoking, moments in the inaugural exhibition, "America Is Hard to See," are five prints of lynchings — racially motivated murders in the guise of vigilante justice — created by artists in the 1930s in protest of the then-widespread mob-rule barbarity. The Tuskegee Institute counts 117 African-Americans killed in this manner that decade.
"I knew that artists had treated the subject," says Whitney curator of drawings Carter Foster. "When we realized we had them in the collection, we thought they would make a powerful group; they're important images for people to see." The lynching images, by artists including Jose Clemente Orozco, Harry Sternberg, Paul Cadmus, and Hale Woodruff, were previously collected in two exhibitions in 1935, both in support of an anti-lynching bill that was first proposed in Congress the previous year that had failed to pass and continued to languish decades later.
Jazz as a Force for Peace and Freedom
By A. D. McKenzie
May 2, 2015
Inter Press Service
Against the backdrop of civil unrest in Baltimore, Maryland, the fourth annual International Jazz Day was celebrated with events around the world and appeals for peace, unity and dialogue.
"Each of us is equal. All of us inhabit this place we call home," said American jazz legend Herbie Hancock. "We must move mountains to find solutions to our incredible challenges."
Although the organisers of the event held on Apr. 30 did not refer directly to the protests that have followed the funeral of Baltimore resident Freddie Gray, an African-American who died in police custody, Hancock told IPS in an exclusive interview that musicians were conscious of this and other cases.

A Victory for Gender Equality on the High Seas
By Karen Attwood
April 26, 2015
Guardian
An eight-year-old girl has scored a victory for gender equality after a publisher stopped marketing books "for boys" and "for girls" following a petition she launched at her school.
Els, who wants to be a palaeontologist when she grows up, was annoyed to find an exciting looking pirate book labelled "for boys" in the catalogue advertising a Scholastic book fair to be held at her school in north London. After her mother Leone, 35, told her to "stop griping and do something", she set up a petition to send to the firm that was signed by 80 of her friends and teachers at Bounds Green School.
Scholastic has now removed the "boys" and "girls" sections on its online Book Wizard which had previously limited questions about sport to boys and those about animals to girls. It has pledged to no longer publish books that declare they are for a particular gender in the title.