labor
GE Begins Union Contract Talks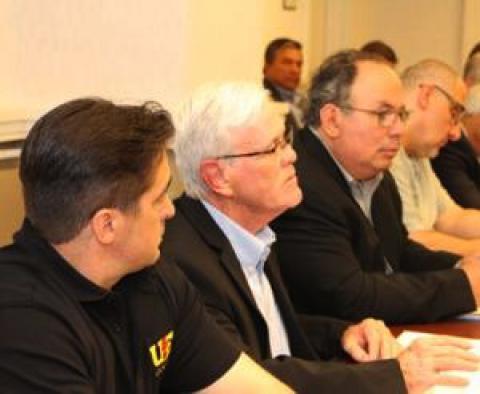 UE General President Bruce Klipple, flanked by Local 506 Pres. Scott Slawson and International Rep. Gene Elk, delivers the union's opening statement.,
GE today began negotiations on a new national contract with the International Union of Electronic Workers/Communications Workers of America (IUE-CWA). Negotiations with the United Electrical, Radio and Machine Workers of America (UE) will begin tomorrow, June 2, 2015. GE holds separate talks with each union. The current four-year contracts with the unions expire at midnight on June 21, 2015.
"Our goal is to negotiate fair and competitive agreements that will provide employees with good wages and benefits, while addressing current and projected economic realities facing the company"
"Our goal is to negotiate fair and competitive agreements that will provide employees with good wages and benefits, while addressing current and projected economic realities facing the company," said John Gritti, GE's chief negotiator. "We have successfully negotiated thirteen national contracts with our unions and I look forward to continuing this positive track record."

There are approximately 16,500 GE employees represented by contracts with 11 unions that are part of the Coordinated Bargaining Committee (CBC) of GE unions. The IUE/CWA and the UE have national contracts with GE. Contracts with other CBC unions are negotiated on a local basis around the same time as national negotiations.
The IUE/CWA represents about 9,300 GE employees and its labor agreement covers GE locations including Louisville, Ky. (GE Appliances); Lynn, Mass. (GE Aviation); and Schenectady, N.Y. (GE Power & Water) as some of the largest. The UE represents about 3,480 employees and its labor agreement includes Erie, PA (GE Transportation) as the largest site.
Combined, IUE/CWA and UE represented jobs at GE have increased approximately 16 percent since the last GE national contract negotiations in 2011.
GE employs approximately 305,000 people globally, including 136,000 in the U.S. -- one of the largest employers in the country. GE's U.S. industrial businesses now support over 117,000 jobs, up from 103,000 in 2009.
To see GE's website concerning negotiations, please go to www.geunionnegotiations.com.
UE Comes Out Swinging First Day of Negotiations: Sharp Disagreements with GE on Healthcare, Other Issues
UE News
03 June, 2015
National contract negotiations began Tuesday in New York City between UE and General Electric. Following opening statements that presented the two sides' very different goals, the company and union offered contradictory views of the current health plan GE imposed in 2011. The union described GE Health Benefits (GEHB) as "paying more for less healthcare."
UE's national contract with GE covers workers in 10 local unions at nine GE locations around the country, including Erie, Pa and Fort Edward, NY. In addition, representatives of UE Local 601, the pre-majority union in Grove City, PA, are participating in the negotiations. The current UE-GE contract expires June 21, and the parties have scheduled three weeks of intense bargaining leading up to that date. UE negotiates with GE as part of the Coordinated Bargaining Committee of GE Unions (CBC), a coalition of 11 unions representing 17,000 GE workers nationwide.
The initial bargaining session began at 11:00 a.m. with statements from both sides. In his opening statement, UE President Bruce Klipple said the union intends to correct GE's "overreach" in the previous round of contract negotiations in 2011. The union's national president said the company's "overreach" had resulted in a health insurance plan that is "broken" and which has increased workers' health costs by 18 percent while reducing GE's costs by the same 18 percent. Klipple also blasted GE for eliminating pensions for new hires in 2011.
GE has made itself "a leader in the devaluing of American industrial jobs," Klipple said, through such measures as "eliminating secure pensions for new hires, the lack of family-sustaining wages, and affordable health insurance for thousands of GE workers." He said UE members intend to push back against any attempts by the company to continue this trend.
The union's bargaining goals, outlined by Klipple, include "health care improvements... that roll back the massive cost shift" that GE imposed; restoring pension coverage to all employees while improving current pension benefits; substantial wage increases; and improved job security. GE can afford the union's proposals, Klipple said, given that its profits from manufacturing increased by 24.5 percent from 2010 to 2014. The profits of GE Transportation, operating in Erie and Grove City, more than doubled in that period, from 9.3 percent to 20 percent. "I want to remind you that our members and the generations that came before them built this company," Klipple told GE.
In the company's opening statement, GE representative Mike Luvisi, human resources manager at the Erie plant, praised the results of the 2011 negotiations, including health insurance cuts, the removal of new hires from the GE Pension Plan and placing them in the Retirement Savings Plan instead, which he called "the gold standard" of defined contribution plans. On wages, Luvisi told the UE committee to "look yourself in the mirror and ask" if getting wage increases will make your business uncompetitive and cost jobs. On job security, he said GE wants to "make legacy sites more competitive," and added that "customer decisions... will determine job security."  Mr. Luvisi failed to mention that GE Transportation now has a virtual monopoly on U.S. domestic locomotive production.
Luvisi defended GE's recent elimination of health and life insurance for post-65 retirees from its non-union salary workforce, and warned the UE committee, "You can expect to see proposals" on these topics that will impact hourly union employees. DUELING HEALTH PRESENTATIONS
In the afternoon, both the company and the union made presentations analyzing the current state of health insurance, offering sharply different fixes for GE health care. The company's presentation by Virginia Proestakes, manager of GE Health Benefits, portrayed GE as a victim of an "external environment" in which annual 6 percent growth in healthcare costs are expected due to such factors as healthcare reform, aging population, specialty drugs, consolidation of providers, and technology. She said 80 percent of employers, including companies she identified as GE's competitors, "offer consumer-directed health plans," a category which includes the current GE Health Benefits (GEHB) plan. She said that 30 percent employee cost sharing has become the norm, but that the GE plan is more generous, with only 24 percent cost sharing by employees.
Proestakes concluded by claiming that GEHB was designed on the basis of five principles. "The primary objective is to protect you from catastrophic illness." The other principles of GEHB, she said, are early detection, helpful tools and programs for wise health choices by participants, savings accounts, and the idea that "those who earn less pay less."
UE's chief negotiator, International Representative Gene Elk, asked the company about the assertion that its competitors "offer" consumer-driven health plans. Elk wanted to know how many of them offer only such plans, as GE does, or if their employees have choices of other types of health plans as well. After some additional questions, Elk got GE representatives to admit that most of the competitors they had listed offered their employees alternatives to the difficult to use "consumer-directed health insurance."
Local 506 President Scott Slawson sharply questioned the company's assertion that healthcare costs in the entire economy are expected to rise 6 percent a year, pointing out that current trends and many expert predictions project increases of only 3 percent. He took issue with GE's claim, in Proestakes's presentation and in publications directed to UE and CBC members, that workers are paying just 24 percent of the costs of healthcare.  During 2011 negotiations the union and GE had agreed that workers would pay 24 percent of health costs, but in reality UE members are paying 27 percent or even more.
Elk added that over the term of this contract, workers' share of health costs have "never come close to 24 percent," and told the company, "It ticks us off" that GE continues to repeat the deceptive figure of 24 percent, when "your own data shows that workers pay substantially more than what we agreed to pay in 2011."
Elk and Local 506 Chief Plant Steward Leo Grzegorzewski also questioned why GE stops the graduated rates for health cost sharing at the $150,000 salary level. This protects executives making high-six and seven-figure salaries from paying more. Grzegorzewski reminded company representatives that they used to say "the more you make the more you pay," but GE has obviously abandoned that principle.
"Our members have a totally different view of the health plan," Elk told the company as he began the union's presentation, and the vast majority of UE members in GE have said this is a strike issue.  Elk's presentation, prepared with the help of UE Research Director Karl Zimmerman, was a detailed and devastating dissection of GEHB and its impact on workers. It was based primarily on the company's own figures, obtained by UE through information requests and thoroughly analyzed by the union.
The costs and complexities of GEHB are causing workers and their families to go without care. Hospital admissions, radiology, visits to specialists, and pharmacy use are all dramatically down since GEHB was introduced.  Yet employees' total spending on prescription drugs is up 22 percent while GE's pharmacy costs are down 11 percent.
Making matters even worse is the fact that GEHB is an extremely complicated plan that requires workers to become their own health plan administrators, and forces GE workers to navigate a mind-numbingly complex interface of providers, deductibles, company-funded health reimbursement accounts (HRA) and worker-funded flexible spending accounts (FSA). Workers and their families have encountered time-consuming hassles and roadblocks at almost every turn, as they to wade through this system to get the healthcare they need and have their bills paid.  Elk's presentation included four videos of rank-and-file workers expressing in their own words the ordeals they have personally suffered just to get their medical bills paid.
In every year since GEHB was introduced, GE workers have "left on the table" large sums of money from the GE-funded HRAs because they reached the point where they gave up fighting and paid bills out of their own pockets. "GE should have known" and probably did know that workers would underspend these accounts when it designed a system so difficult to navigate. Alluding to the three insurance cards GEHB requires our members to carry in their wallets, Elk called it "three-card monte," the age-old con game. "GEHB has worked well for GE," said Elk, as the company's health insurance costs were actually 6 percent lower in 2014 than they were in 2011.
Elk, who serves as secretary of the UE-GE Conference Board, also presented detailed accounting of the figures and data that proves that UE members have been paying far more than the 24 percent of health costs that GE promised in 2011 and has continued to deceptively claim. GE's costs per covered family went down by 18 percent in 2012, the first full year that GEHB was in effect. In that same year, the costs to those families went up by 18.24 percent - probably not a coincidence.
"GE's consumer-driven health doesn't work," said Elk as he narrated one of his final slides which showed that health costs are much lower in other advanced industrial countries - countries that have socialized medicine, single-payer national health insurance, or private systems under strict government price controls. "We just pay more for less." He said UE will propose a return to the pre-GEHB health plan, Health Care Preferred (HCP).  "It's not about our numbers, it's about our families," concluded Elk. "And we're worried that our families are not getting adequate healthcare, and it's costing way too much."
Besides Klipple and Elk, UE was represented in the opening session by Local 506 Business Agent Frank Fusco, President Scott Slawson, Chief Plant Steward Leo Grzegorzewski, and Vice President Mike Ferritto; Local 332 President Melvin O'Dell and Business Agent Sherice Stark; Local 618 President Mike Divins; Local 601 Recording Secretary Fred Harris; UE General Secretary-Treasurer Andrew Dinkelaker, Director of Organization Bob Kingsley; Northeast Region President Peter Knowlton; Research Director Karl Zimmerman; and UE News Managing Editor Al Hart. Field Organizer Omar el-Malah represented UE at the IUE-CWA bargaining table. More than a dozen representatives of other CBC unions also joined UE at the bargaining table. These included longtime participants in UE-GE bargaining such as Rudy Gomez and Gary Jordan of the UAW, Mike Barrell of the Steelworkers, Tom O'Heron of the IAM and Randy Middleton of the IBEW.
Hundreds of union workers stage walkout at Erie's GE plant
June 5, 2015 06:09 PM
The factory floors at GE Transportation's Erie plant are mostly silent this hour as hundreds of union workers have left their posts as part of series of four-hour walkouts being staged on each of the plant's three shifts.
The walkouts, which involve more than 3,200 members of locals 506 and 618 of the United Electrical, Radio and Machine Workers of America, began at 3 a.m. today.
Another group walked out for four hours beginning at 11 a.m. and another group is expected to depart four hours early at 7 p.m., said Cathy Heiman, spokeswoman for GE Transportation.
Scott Slawson, president of UE 506, said the short-term strikes aren't related to contract negotiations taking place in New York City.
"It's just simply about work being farmed out and people still being laid off," he said. "It has nothing to do with negotiations."
"We are very disappointed that this happened, particularly that the union would stop working at a time when it is critical for us to work together to meet commitments," Heiman said.
Those commitments were a reference to a healthy batch of orders waiting to be filled.
Heiman said the company is looking forward to returning to business as usual.