Dispatches From the Culture Wars - Chills & Thrills Edition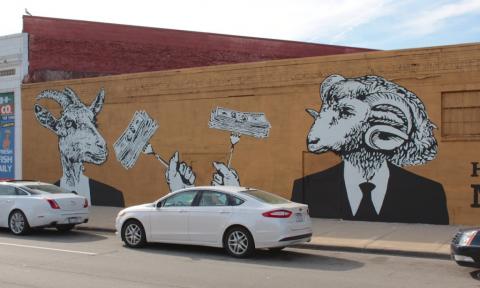 Hygenic Dress League – Gratiot between Russell and Service Drive, Daily Detroit Staff

The Most Chilling Political Appointment That You've Probably Never Heard Of
By Ian Millhiser
January 6, 2016
Think Progress
Unless you're unusually familiar with libertarian legal activists (or you are a Republican presidential candidate) you probably have never heard the name "Clint Bolick." But Mr. Bolick has spent the last quarter century working — at times quite successfully — to make the law more friendly to anti-government conservatives. Thanks to an appointment, announced Wednesday by Arizona Gov. Doug Ducey (R), Bolick will now bring this agenda to his state's supreme court.
For people who care about the rights of workers in the workplace, this should be a chilling development, not just because of what incoming Justice Bolick is likely to say in his opinions, but because of what his appointment portends if Republicans have the opportunity to make appointments to the federal bench and, ultimately, the Supreme Court of the United States.
 
Comic-Book Festival Bows to Pressure Over All-Male Award Shortlist
By Angelique Chrisafis
January 6, 2016
Guardian
One of the world's biggest comic-book festivals has bowed to pressure to add women to its lifetime achievement award shortlist after a raft of major comics artists pulled out in protest at the all-male selection.
The Angoulême comics festival in France said it would add some women's names to its shortlist after protests over the perceived sexism.
Daniel Clowes, who was Oscar-nominated for the screenplay adaptation of his series Ghost World, joined the French graphic novelist Joann Sfar and the award-winning French-Syrian Riad Sattouf in demanding their names be removed after a campaigning collective called for a boycott. Another seven artists swiftly followed by announcing their withdrawal.
 
Not Punishing the Bundys for the Nevada Standoff Led to the Occupation in Oregon
By David Neiwert
January 7, 2016
Washington Post
If federal law enforcement authorities had taken their roles as stewards of the rule of law seriously, many of these players would be facing justice in federal courts right now, instead of opportunistically raising hell out in poverty-stricken rural areas. Certainly, there is no small irony in the fact that the tepid response from federal authorities demonstrates how little resemblance they have to the tyrannical thugs the Bundys say they are. But it also shows how just that accusation, when wielded by white conservatives, can cause federal law enforcement to back down.
Ever since their April 2014 standoff, Bundy and his associated "patriots" in such movements as the far-right Oath Keepers have been attempting to force further armed showdowns over Western land policies. Last spring, they tried to organize a confrontation with BLM officials in southwestern Oregon over mining rights, but that effort eventually fizzled out.

Exclusive: Wheaton College Provost Called Suspended Professor's Muslim Comments 'Innocuous'
By Elizabeth Dias
January 9, 2016
Time
The Wheaton College provost overseeing an expulsion trial against a tenured professor who said Christians and Muslims worship the same God wrote in a private email last month that her comments were "innocuous" but that they had created a public relations disaster for the Illinois college.
The scandal, which has engulfed the evangelical college in Illinois, began a day earlier, when the school's first-ever tenured black female professor, Larycia Hawkins, wrote a Facebook post declaring solidarity with Muslims following the San Bernardino terrorist attacks.
Now that Hawkins' theological statement has been made public, faculty at Wheaton are starting to defend her. Some plan to wear their academic regalia in solidarity with her when classes resume on Monday.
 
Central Park Five: Rehire Teacher Allegedly Fired Over Central Park Five Lesson
By Christopher Mathias
January 11, 2016
Huffington Post
Two of the five men who were wrongfully convicted in the 1989 rape and assault of a woman in Central Park have expressed support for a New York City teacher who says she lost her job after teaching students about the case.
Jeena Lee-Walker, who taught English at the High School of the Arts, Imagination and Inquiry in Manhattan's Upper West Side, filed a federal lawsuit last week alleging that administrators at the school feared her lessons on the Central Park Five might "rile up" black students and cause small "riots." They asked her to take a more "balanced" approach in teaching students about the case, her lawsuit claims.
 
These 18 New And Amazing Street Murals In Detroit Rival Anything In The World
By Daily Detroit Staff
September 27, 2015
Daily Detroit
The creative spirit is alive and well in the Motor City. Detroit is an appealing place for many street artists and a place to go if you want to make something amazing.
Murals In The Market happened last week and the results are breathtaking. 45 artists applied their skills to the walls of Detroit's historic Eastern Market area, and you could feel the good energy when we spent the afternoon photographing them and talking to various artists.