New York Times Invents Left-Leaning Economists to Attack Bernie Sanders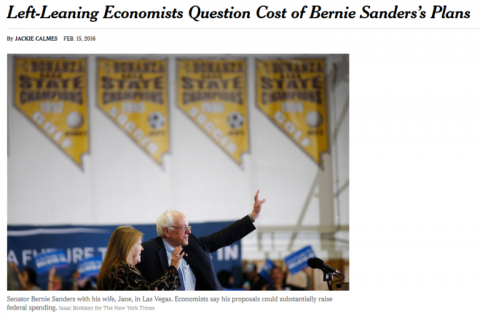 To be fair, as a New York Times reporter, Jackie Calmes probably doesn't meet many left-leaning economists, so she may not be sure what they look like.,photo: Isaac Brekken/NYT // FAIR
By Dean Baker
February 16, 2016
It also misrepresented the comments of Jared Bernstein (a personal friend), implying that they were criticisms of Sanders' program. In fact his comments were addressed to the analysis of Sanders' proposals by Gerald Friedman, an economist at the University of Massachusetts who is not affiliated with the Sanders campaign.
It also presented the comments of Brookings economist Henry Aaron about the views expressed by "other economists in a `lefty chat group' he joins online." This would seem to violate the NYT's usual policy on anonymous sources.
Sanders has a very ambitious agenda covering everything from universal Medicare, reforming the financial sector, paid sick days and vacation, free college, and universal childcare. If an economist, left-leaning or otherwise, can't find some grounds for skepticism on any of these proposals they should probably be in a different line of work.
These are all big ideas, each of which will face enormous political opposition even if Bernie Sanders were in the White House. Sanders has not given a fully worked out proposal in any of these areas, nor is it reasonable to expect a fully worked out proposal from a candidate for the presidency. His campaign platform outlines general approaches. In the event Sanders got to the White House, it would be necessary to draft fully worked out legislative language which would almost certainly amount to hundreds of pages, and quite possibly thousands of pages, in each area. In addition, whatever he initially put on the table would have to be haggled over with Congress, even assuming that he had a much more sympathetic group than the current crew.
While it is nice that the NYT is subjecting Sanders' views to serious scrutiny, it would be good if it also subjected the views of other candidates to the same scrutiny. For example, Secretary Clinton has indicated a desire to give more opportunity to African Americans and Hispanics, yet she has not commented on the decision by the Federal Reserve Board to raise interest rates at the end of last year. This rate hike was intended to be the first of a sequence of rate hikes.
The purpose of raising interest rates is to slow the economy and the rate of job creation, ostensibly to prevent inflation. The people who will be disproportionately hurt by slower job growth and high unemployment are African American and Hispanic. NYT readers would likely be interested in knowing how Secretary Clinton can reconcile her commitment to helping African Americans and Hispanics with her apparent lack of concern over the Fed's decision to raise interest rates and deny them jobs.
Whatever standard of scrutiny the NYT chooses to apply to presidential candidates it should apply them equally. It is not good reporting to apply one standard to Senator Sanders, and even inventing credentials to press its points, and then apply lesser standards to the other candidates.
By Doug Henwood
February 17, 2016
While the "left-leaning" is no doubt meant to suggest critiques from those who would be inclined to sympathize with Sanders, all the quoted economists have ties to the Democratic establishment. So slight is their leftward lean that it would require very sensitive equipment to measure.
With his expansive plans to increase the size and role of government, Senator Bernie Sanders has provoked a debate not only with his Democratic rival for president, Hillary Clinton, but also with liberal-leaning economists who share his goals but question his numbers and political realism.
Though Sanders wants to increase federal spending on infrastructure, college tuition and childcare, as well as other programs, the bulk of his proposed increase would be for establishing a single-payer healthcare system, and that's what Calmes' piece focuses on. It would replace the current mix of multiple forms of public insurance (Medicare, Medicaid, state and local programs) and private insurance with a unitary federal system, much like what Canada has. It would not nationalize doctors and hospitals, as in Britain; only the payment side would be socialized. Sanders refers to it as Medicare for All, which is a simplification, but close enough for politics.
The liberal-leaning economists that Calmes rounds up suggest that Clinton may have been too modest in her accusation that Sanders wants to jack up the size of government by 40 percent. No, Calmes warns that "the increase could exceed 50 percent, some experts suggest, based on an analysis by a respected health economist that Mr. Sanders' single-payer health plan could cost twice what the senator.asserts."
As if that wasn't scary enough, Calmes turns to mockery: "Alluding to one progressive analyst's criticism of the Sanders agenda as `puppies and rainbows,' Mr. Goolsbee said that after his and others' further study, `they've evolved into magic flying puppies with winning Lotto tickets tied to their collars.'"
There's a political angle to Calmes' piece as well, which she uses longtime Democratic economist Henry Aaron to deliver. (Aaron is a fellow at the Brookings Institution, a think tank that a congressional staffer once described to me as "a graveyard for conservative Democrats.") Aaron calls the idea of single-payer a "fairy tale" in the current political climate. Citing the testimony of "other economists in a `lefty chat group' he joins online," Aaron believes that were Sanders elected, he'd destroy his political capital by fighting such a doomed fight.
I'm familiar with this line of argument from a liberal chat group I used to hang out with online (it takes its off-the-record secrecy with great seriousness)-it may be the same one, but I can't tell for sure. It goes like this: The right so dominates the present scene that one can do nothing but play defense, hoping to salvage what remains of social spending but never daring to ask for more. Political capital, in this account, can only dwindle when put to work; unlike other forms of capital, it never pays returns. The right never thought that way when it was plotting its ascendancy from the 1950s through the 1970s.
Calmes gave the last word to Thorpe, who concludes from a failed attempt to bring single-payer to Vermont that it would be unworkable on a national scale. Vermont's plan wasn't really single-payer; providers would still have had to contend with multiple payers, thereby limiting administrative savings, and the state would have little bargaining power with drug and device manufacturers. The experience of a small state in a big country is hardly conclusive.
Britain's system costs 8.9 percent of GDP, a little over half what we pay. Both countries have longer life expectancies than we do. But we should be afraid of the unicorns.