Dispatches From the Culture Wars - Classism Cuts Both Ways Edition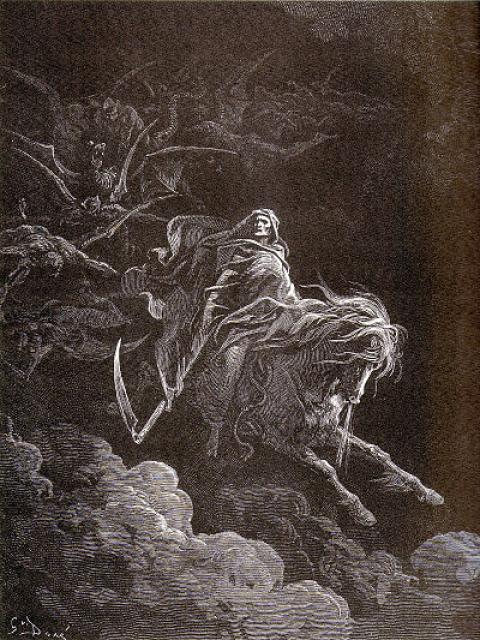 , Gustave Doré
By Damon Young
March 5, 2016
The Root
"Hotep" seems like a term that should be associated with good and positive things. Yet when I see people referring to Hoteps and Hotepian logic on the Internet—Twitter and Facebook specifically—it's done in a negative fashion. Why is this?
Great question! Over the past decade or so, the working definition of "Hotep" has morphed into an all-encompassing term describing a person who's either a clueless parody of Afrocentricity—think "Preach" from Don't Be a Menace to South Central While Drinking Your Juice in the Hood—or someone who's loudly, conspicuously and obnoxiously pro-black but anti-progress.
 
by Veronica Horwell
April 2016
Le Monde diplomatique
The London blitz challenged everything that Vogue had lived for and by, besides destroying the premises of its profitable dressmaking-pattern subsidiary: precious possessions — other than one piece of jewellery set with all a family's finest stones to be carried everywhere as a portable fortune — became liabilities when "safe as houses [seemed] an obsolete phrase".
The imposition of clothes rationing from 1941 seemed to free the magazine. Being fashionable went out of fashion, and Vogue, backed by the government Board of Trade, proselytised for a minimalist wardrobe of carefully-maintained tailored clothes as the measure of good class as well as correct attitude: "The woman well-dressed in the meaning of today would not be easily rendered helpless or ridiculous." Since "it now looks wrong to look wealthy", Vogue enthused for the scheme set up by London's leading designers to produce "Utility" garments, made within all specified restrictions, including those on labour, and sold at controlled, fair prices.

Radioactive Wild Boars Rampaging Around Fukushima Nuclear Site
By Will Worley
April 7, 2016
The Independent
Radioactive boars are running wild and breeding uncontrollably in the northern region of Japan contaminated by the Fukushima nuclear disaster.
The animals have been devastating local agriculture and eating toxic, nuclear-contaminated food from around the accident site.
Mass graves and incinerators have been unable to cope with the quantity of boar corpses, shot by local hunters.
 
Dominionism, Christian Nationalism and Ted Cruz
By Bill Berkowitz
April 8, 2016
Truthout
While Donald Trump's theological underpinnings are as madcap and unstable as the man himself, Ted Cruz believes that not only is America God's chosen country, but that he has been chosen to guide the country back to its Christian moorings. Ted Cruz is a seven-mountain guy and those mountains have nothing to do with Everest, Kilimanjaro, Whitney or any of the world's renowned peaks. Cruz's seven mountains have to do with reclaiming, rebuilding, and reestablishing America as a Christian country, which means Christians taking dominion over seven aspects of culture: family, religion, education, media, entertainment, business and government.
The movement is called Seven Mountains Dominionism and its origin comes from Isaiah 2:2: "Now it shall come to pass in the latter days that the Lord's house shall be established on the top of the mountains."
 
Mexican Artist 'Erases' the US Border Wall
By www.teleSURtv.net/english
April 10, 2016
TeleSUR
Artist Ana Teresa Fernandez and members of the cultural organization Border/Arte painted a segment of the border fence separating Mexico and the United States Saturday, in an attempt to make it disappear.
The artists and community workers worked on sections of the fence along the border in Baja California, Sonora and Ciudad Juarez, painting it a sky blue in a project called "Borrando la Frontera," Spanish for Erasing the Border.

Economic Inequality Complaints Are Just A Cover For Anti-Rich Prejudice
By Don Watkins
April 14, 2016
The Federalist
In the wake of the endless controversies surrounding Donald Trump's campaign, it's easy to forget that most of us rightfully pride ourselves on our opposition to racism, sexism, anti-Semitism, and other forms of unjust discrimination. But we rarely even discuss another prevalent form of prejudice: the demonization and dehumanization of the successful. This prejudice is central to today's chief economic concern: the campaign against economic inequality.
Not everyone worried about our economic challenges is bigoted, of course. There are real problems we all should be concerned about, whether it's declining opportunity (especially for those starting at the bottom), slowing economic progress, the pitiful state of education, or the political favors bestowed on some businesses.