Tidbits - June 30, 2016 - Reader Comments: Bernie Sanders-What We Want; Clinton Obstructing Democratic Platform; Supreme Court Rules on Abortion; Syria; Mexico; Brazil; Guatemala; James Green; more...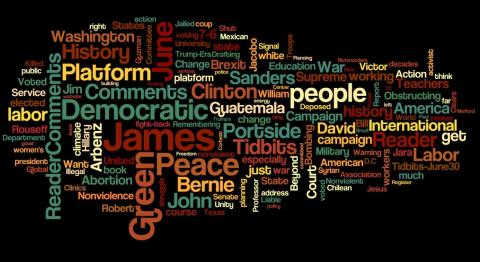 Tidbits - Reader Comments and Announcements - June 30, 2016, Portside
Announcement:
It doesn't mention Gun Control or full Financial Disclosire by Candidates but I can get behinds these especially the Voting Proposals.
James Zeke Bond
We like the Voting Proposals.
Let's hammer out the planks of the platform, to include the middle class and replace the corporate corrupting influences of greed and war!
Lewis R Mefford
So why in hell is he voting for Hillary, as he said on CNN?  I get the kool-aid but I'm stunned when he has other options.
Claire Carsman
Bill McKibben is on fire here describing the process of vague platform-writing. The Hillary campaign has been voting down specific proposals, especially (as described here) those designed to address climate change. Does the platform matter? Well only if the candidate runs on it instead of from it, IMO. Of course the Bernie campaign lost, of course the Hillary campaign decides how it will proceed. If, though, any reaching out to us Berniebots is to be done, it will have to be on the issues not just on the fear of the Donald, no matter how scary he is. Thanks to Portside for the link.
Daniel Millstone
Anyone that thinks Clinton will address climate change is fooling themselves.
"And it was there that the essential dynamic quickly emerged. The Clinton campaign was ready to acknowledge serious problems: We need fair trade policy, inequality is a horrible problem, and unchecked climate change will wreck the planet. But when it came to specific policy changes, they often balked. Amendments against the Trans-Pacific Partnership trade agreement and backing Medicare for all failed, with all the Clinton delegates voting against."
John Jernegan
"We all agreed that America should be operating on 100 percent clean energy by 2050, but then I proposed, in one amendment after another, a series of ways we might actually get there. A carbon tax? Voted down 7-6 (one of the DNC delegates voted with each side). A ban on fracking? Voted down 7-6. An effort to keep fossils in the ground, at least on federal land? Voted down 7-6. A measure to mandate that federal agencies weigh the climate impact of their decisions? Voted down 7-6. Even a plan to keep fossil fuel companies from taking private land by eminent domain, voted down 7-6. (We did, however, reach unanimous consent on more bike paths!)...
We need unions and working people and environmentalists fully engaged this time around, backing the Democrats with passion and energy. Above all we need young people, who voted for Bernie by a 7-to-1 proportion....
I'm willing to bet the platform will get substantially stronger before all is said and done, because I think the Sanders run really has changed the party, and very much for the better."
-Bill McKibben
Amy Horwitz
Of course Bill doesn't mention dirty dangerous expensive nuclear. The platform should address that as well.
Susan Corbett
I hope that the final paragraph of the piece is true and accurate. Sanders has been a game-changer for me and many close to me, but the DNC/Clinton throw us crumbs here and there but continue a tepid, personality-cult campaign. Unwise.
Greg Burrows
I don't really think the Democratic Party desires unity with Bernie's supporters! They'd just prefer we be "brought to heal", get in line and do their bidding! Sorry, ain't happening!
William
The 15 dollar minimum wage has been very successfully championed by the Service Employees Union competitor to AFSCME. A very shocking thing as AFSCSME state Federations had supported the 15-hour minimum wage.particularly in Washington State and others. The AFSCME position is ridiculous as it would raise the wage of many of it members while pushing up wages for those already at that level
Tom Suber
Thank you Bernie Sanders, James Zogby and Cornel West, for putting the issue of Israel/Palestine front and center in today's political discourse! Seems there are a lot of people, good honest and politically left of center people, that have refused for years to even discuss a two state solution! I count some very good people with which I am fairly close that have refused to have this discussion, thanks again for keeping the subject alive, front and center!
William Proctor
Article by James Zogby, member of the Democratic Platform Drafting Committee.
The cynical right wing ploy to dress up its anti-abortion ideology in a clown costume of concern for women's health failed miserably. It was so naked in its hypocrisy as to make a mockery of law and common sense. This is not a victory of the court so much as a result of decades of women's struggles that have shifted mainstream culture in favor of choice and women's rights. That's what "pro-life" is all about.
Robert David Cohen
Why, among all these profound analyses of the Brexit, are people of color never included in "the people" discussed?  Why are anti-racist "white" people not counted.  Do these pontiffs think that the rich suffer when fascists agitate "white" workers to attach their African and Asian brothers and sisters? 
It's time to get real.  If the far right is going to be defeated there has to be a very conscious, planned, and systematic fight-back against white supremacy.  So far, in the U. S. at least, this fight-back is being led by Black people, youth especially.  Labor has taken important steps to join this fight-back.  The Chicago Teachers Union, is an example.  The CTU has linked its struggle for an elected school board and decent schools with the struggle of the broad movement for an elected police board and community control of police.
Unity of the working class does not happen by accident, especially when very well organized and financed fascist movements are working assiduously to break it up.  Less talk and more action against white supremacy and the 1 per cent is the order of the day. 
Ted Pearson
Such a great photograph. If you haven't seen "You've been Trumped", check it out on Netflix.
Sarah Grey
Shouldn't we be asking just who are these fuckers in the State Department, who appointed them, and who supports them?
Paul Lauter
Allan K. and Gwendolyn Miles Smith Professor of Literature (Emeritus)
Trinity College
Teachers would not need unions if they were paid fairly for their investment in university training and professional development. This is a "profession" paid like labor. That all aside, the union busting around the world will only lead to a richer top percent and blood in the streets.
Karyne Dunbar
justice too long denied-- may our interventions and regime change efforts in the future reflect much greater wisdom and patience than from this awful era!
Chuck Weed
This is exactly what Marx and Engels talked about when they said "workers of the world unite". These workers control supply chains between ports, rails, warehouses and distribution centers. Who is dependent on them? The retail industry, aerospace and the defense industry, to name just a few. In order to deal serious blows to capitalism we have to intervene so that we can slow down and stop the accumulation process. There is enormous potential here.
That's cute but Jesus would not turn anyone down.
John Bush
A report prepared by analysts in the Brazilian Senate have said there is no evidence that suspended president Dilma Rousseff participated in fiscal wrongdoing.
LAWCHA's Award for Distinguished Service to Labor and Working-Class History this year goes to James Green, Professor Emeritus of History at the University of Massachusetts Boston, in honor of his exemplary contributions to the field and its members and this organization over so many years.
In seven books, many articles, films, exhibits, local tour guides, and other cutting-edge labor education and public history projects, Professor Green has opened new avenues of scholarly inquiry and pioneered new ways to communicate historical narratives to broad audiences.
As an activist, Jim has been part of nearly every struggle for social justice over the past five decades.
A founding member of LAWCHA, Jim was elected President in 2003 and during his term of office helped launch the organization's journal, LABOR: Studies in Working-Class History of the Americas, serving later as associate editor.
For all of this and much more, we present this award to our colleague and comrade Jim Green.
Sadly,
James N. Gregory,
Erik Loomis,
On June 27, 1954, democratically elected Guatemalan president Jacobo Arbenz Guzmán was deposed in a CIA-sponsored coup to protect the profits of the United Fruit Company. Arbenz was replaced by decades of brutal U.S.-backed regimes who committed widespread torture and genocide.
Join us to learn about and engage in working on viable alternatives to war and militarism.