Child Care Often Pricier Than Rent, Food, and College Tuition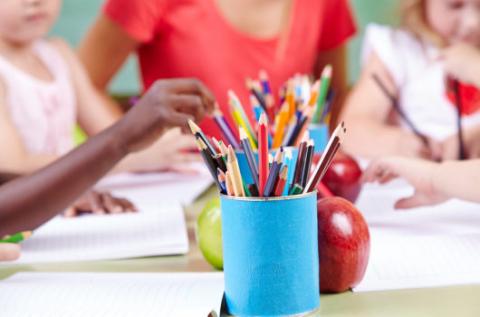 Access to high-quality childcare depends too much on how much parents are able to pay. Childcare quality is closely connected to job quality for childcare providers, as low pay and inadequate career ladders dampen incentives for investing in training,Shutterstock // Rewire
Many parents lack have access to adequate child care, most child-care providers earn low wages, and the entire U.S. child-care system needs to be overhauled, according to a new report published Wednesday by the Ms. Foundation.
The report, Raising Our Nation: Forging a More Robust and Equitable Childcare System in America, examined the gender and racial inequalities that the country's child-care system reflects and reinforces.

The report notes that child care in the United States is exceedingly expensive, and that the cost of child care has been rapidly rising while median income for families has decreased over the past decade.
"Access to high-quality childcare depends too much on how much parents are able to pay," the report's authors write. "Childcare quality is closely connected to job quality for childcare providers, as low pay and inadequate career ladders dampen incentives for investing in training and education."
The average cost of child care in 2013 was $11,666 per year, according to the National Association of Child Care Resource & Referral Agencies, as reported by Forbes. An analysis by the Economic Policy Institute (EPI) found that in 33 states and Washington, D.C., child-care costs were higher than the average cost of in-state tuition at public universities.
Infant care is particularly expensive.
"In 24 states the average full-time cost of day care for an infant exceeds the average cost of rent in any one area," Teresa Younger, president and CEO of the Ms. Foundation for Women, said during a press call. "Many families with an infant are more likely to spend more on child care than they do on food."
Aleyamma Mathew, director of the Women's Economic Justice Program of the Ms. Foundation for Women, said during a press call that the report is part of the organization's focus on building an integrated child-care movement.
"The report provides a comprehensive picture of our country's complex child-care landscape," Mathew said. "To transform it we need new frameworks that cut across existing policy and organizing silos and centers the voices of women and their communities."
The report outlines a framework for improving the system by calling for a holistic approach to the related issues of child-care access, child-care quality, and job quality as well as increased investment from both the public sector and employers.
Younger said during a press call that the report gives a "full picture of the changing landscape" for parents and child-care providers around the country.
"We know that even middle class women in middle class families find it virtually impossible to find quality affordable child care, and for low-income women, this is among their greatest challenges," Younger said.
Mathew said that reforming the child-care system will have a ripple effect throughout the economy.
"Improving our nation's child-care system will have a compound effect," Mathew said. "Not only on the millions of women in the workforce but on communities and the economy as a whole."
The report's recommendations for improving access to child care include ensuring that publicly funded child-care programs remain available to parents regardless of "temporary changes in participation in work, training, or education activities."
[Teddy Wilson is an independent journalist and Staff Reporter at Rewire. Previously he worked as a reporter and social media manager for Free Speech Radio News, and as a reporter for the Texas Independent. A native Texan and Navy veteran, he is based out of College Station, Texas.]
Raising Our Nation: Forging a More Robust and Equitable Childcare System in America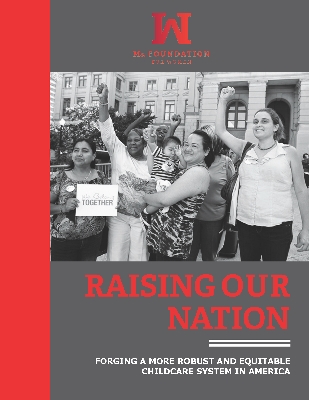 This new report includes:
an overview of the history behind our country's approach to care, which has created fractures and disparate levels of access;
a breakdown of the challenges faced by both parents and childcare providers - who are predominantly women - in securing affordable childcare as well as livable wages and job advancement;
original analysis of the opportunities for public and private sector engagement to improve workplace policies;
profiles of key stakeholders, including Ms. Foundation for Women grantees who are championing the cause of universal childcare access and the childcare workforce.
View the executive summary
here
.