Dispatches From the Culture Wars – Making and Breaking History Edition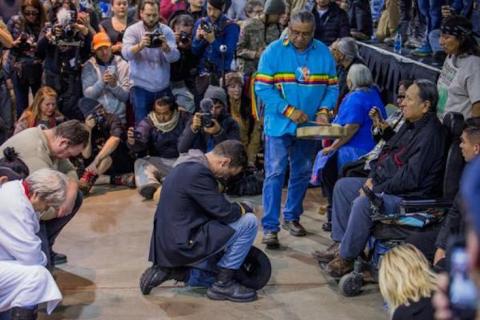 Why Time's Trump Cover Is a Subversive Work of Political Art
By Jake Romm
December 8, 2016
Forward
It should come as no surprise that President-elect Donald Trump was chosen to grace the cover of Time's annual issue (shot by Jewish photographer Nadav Kander). "For better or worse," Trump, during his campaign and now after his election, has certainly been among the greatest influences on the events of the year. For clues as to how Time feels about that question — is it "for better or worse?" — we can look to the image chosen for the cover of the issue. The decisions that Time made regarding how to photograph Trump reveal a layered, nuanced field of references that place the image among, in this viewer's opinion, the magazine's greatest covers.
 
The Battle Over Identity Politics, Explained
By German Lopez
December 2, 2016
Vox
The results of the 2016 presidential election may have led you to come to one of two wildly different conclusions: Either Donald Trump's election was a rejection of identity politics or his election was a validation of the prominence of identity politics in the US.
Whichever you believe, there are very different implications on how the country — and especially the Democratic Party — should move forward. Should the emphasis be on finally addressing America's long history of systemic racism, going from slavery to the criminal justice system? Or is the more pressing issue the massively corrupt, unequal economic and financial system that benefits the top 1 percent far more than the rest of the nation, regardless of race?
 
Veterans Ask for Forgiveness and Healing in Standing Rock
By Valerie Taliman
December 7, 2016
Indian Country Today Media Network
When veterans Wes Clark Jr. and Michael Wood Jr. sent out the call for U.S. military veterans to deploy to Standing Rock, they felt confident they could muster at least 2,000 people.
More than 4,000 vets showed up, despite a raging blizzard and –27 degree temperatures.
On December 5—the birthday of Lt. Col. George Armstrong Custer, who led the Battle of Little Bighorn against Lakota and Cheyenne warriors—Clark and a dozen members of United States military branches got down on bended knee to beg forgiveness from the Lakota people.

What I Learned Binge-Watching Steve Bannon's Documentaries
By Adam Wren
December 2, 2016
Politico
Before he directed Breitbart News, before he directed Donald Trump's insurgent campaign to a surprising victory in November, and before he directed the president-elect's nascent administration as a senior adviser and consigliere, Steve Bannon directed a different kind of creative enterprise altogether. Documentary films.
His oeuvre, a set of 9 films released from 2006 to 2016, included projects capturing the rise of the Tea Party, such as 2010's "Battle for America," and 2012's takedown of the Occupy movement, "Occupy Unmasked."
Over several days in November, I set out to watch every Bannon-directed documentary, and two others he produced. If I learned one thing during this all-out assault on the senses, it was that the arc of the moral universe may be long, but it bends toward the guillotine.
 
Oakland Warehouse Fire is Product of Housing Crisis, Say Artists and Advocates
By Sam Levin
December 5, 2016
The Guardian
Some reports have cast blame on the artists and residents associated with the warehouse where so many people died, trapped in a building that lacked basic fire safety mechanisms.
Long-time Oaklanders and tenants' rights activists, however, said the tragedy was a symptom of a major affordability crisis and the long-term failure of urban housing policy to protect the most vulnerable people.
Grieving artists – many still waiting for official news about friends who went missing in the fire – said on Sunday the city must find a way to ensure that underground performance spaces, "live-work" warehouses and overcrowded homes were safe, without shutting down venues and evicting tenants.

Global Climate Justice Movements Refuse to Be Overshadowed by Election of Climate Change Denier to U.S. Presidency
December 1, 2016
The Bullet
We the undersigned organizations, networks, and movements gathered in Marrakech at COP22 issue the following collective statement in support of communities and movements around the world in response to Donald Trump becoming President-Elect of the United States of America and its potentially devastating implications for the cause of climate justice.
We all have a responsibility to show President-elect Trump and right-wing populists everywhere that we as climate justice groups and movements stand in solidarity with all people threatened and impacted by his Presidency. Islamophobia, homophobia, racism, sexism, elitism, and climate denialism are an insult and threat to us all.
We are determined not to allow our governments to normalize or accept such a destructive agenda. They must act in the global public's interests and protect all of our futures by opposing the planet and people-wrecking policies espoused by Donald Trump.