Tidbits - April 6, 2017 - Reader Comments: MLK Vision Still Vital, Necessary; Trumpcare; Activism-Learning from the Past; Jubilee Haggadah; Bill of Rights Briefing; Responding to Racist Attacks; Peoples Climate Movement-April 29; and more...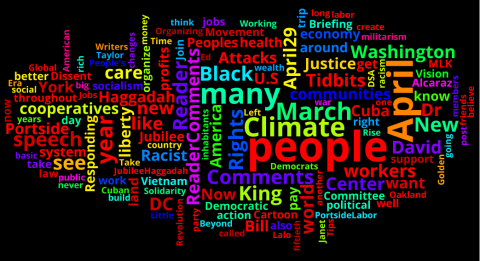 Tidbits - Reader Comments, Resources and Announcements - April 6, 2017,Portside
Resources:
Announcements:
Bob Peterson
     ====
On April 4, 1967, one year to the day before his assassination in Memphis TN, Dr. Martin Luther King, Jr. delivered his visionary "Beyond Vietnam" speech at Riverside Church in New York City. He said:
"When machines and computers, profit motives and property rights are considered more important than people, the giant triplets of racism, materialism and militarism are incapable of being conquered... We still have a choice today: nonviolent coexistence or violent co-annihilation."
In opposition to these giant triplets, King called for "massive civil disobedience... to compel unwilling Federal authorities to yield to the mandates of justice". In preparation, he called for nonviolence trainings. Tragically, King never lived to see that struggle to fruition.
Today, 50 years later, as we face rising militarism, economic and environmental crises, and still-rampant racism, his call to nonviolent resistance resonates more than ever. To meet this moment, War Resisters League is supercharging our resources on nonviolence trainings, actions, and campaigns to support grassroots efforts!
We are relaunching our exercise on "The Intersections of MLK's Triple Threats", now updated and redesigned for groups wanting to gain an understanding of the value of organizing based on the interconnection of the threats of the giant triplets.
In the words of Dr. King, "Our only hope today lies in our ability to recapture the revolutionary spirit and go out into a sometimes hostile world declaring eternal hostility to poverty, racism, and militarism."  His words, half a century later, are instructive for us today on this 100 year anniversary of the U.S. Senate declaration of war against Germany, thus entering the U.S. into WWI. WRL has the tools, training resources and antimilitarist will to help in this recapturing of the nonviolent revolutionary spirit: Onward!
168 Canal Street
Suite 600
New York, NY 10013
I vividly remember Dr. King's Riverside Church speech of April 4, 1967, as well as his speech August 28, 1963 at the March on Washington, which I attended with my father.
The 1967 speech came barely a week before the world premiere of the cantata, "I Have a Dream," based on the 1963 speech, by my teacher and mentor Elie Siegmeister, at the Long Beach, Long Island synagogue, with Cantor Sol Mendelson, who had commissioned it.
Dr. King and Senators Jacob Javits and Robert Kennedy were scheduled to attend. But after the speech of April 4th, none of them did, as the American Legion threatened to picket the temple if Dr. King showed up.  He had become persona non grata to the Establishment, and in fact his days were numbered: he was killed exactly a year later, April 4, 1968.
Leonard J. Lehrman
(Author, *Elie Siegmeister, American Composer: A Bio-Bibliography*)
The Democratic Republic of America has first and foremost derived it wealth from the exploited labor of Black labor. To this very day, our economic system so fiercely devoted to maximizing the privatization of wealth, has systematically made it next to impossible for Black labor, nay Black people, from amassing wealth and power. This extraction of wealth from Black labor is embedded in the DNA of American capitalism.
Larry Aaronson
The "sharing economy" is the worst example of misbranding that's ever been.
Eleanor Roosevelt
Time to end the two party system of the ruling rich vs the other 99% of us !!!
Ed Taylor
Time to end the colonial system. Puerto Rico, Guam, Virgin Islands, Northern Marianas and others.
Mary Anne Merrill-Ramirez
April 5, 2017
you can't get 'every senator 'to do something when bluedog Democrats like Joe Manchin and Heidi Heitkamp betray the party regularly.  We So need to have those two senators primaried next time around. Onward!
Lois Racz
A single payer system can be paid for with all the profits that are going to the insurance companies. Also, make all health care not for profit.
Jackie Graves Kimble
We already pay for millions of people's health care, some in huge amounts in Cadillac policies like legislators and t-rump and his family. We all pay through our taxes of all kinds and through the cost of everything we buy through profits to the sellers. We pay for the huge salaries and profits of insurance companies, we pay for everyone, rich or destitute. Much more than if we eliminated the middle man health and big pharma who give so generously to keep their greedy hands on our money.
There is no free lunch, only idiots who believe they know everything ! We pay for everyone's healthcare from the richest to the poorest through our system of government and provide huge profits to insurers and big pharmacy. Universal health care is far cheaper for everyone except those grabbing billions of profits now. We are providing health care for indigent that is worse but more expensive through welfare.
Ed Taylor
Medicare for all makes sense! But can our elected officials work for the American people instead of taking money and favors from lobbyists? We'll see.
Linda Joye
So Branko Marcetic writes in Jacobin that the Left wants a single payer system but many or most elected officials in the Democratic Party, as well as many liberal newspapers, journals and columnists, are against it.
I don't think we require a long article to explain that. Why did Jacobin think so? Who must otherwise good or OK candidates turn to in the era of no-limits-on-campaign-spending turn? Can all of them realistically rely on average contributions of $27? As the GOP has gone further and further to the right, the center of the entire political spectrum has traveled the same direction.
Michael Arney
Shame on them!
Gloria Johnson
It is not the democrats but the elite who have sold out to the insurance industry. As long as Hillary is our vision of a democrat we will never win another election.
David Nefzger
Fellow Felons...
David Gathright
David Bucher
Jeff Lofvers
March 28, 2017
After trump takes a lot of land to build his wall. There are good to be many angry Texans
Mike Humphries
ESFL's "Tempests in Teapots" program drew on Highlander popular education pedagogy, including the wonderful collection of books and materials that Larry Olds gave us.
Inspiring & crucial--publish, post, share widely!
Lydia Howell
Being a bookseller has exposed me to so many wonderful people - who paved the way before me as a bookseller, and in a few cases they paved the road for continuing to stand up when I see and hear injustice. Selling left wing books isn't the most lucrative profession you could ever think of. Some of the reps I met with were so well read and they kept me going on this not so well trod path. I was lucky to meet and work with the clever, articulate and radical John Eklund. Take a few minutes to read his reflections on organizing and activism before the age of the internet. It's brilliant.
Lisa Greaves
what??!! Talk with people?
Alberta Maged
My sister and I were talking recently about the amazing ability of social media to turn out millions of protestors. She knows I'm an old lefty and wanted to know how we managed to organize anything before twitter, facebook, etc. Good question! This seemed like something others might be interested in so I gave it some thought, and my friends at the excellent website Portside were nice enough to post my recollections about how we got it done in that long ago pre-internet age.
John Eklund
"NPAC led loud chants of 'Out Now!' and PCPJ answered with 'Set the Date!'"
I have a different memory, of an antiwar march in Manhattan when I was around 15. When people chanted "Out Now!" the gay and lesbian contingent behind me and my two friends responded with "Come Out Now!"
Meanwhile, the Irish group in front of us was chanting "England, get out of Ireland! America, get out of Vietnam!"
After they passed a bit of whiskey back, the gays and lesbians were chanting, "England, get out of Ireland," and the Irish, "Come Out Now!"
Steven Wishnia
New York City
I recall the last Guild strike in the States - and the issue of 'reality tv' spelling doom for some writers.
Janet Nicol
one of my favorite eras to teach...Harlem Renaissance....and McKay was about the earliest to settle in Harlem...1918, I believe. His sonnets are extraordinary....What an incredibly rich twelve years so many writers provided....quite a change from Paul Laurence Dunbar, for whom I have the greatest respect....
Sally Fraize
The confederacy planned to expand their slave empire into Central America.
Stephen Durst
Interesting discussion, given that Kansas was founded, in part, by abolitionist settlers.
Janet Ross Snyder
Jim Brough
Hungry for injustice and inequality? Have a nice big slice of Prison Pie!
Mario Galván
this is a really tragic story. these are the kinds of jobs that companies that will build here will supply. why should they do better when they can go to a 3rd world country and pay the workers even less and not take any crap when workers die on the job. I bet they already regret building factories in America. this is the reality of manufacturing jobs in America. if you don't have a union you probably would be better off getting a job at mc donalds. better salary and better working conditions. decent manufacturing jobs are never coming back. don't believe a politician if he promises that. if you want to work for slave wages, in sometimes dangerous working conditions, and long hours then you will be happy. 
there is one thing you can believe people. corporations and the ceo's that run them do not care about you. they would replace you with a dog if they could train them. they don't care about your family, they don't care about your health, they don't care about anything but how much money they can make for the stock holders and ceo. so, how about we look for another ceo who speaks his mind and prove you've learned nothing about reality in the 21st century yet again.
Frederick Marcus
The new norm under GOP control. Big Business gets bigger profits and the workers get screwed.
Gordon Neal Herman
"Whether you are a new member or have been with us for years, you know that DSA is a "big tent" organization. DSAers agree broadly on basic values and strategy, but there is no "party line." If you put 15 DSAers in a room, you'll find those who want us to become a political party and those who want to take over the Democratic Party, with many shades in between."
if you're all over the map politically, why bother?
Gilberto de Leon
The religious Left is the same as the Religious Right. The fact that I agree with one over the other is inconsequential. Neither should bring their power out of the personal space. They frankly do badly enough in the personal context as it is...concentrate on truly following your religious tenants Without hypocrisy.
Samuel Scanlon
I think it's good that this controversy has brought awareness of Emmett Till to those that have never heard of him. Censorship is not the answer.
David H. Boyer
In the Jewish tradition, the fiftieth year is the year of liberty. As written in Leviticus, "Sanctify the fiftieth year, and proclaim liberty throughout the land for all its inhabitants. It shall be a Jubilee for you." This is the fiftieth year of the State of Israel's rule over the Palestinian people. The time has come for liberty and peace.
The Haggadah is edited by Dr. Tomer Persico. The texts are rich, nuanced and diverse, and together with the original artwork and design (by leading Israeli graphic designer Michal Sahar) make this a beautiful work that invites reflection and conversation.
At a recent hearing on Russian interference in the election, the ignorance of many members of the House Permanent Select Committee on Intelligence was on full display. This is the Committee that was established in 1977 after revelations of CIA and FBI illegal shenanigans, to oversee the intelligence community to ensure that it isn't illegally spying on Americans or otherwise trampling the Constitution or abusing its authorities.
But committee members seem to lack the most basic understanding about how intelligence agencies are collecting the communications of US persons under the guise of surveillance aimed at foreign intelligence targets. This is important because Section 702 of the Foreign Intelligence Surveillance Amendment Act is up for renewal this year. That's the law that the NSA claims allows the agency to vacuum up vast troves of our internet communications (programs called Prism and Upstream, as revealed by Edward Snowden), and it's crucial that members of Congress understand how the law works before they blindly reauthorize it.
It's also important that activists understand the law so we can be strong advocates to reform or defeat it. Please join us for a teleconference briefing to understand the law, the political dynamics, and how Rights & Dissent and our allies on the left and right plan to force Congress to adopt radical reforms or let the law sunset.
I hope you can join us.
Stay Loud, Stay Strong,
Sue Udry, Executive Director
Defending Rights & Dissent, formerly the Bill of Rights Defense Committee & Defending Dissent Foundation
11431 Amherst Ave. #1821
Silver Spring, Maryland 20915
202.529.4225
By Aaryn Lang
April 4, 2017
B&H Photo warehouse workers overcame incredible odds to organize a union and demand respect in the workplace. Now B&H is trying to move their jobs 75 miles away.
Where are the President's tax returns? What is he hiding?
Show us your tax returns Chicken Don!
Inspired by the last few months of protest, particularly the Women's March, we are going to relentlessly demand the President's taxes. We want to know who he owes money to and what foreign governments have leverage over us. Above all, FULL disclosure.
This protest has ZERO BARRIERS TO ENTRY. That means whatever cause you celebrate, YOU ARE WELCOME. This includes Democrats, Independents, Republicans and every religion or lack thereof, ethnicity, and gender, orientation, etc.. We are alarmed at Commander-in-Chief Donald Trump's attempt to enrich his family at taxpayer expense.
Let us know if you decide to organize or join an action/event so that we can support you and post it on our calendar! Use our action toolkit and print some flyers for people to get involved with CODEPINK!
Multiple crises are threatening the people of our communities, our country, and our world, and menacing our very planet. Military and climate wars are destroying lives and the environment, and creating enormous flows of desperate refugees. Violent racism, Islamophobia, misogyny, homophobia and other hatreds are rising, encouraged by the most powerful voices in Washington. Rise, Love and Resist with us this day!
Stop the $54 billion increase to the military budget.
Transform our economy, our politics, our policies, and our priorities to support our environmental and human needs. That means we must continue to fight for a reversal of where our tax dollars go: away from war and militarism, and towards funding human and environmental needs. 
Advance solutions to the climate crisis that are rooted in racial, social, political, and economic justice and committed to protecting front-line communities and workers.
Protect our right to clean air, water, land, healthy communities and a world at peace.
Immediately stop attacks on immigrants, communities of color, indigenous, tribal people, and other countries and lands and workers.
Ensure public funds and investments create living paying jobs that provide a family-sustaining wage and benefits and preserve workers' rights, including the right to unionize.
Fund investments in our communities, people and the environment to transition to a new clean and renewable energy economy that works for all.
Protect our basic rights to a free press, the right to protest and free speech.
We have marched, disrupted, and protested, and we will continue to do so, as we build the strong connections we need to create a better world. During this People's Climate March, we have the opportunity to rise in solidarity with people around the world and unveil the violence and exploitation that many groups of peoples and the Earth face. Let's take this energy and direct it locally towards concrete changes we want to see in our communities and cities!
Join us in DC, Oakland, or join/organize another local action!
Host a Community Gathering
Take a picture with your message or use our's and post it on social media
Contact Your Representatives 
Ask Congress to stop the $54 billion increase in military spending! Invest in our communities, in our environment, not war!
PO Box 475142
San Francisco, CA 94147
Would you like to see government promote cooperatives by giving them low taxes and other public support?  Would you like to see public banks give low interest loans to cooperatives?  Would you like to see cooperatives able to lease buildings and other facilities at low cost?  Would you like to see public policy promote a solidarity economy and social values of cooperation rather than individualism?
Well, you can see all of this and more by joining our educational trip to Cuba June 18 to July 1, 2017.  This nation of 11 million people has embarked on a bold effort to create a major cooperative sector in its economy.  On this trip, sponsored by the Center for Global Justice, you will meet with members of Cuba's new cooperatives, sharing experiences and ideas.  You will hear from some of the country's leading thinkers about how they are reshaping their socialism in a more participatory, democratic way.
Cuban society is undergoing some profound changes as it undertakes to reform its socialism.  Central to these changes is the development of new worker owned, self-managed cooperatives and the revitalization of civil society.  Moving away from a state centric socialism, it seeks to construct a more participatory and decentralized socialism for the 21st century.
Next June join a delegation of activists, scholars and cooperativistas as we explore these exciting developments.  While many people are now able to visit Cuba more freely, few groups are able to offer such an in-depth experience.  Drawing on our 25 years experience offering educational trips to Cuba, we have unique access that goes beyond the usual tourist attractions.  We will dialogue with Cuban specialists, visit new cooperatives as well as private businesses, and experience the vitality of the people and their culture.
The first week of this trip will give you an overview of Cuban society and the changes underway, with a focus on the new cooperatives developing.  The second week will feature an exchange with leading Cuban thinkers discussing the reinvention of socialism and the opportunities for expanded exchanges between the people of the US and Cuba.  You are invited to present a short paper for this dialog.
For those who want to extend their stay in Cuba, we also offer an optional 3 day trip to the historic Bay of Pigs and the colonial town of Trinidad.
It is estimated that the basic 14 day trip will cost $2,000 to $2,500 plus airfare, including shared hotel room, breakfasts, light lunches, translation, guide, and the program of activities.  With regular commercial air service now open from many U.S. cities, it is possible to fly directly to Havana.  Deadline for applications is May 1, 2017.  Apply now as space is limited.
The Center for Global Justice
Calzada de la Luz, #42
San Miguel de Allende, GUA
Mexico