NY Unions Push for State 'Medicare for All' System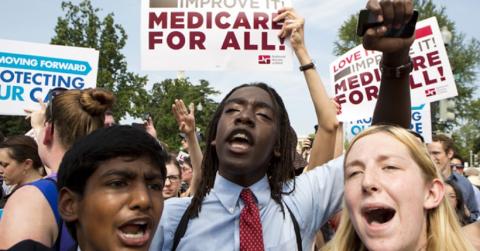 New York, NY - As President Donald Trump mulls ways to sabotage Obamacare after the House Republicans' failure to repeal it last month, New York State may be inching closer to having universal health care.
The New York Health Act, which would create a state-run Medicare-style single-payer system, now has 30 cosponsors in the state Senate, where it went nowhere after being passed by the Assembly in 2015 and 2016. All are Democrats or Independent Democratic Conference members. If a Democrat is elected to fill a vacant seat in Harlem next month, the bill would need only one Republican to gain a majority.
"We've never been this close," Assemblymember Richard Gottfried (D-Manhattan), the bill's sponsor, told LaborPress in early April. "That's amazing."

More than 40 unions and labor groups have endorsed the bill. They include the New York State AFL-CIO, 1199SEIU, Communications Workers of America District 1 and several locals, International Association of Machinists District 15, two locals of the International Association of Theatrical and Stage Employees, Teamsters Joint Council 16, the Long Island Federation of Labor, United Auto Workers Regions 9 and 9A, New York State United Teachers and United Federation of Teachers Local 2, and the Western New York Area Labor Federation.
The New York State Nurses Association has been campaigning for a single-payer system for more than 25 years; Gottfried credits the union with introducing him to the concept. It's been offering members workshops on the issue since the '90s, and cofounded the Campaign for New York Health, the umbrella group backing the bill, in 2014.
"We feel that health care is a human right," says NYSNA treasurer Patricia Kane. "Everyone should have the same standard, and we need to figure out a way to do that."
The union at first concentrated on lobbying the Assembly, but is now focusing on the Senate, says Steven Toff, director of state campaigns. After last November's election, it began organizing in Rep. Dan Donovan's Bay Ridge-Staten Island congressional district, including a town-hall meeting followed by a funeral procession to his district office. Its main purpose was to get Donovan to oppose repeal of the Affordable Care Act—he eventually became one of the few Republicans who did—but as the campaign progressed, Kane says, she saw more and more people at rallies with single-payer signs. There's also a strong movement for single-payer in Albany, Syracuse, and central New York State, she adds.
The Committee of Interns and Residents, a 5,000-member SEIU affiliate, has been notifying its members about the legislation and organizing call-in days for them to speak to their state senators. It also joined with Physicians for a National Health Program for a rally and lobbying day in Albany Apr. 4.
The state's largest health-care union, 1199SEIU, supports the New York Health Act and sent a contingent to Albany Apr. 4. But it's been concentrating its political resources on defending Obamacare. "Our focus is in Washington until this particular fight is over," says Helen Schaub, state director of policy and legislation. Despite the House Republicans' failure to muster a majority for repeal, she told LaborPress, "we expect a number of defensive battles to come, including over continuing cost-sharing subsidies and the Medicaid budget."
"Unions are trying to figure out how to both play defense and offense," says Mark Dudzic, national coordinator of the Labor Campaign for Single Payer. "Unions have to figure out where to put their firepower."
NYSUT and its higher-education affiliate United University Professions support the single-payer bill, but they both devoted their political resources to the state budget this spring. UUP's priority, says President Fred Kowal, was trying to fend off budget cuts to the State University of New York—particularly its three teaching hospitals, where state aid has been slashed by 26% since 2010. On the other hand, he adds, those hospitals are a model for what a single-payer system could be.
Once the Affordable Care Act system was solidly in place, says Gottfried, the debate changed: Its supporters began discussing what it didn't solve.
"I still see a lot of people who can't afford insurance," says Dr. Corrielle Caldwell, an emergency-room doctor in the Bronx and regional vice-president of CIR. They come in "with chronic conditions completely out of control."
"While the ACA made great strides in decreasing the number of uninsured individuals and families, more must be done," Andrew Pallotta, just elected NYSUT's president, told the Assembly Health Committee in 2015. "Obtaining health insurance coverage is not the only obstacle to accessing health care; the out-of-pocket cost of using health insurance is another deterrent."
Dudzic says the Republican attacks on Obamacare are "really raising interest in single-payer." It's a "wholistic" solution, as opposed to "piecemeal" efforts to fight Medicaid cuts or stem the erosion of employer-based coverage. With a similar bill introduced in the California legislature in March, he adds, there's "a lot of momentum."
The GOP's criticisms of Obamacare's subsidized health insurance—its rising costs, high deductibles, and "narrow networks" that drastically limit where people can get medical care—are actually arguments for "why single-payer works," says Pat Kane. The Republican Party, she adds, "is not coming up with any workable solutions. We have one."
Those shortcomings are another reason for labor support of single-payer. "For many years, health plans have been absorbing almost all union bargaining leverage," says Gottfried. This leaves little room for negotiating better wages and pensions, and often results in concessions such as higher copayments, larger deductibles, and narrower networks.
On the other hand, unions that support the New York Health Act also worry about what it would take to implement it. "You can't abolish an industry overnight," Helen Schaub cautions, and if federal health funds are cut, designing a single-payer system without them will be much harder.
"It really is a ridiculous statement about our society that health care isn't something everybody enjoys," says Joseph Fontano, secretary-treasurer of Retail, Wholesale, and Department Store Union Local 338. But he does not want his members to end up having to pay more for coverage than they do now, whether in taxes or copayments.
"The concept is great," he says, "but the devil's in the details."
The majority of New Yorkers already receive publicly funded health care, NYSNA's Toff points out—from Medicare, Medicaid, the Children's Health Insurance Program, the Veterans Administration, and government workers' health coverage. Almost half the state's people are on Medicare and Medicaid, he notes—"and that's the sickest population."
Convincing people that a single-payer system is practical "really is just a matter of explaining," says Kane. "We're talking a lot about how Medicare operates."
The political obstacles remain. If the Assembly passes the bill, it will not make it to the Senate floor without at least some Republican support. And Gov. Andrew Cuomo, says Dudzic, "will be a problem if we make it through the Senate."
Gottfried says the perception that single-payer is politically impossible—that everybody knows it's the only health-care system that makes sense, but that "it will never happen"—has historically deterred supporters from investing much effort, but "we're changing that story in New York."
When CIR lobbied Republican state senators on Apr. 4, Dr. Corrielle says, they "didn't meet complete resistance." Cost was the GOP legislators' main concern, but she says they "had a hard time denying" that small businesses would benefit and that a lot of money is wasted because people lack preventive care.
"As nurses, we look at the health outcomes," says Toff. "As union members, we look at the costs. On both sides, it's a much more effective and rational solution."