labor
Tesla Workers at Buffalo Plant Launch Union Campaign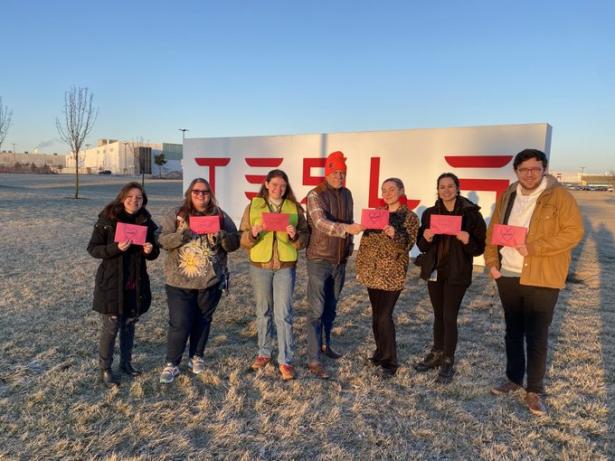 The organizing drive under way at Tesla Inc.'s plant in South Buffalo is putting a spotlight on one of the region's largest private employers, and drawing more attention to region for its union activity.
The campaign, launched by Tesla Workers United, also marks a new push by Workers United, which has supported organizing efforts by workers at area Starbucks stores. Those workers' election victories have sparked organizing campaigns at stores across the country.
If the effort to organize the RiverBend facility succeeds, it would become Tesla's first unionized workplace. On Tuesday, the campaign was generating national media attention, given the prominence of its CEO, Elon Musk, and the company itself as an electric vehicle maker.

"We believe unionizing will give us a voice in our workplace that we feel has been ignored to this point," Tesla Workers United said in a statement. "We hope to gain mutual respect and look forward to healthy communication and cooperation with our corporate management as we transition to this new phase of our time with Tesla."
Musk has expressed opposition to unions in the past. He was rebuked for a 2018 tweet in which he said Tesla workers could lose their stock options if they chose to unionize. The National Labor Relations Board determined that violated federal labor law, and ordered him to delete the tweet.
In March 2022, Musk posted a tweet inviting the United Auto Workers to try to organize a Tesla facility in California. "I'd like hereby to invite UAW to hold a union vote at their convenience," he wrote. "Tesla will do nothing to stop them."
This isn't the first organizing effort involving the Tesla plant in South Buffalo. In 2018, the United Steelworkers and International Brotherhood of Electrical Workers unions launched a campaign to organize production and maintenance workers at the facility.
Those efforts have not resulted in an NLRB election. Steelworkers and IBEW representatives did not provide details Tuesday about the status of that campaign.
Nick Piazza, who has worked in data annotation at the Tesla plant since November 2021, said workers were handing out Valentine's Day-themed leaflets on Tuesday to kick off their campaign.
Piazza said workers are concerned about issues including pay and job security. But they were also upset about the company's stance toward employees during the Christmas weekend blizzard. He said workers were told to use paid time off, sick time or vacation time when they were unable to come into the facility, and weren't permitted to work from home.
Union supporters will try to collect enough workers' signatures to bring about an election overseen by the NLRB. "Based on the way people talked in the last several months, I don't think drumming up support will be all that difficult, honestly," Piazza said.
The Tesla Workers United campaign is drawing more attention to Buffalo as a starting point for organizing. Workers began trying to unionize Starbucks stores here in 2021, generating strong pushback from the Seattle-based corporation.
In Getzville, workers at a GEICO facility in have launched an independent organizing effort, under the name GEICO United. That campaign is aiming to establish the first unionized workforce at the insurance giant.
The Buffalo area has a long history of organized labor, including at manufacturing plants operated by Ford, General Motors and Sumitomo. According to the most recent figures available from unionstats.com, 20% of Buffalo-area workers were union members in 2021, compared to 10.3% nationwide.
Peter DeJesus, president of the Western New York Area Labor Federation, AFL-CIO, said the new campaign at Tesla reflects a changing mindset.
"I think what the pandemic showed us in more and more workers across different sectors are reassessing what it means to have a seat the table, not just over the terms and conditions of their employment, but also the quality of their life," he said. "That's uplifting. I think we're seeing a re-energized workforce that's saying, 'Hey, this country doesn't move without me providing the labor necessary to keep it moving.' "
In a report submitted to the state earlier this month, Tesla said it had 1,948 workers at the RiverBend plant as of Jan. 23, with plans to add another 130 employees.
"This past year has been another excellent year for Tesla in Buffalo and throughout New York state," said Jeff Munson, the treasurer for the Tesla affiliate that operates the Buffalo plant.
The report did not provide details on what type of work the new Tesla employees are doing in Buffalo or provide any insight into the type of work now going on there.
But previous reports indicate that the mix of jobs at the Buffalo plant is far different from what was originally envisioned when the state paid more than $950 million to build and partially equip a factory that was expected to focus on solar energy.
The company is making electronic components for its electric vehicle Superchargers and inverters for some of its battery products in Buffalo. It also has hired hundreds of people to work on its autonomous driving programs for electric vehicles, although many of those positions are for data annotation work.