The GOP's Overtime Reform Plan: Fraud Masquerading as Flexibility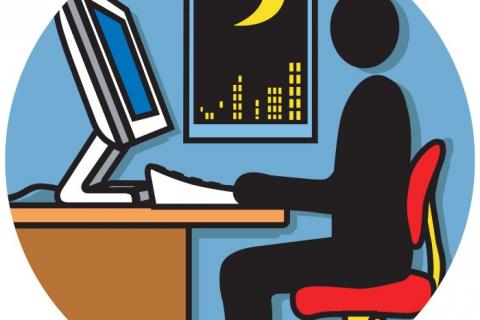 .,.
Earlier this year, Republicans introduced the
Working Families Flexibility Act
, a bill that would amend the Fair Labor Standards Act to allow private-sector employers to offer workers comp time instead of the premium time-and-a-half pay for overtime hours worked.
As the bill proposes, workers would have the option to get an hour and a half of paid time off in the future instead of cash for every hour of overtime worked—an option that public-sector employers have been able to offer since the 1980s as a means for cutting costs. Labor advocates say that voluntary comp time works in the public sector because, unlike the private sector, more workers are in unions and there's no profit motive to coerce workers.  
Republicans and the powerful business trade groups lobbying in support of the bill say that expanding that option to the private sector would give more workers newfound flexibility to better balance their work and family life by using comp time to, say, watch a child's baseball game or care for an aging parent.
"Every worker has a different story. But they all deserve the choice between more time and more money in the bank. They all deserve to choose the best option that meets their personal needs," said Representative Bradley Byrne of Alabama, the Republican chair of the House Subcommittee on Workforce Protections during
a hearing on the bill
earlier this month.
Worker advocates, however, say that while Republicans wrap the bill in fluffy "flexibility" rhetoric, it would in reality erode the pillars supporting the 40-hour workweek
Worker advocates, however, say that while Republicans wrap the bill in fluffy "flexibility" rhetoric, it would in reality erode the pillars supporting the 40-hour workweek and open up already vulnerable workers to more exploitation on the job. A key benefit of the FLSA's overtime provision is that the pay premium beyond 40 hours disincentives employers from overworking their employees. If comp time instead of overtime pay is an option, employers could be driven to overwork employees while coercing them to opt in to comp time. 
"Literally, this is a complete and total fraud," says Ross Eisenbrey, vice president of the Economic Policy Institute. "[The bill] doesn't give any new rights to workers that they don't have now. But it does give new rights to employers, including the right to not pay overtime in the week that it's worked."
As progressives are quick to point out, there's nothing stopping employers from instituting paid sick and family leave policies, generous vacation time, and flexible scheduling practices as a way to create greater flexibility for workers. Indeed, many companies have already done so. But instead of further advocating for employers to provide such benefits, Republicans would prefer workers just cover their own paid time off.
Not only would this bill further tip the labor-relations scale toward the employer; it is also riddled with potential pitfalls that could keep workers from enjoying their earned comp time.
Under the legislation, workers would theoretically be able to use their accrued comp time whenever they want. But there is a gigantic caveat: Employers can veto a worker's request to use her comp time on a given day if they decide that it would "unduly disrupt" business, and instead offer a different date, days or weeks after her kid's baseball game or parent's doctor appointment has passed. The legal definition of "unduly disrupt" is quite broad and gives employers far more power over workers, who would have little recourse to contest comp-time disputes. 
If employees are unable to use their comp time when they want to, the system could ultimately turn into an interest-free loan for companies. For instance, an employer could get 160 free hours of overtime from each of its 200,000 overtime-eligible employees who make the federal minimum wage. All told, that's $232 million the company wouldn't have to pay its workers for up to a year. In order to get a commercial loan for that amount, the company would have to pay 6 percent interest. Instead, the comp-time scheme would save the company $14 million by taking an interest-free loan out on its workers' overtime. 
The Republicans' comp-time scheme comes as the Trump administration is proposing to slash the Department of Labor's budget
by 21 percent
, which, if implemented, would almost certainly diminish the department's already meager resources dedicated to enforcing wage-and-hour laws. During the Obama administration, his Wage and Hour Division
secured $1.6 billion
in back wages for workers—including more than $250 million in 2015 alone. However, that's just a fraction of the billions of dollars that employers steal from workers each year through minimum-wage and overtime violations, and employee misclassification.
The Working Families Flexibility Act would open up yet another front on which employers could stiff their workers by failing to allow workers to use their comp time when requested, or not keeping accurate records of accrued hours, and so on. "Think of yourself, working for Walmart and having 100 hours in the bank. How do you prove it?" Eisenbrey says. "People have enough trouble with wage theft now with employers undercounting hours. This is just one additional way to make it possible for employers to cheat workers."
Furthermore, there are no assurances for workers with comp time in the bank if their employer goes out of business—more than 400,000 companies fold each year, according to estimates by the Small Business Association.
Republicans point out that the bill expressly forbids employers from pressuring workers to take comp time instead of overtime pay. But, labor advocates warn, there's nothing keeping employers from passing over workers who want overtime pay in favor of workers who are willing to take comp time. That could hurt workers like Mercedes Rodriguez, who has worked at the Sbarro pizza chain in the Pentagon for the past 12 years. For more than a decade, she's worked 60 hours a week. Those 20 hours of weekly overtime bumps her wage from $12 to about $18 an hour, and gives her the means to support her son and retired mother.
"Time off is fine, but it doesn't pay the bills."
"I prefer overtime," she tells me through a Spanish interpreter. "Time off is fine, but it doesn't pay the bills."
A couple years ago, her employer offered to pay her a salary instead of wages, but she declined because she would no longer qualify for overtime pay. Since then, she says, the company has brought on several new salaried workers who also work long hours, but make less than she does.
Rodriguez says she's always fearful of losing her overtime, which would force her to take a second job and would force her son, whose tuition she helps pay for, to drop out of college. Adding a comp-time component would only add to her anxiety, since her boss might start scheduling more hours to workers who take comp time instead of cash, and fewer to workers like herself.
Business groups brush aside such concerns as fear-mongering by "Big Labor." At the subcommittee hearing, the Republicans' witnesses came from such industry groups as the Society for Human Resource Management and the U.S. Chamber of Commerce. "The bill is carefully drafted to ensure that employees retain maximum flexibility in being able to choose whether to take the comp time option, whether to continue exercising it, when they may seek a cash-out of their banked time, and to protect them from any coercion or undue influence from the employer as to whether they exercise the comp-time option," Leonard Court, the Chamber of Commerce's witness,
stated in his testimony
.
Republicans have pushed for private-sector comp time in various incarnations since the mid-1990s, most recently in 2013 when it was
passed
in the House before dying in the Democratic-controlled Senate. Now, with Republicans controlling the House, the Senate, and the White House, advocates are more concerned.
"We have to take it seriously," says Bill Samuel, government affairs director at the AFL-CIO, though he doesn't expect it to surmount the Senate's 60-vote threshold.
The GOP's comp-time proposal arrives now as a direct rebuttal to Obama's landmark overtime rule in 2016, which doubled the salary threshold for overtime pay, covering millions of additional workers. A federal judge in Texas blocked the rule, which had faced swift backlash from Republicans and the business lobby, from taking effect. Even if the GOP's comp-time bill doesn't make it out of the Senate, many expect the Trump administration to deal the Obama overtime rule its final deathblow.
[Justin Miller is a writing fellow for The American Prospect.]