Dispatches From the Culture Wars – Apologies for Missing Last Week Edition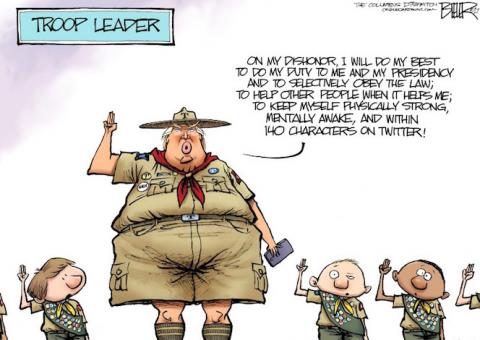 , Nate Beeler, The Columbus Dispatch
These Are the Three Reasons Fascism Spread in 1930s America — and Might Spread Again Today – Seva Gunitsky (Washington Post)
Kareem Abdul-Jabbar: Don't Tell Colin Kaepernick to "Stick to Sports" – Kareem Abdul-Jabbar (Hollywood Reporter)
Far-Right Movements Are Starting To Converge, Posing an Ever Greater Risk – Amarnath Amarasingam and Jacob Davey (The Mantle)
An Atheist Muslim on What the Left and Right Get Wrong About Islam – Sean Illing (Vox)
How to Keep Donald Trump from Spreading His Toxic Masculinity to Future Generations – Jennifer Siebel Newsom (Time)
The Revolutionary Mexican-Born, Jewish-American Woman Who Exposed Rivera, Kahlo, and Siqueiros to the World – Alan Grabinsky (Remezcla)
The Democratic Socialists of America Hit 25,000 Members. Here's Why This Could Mark a Political Turning Point – Keith A. Spencer (Salon)

These Are the Three Reasons Fascism Spread in 1930s America — and Might Spread Again Today
By Seva Gunitsky
August 12, 2017
Washington Post
The violent white nationalist rally in Virginia has reawakened simmering fears of American fascism. The last time fascism was brazenly embraced was in the 1930s. The lessons of that crucial decade bear increasing relevance for modern American life.

Kareem Abdul-Jabbar: Don't Tell Colin Kaepernick to "Stick to Sports"
by Kareem Abdul-Jabbar
August 1, 2017
Hollywood Reporter
The NBA legend, who once faced withering criticism after he converted to Islam and changed his name, argues that NFL players need to step up in solidarity and defend an outspoken black quarterback fighting for social justice and a job.

Far-Right Movements Are Starting To Converge, Posing an Ever Greater Risk
By Amarnath Amarasingam and Jacob Davey
July 19, 2017
The Mantle
Identitarianism is a pan-European movement which focuses on the preservation of traditional values and "European" identity. They are vehemently nativist, anti-immigration, anti-Islam, anti-liberal and anti-left wing. Individual members of the group express support for white supremacism, and their anti-globalist rhetoric is often dog-whistle anti-Semitism.
 
An Atheist Muslim on What the Left and Right Get Wrong About Islam
By Sean Illing
August 7, 2017
Vox
"The left is wrong on Islam. The right is wrong on Muslims." — author Ali Rizvi

How to Keep Donald Trump from Spreading His Toxic Masculinity to Future Generations
By Jennifer Siebel Newsom
July 27, 2017
Time
In response to Trump's jaw-droppingly inappropriate speech this week to the Boy Scouts, their Chief Scout Executive attempted to right the course of Trump's terrible role-modeling by apologizing to anyone offended by the "political rhetoric" within the speech. But when building up young people of integrity and character is at stake, apologizing for politics is not nearly enough.

The Democratic Socialists of America Hit 25,000 Members. Here's Why This Could Mark a Political Turning Point
By Keith A. Spencer
August 5, 2017
Salon
Red-bait all you want, but the Democratic Party owes its existence to the radicals who pushed it left.