Dispatches From the Culture Wars – From Cold to Hot Wars Edition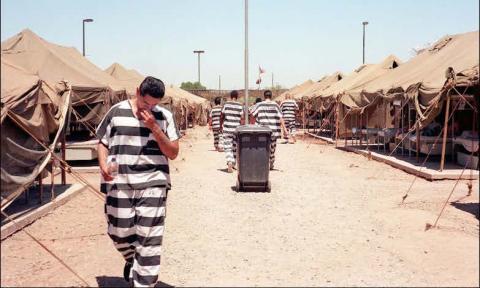 By Brennan Gilmore
August 21, 2017
Politico
I witnessed a terrorist attack in Charlottesville. Then the conspiracy theories began.
 
Arizona's 'Concentration Camp': Why Was Tent City Kept Open For 24 Years?
By Valeria Fernández
August 21, 2017
Guardian
In 1993 Joe Arpaio, America's 'toughest sheriff', opened a temporary outdoor jail in Phoenix. After more than two decades, the notorious project is finally closing
 
'Psychologically Scarred' Millennials are Killing Countless Industries From Napkins To Applebee's — Here are the Businesses They Like the Least
By Kate Taylor
August 20, 2017
Business Insider
Millennials' preferences are killing dozens of industries. "I think we have got a very significant psychological scar from this great recession," Morgan Stanley analyst Kimberly Greenberger told Business Insider. Here are 19 things millennials are killing.
 
By Dahlia Lithwick and Mark Joseph Stern
August 25, 2017
Slate
The GOP's racist attack on minority voting rights might finally backfire.
 
Orthodox Resistance to Trump Grows — In Secret Social Media Groups
By Blima Marcus
August 21, 2017
Forward
According to a poll conducted in August 2016 by the AJC Survey of American Jewish Opinion, Orthodox Jews favored Trump at 50% and Clinton at 21%.
But I've found a fascinating, underground movement growing on social media and messaging apps. As of mid-August, the private Facebook group I was added to has grown to over 1,300 members.
The most commonly shared theme is angst at the complacency of fellow Jews.

How "Nice White People" Benefit from Charlottesville and White Supremacy
By Lauren Duca
August 14, 2017
Teen Vogue
Stop furrowing your brow over "the partisan divide," and loudly declare your position in this fight against hatred.