Bay Area Shows How to Defeat Nazis and KKK; Dockworkers Just Showed the Labor Movement How to Shut Down Fascists; Bay Area Thousands Against White Terrorists (in pictures)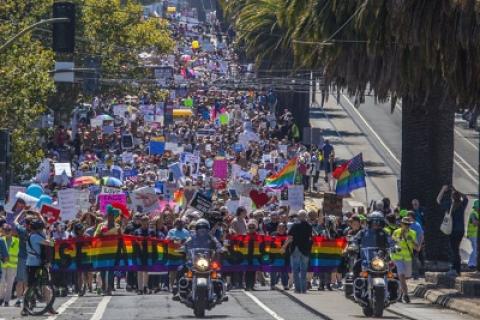 .,Photo by David Bacon - https://davidbaconrealitycheck.blogspot.com
By Peter Cole
August 29, 2017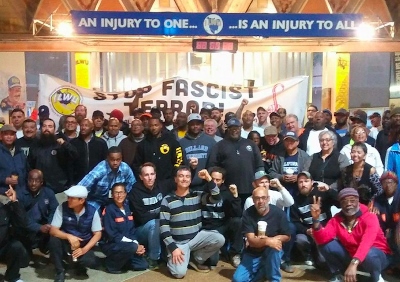 ILWU Local 10 members gather to denounce fascism and white supremacy. 
Courtesy of Ed Ferris, ILWU Local 10 President // In These Times
What role should the labor movement play in beating back the resurgence of fascism? Resistance, while a powerful concept, is far too vague. Local 10, the San Francisco Bay Area branch of the International Longshore and Warehouse Union (ILWU)—and perhaps the most radical union in the United States—demonstrates what can be done.
This past week, the San Francisco Bay Area—long a center of unionism, social justice movements and radicalism—took center stage. Patriot Prayer is a right-wing organization with a demonstrated history of inciting racist violence, most obviously in Portland, Ore., while ironically asserting peaceful intentions. The far-right group declared it would rally in San Francisco on Saturday.

Local 10 took a lead role in organizing counter-protests that contributed to the San Francisco event being canceled the day ahead of its scheduled event. The union's role in this wave of popular mobilizations demands consideration.
At its August 17 meeting, Local 10 passed a "Motion to Stop the Fascists in San Francisco," which laid out members' opposition to the rally and intention to organize. This resolution enumerated the union's justifications, starting with Donald Trump's "whitewashing this violent, deadly fascist and racist attack [in Charlottesville] saying 'both sides are to blame,' and his attacking anti-racists for opposing Confederate statues that honor slavery adds fuel to the fire of racist violence."
The dockworkers called out Patriot Prayer for inciting violence. "[F]ar from a matter of 'free speech,' the racist and fascist provocations are a deadly menace, as shown in Portland on May 26 when a Nazi murdered two men and almost killed a third for defending two young African-American women he was menacing," they declared. The union called for a protest against Patriot Prayer's scheduled rally in San Francisco.
The motion ended with an invitation to "all unions and anti-racist and anti-fascist organizations to join us defending unions, racial minorities, immigrants, LGBTQ people, women and all the oppressed."
As Ed Ferris, Local 10 president and one of the lead organizers succinctly declared in a recent interview with Dr. Suzi Weissman on KPFK, "A woman [Heather Heyer] was killed by Nazis on American soil and that's absolutely unacceptable."
Local 10's planned counter-march received wide publicity in the Bay Area and across California via the internet, mass media and social media. Thousands would likely have joined the anti-fascist demonstration, were it not for the rally's cancellation. While Local 10 was hardly the only Bay Area group to mobilize, they played a role in inspiring others to take action. As San Francisco Against Hate noted on Facebook, ILWU Local 10 "has a long history of fighting against racism" so "many other SF community groups and individuals who stand against white supremacy, misogyny and homophobia, will be marching from Longshoreman's Hall to Crissy Field to protest."
After its first rally was foiled, Patriot Prayer attempted a second at the city's famed Alamo Park. However, thousands of counter-protesters—including ILWU members and union electricians and teachers—got to Alamo Park first and occupied it, overwhelming what few fascists and white supremacists appeared. These protesters joined another large contingent in the city's Mission district, long a working-class neighborhood now suffering from rapid gentrification.
On Sunday, the focus shifted to the East Bay city of Berkeley where far-right forces planned to gather. Yet, once again, anti-fascists out-organized the right. Upwards of 5,000 people appeared, including—once more—Bay Area dockworkers and union teachers. Among ILWU members present was Howard Keylor, a 90-year-old who led the anti-apartheid boycott that Local 10 conducted in 1984 in solidarity with South Africans.
Yet, dockworkers have not been immune to the rising tide of hate. Earlier this year, multiple nooses were found on the Oakland waterfront, which followed the discovery of racist slurs spray painted on port equipment. The African-American Longshore Coalition, a caucus of black longshore workers within the ILWU, has led the efforts to combat such racism. In late May, about one hundred workers stopped work to protest these racist provocations. Derrick Muhammad, Local 10's Secretary Treasurer, commented in late May: "We believe it's a bonafide health and safety issue because of the history behind the noose and what it means for black people in America."
Instead of protecting their workers, SSA Marine, the employer, responded by filing a complaint with the port arbitrator who ruled this stoppage illegal. The port's communications director declared, "The Port of Oakland does not tolerate bigotry or discrimination of any kind," but offered no specific comment on the nooses or the work stoppage. The Pacific Maritime Association, to which SSA belongs and which represents West Coast shipping corporations in dealings with the ILWU, declined to comment for this story.
The ILWU offers an example of a labor union being widely and deeply involved in social justice beyond its own workplaces. It boycotted ships loading material for fascist and racist regimes in Japan in the 1930s, Chile in the 1970s, and South Africa in the 1980s. It stood as one of the few organizations to condemn the internment of Japanese Americans during World War II. It actively fought racism in its own workplaces, cities and nation. The ILWU shut down all West Coast ports, on May Day of 2008 to protest the U.S. wars in Afghanistan and Iraq. On Trump's inaugurationday, 90 percent of rank-and-file members in Local 10 refused to report for work.
In its anti-fascist statement, the ILWU cited its own "proud history of standing up against racism, fascism and bigotry and using our union power to do so; on May Day 2015 we shut down Bay Area ports and marched followed by thousands to Oscar Grant Plaza demanding an end to police terror against African Americans and others."
The labor movement has been greatly weakened by decades of anti-unionism, but the ILWU and Local 10 remain unbowed. Other unions should follow their lead. And, for the 89 percent of American workers not in unions, they must be reminded that individual acts of resistance—while noble—are nowhere as effective as collective action. Sadly, there will be many more opportunities to act.
[Peter Cole is a Professor of History at Western Illinois University. He is the author of Wobblies on the Waterfront: Interracial Unionism in Progressive Era Philadelphia and is currently at work on a book entitled Dockworker Power: Race, Technology & Unions in Durban and the San Francisco Bay Area. He is a Research Associate in the Society, Work and Development Institute (SWOP) at the University of the Witwatersrand in Johannesburg, South Africa, and has published extensively on labor history and politics. He tweets from @ProfPeterCole.]
Thanks to the author for sending this to Portside.
Reprinted with permission from
In These Times
. All rights reserved. Portside is proud to feature content from
In These Times
, a publication dedicated to covering progressive politics, labor and activism. To get more news and provocative analysis from
In These Times
,
sign up
  for a free weekly e-newsletter or
subscribe
to the magazine at a special low rate.
Photographs by David Bacon
August 30, 2017
Relying on the photographs, reporting and video in the mainstream media can give you a false idea about the marches and demonstrations against white supremacists and Nazi sympathizers in San Francisco and Berkeley last weekend.  The newsroom adage says, "if it bleeds it leads."  But screaming headlines about violence, and stories and images focused on scuffles, were not a good reality check.  
Mainstream coverage was miles away from the reality most people experienced.  One racist quoted for each counterprotestor ignored the fact that there were at most a few dozen of one, and many thousands of the other.  More important, where were the reasons why people came out to demonstrate against racism and rightwing politics?  How did people organize their broad constituencies of faith and labor, communities of color, women and immigrants?
In the confrontations between a tiny number of white supremacists and a very small number of demonstrators, the photographers who chased them sometimes outnumbered those involved.  At those same moments, hundreds of Black, Latino, Asian and white church people were marching up Martin Luther King Jr. Way.  The two banners of the Democratic Socialists of America (one all the way from Santa Cruz) stretched across the four lanes of the avenue.  Where were the photographers? In San Francisco thousands marched up Market Street.  I saw fewer photographers there than at any march in recent memory.
Making the scufflers so visible makes everyone else invisible.  Sure, editors choose what to put on the page or website.  But as media workers we can also see what's real and what's not.