Tidbits - September 21, 2017 - Reader Comments: Single Payer; World Citizenship; Puerto Rico is Getting Squeezed, and that was Before Hurricane Maria; Confederate Statutes and the Myth of Robert E. Lee; Resources; Announcements; and more ...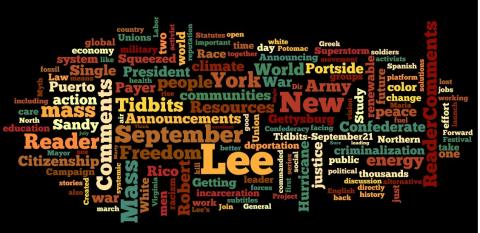 Tidbits - Reader Comments, Resources, Announcements and Shorts - September 21, 2017,Portside
Resources:
Announcements:
Re: Yes, I'm Sure I Want Single Payer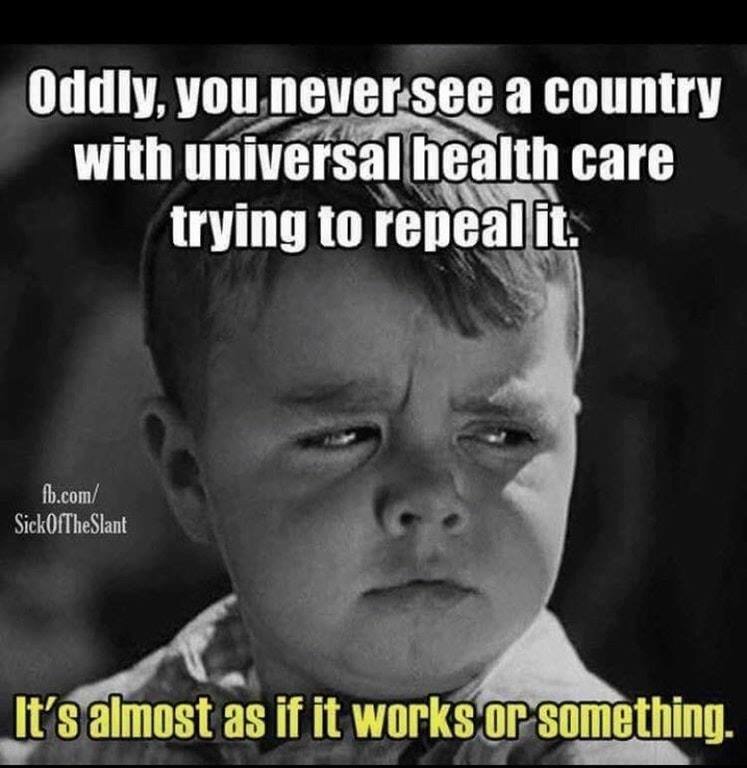 Marty Comroe
Posted on Portside's Facebook page
    ====
Recently Former President Jimmy Carter was hospitalized in Winnipeg, Manitoba where he was working on a Habitat For Humanity Project, due to heat exhaustion. He was amazed when he was discharged and asked at reception how much he owed and was told "Nothing". We Canadians have free health care for everyone. We can't imagine not having it. Most, if not all developed countries have universal health care. It's a matter of priorities. The American health care system is on par with third world countries.
Gwen Andrews
Posted on Portside's Facebook page
Re: World Citizenship Is More Popular Than You Might Think
One of my crusades in life is to promulgate this pledge.  It was written by the late Lillian Genser a legendary peace activist from Detroit.
I pledge allegiance to the world,  to care for earth and sea and air,  to cherish every living thing with peace and justice everywhere.
Frank Joyce
AT LAST!!!  THE TRUTH!!!  Thank you for expressing it for all the world to see.  Now, will we finally be ashamed and act to rid ourselves of this cancer or will we let it kill us?
Lynne H. Einig
Re: Pro-Charter School Group Pays State's Largest Campaign Finance Penalty
So they were fined 400K, when these dark money peeps were contributing Millions.   Good  deterrent.  Fine should be that they must donate equal dollars to public education to do as they see fit.
M Decime
Unions are NOT Created by Labor Law - Meme from SolidarityINFOService.org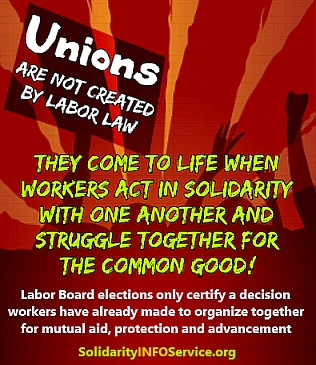 ​
See more at http://SolidarityINFOService.org
Re: Puerto Rico Is Getting Squeezed, and It Will Cost All of Us
To pay blindly without a proper audit is insane, the legality of most of the debt is in question plus who is ultimately responsible: the colony or the owners of the colony.
Victor M.carreras Roena
Posted on Portside's Facebook page
Re: The Making and the Breaking of the Legend of Robert E. Lee
Good ole "Marse Bobby."  This is an excellent article, but it misses one interesting point.  Robert E. Lee had an admirable record when he was an officer in the US Army in the imperial war against Mexico.  As the commander of the most important army of the Confederacy, he gained a reputation as a military genius, both as an operational leader (conducting offensive and defensive campaigns over a broad area) and as a tactical leader (commanding his troops in battle.)  McPherson's excellent book indeed makes the criticism of Lee as having a narrow focus compared to Grant's broad vision.  But Grant was the commander, in 1864, of all of the armies of the Union, as well as accompanying its biggest and most important one, the Army of the Potomac, itself commanded by George Gordon Meade (as it had been since just before Gettysburg).  Lee commanded the Army of Northern Virginia.  There was no Confederate general who commanded all of its forces.  So the criticism is slightly off target.
But two factors in assessing Lee, not as a human being, not as a "gentleman", but as a soldier, need to be considered.
Lee fought usually with a numerical disadvantage, but he was nearly universally respected, and held in awe, by not only his own soldiers, but by his opponents.  But like another famous warrior in an evil cause, Erwin Rommel, a lot of Lee's military reputation was based on possessing an incomparable advantage.  "There is no military advantage so great as having a fool for an opponent."  Just as Rommel made his reputation by having a succession of blundering British generals to fight in North Africa (and through spending a lot of effort on relentless self-promotion and public relations), Lee faced a series of incompetents and men who lacked confidence in themselves (in some cases) or, in the case of General Pope, men with enormous self confidence that was not shared by their soldiers. As an operational leader Lee managed, by drive and daring, to outmaneuver his more incompetent opponents.  He also had an exceptionally talented pool of subordinates, particularly Jackson and Longstreet, who were capable of exercising initiative and aggression.
But Lee pushed the idea of taking the war to the North (get them out of Virginia!!) that led to two disastrous campaigns; the first that ended in a bloody stand off at Antietam, an attrition battle badly mishandled by his opponent, General MacClellan, but one where the North could afford the losses better than the South could, while the second ended up a year later at Gettysburg, with a decisive defeat and heavy losses for the Army of Northern Virginia.
So much for Lee's abilities as a strategist.  But Gettysburg also revealed another facet of Lee's generalship.  The man was an incompetent butcher when he conducted an offensive.  During the Peninsula Campaign, opposing MacClellan's brilliantly planned and miserably executed attempt to get at Richmond, Lee supervised the Battle of the 7 Days that drove MacClellan back the coast.  In the process he ordered a series of frontal assaults on Northern positions that produced a huge amount of Confederate casualties. He would show that side of his military thinking again at Gettysburg, two years later.  He won the first day's fighting hands down, but that was pure luck.  The two sides converged on the same area, and by chance a full rebel corps arrived at the battlefield behind the flank of the Union's unlucky XI Corps, routing it, and forcing the Army of the Potomac back up onto the chain of low hills southeast of Gettysburg.
It was an obvious truism in the Civil War that with a clear field of fire, a defender who had time to dig himself into the ground could kill any number of men foolish enough to attempt to attack them.  For two days Lee fed his forces, a bit at a time, into the Northern guns.  There were some close calls, some places the line grew thin, or was ill placed, and when, late in the day on 2 July, 1863, it came down to a few heroic actions of individual regiments to hold the Union line, but the Army of the Potomac came through like champs in each case, and Lee fed his men to the guns for no purpose.  When, distraught, he rode up to General Pickett on 3 July and asked him to rally his division, Pickett could honestly (and angrily) declare, "Sir, I HAVE no division."  It lay where it had fallen, below Cemetery Hill.
Subsequently Lee fought a series of defensive delaying battles, where the Union Army had to come to him, with his men dug in and firing from well fortified trenches.  But it was all to no purpose.  There was never any chance that this continued effort would produce any outcome favorable to the Confederacy.  But he dragged it out to the last bloody moment, surrendering at Appomattox only when his last ditch effort to march his remnants towards the Blue Ridge Mountains to continue the war collapsed when Sherman's, Sheridan's and Meade's forces all converged to surround him.  Only then did he bow to the inevitable.  Before he did, thousands more Union and Confederate soldiers were cut down.
What a gentleman.
Jack Radey
Announcing the launch of "STUDY WAR NO MORE"
Click here to listen.
Study War No More is intended for those concerned with pursuing alternative possibilities to the general futility of war as a means to pursuing peace. It provides guided inquiries for students and citizens to understand the nature of "the war system" and the possibilities for its transformation to an authentic "global security system" pursued via peaceful means.
World Beyond War is a global nonviolent movement to end war and establish a just and sustainable peace.  The Global Campaign for Peace Education builds public awareness and political support for the introduction of peace education into all spheres of education, including non-formal education, in all schools throughout the world.
Who is Study War No More for?
Study War No More is designed for a wide range of audiences. It is appropriate and adaptable for use in or with: upper-level secondary school classes (history, social studies); undergraduate and graduate peace studies programs; community groups; activist groups; faith-based groups; local, state or national government officials; and family dinner time conversation. We encourage you to start your own study and action group wherever you find yourself.
Study and Action Partners: Learning directly from the pioneers
We think it's important to learn directly from those leaders who are pioneering alternative approaches to security. They've laid the foundations for an alternative system and provide inspiration for action. This is why each discussion topic of Study War No More features a video from "study and action partners" who represent organizations that are leading global thinkers and doers on the issues and approaches being explored.   The work of our partners is also integrated in each discussion. 
Announcing 'Mass Freedom', a Project of Race Forward
As mass criminalization continues to target and harm communities of color, we're proud to announce the launch of the Mass Freedom project. Mass Freedom aims to bridge the movements fighting to end mass incarceration and mass deportation under a shared vision for a multiracial democracy.
"Mass criminalization is an assault on the humanity, safety, and fundamental rights of people of color," said Glenn Harris, President of Race Forward. "Our nation is facing an existential crisis as mass deportation and incarceration continue to ravage communities of color. Mass Freedom is our effort to come together, take action, and unite amidst a political landscape that grows more threatening with each day."
Building upon the decades of work and visionary thinking by activists who have been leading the fight for racial justice, Mass Freedom will focus on elevating the voices of those who have been most impacted by mass criminalization while sharing visions, solutions, and strategies for a better future.
"Our criminal justice and immigration enforcement systems are both rooted in a long history of systemic racism, slavery, and the genocide of indigenous people," said Rosana Cruz, Race Forward's Vice President of Movement and Capacity Building. "The destructive presence of systemic racism in all of our lives links communities that don't always see how their futures are intertwined. With Mass Freedom we are hoping to bridge that connection."
Mass Freedom was inspired by conversations with Michelle Alexander, award-winning author of the critically acclaimed book The New Jim Crow: Mass Incarceration in the Age of Colorblindness. Through these conversations, we developed a vision of a multi-pronged anti-criminalization project that would serve as a platform for multiracial systemic solutions.
"By learning from our history and facing our future with open hearts, open minds, determination and courage, we can make America what it must become."
Impugning Impunity 2017 - ALBA Film Festival - New York - September 24


​
Three documentaries that explore Europe's struggles with hope, memory, and the rise of the far right. Sunday, September 24, 1:30 PM
The Corpse of Time
Dir. Luis E. Parés
13 min / Spain [2016]
Spanish with English subtitles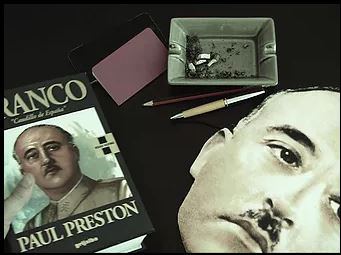 ​
If a dictator is his own imagery and the dictatorship is the sum total of those images, we should destroy those images and construct our own future imagery. A cinephile comedy that tries to kill the ghost of Francisco Franco.
Ada for Mayor  --  New York Festival Premiere
Dir. Pau Faus
88 min / Spain [2016]
Spanish with English subtitles?
​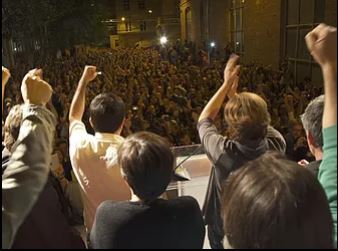 A well-known Spanish activist decides to run for Mayor of Barcelona. With a team inexperienced in institutional politics, Ada embarks on the enthusiastic construction of a new political movement while facing her inner fears and struggles.
​
Golden Dawn: A Personal Affair
Dir. Angélique Kourounis
90 min / Greece [2016]
Greek with English subtitles?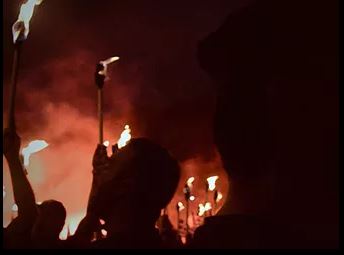 ​
A left-wing, feminist journalist investigates the Greek neo-fascist party "Golden Dawn" allowing us incredible access to the organization and examining the reasons why Greek people are joining.

DCTV 
87 Lafayette St.
New York, NY
White Nationalism and Misogyny: The Intersection of Hate - New York - September 27

With the rise of an emboldened white nationalist movement across the country and a complicit White House, there is a dire need for an open dialogue about white supremacy and its misogynist underpinnings. 
Join us for a thought-provoking panel discussion to explore the relationship between white supremacy and misogyny and what it means for the future of our country and the struggle for equality and justice. Let's learn together how to take on racism and sexism in this hostile climate.
WHEN: Wednesday, September 27 at 6:30 PM to 8:30 PM
WHERE: Columbia University Law School, Jerome Greene Hall, Room #106, 435 West 116th Street New York, NY 10027
SPEAKERS:
Kimberlé Crenshaw, Co-Founder and Executive Director of the African American Policy Forum, Columbia Law Professor, and the thought leader who first named intersectionality.
Jessie Daniels, PhD, Professor of Sociology at Hunter College and The CUNY Graduate Center, whose work explores racism in the digital revolution.
Sonia Ossorio, the President of the National Organization for Women of New York, the nation's largest organization working to advance women's rights.
Please be sure to RSVP as seating is limited. Please consider reserving your spot with a $10 donation to support NOW-NYC's social justice mission and more programs like this one.
For a $15 donation, you can reserve your spot AND receive an annual NOW-NYC membership for less than half the regular membership rate.
If you're not able to donate right now, please call us at 212-627-9895 to RSVP.
NOW-NYC & Women's Justice NOW
150 W. 28th Street, Suite 304
New York, NY 10001
Superstorm Sandy 5th Anniversary....March with us on October 28th!
​
October 28th - We Remember. We Resist. We Rise.
Five years ago, our city was hit by Superstorm Sandy, more dangerous than anything we'd ever seen: 43 New Yorkers lost their lives, the subway system was flooded, homes were destroyed, hundreds of thousands lost power, and tens of thousands of families were made homeless. The worst impact was felt by our city's most vulnerable: people of color, low-income people, and the elderly.
Today, extreme weather conditions are only getting worse. Hurricane Harvey devastated the Gulf region of Texas and parts of Louisiana, and Hurricane Irma ripped through Florida and brought unprecedented damage to islands in the Caribbean. While climate disasters threaten communities around the country and world, the Trump administration - bought and paid for by fossil fuel billionaires - continues to deny climate science.
Join us on Saturday, October 28th in a powerful display of our resilience and our commitment to building a better future.
Join our call for New York to be a model of a just transition away from the extractive fossil fuel economy to a 100% renewable energy economy. We want to live in a city where we can all breathe clean air, where our economy is powered by good jobs and renewable energy, and where our families are safe from dangerous floods and heat waves.
It is time for our elected officials to move beyond the nice speeches and take the bold steps that are so urgently needed:
Mayor Bill de Blasio
➤ Get Sandy survivors back in their homes and repair damaged NYCHA and affordable housing, including addressing mold concerns. Halt developments on waterfront areas until cohesive climate assessments can be integrated; create a flood protection plan for the entire NYC shoreline that prioritizes vulnerable communities; and meaningfully work with communities for emergency preparedness and resiliency.
➤ Divest New York City's pension funds from the over $3 billion invested in fossil fuel companies driving climate change. Invest in the just transition to a renewable energy economy that works for all New Yorkers.
➤ Create good union jobs by requiring all public and private buildings to upgrade to modern energy efficiency standards, while preserving affordable housing.
Governor Andrew Cuomo
➤ Pass the NYRenews policy platform in 2018. Commit New York State to 100% renewable energy, thousands of good union jobs and true environmental justice by making polluters pay for the climate-destroying pollution they dump into our air.
Senator Chuck Schumer
➤ Stop Trump's disastrous climate-killing agenda by fully funding the EPA, blocking McConnell's dirty energy bill, and supporting legislation for 100% renewable energy.  
RSVP now  On October 28th, we will march to remember what was lost to Hurricane Sandy, and to resist and rise up together. The Peoples Climate Movement NY is one of the 65 groups from throughout NYC that are already part of the growing coalition working to make sure our march on Oct. 28th sends a powerful message. Help us build this day of action.
We Remember. We Resist. We Rise.