Dispatches From the Culture Wars – Big Time Edition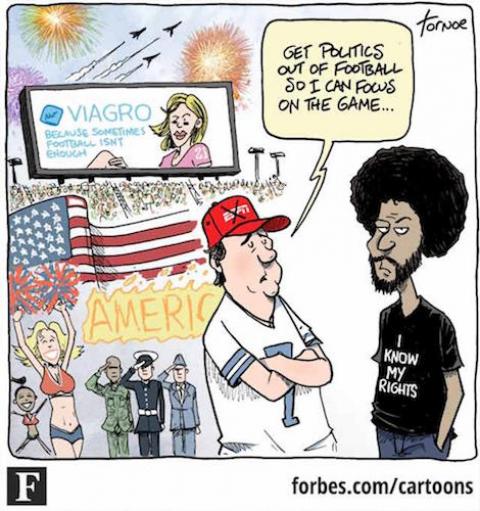 , Rob Tornoe/Cartoon of the Day

For the NFL, It Was 'Choose Your Side Sunday'
By Dave Zirin
September 24, 2017
The Nation
Donald Trump thought targeting NFL players with his racialized venom would be smart politics. He was wrong.

Sudden Enemies of the State: Criminalized Juggalos Find Common Cause With Socialists
By Sarah Jaffe
September 21, 2017
Truthout
Last weekend, in Washington, DC, the Juggalos -- fans of the band Insane Clown Posse and their record label -- marched against their criminalization. The march was an opportunity to demonstrate solidarity and build connections with a group of people politicized by their outcast treatment.
 
WWE Fans Shout 'That's Too Far' At Racist Scripted Comments In the Ring
By David Moye
September 22, 2017
HuffPost
WWE responded with a non-apology for Jinder Mahal's scripted anti-Japanese comments.
 
How Milo Yiannopoulos's Berkeley 'Free Speech Week' Fell Apart
By Rosie Gray  
September 22, 2017
The Atlantic
The former Breitbart editor's attempt to schedule a provocative event on the liberal campus featuring high-profile conservative speakers didn't work out as planned.

Is Retraction the New Rebuttal?
By Colleen Flaherty
September 19, 2017
Inside Higher Ed
Controversy over paper in favor of colonialism sparks calls for retraction as well as worries that academics are relying more on erasure than counterargument to challenge unpopular scholarship.

Don't Cave To Bullies, Alumni Say After Seminary Cancels Fr. James Martin
By Brian Roewe
September 22, 2017
National Catholic Reporter
Disinvite stirs warnings about growing power of 'cyber-militia' on church.