Tidbits - October 12, 2017 - Reader Comments: Vietnam and Anti-War Movement; Support for Kaepernick; Lin-Manuel Miranda - Almost Like Praying-for Puerto Rico; Mobilization to Stop Trump War on North Korea; Announcements; and more.....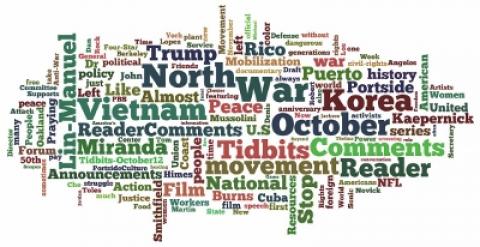 Tidbits - Reader Comments, Resources, Announcements and Shorts - October 12, 2017, Portside
Resources:
Announcements:
Re: Viet Nam! - More on the Burns and Novick Film
(posting on Portside Culture)

There was actually a penalty for not registering if you got caught.
Carolyn Crabb
Posted on Portside's Facebook page
    ====
Ken Burns, you failed us, and more importantly, you failed high school history classes of future generations. Here's how Vietnam could and should have been summarized, by a man who knew WTF he was talking about. It wasn't complicated. (And "the Domino theory" was just a ploy to keep the masses in line.)
    "It is rich in many raw materials such as tin, oil, rubber and iron ore. . . The area has great strategic value. . . It has major naval and air bases." -Secretary of State John Foster Dulles, March 29, 1954
Dan Jordan
Posted on Portside's Facebook page
    ====
There were some significant issues that were omitted or dealt with lightly. Truth would be more valued.
Robert Csandl
Posted on Portside's Facebook page
    ====
A different and interesting commentary. I haven't watched the whole Vietnam series because it was pretty depressing, I needed to take a break. I'm very familiar with the Catholic left movement, I had the honour of meeting Phil Berrigan and Sister Elizabeth; however, my truly overwhelming moment was meeting Daniel Berrigan, a quiet courageous man with the heart of a lion and a soul of a poet. I feel sorry for the majority of soldiers who fought in this war, they were the cannon fodder that feeds all wars, I have many relatives who fell into this category. I hope people watching this series pay attention to the current rhetoric in this country, we can't let history repeat itself.
Thelma M. Jones
Posted on Portside's Facebook page
50th Anniversary of Stop the Draft Week
Next week is the 50th anniversary of Stop the Draft Week, with actions in San Francisco, Washington DC, and Oakland, CA. The Oakland action brought 10,000 people into the streets, barricading the Oakland Induction Center, defending themselves against 6000 police, and resulting in the conspiracy trial of the "Oakland Seven." (We were acquitted). I would argue that these three mass events actually stopped the draft.
Terence Cannon
Posted on Portside's Facebook page
Re: I'm a White Country Singer. I Still Took a Knee After I Sang the National Anthem at an NFL Game
Death threats for taking a political position is always something very troubling.
Jim Prigoff
Four-Star General Supports Kaepernick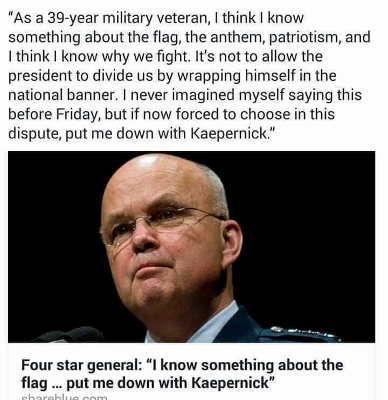 credit: Blue State Daily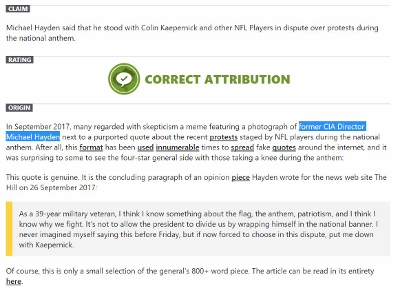 Snopes Fact Check or Fake News - click here.
Michael Hayden: In Trump versus NFL, standing up for free speech
Read full article here.
[Gen. Michael Hayden is a former director of the CIA and the National Security Agency, and a visiting professor in the Schar School of Policy and Government at George Mason University.]
Sign the petition: Defend NFL players' and other athletes' free speech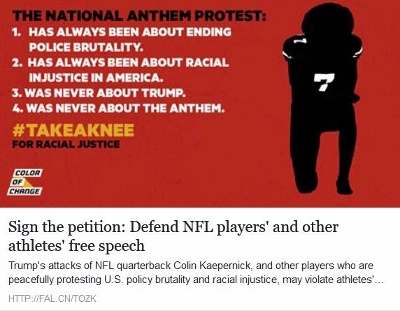 Sign here.
The United States Offers the World Some Multi-Layered Assurances - Tom Toles cartoon
Tom Toles
October 5, 2017
Washington Post
Re: The Meaning of Che: a Revolutionary Power to Heal
As we remember Che on the anniversary of his death, it is always good to recall these simple but profound words that he wrote in a letter he left his children, as he left Cuba for other battles elsewhere in the world:
"Above all, always be capable of feeling deeply any injustice committed against anyone, anywhere in the world. This is the most beautiful quality in a revolutionary."
Geoff Mirelowitz
Posted on Portside's Facebook page
Re: A `Sonic Attack' on Diplomats in Cuba? These Scientists Doubt It
Dr. Leighton said contagious anxiety or another psychogenic contributor couldn't be ruled out. "If you make people anxious that they're under attack from an ultrasonic weapon, those are the symptoms you'll get," he said.
Arthur Heitzer
Posted on Portside's Facebook page
    ====
OMG... USA has been developing that kind of technology. They are known to use their citizens as guinea pigs - ex soldiers and black americans.
Janet Lopez
Posted on Portside's Facebook page
Some have likened Trump to Hitler. A more apt comparison is to Benito Mussolini. The following quote – unedited and in its entirety – is taken from Denis Mack Smith, /Mussolini's Roman Empire/, chapter 6. https://www.amazon.com/Mussolini-Dennis-Mack-Smith/dp/0394506944
"In his search for power and notoriety, Mussolini went so far as to say that he would like Italy to be hated rather than liked or ignored. He thought that the humiliation of other nations could be a proper objective of Italian foreign policy. Yet this was dangerous as well as foolish, because he could overreact if he found Italy's or his own prestige called into question, and in such moments could take up a position from which it was hard to retreat without loss of face."
"The Duce's foreign policy was not without rhyme or reason, but sometimes its main impetus came either from the desire to cut a figure, or else from the wish to make a nuisance of himself in the hope that someone would buy him off. He liked to alternate provocation with sweet reasonableness, threats with conciliation, so as to conceal the lack of strong principle, but also because of a sensible intention to keep as many lines of conduct as open as possible. It was not abnormal for his ambassadors to be left without much idea whether he wished to be conciliatory or provocative, and it is safe to assume that he sometimes did not know himself. Even the most senior officials in the Rome office had to guess what the official policy was and be ready to pay the penalty if they guessed incorrectly. Another quirk of behavior was Mussolini's preference for acting not just through official channels but through private envoys who, though quite junior and inexperienced, might have secret orders to work behind the back of the Italian ambassadors and in direct contradiction to the official policy of the foreign office. This was part of the Duce's passion for spies and secret information. But apart from being risky and wasteful, it was bad for morale in the diplomatic service, and bad because of the reputation of unseriousness which it gave to fascist foreign policy."
Smith's book was first published in 1976.
Bob Supansic
Re: If He Hollers, Let Him Be; He's Chester B. Himes
(posting on Portside Culture)
Just a personal note. I had read the review of this book somewhere else, glad to see Portside carrying  it. I like mysteries, had never heard of Himes when I bought the first mystery by him, which I thought was absolutely first rate - this was years ago, before the movies, and when Himes' work wasn't known to me.
Politics aside, he was a great mystery writer.
David McReynolds
Re: Denis Villeneuve in the Noir Universe of Replicants
The director discusses Blade Runner 2049, his doubts and his inspirations for the sequel to the Ridley Scott classic.
John Gilbert
Posted on Portside's Facebook page
Re: Want to Fix America's Health Care? First, Focus on Food
(posting on Portside Culture)
It would not be very expensive to subsidize local produce farms, plant public fruit trees etc. and transport the products to walkable locations for sale in cities.
Sonia Collins
Posted on Portside's Facebook page
    ====
Where is it better to put the funds? In heart bypasses and diabetes treatment or in healthy food networks?
Nancy Coscarelli
Posted on Portside's Facebook page
Lin-Manuel Miranda - Almost Like Praying featuring Artists for Puerto Rico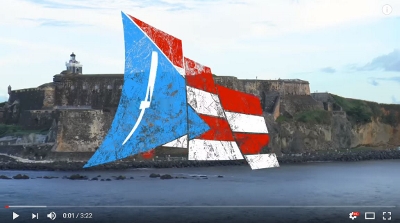 Listen here.
Lin-Manuel Miranda's "Almost Like Praying" was written and recorded to benefit hurricane relief efforts in Puerto Rico with proceeds benefiting The Hispanic Federation's Unidos Disaster Relief Fund 
Proceeds go to https://hispanicfederation.org/unidos/ 
For more information, please visit http://www.hispanicfederation.org and http://www.almostlikepraying.com
"Almost Like Praying" Lin-Manuel Miranda featuring Artists for Puerto Rico 
Music and Lyrics by Lin-Manuel Miranda c 2017 
"Contains elements of "Maria" Music by Leonard Bernstein, Lyrics by Stephen Sondheim c1957
Percussion by: Eric Bobo Correa
Vocals Performed by Marc Anthony, Ruben Blades, Camila Cabello, Pedro Capo, Dessa, Gloria Estefan, Fat Joe, Luis Fonsi, Juan Luis Guerra, Alex Lacamoire, John Leguizamo, Jennifer Lopez, Lin-Manuel Miranda, Rita Moreno, Ednita Nazario, Joell Ortiz, Anthony Ramos, Gina Rodriguez, Gilberto Santa Rosa, PJ Sin Suela, Tommy Torres, Ana Villafa¤e
Download and stream here
The Vietnam War: Then and Now - New York City - October 16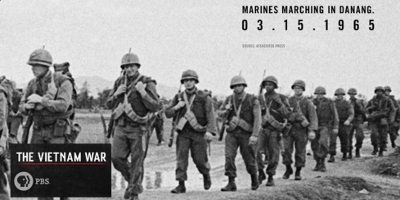 Mon, October 16, 2017
6:00 PM - 8:30 PM EDT
Civic Hall
118 W. 22nd Street
12th Floor
New York, NY 10011
The release of the new PBS documentary, The Vietnam War, by Ken Burns (@KenBurns) and Lynn Novick (@LynnNovick), is opening new reflections on a momentous period in history. For the older generations that lived through the war, the series is a reminder of battles, moral and physical, that made them question everything they knew about America. For younger people who were born later, the series is an opportunity to learn anew.
To recognize the importance of Vietnam in the American psyche and to open up an intergenerational conversation about its lessons and meaning today, Civic Hall is hosting two evening events for its members and the public.
The first, on October 16, will focus on the role of public-spirited media and civic movements as they have tried to hold America's leaders accountable to humane values.
The second, on October 25, will bring together several generations of military veterans, in partnership with the NYC Veterans Alliance, to explore how their experience of war, purpose and the home front has evolved from Vietnam to more recent wars in Iraq and Afghanistan.
Please join us for a conversation on the complex relationship between media, movements & memory with:
James Fallows, National Correspondent; The Atlantic (@JamesFallows)
Leslie Cagan, Former National Coordinator; United for Peace and Justice
Karine Jean-Pierre, Senior Advisor & National Spokesperson; MoveOn.org (@K_JeanPierre)
Pam Campos, Executive Director; Common Defense (@_pamcampos)
To prepare for these conversations, we ask that you take the time to watch The Vietnam War on PBS beforehand.
LIVESTREAM INSTRUCTIONS: This event will be livestreamed on Civic Hall's Facebook page. Please follow along @CivicHallNYC on Facebook starting on Oct 16 at 6:30pm!
Arrival Note: Civic Hall is located at 118 West 22nd Street - 12th Floor. Please buzz 12A to enter building.
National Mobilization to Stop Trump War on North Korea -- Educating for Action - October 12, 18, 25 and November 1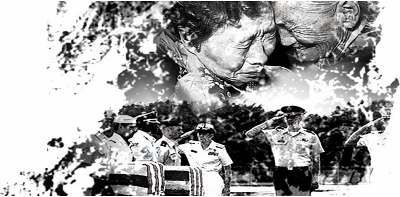 The U.S. and North Korea are on a dangerous path towards a military confrontation that could kill millions and engulf the world in a nuclear holocaust.
It's time for the U.S. peace movement to mobilize opposition to Trump's saber rattling and demand a diplomatic solution.
Trump has threatened, "to totally destroy North Korea," and Secretary of Defense Mattis has told the U.S. Army "to be ready" for war. In response, North Korea says it has the right to shoot down U.S. strategic bombers - even outside their airspace in self-defense.
Timed with Trump's visit to Asia, a coalition of grassroots and national peace organizations are planning actions across the U.S. in our collective calls for peace and diplomacy with North Korea.
To bring the peace movement up to speed, we are hosting a series of online teach-ins on the historical roots of this conflict and what we must do now to avert war.
"Americans should understand vividly that we are on the brink of war with a regime in North Korea that—unlike in 1994—already possesses a nuclear arsenal of perhaps 20 weapons." -William Perry, US Secretary of Defense
Online Teach-Ins -- Register now. Limited Capacity
U.S.-NORTH  KOREA STANDOFF 101: How Did We Get Here & How to Get Out?
Christine Ahn, Women Cross DMZ
Dr. Eleana Kim, University of California, Irvine
Tim Shorrock, Journalist for The Nation 
Thursday, Oct 12th 7 pm EST
Link to Register
ECONOMIC WAR ON NORTH KOREA: Impact of Sanctions on North Korean People
Dr. Kevin Gray, Woodrow Wilson Center 
Dr. Linda Lewis, American Friends Service Committee
Wednesday, Oct 18th 7 pm EST 
Link to Register
ON  THE BRINK OF WAR: Peace Activists in South Korea & Japan Respond
Speakers to be Confirmed 
Wednesday, Oct 25th 7 pm EST 
Link to Register
LETS TALK: Concrete Asks For Congress to Stop US War on North Korea 
Erica Fein, Win Without War
Dan Jasper, American Friends Service Committee
Paul Kawika Martin, Peace Action 
Wednesday  Nov 1st  7 pm  EST 
Link to Register
This educational series will culminate with a week of action November 6-11, including teach-ins, visits to local congressional offices, and protests. For more information, contact:  info@womencrossdmz.org
Co-sponsored by:
American Friends Service Committee, Beyond the Bomb/Global Zero, Code Pink, Global Network Against Weapons & Nuclear Power in Space, Hawaii Alliance for Progressive Action, Nuclear Age Peace Foundation, Peace Action, Peace Philosophy Centre Vancouver Canada, United for Peace and Justice, Veterans for Peace, Win Without War, Women Cross DMZ, Women for Genuine Security, World Beyond War
Left Coast Forum 2017: State of the Struggle - Los Angeles - November 3 - 5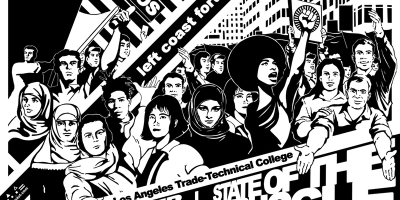 With the grim racist, anti-immigrant, anti-woman, anti-labor, anti-LGBTQ ideology that has grasped much of the nation's political dialog, the time couldn't be better to introduce a new platform to West Coast activists and organizers eager to combat this unprecedented reactionary takeover.
Modeled on and partnering with New York City's venerable Left Forum, the inaugural three-day Left Coast Forum will focus on ways the burgeoning populist uprisings—think Occupy, Standing Rock, Black Lives Matter, Fight 4 Fifteen, Dreamers—can mold themselves into a lasting movement to create a racially and economically just world Americans too often honor in our words, but so rarely in our deeds.
This November at Los Angeles Trade Tech, you'll find speakers, panelists, and fellow activists building upon sometimes disjointed street protests, online petitions, and siloed thinking to create the potent united front needed to reclaim all threatened rights and freedoms.
Join us in mapping out the state of our struggle. Join us in moving beyond resistance.
Register here.
Friday, Nov 3, 2017, 6:00 PM –
to
Sunday, Nov 5, 2017, 1:00 PM PDT
Los Angeles Trade Technical College
400 West Washington Boulevard
Los Angeles, CA 90015
Democracy in Color President Aimee Allison keynotes the inaugural Left Coast Forum on Saturday Evening, November 4th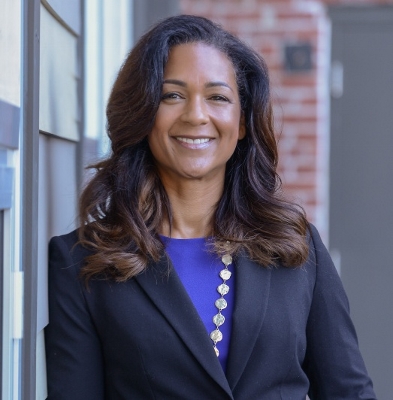 Her keynote topic:
She the People: The Heart of the Progressive Movement
"Women of color are the core of the progressive movement as activists, culture makers, voters, and next generation political leadership. She the People imagines a politics that we have not yet seen - one that elevates and invests in women of color, America's most underrepresented and progressive group, to forge an intersectional political agenda that addresses the unfinished business of the left and prepares our movement for victory. She the People reimagines democracy, as women of color become the majority of all women and people of color in the U.S."
    
Union Time: Film Screening & Director Talk - Berkeley - November 9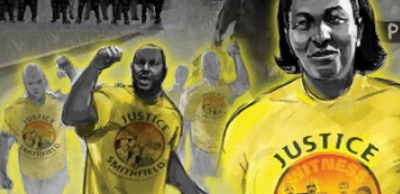 Thursday, November 9, 2017 -- 6:00-8:00 PM
UC Berkeley Labor Center
2521 Channing Way, Berkeley, CA
Film screening will be followed by Q & A with the director, Matthew Barr
Union Time: Fighting for Workers' Rights tells the story of one of the greatest union victories of the 21st century—the fight to organize Smithfield Foods' pork processing plant in Tar Heel, North Carolina. From 1993 to 2008, workers struggled against dangerous working conditions, intimidation, and low pay. They were organized by the United Food and Commercial Workers Union, whose "Justice for Smithfield Workers" campaign brought national attention to the plight of the plant workers.
The documentary is narrated by actor and activist Danny Glover. It also features key figures in the "Justice for Smithfield Workers" struggle, including NAACP President Rev. William J. Barber II. The core of the film, however, is the voices of the Smithfield employees, many African-American and Hispanic, who showed amazing courage in standing up to a multinational corporation.
The Smithfield struggle is an important chapter in the history of unions in the meatpacking industry. It also demonstrates the convergence of labor rights and civil rights, carrying on the legacy of Rev. Martin Luther King, Jr. Ultimately, the goal of the film is to show the role unions play in a just society.
This is the final film screening in our Film + Labor: UC Berkeley Labor Center Fall Documentary Film Series.
This event is free and open to the public. Please register in advance.
US Civil Rights: On the Road to Freedom—Jackson, Little Rock, Memphis, Selma, Birmingham, and Montgomery - February 18–25, 2018
The civil-rights movement is one of the most significant chapters in our country's history. As 2018 marks the 50th anniversary of the murder of Dr. Martin Luther King Jr., it is a time for our nation to reflect upon how far we've come and how much remains to be accomplished. While we confront increasingly racialized violence, emboldened white nationalists, and a morally bankrupt president, we can look back to the victories of the past and to the hundreds of thousands of brave Americans who fueled this history-altering movement, fighting—and too often dying—for the cause of equality.
Visit iconic sites of the civil-rights movement, meet with people who played a part in US history, and immerse yourself in the spirit that continues to inspire today's fight for justice and equality. Travel in the company of André Robert Lee, a teacher, producer, and acclaimed documentary filmmaker who has led multiple civil-rights tours of the American South.
February 18–25, 2018 -- See Full Itinerary