Dispatches From the Culture Wars - Paradigm Shift Edition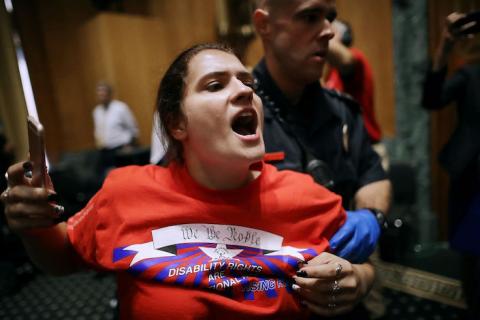 By Sophie Gilbert
October 16, 2017
How a hashtag got its power.
The Sexual Revolution Did Not Create Harvey Weinstein. Patriachy and Capitalism Did.
By David Atkins
October 15, 2017
Religious social conservatives have been hard at work arguing that Hollywood libertinism, liberal sexual mores and the sexual revolution itself are to blame for the behavior of the Weinsteins of the world.
Why Thousands of People Around the World Are Mapping Puerto Rico's Buildings and Streets
By Maddie Stone
October 12, 2017
Frustrated by the slow federal response, many people in the United States and elsewhere are searching for some small way to help.
New Jersey Students Walk Out After Teen Told to 'Speak American'
By Darla Miles
October 16, 2017
There are layers to the controversy in the multi-cultural school of about 1,100 students.
By Sarah Jones
September 28, 2017
How disabled activists turned the fight for Medicaid into a battle for civil rights.
Democrats Should Stop Chasing the 'Sensible Centrists'
By Noah Berlatsky
October 19, 2017
They don't exist. Voter suppression, on the other hand, is very real.