Tidbits - November 23, 2017 - Reader Comments: Portside annual Fund Appeal; Trump Tax Scam; The US and Africa; Keystone Pipeline; Public Bank Option; Sci-Fi and Fantasy; and more....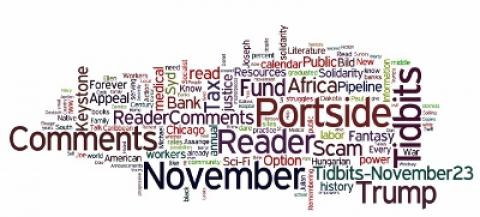 Tidbits - Reader Comments and Resources - November 23, 2017,Portside
Resources:
Information is power -- Portside annual Fund Appeal

Information is power. Our mission at Portside is to seek out and to provide information that empowers you -- that empowers the left. Every day we search hundreds of sources to connect you with the most interesting, striking and useful material. Just once a year we appeal to you to contribute to make it possible to continue this work. Please help.


​
How to Talk to Your Family About the Trump Tax Scam
By Chad Bolt

Senate Republicans are closer than ever to passing the Trump Tax Scam. It's being sold as a "gift to the middle class"—but it actually raises taxes on 94 million American families, all to give its biggest tax cuts to the wealthy and corporations.
You know best how to tackle political conversations around the Thanksgiving dinner table (or whether to have them at all). Republicans will try to jam the Tax Scam through the Senate as soon as they get back to Washington. So if you're up for talking to your family about it, or think you won't be able to avoid it, here are some good points to mention.
(Is your family already with us? Great! Have them join our National Day of Action of November 27. Everything you need here.)
Non-partisan analysis shows the Tax Scam will overwhelmingly benefit the top-and raise taxes on the middle class.
Read more here. 
November 21, 2017
Indivisible
 
Re: The US, Africa and a New Century of War
"In 2006, just 1 percent of all US commandos deployed overseas were in Africa," writes journalist Nick Turse. "In 2010, it was 3 percent. By 2016, that number had jumped to more than 17 percent. In fact, according to data supplied by US Special Operations Command, there are now more special operations personnel devoted to Africa than anywhere except the Middle East."
Paul Eichhorn
Posted on Portside's Facebook page
    ====
Have you ever noticed that when a area in the 3rd world is improving and showing signs of strength and growth America decides it needs to go there and start new wars
Wilf Hanson
Posted on Portside's Facebook page
    ====
When Lindsay Graham was asked why our troops were in Niger. He did not know and came up with the standard "they are fighting terror" thing. We have more troops there then any place outside of the middle east. Now we know Africa is many countries but once again our military and private contractors are protecting International Business Interests that are exploiting the mineral wealth there.. The Chinese are too, but they are doing more for the clients then we are, and their long term needs will be better served.
Earl Marty Price
Posted on Portside's Facebook page
Re: Keystone Pipeline Leaks in South Dakota, Spilling Over 200,000 Gallons of Oil
Leak November 16, 2017 of more that 200,000 gallons of oil a few days before Nebraska officials decide whether to give TransCanada the OK for the Keystone XL pipeline.
Joseph Friendly
Posted on Portside's Facebook page
Re: Trump's Expedited Drilling Threatens Ancient Native American Center
This makes my blood boil. Leave Chaco Canyon, and all of these other sites, alone. What the hell is wrong with Trump and his cronies? This is sickness. This is evil. And if you dare to support this, you are part of the sickness and the evil. Yes - you. There is no wiggle room on this. And the bastards have already started putting oil wells about a mile away. Yes, this pisses me off. How dare anyone ruin these heritage sites for an extra nickle.
Dan Jordan
Posted on Portside's Facebook page
    ====
How dare Trump touch sacred land. After EVERYTHING we have already taken were going to last sacred sites of these people.
Joseph Michael
Posted on Portside's Facebook page
Donald Trump Has a Climate Protection Plan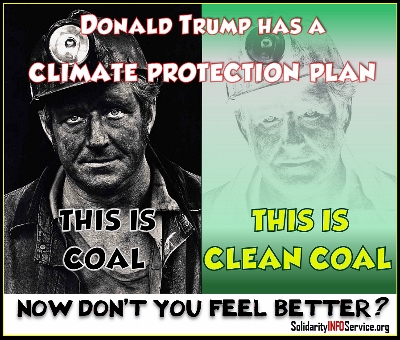 Re: The Public Bank Option - Safer, Local and Half the Cost
I am a fan of public banks, non profit banks and community development credit unions. We need to move all our money from the grasp of the banksters. Here, Ellen Brown surveys the possibilities for public banks. The election of Phillip Murphy as New Jersey Governor may advance the public bank discussion as he made it a key platform. Why, with a fairly progressive mayor and comptroller does NYC remain wedded to JP Morgan-Chase? Thanks to Portside for the link.
Daniel Millstone
Posted on Portside's Facebook page
    ====
"the Bank of North Dakota, currently the only publicly-owned depository bank in the US. According to the Wall Street Journal, it is more profitable than Goldman Sachs or JPMorgan Chase. The BND is risk-averse, lends conservatively, does not gamble in derivatives or put deposits at risk. It is able to lend at lower than market rates because its costs are very low."
Dale Jacobson
Posted on Portside's Facebook page
    ====
Credit Unions are way cool. Not for profit. The best rates. Way socialist.
Joe Wylie
Posted on Portside's Facebook page
    ====
The Color of Money: Black Banks and the Racial Wealth Gap (1/3)
A major compromise to white supremacy after Civil War was abandoning reparations and creating Black Banks argues Mehrsa Baradaran
[see video here.]
David A Woolsey
Posted on Portside's Facebook page
You Know What Would Happen if the Richest People in this Country Paid More in Taxes.....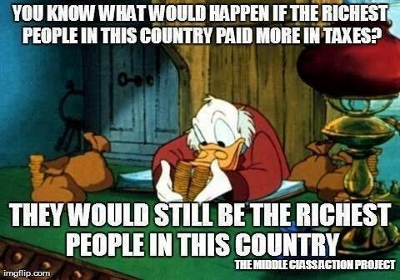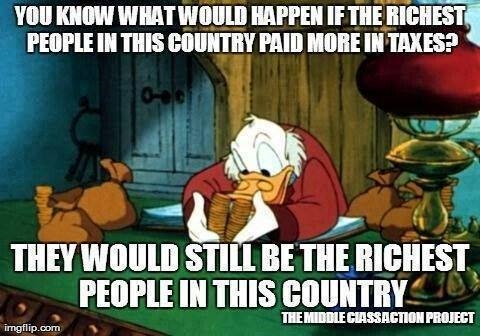 ​
Looking for an excuse to not help Puerto Rico?
Ken Damrau
Posted on Portside's Facebook page
    ====
Is it true that the United Nations still consider PR a colony? I remember reading something a while back when a small delegation from PR spoke to the UN about filing bankruptcy. Can you verify that info? Thanks!
Dos Artesanos
Posted on Portside's Facebook page
Re: We Knew Julian Assange Hated Clinton. We Didn't Know He Was Secretly Advising Trump.
Portside posted despicable propaganda:  this is to suggest that Portside attempt to redeem itself by asking John Pilger to set the record straight 
Barbara Deutsch
Re: 50 Sci-Fi and Fantasy Works Every Socialist Should Read
I have to confess I've only read the books listed here by Jonathan Swift, Toni Morrison and (hate to admit it) the detestable Ayn Rand.  In fact, I only recognize a few more authors, like Edward Bellamy, Philip Pullman, Anatole France, H.G. Wells, Ursula Le Guin, and Jack London--some of whose other works I've read.  
I would like very much appreciate your comments about any of these that you've read.
Romi Elnagar
    ====
I don't read science fiction.  The term makes me think of Piltdown Man. Of the books listed that I read,  I regard those by Swift, Shelley, London, Zamyatin and Bulgakov as masterpieces. Same for Animal Farm.
Those by Sue, Bellamy and Morris as less than masterpieces but worth the reader's time. Same for France's Revolt of the Angels which is mentioned.
I didn't read Wilde's children's book but I certainly endorse the author.
Cornet Joyce
    ====
I read little Science Fiction but do appreciate carefully done Fantasy.  In the context of Romi's question, I like some of Wells and am a strong fan of Jack London.  Best, H
HUNTER GRAY [HUNTER BEAR/JOHN R SALTER JR)
Wabanaki (Mi'kmaq, Maliseet, St. Francis Abenaki),
St. Regis Mohawk.
Protected by Na'shdo'i'ba'i'
and Ohkwari' . Check out our massive social justice website:
www.hunterbear.org
Member, National Writers Union AFL-CIO 
Here is the obit for my father-in-law that won't get printed in the Chicago Tribune, though it should:
Sydney George Bild died peacefully on Sunday, November 19, 2017 at the Self Help Home, where he has lived since 2011. He was 95.
Syd was born in the Rogers Park neighborhood of Chicago on July 20, 1922. He graduated from Senn High School in 1939 and attended Wright Junior College and De Paul Law School before joining the US Army in 1942, where he developed an interest in medicine after serving as a medic.
He graduated from the University of Illinois at Champaign-Urbana in 1947. He and Bernice Ranz married in 1948 and lived in Hyde Park-Kenwood for 6 decades as active members of that community and the progressive movement. Bernice, a peace and justice advocate and leader, predeceased him in 2012.
Syd graduated from medical school at the University of Illinois at Chicago in 1951, completed two years of internal medicine residency at Cook County Hospital and then set up a general practice in Hyde Park.
Active in the cause of civil rights, he fought for admission of blacks to medical school and of lifting quotas on black patients in area hospitals in the 1950s while still a medical resident at Cook County, and after. For this activism, he was denied entry into the American Medical Association until 1963, when his knowledge of and friendships with black physicians made him an asset to Michael Reese Hospital.
He was a founding member of a unique community-owned medical practice, where he was a consummate "small town" doctor who was deeply loved by his patients, eventually serving as its medical director.
Seeing a great need in the community in the 1970s, he developed the first drug addiction treatment in Chicago, serving as the Director of Medical Services at the Behavior Research and Action in the Social Sciences (BRASS). After retirement from medical practice, he became active in Metro Seniors in Action and the Jane Adams Seniors Caucus, championing single-payer health care and other work advocating on behalf of seniors.
A memorial service will be held at the Self Help Home, 908 W. Argyle, Chicago, on Sunday, January 28, 2018 at 11 am.
Mary Ellen Croteau
Posted on Portside's Facebook page
2018 Solidarity Forever labor history calendar
Fellow Workers,
The 2018 Solidarity Forever Labor History Calendar is now shipping.
This year we recall struggles against bigotry and fascism, from the workers of the Polish Bund to mass demonstrations in Boyle Heights, California, against the Nazi's reign of terror, from the long strike by Latina garment workers who refused to surrender despite being caged by Texas authorities to the nonracial industrial unions that forced an end to South Africa's apartheid regime, from the Memphis sanitation workers' strike for dignity to the international campaign against the judicial lynching of Sacco and Vanzetti.
Only through our own organization and solidarity can we hope to establish justice. Workers have known this for hundreds of years, despite the bosses' efforts to pit us against each other - seeking to divide us by race, by nationality, by craft, by religion, and by gender. When we succumb to these divisions, all of us pay the price - but when we stand together for justice and equality, there is no force powerful enough to beat us down. This year's Solidarity Forever labor history calendar commemorates workers' history of coming together, of demanding justice, of solidarity against those who seek power through fear and division.
We invite you to remember these struggles, and to reflect on the possibilities for reviving a labor movement committed to solidarity, and to a vision of justice and workplace democracy. The Solidarity Forever Labor History Calendar has been published by the Hungarian Literature Fund since 1985 to inspire greater labor solidarity and preserve the memory of workers' struggles around the world.
The 2018 calendar is 11 by 17 inches (open, folds to 8 1/2 by 11), with a color cover and black and white insides. It is union-printed. Copies are $12.95 each, post-paid, in the U.S. and Canada ($15.00 in the rest of the world); a bundle of 5 is $38.50. Please inquire for bulk rates.
Copies can be ordered at http://joehill100.com (where we also list a variety of Joe Hill- and other Wobbly-related books, t-shirts, buttons, CDs, a 2018 Railway Workers calendar, and other items), at htp://iwwhlf.org, or by sending a check to IWW Hungarian Literature Fund, PO Box 42531, Philadelphia PA 19101.