Israel Adopts Controversial Jewish 'Nation State' Law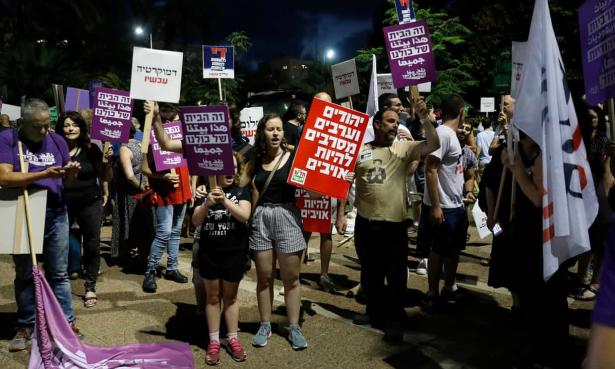 Israelis hold placards reading: 'This house belongs to all of us,' during a protest against the controversial 'nation state' law.,Photograph: Abir Sultan/EPA // The Guardian
The European Union has led a chorus of criticism after Israel passed a controversial law declaring that only Jews have the right of self-determination in the country.
Adding that the legislation would complicate a two-state solution to the Israel-Palestinian conflict, the EU joined Israeli Arab political leaders, Israeli opposition politicians and liberal Jewish groups in the US in flagging up concern, with some saying the law amounted to "apartheid".
The legislation stipulates that "Israel is the historic homeland of the Jewish people and they have an exclusive right to national self-determination in it".

It also strips Arabic of its designation as an official language alongside Hebrew, downgrading it to a "special status" that enables its continued use within Israeli institutions. 
"We are concerned, we have expressed this concern and we will continue to engage with Israeli authorities in this context," said a spokeswoman for the EU foreign affairs chief, Federica Mogherini.
"We've been very clear when it comes to the two-state solution, we believe it is the only way forward and any step that would further complicate or prevent this solution of becoming a reality should be avoided," the spokeswoman added.
The law was also condemned by the Turkish foreign ministry, which said the legislation trampled on the principles of universal law and disregarded the rights of the Palestinian citizens of Israel.
Some of the strongest language was used by the head of the Israeli Arab Joint List group of parties, Ayman Odeh, who denounced it as "the death of our democracy".
He added: "[The Knesset] has passed a law of Jewish supremacy and told us that we will always be second-class citizens."
In a moment of ironic timing, the legislation was passed just hours before Israel's prime minister, Benjamin Netanyahu, welcomed a visit by Hungary's far-right leader, Viktor Orbán, who Israeli critics have accused of praising Nazi-era antisemitic collaborators.
The "nation state" law, backed by the rightwing government, passed by a vote of 62-55with two abstentions after months of political argument. Some Arab MPs shouted and ripped up papers after the vote.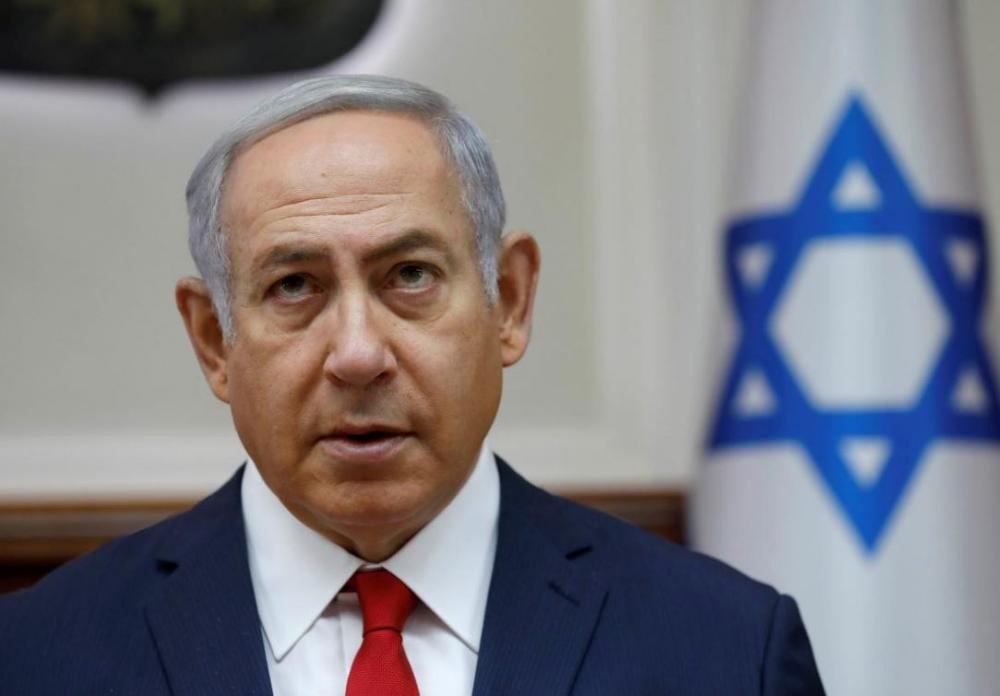 "This is a defining moment in the annals of Zionism and the history of the state of Israel," Netanyahu told the Knesset.
Last week he said: "We will keep ensuring civil rights in Israel's democracy but the majority also has rights and the majority decides. An absolute majority wants to ensure our state's Jewish character for generations to come.."
The law was condemned by Yohanan Plesner, the head of the Israel Democracy Institute, who described it as "jingoistic and divisive" and an "unnecessary embarrassment to Israel".
The legislation, which will become part of Israel's "basic laws" that make up its quasi-constitution, was also condemned by the president of the Union for Reform Judaism, which represents the largest Jewish denomination in the US "This is a sad and unnecessary day for Israeli democracy," said Rabbi Rick Jacobs.
"The damage that will be done by this new nation state law to the legitimacy of the Zionist vision and to the values of the state of Israel as a democratic – and Jewish – nation is enormous."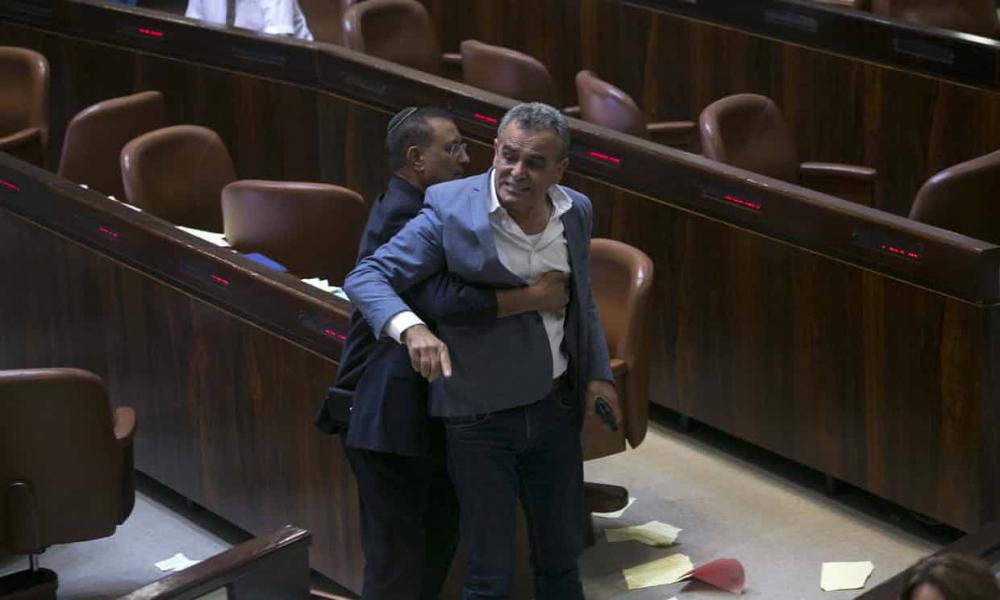 There are 1.8 million Arabs in Israel, about 20% of the total population.
Early drafts of the legislation went further in what critics at home and abroad saw as discrimination towards Israel's Arabs, who have long said they are treated as second-class citizens.
Clauses that were dropped in last-minute political wrangling – and after objections by Israel's president and attorney general – would have enshrined in law the establishment of Jewish-only communities, and instructed courts to rule according to Jewish ritual law when there were no relevant legal precedents.
Instead, a more vaguely worded version was approved, reading: "The state views the development of Jewish settlement as a national value and will act to encourage and promote its establishment."
Even after the changes, critics said the law would deepen a sense of alienation within the Arab minority. "I announce with shock and sorrow the death of democracy," said Ahmad Tibi, an Arab MP.
In Ma'alot-Tarshiha, a municipality in northern Israel that was created by linking the Jewish town of Ma'alot and the Arab town of Tarshiha, there was anger among Arab residents.
"I think this is racist legislation by a radical rightwing government that is creating radical laws and is planting the seeds to create an apartheid state," said Bassam Bisharah, a 71-year-old doctor.
Adalah, the legal centre for Arab minority rights in Israel, called the law an attempt to advance "ethnic superiority by promoting racist policies".
Jewish Voice for Peace: Israel's Jewish "Nation-State" Laws Confirms It Is An Apartheid State
JVP Press Release
July 19, 2018
Jewish Voice for Peace
FOR IMMEDIATE RELEASE
July 19, 2018
Contact: Sonya E Meyerson-Knox | sonya@jvp.org | 929-290-0317
Jewish Voice for Peace issued the following statement on the passage of Israel's Nation-State bill in the Knesset:
The Nation-State law establishes that racist and discriminatory practices against Palestinians and non-Jews are legal. The law states that in Israel only Jewish people have the right to self-determination, demotes Arabic from an official language to "special status," places national value on the development of "Jewish settlement" and confirms that the state "will act to encourage and promote its establishment and consolidation."
JVP Executive Director Rebecca Vilkomerson:
"This law is a reflection of what Israel is today: a state which denies the full and equal rights of many of its citizens while anxiously tightening its grip on its system of hierarchy and dominance over millions of people living under its control. In the name of maintaining a "Jewish identity," Israel is institutionalizing discrimination, displacement and disenfranchisement."
JVP Deputy Director Rabbi Alissa Wise:
"Today we put to bed once and for all the illusion that Israel is a democracy. The Nation-State bill that Israel passed today cements Israel as an apartheid state–from the West Bank to Gaza to Jerusalem to Haifa. Palestinians, no matter where they live, are controlled by an Israeli government and military that robs them of basic rights and freedoms."
Jewish Voice for Peace has been covering Israel's Nation-State bill for over a year. Read our previous press release in 2017.
###
Jewish Voice for Peace is a national, grassroots organization inspired by Jewish tradition to work for a just and lasting peace according to principles of human rights, equality, and international law for all the people of Israel and Palestine. JVP has over 200,000 online supporters, over 70 chapters, a youth wing, a Rabbinic Council, an Artist Council, an Academic Advisory Council, and an Advisory Board made up of leading U.S. intellectuals and artists.