Friday Nite Videos | August 3, 2018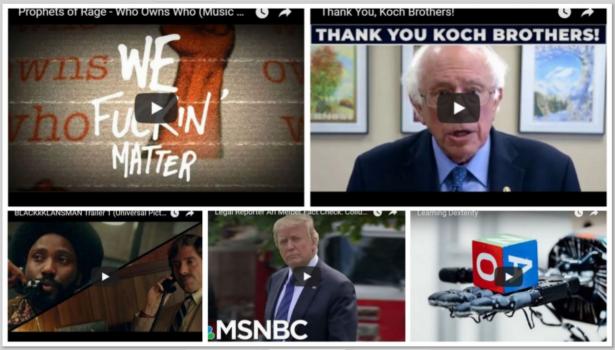 To view a video click an image below,
Bernie Sanders thanks the Koch brothers for sponsoring a study that shows that Medicare for all would save the American people $2 trillion dollars over a ten year period. Probably not what they intended to do, but that is what a study of the Mercatus Center - significantly funded by the Kochs - shows.
From the debut album of Prophets of Rage (Tim Commerford, Tom Morello and Brad Wilk from Rage Against the Machine and Audioslave, DJ Lord and Chuck D from Public Enemy, and B-Real of Cypress Hill).
OpenAI's robot Dactyl learns how to do new tasks from experience rather than by custom programming. Here is a demonstration of Dactyl manipulating a block into a desired orientation.
A new movie by Spike Lee tells the true story of Ron Stallworth (John David Washington), the first African-American detective to serve in the Colorado Springs Police Department, who sets out to infiltrate and expose the KKK, along with body double colleague, Flip Zimmerman (Adam Driver). 
President Trump's and lawyer Rudy Giuliani's new argument is that collusion is not a crime. Ari Melber gives a special legal break down of why colluding with foreigners to impact a U.S. election is a crime, including the four key felonies that it involves.