Tidbits - Aug. 30, 2018 - Reader Comments: Trump Above the Law?; Supporters Still Believers; Medicare for All, Free College Wildly Popular; Silent Sam Falls; David McReynolds; Puerto Rico; Far Right in Government-Reports from Europe; and more...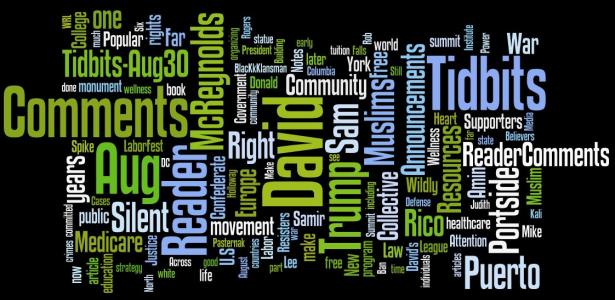 Tidbits - Reader Comments, Resources and Announcements - Aug. 30, 2018,Portside
Resources:
Announcements:
Re: Is Donald Trump Above the Law?
 
No but the GOP congress refuses to do their duty. They want their Supreme Court stacked against the middle class before they take any action.

Tom Trumper
Posted on Portside's Facebook page
     =====
I believe that he should be indicted for these crimes for the simple reason that they were committed before he became president, contrary to other cases were the crimes were committed by a sitting president. He should not have the benefit of shielding himself behind the office he holds now. There is no precedent for this situation and is a good opportunity to make this matter clear so it doesn't happens again. I'm not a lawyer, but that's the way I see it.
Victor Villariny
Posted on Portside's Facebook page
Re: Trump Wants to Ban Flipping Because He Is Almost Literally a Mob Boss
Trump accidentally and defensively made more sense than he likely intended: "There are a lot of killers. You think our country's so innocent?" Sure, that was one of the tactics he learned in his childhood in a tyrannical household and honed throughout his career, a reflex to deflect criticism of him for his association with Putin by appealing to the U.S. public's supposed acceptance of whatever the U.S.A. has done as not being so bad as to interfere with the image of purity and strength with which the public has been trained to identify. Accidental as it likely was, it reminds us that much U.S. domestic and international behavior accords with the crime syndicate moral code the article says Trump is showing. To quote just a part of retired Gen. Smedley Butler's 1933 acknowledgment:
    "There isn't a trick in the racketeering bag that the military gang is blind to. It has its 'finger men' to point out enemies, its 'muscle men' to destroy enemies, its 'brain men' to plan war preparations, and a 'Big Boss' Super-Nationalistic-Capitalism."
Thus Donald Trump is an appropriate representative of that part of the U.S. past and ongoing traditions, though not one of the generally more publicly polite representatives who reach his office.
Most Portside readers know we have other parts of the tradition on which to stand.
Joe Maizilsh, Los Angeles
Re: Why Trump Supporters Believe He Is Not Corrupt
Excellent article about the hidden agenda of 45 supporters
Myrna L Munich
Posted on Portside's Facebook page
     =====
More doublespeak. Corruption means corruption not some opposition to an individuals rights. He is corrupt and has always been. They are bigots and have always been. They don't get a pass or another excuse simply because they decide that words have no real meaning.
Cliff Gulliver
Posted on Portside's Facebook page
Sewer Rats  --  cartoon by Rob Rogers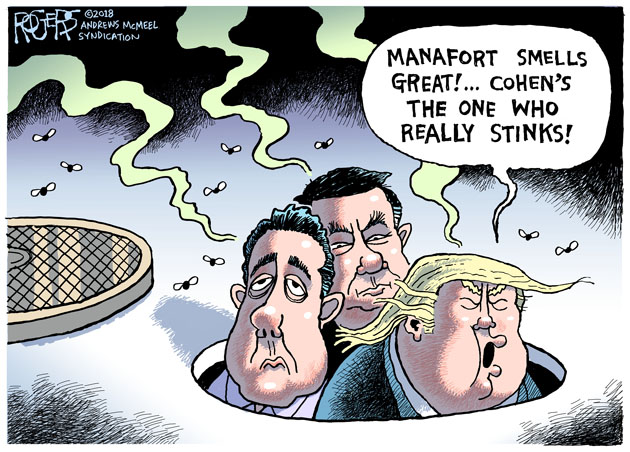 Rob Rogers
August 24, 2018
RobRobers.com
Re: Medicare for All and Free College Tuition Are Wildly Popular Policies
The number of Americans who want to eliminate the private insurance industry and replace it with a single universal public program has more than tripled in just four years.
Angel Soto Rosado
Posted on Portside's Facebook page
     =====
If only people understood..insurance companies MUST make a profit. Their profit..you pay for. Yes there are issues with universal health care..but damn, you don't lose your house, your retirement savings.
Herb Baron
Posted on Portside's Facebook page
     =====
You can have it if you are willing to do the opposite of Reaganomics for a decade.
Eric Swanson
Posted on Portside's Facebook page
     =====
Only way to make healthcare for all and free tuition education is to remove the profits...
Sean Stoltz
Posted on Portside's Facebook page
     =====
You pay more for healthcare which covers fewer citizens. U.S. healthcare is far more expensive than Medicare in other countries. All first World countries have it. No country with it is trying to get rd of it. P.S., apostrophes are free. Try using them.
Stephen Garlick
Posted on Portside's Facebook page
Re: The Dramatic Fall of Silent Sam, UNC's Confederate Monument
Good riddance to this vial symbol of white racists bigots! Well done my friends!
Walter Riley
Posted on Portside's Facebook page
     =====
Drive Old Dixie down, and bury it.
Richard Lee Deaton
Posted on Portside's Facebook page
Notorious `Silent Sam' Statue Toppled in North Carolina-What Are the Next Steps?
By Kali Holloway
August 23, 2018
Independent Media Institute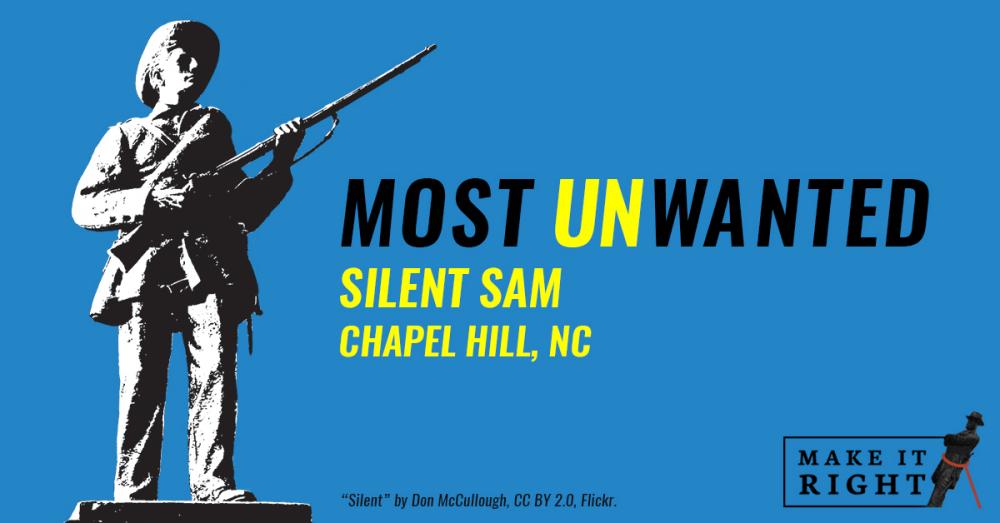 It took more than a century for "Silent Sam," a Confederate monument to white supremacy at UNC-Chapel Hill, to be removed from its pedestal. Students, faculty and other local activists have been calling for the monument's removal since the 1960s, and spent the last few years navigating a byzantine legal labyrinth to bring the statue down. Unmoved by appeals to either decency or morality, the university and other North Carolina officials did nothing, and the monument to those who fought for black chattel slavery stood for 105 years. On August 20, community anger and outrage boiled over and protesters pulled the monument down.
In recent months, the Make It Right Project bought billboards, designed posters, and published articles to help support activist efforts and educate the public about the violent racist history of the monument. Sam may finally truly be silent, but there are questions that still remain. Will there be efforts by UNC or state officials to further incense the issue and potentially put public safety at risk by resurrecting a tangible ode to white supremacy? Should the pedestal remain and, if so, what genuinely deserving figure should be honored with a new statue? Where should the statue go and how should it now be handled?
We plan to continue supporting the work of activists and contributing to Chapel Hill's anti-racist movement and restorative justice process to answer these questions with an eye toward social justice and equity.
Silent Sam is one of the 10 original statues targeted by the Make It Right Project. Click here to learn more about the other unwanted Confederate memorials.
[Kali Holloway is the director of Make It Right, a project of the Independent Media Institute. Silent Sam is one of the 10 original statues targeted by the Make It Right Project. Click here to learn more about the other unwanted Confederate memorials.]

Make It Right is a project of the Independent Media Institute
18 West 21st Street, Suite 901
New York, NY 10010
Re: 1968 protests at Columbia University Called Attention to 'Gym Crow' and Got Worldwide Attention
Like many actions during 1968, the Columbia Strike was filled with complex unity and division. Stefan Bradley, here, recounts much of this quite clearly. Of course, there's more but this is very good. Thanks to Portside for the link.
Daniel Millstone
Posted on Portside's Facebook page
Re: David McReynolds, Socialist Activist Who Ran for President, Dies at 88
I first met David in the early 60s when I worked at the old National Guardian and he stood out to me as a rare leftist who included all the organized parties and sectarian grouplets as members of the broader radical community. We argued and agreed over the years in person and in print but remained in touch to the end.
David remains a model for radicals in our time.
Mike Munk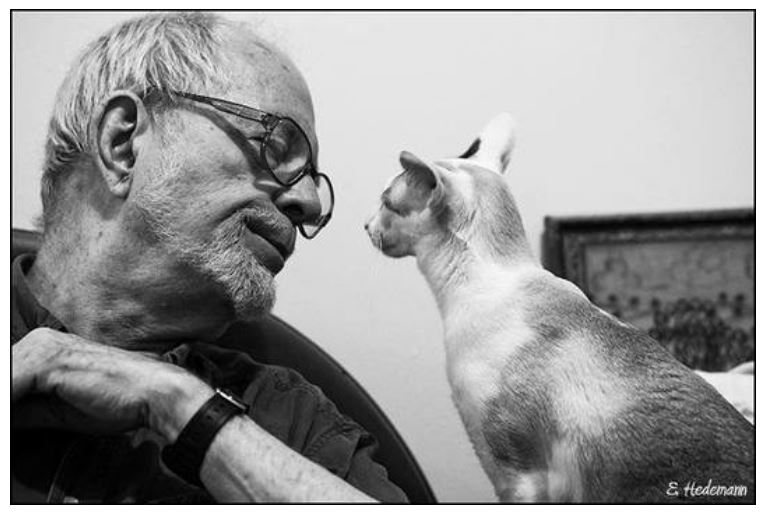 Dear Community,
It's with heavy hearts we announce our longtime friend + comrade David McReynolds recently passed at the age of 88. From 1960 to 1999, as a member of WRL staff, David was instrumental to the vision of building a demilitarized world through revolutionary nonviolence. A committed socialist and pacifist, David organized some of the first draft burnings, ran for President as a socialist twice, and held weekly dinners every Friday at his home in New York City's East Village. David's family and friends are planning a memorial in the weeks to come.
As WRL reflects on David's life and legacy, heading into our 95th year of radically resisting war, we're humbled and grateful for the kind of politic David brought to our movement + organizational spaces. To make a gift to WRL in David's honor, click here. To write a message of remembrance for David in our 95th Anniversary program journal, click here.
Below is an excerpt about David's life written by Judith Mahoney Pasternak. You can continue reading the piece in full here.
Above Photo: Ed Hedemann
A Death in the Family: David McReynolds, Pacifist, Socialist, Ailurophile
By Judith Mahoney Pasternak
August 27, 2018
War Resisters League
A great force for a peaceful world left the planet when WRL's—and the nation's—David McReynolds, who for decades was the best-known voice of American radical pacifism, died August 17 of injuries from a fall in his East Village home. He was 88 and had spent almost 40 years on the staff of the War Resisters League as a self-described "movement bureaucrat." He ran for the presidency, for Congress, and for the Senate, traveled the world promoting nonviolent resistance, wrote one book and innumerable articles, memos and pamphlets, came out as gay long before most people in public life did, and documented the movements of his time in indelible photographs. He was one of the last (and youngest) of a heroic generation of pacifists who resisted war and militarism between World War II and the Vietnam War and went on to help forge a vibrant peace movement in the aftermath of the wars.
Born in 1929 into a comfortable Baptist family in Los Angeles, David early on evinced his commitment to pacifism and Marxism, saying much later that he "didn't see how one could be one without being the other."  Equally apparent by his adolescence, if not before, were the outsize contradictions that would characterize his adult life. A tall, gangling teenager, aware of his homosexuality from the age of ten and, as he later wrote, "haunted" by it, in high school he joined the World Fellowship Club to oppose U.S. Cold War policies. (It may have been that early that the FBI began keeping the files on him, 400 pages of which he later acquired via the Freedom of Information Act.) A few years later, at UCLA, he became, of all things, a proponent of, and propagandist for, temperance with the youth branch of the Prohibition Party.
Please continue reading here.
War Resisters League
168 Canal Street
Suite 600
New York, NY 10013
United States
Thanks for this, I'd been reading articles from Comrade Amin for years, but knew little of his background, 
Mike Liston
     =====
I must dissent regarding the celebration of Samir Amin. Most of the time, politically, he was wrong. Very wrong. For sharp critiques of Amin, I recommend these writings:
Jason Schulman
Re: Review: Spike Lee's `BlacKkKlansman' Journeys Into White America's Heart of Darkness
 
(posting on Portside Culture)
Saw it yesterday. A bit polemic, it has to be. But absolutely a must see movie.
Dan Jordan
Posted on Portside's Facebook page
     =====
Cops are not heroes of the struggle against racism: not now; not then.
David Berger
Posted on Portside's Facebook page
Re: The 52 state strategy: The case of Puerto Rico
It was disgraceful for Portside to post this dreadful pro-colonialism article, falsely dressed up as "progressive." The article subordinates the freedom struggle of the Puerto Rican nation to alleged possible "good consequences" of Puerto Rican statehood for US party politics. ( more Democrats will be elected). Let's set aside, for now, a debate about that dubious benefit. Support for independence for Puerto Rico ought to be a litmus test for the US Left. Portside flunked the test.
Joseph Jamison
Re: Catholic Sexual Abuse Partly Caused by Secrecy and Mandatory Celibacy, Report Finds
Protect your children from all religious leaders. Don't leave them alone with your children.
Lydia Brady
Posted on Portside's Facebook page
Book Giveaway: "The Far Right in Government. Six Cases From Across Europe"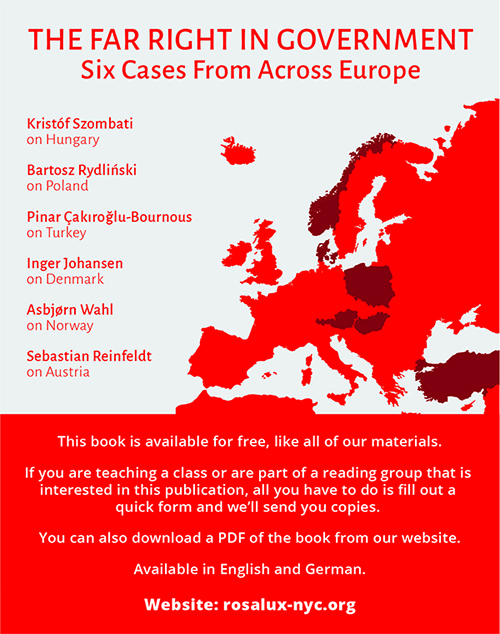 It's our pleasure to present RLS–NYC's latest book, The Far Right in Government. Six Cases From Across Europe. Around the globe, far-right politicians have risen to the highest ranks of world power. This new study takes a closer look at six countries—Hungary, Poland, Turkey, Denmark, Norway, and Austria—to understand what the far right has done to make such headway in recent years. We hope these analyses will provide the democratic left with insights to help fight the rise of these authoritarian forces, in Europe and elsewhere.
This book is available for free, like all of our materials. If you are teaching a class or are part of a reading group that is interested in this publication, all you have to do is fill out this form and we'll send you copies. 
You can also find a PDF of this book on our website, available for download:
in English   --   auf Deutsch
The Rosa Luxemburg Stiftung is an internationally-operating, progressive non-profit institution for civic education.
 
ROSA LUXEMBURG STIFTUNG - NEW YORK OFFICE
275 Madison Avenue, Suite 2114 New York, NY 10016
info.nyc@rosalux.org  --  917-409-1040
Building Our Collective Power Summit: Community Wellness and Defense - Washington, DC - September 8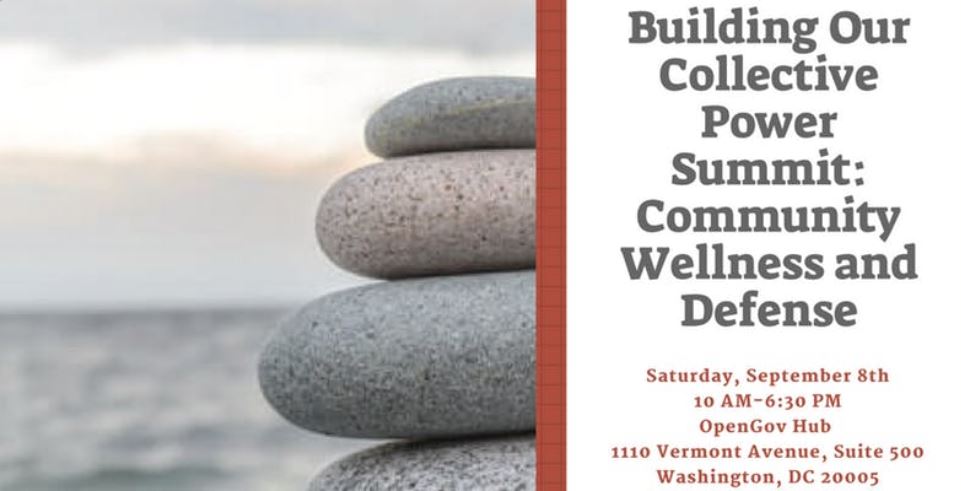 Given the ongoing attacks against Muslims and other marginalized communities under the current administration, Justice for Muslims Collective developed a healing and wellness program.  The program is aimed to address the multiple stresses and collective trauma that the Muslim community is facing in an increasingly Islamophobic political, cultural, and social context, we will be holding an event on September 8th in partnership with Malikah and Heart Women & Girls, titled "Building Our Collective Power Summit: Community Wellness and Defense."
The event will include:
A presentation on Muslim rights in the current political context
Know your rights panel across different issues including immigration and hate crimes
Community wellness sessions including yoga, art therapy, and mental health awareness
Self-defense and empowerment sessions
Resource mapping and sharing for Muslims in the DMV area
Please note that the summit is only open to Muslims and those perceived as Muslims who are impacted by Islamophobia.
Justice For Muslims Collective in partnership with MALIKAH, Heart Women & Girls is organizing a day long wellness summit for Muslim communities in the DMV. The goal of the summit is to focus on Muslims and individuals racialized as Muslims, including individuals who live at the intersections of being Muslim, Black, LGBTQIA+, and disabled. From the Muslim Ban, immigration enforcement and separation policies, increase in police brutality, mass incarceration and attacks on our basic rights, we are holding a summit for the following: Grounding ourselves in an understanding of our rights Practicing Community Wellness (yoga, art, and mental health) Learning Self-Defense Sharing and Naming the Resources We Need Now
The mission of the Justice for Muslims Collective is to combat institutional and structural Islamophobia in the DC metro area through education, grassroots organizing, advocacy, and policy change.
Hurricane Maria Hit Puerto Rico One Year Ago - Community Gathering - New York - September 20
Thursday, September 20 - 6pm -- Union Square


7th Annual LaborFest Hawaii - Honolulu - September 21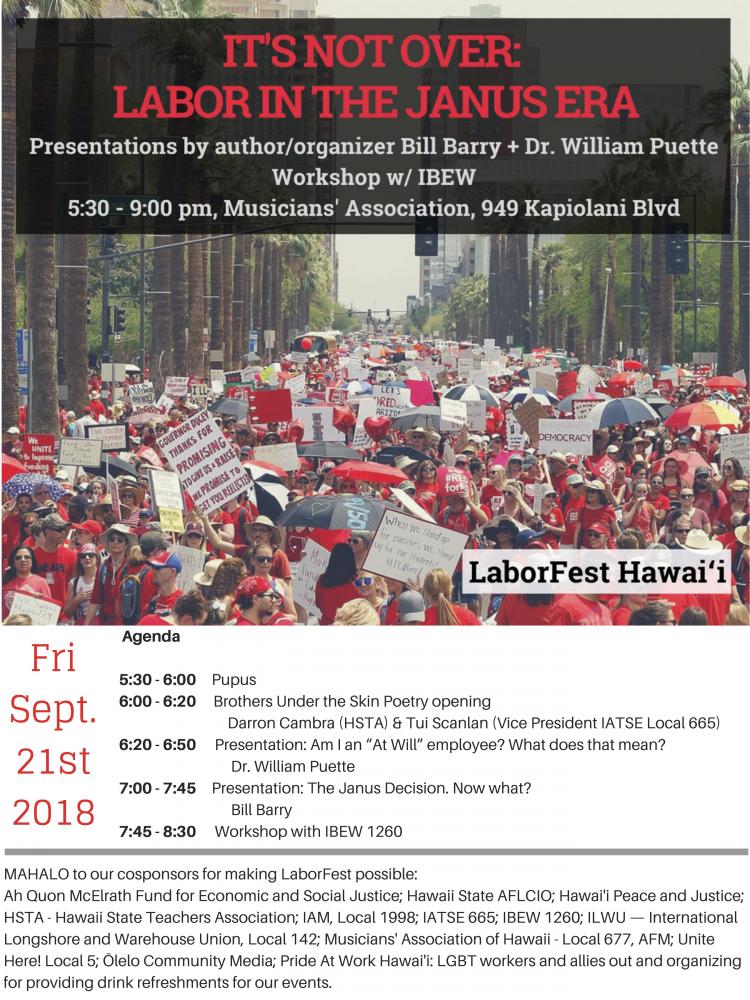 LaborFest Hawai'i
PO Box 283201
Honolulu, HI 96828
Like us on Facebook!
NYC Troublemakers School - September 29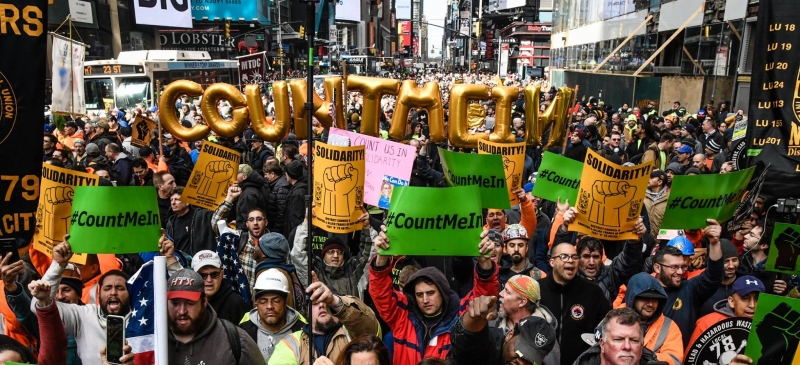 Saturday, September 29,
9 a.m. – 4 p.m.
The James Baldwin School,
351 W 18th St, Manhattan (between 8th and 9th Avenues)
New York troublemakers are planning a day of skill-building workshops, education, and strategy discussions to put some movement back in the labor movement.
This school will be a great opportunity for union members, stewards, and activists to share strategies and build the solidarity required in these tough times.
A light breakfast, lunch, and a copy of the Labor Notes book Secrets of a Successful Organizer are included with registration.
Workshops will include:
Secrets of a Successful Organizer
Assertive Grievance Handling
Organizing After Janus
Check back soon for complete listing of workshops, panels and speakers.
For group registrations, please add one registration to your cart, then go into your cart and increase the quantity. After paying, please download and fill out this spreadsheet and email to Labor Notes
If you need a scholarship to cover the cost of registration, please contact Labor Notes at email below.
For more info or help, contact Chris Brooks, 718-284-4144, chris@labornotes.org
Register here.