Media Bits and Bytes - October 30, 2018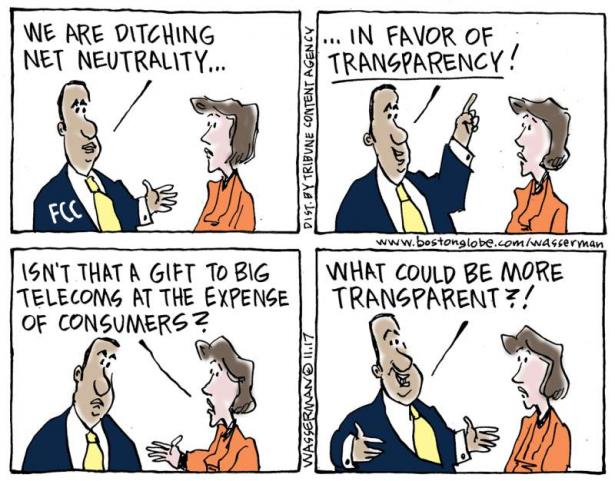 Dan Wasserman/Boston Globe
Tech Giants Are Powering Trump's Deportations

Interview with Jacinta González
October 24, 2018
Democracy Now!
Corporations like Amazon, Palantir and Microsoft are profiting from and expediting Trump's incarceration and deportation operations.
Media Trade Group to 'Oppose' EU Climate Efforts
By Zach Boren
October 19, 2018
TruePublica
BusinessEurope – which represents trade federations across the EU and a clutch of global corporations such as Google and Facebook – describes how it will "oppose the new increase of ambition" and "challenge the process."
We're Telling a Court (Again) That President Trump and Other Government Officials Can't Block People on Twitter
By Karen Gullo and David Greene
October 19, 2018
Electronic Frontier Foundation
We're hopeful that the court, like the last one that considered the case, will side with the plaintiffs, seven individuals blocked by Trump.
California Agrees to Suspend Net Neutrality Law
By Jon Brodkin
October 26, 2018
Ars Technica
Whether the FCC can preempt state net neutrality laws is expected to be decided by the US Court of Appeals for the District of Columbia Circuit.
Imposing 'Balance' Requires Distortion of Palestine/Israel Struggle
By Gregory Shupak
October 23, 2018
Fairness and Accuracy in Reporting
The media's attempt to present a "balanced" version is a fundamentally flawed approach, because it erases myriad, consequential differences.
Women's March Target of Elaborate Facebook Scam
By Donie O'Sullivan
October 18, 2018
CNN
Bad actors, both foreign and domestic, use social media platforms to tap into the highly charged and partisan nature of American politics for financial or political gain.