Friday Nite Videos | January 25, 2019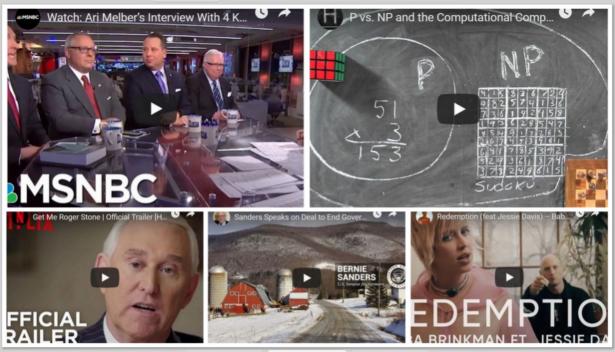 To view a video click an image below,
Ari Melber Interview With Four Key Mueller Witnesses
Four witnesses involved in Bob Mueller's Russia probe – Jerome Corsi, Sam Nunberg, Michael Caputo and Carter Page – are each linked to President Trump, each directly involved in the Russia probe and have each given testimony to federal investigators
Redemption (feat Jessie Davis) – Baba Brinkman Music Video

Rap guide to climate chaos
Get Me Roger Stone | Movie Trailer
One man was plotting a Donald Trump presidential run for years: Roger Stone. Diving deep into the mind of the master manipulator, Get Me Roger Stone provides a raw perspective on American politics from Joe McCarthy to Richard Nixon to Donald Trump.
Bernie Sanders on the End of the Government Shutdown

Thank you, Mr. President, for shutting down the government and holding 800,000 federal employees hostage. All for nothing!
P vs. NP and the Computational Complexity Zoo

How hard is Sudoku? Searching for the answer leads us to questions about the nature of space and time.