Global Left Midweek - April 3, 2019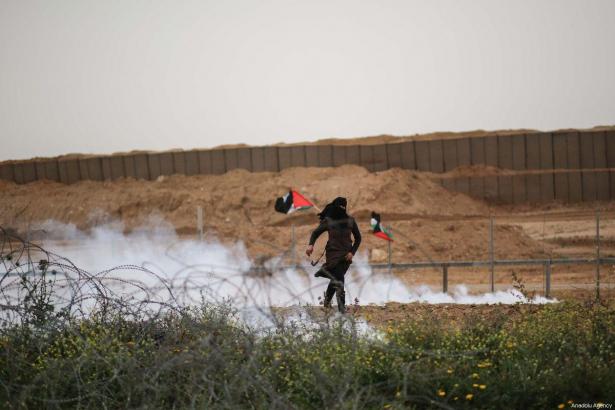 Israeli forces shoot multiple tear gas canisters at a Palestinian woman with during the anniversary march of the "Great March of Return" and "Palestinian Land Day" protests at Israel-Gaza borderon March 30,Credit: Hassan Jedi / Anadolu Agency
Aaya Al-Shamahi / Middle East Eye (London)

Thousands attacked as they called for the right of return to homes from which their families fled in 1948, and an end to a gruelling 11-year-old siege.
__________
eDossier: Southeast Europe's Old Left, New Right
Anja Vladisavljević (editor) / transform! Europe (Zagreb)
The long-term weakening of traditional left parties opened space for the extreme right to present itself as the true defender of disadvantaged parts of the population.
__________
Algeria: Bouteflika Ousted
Giuliana Sgrena / Il Manifesto Global (Roma)
Journalist Mustapha Hammoune spoke about the protest movement that has helped to strip Abdelaziz Bouteflika of power. 'After the country won its independence, the army has always chosen the presidents and made the political decisions.'
__________
Verona: Tens of Thousands March Against Sexist Conference
Maya Oppenheim / The Independent (London)
An estimated 50,000 took on the 13th international conference of the World Congress of Families – which critics have branded "medieval". A researcher said the conferences are "where the far right mix with ultra-conservative Catholics and use the seemingly innocent guise of caring about the 'family' to pursue oppressive policies on women."
__________
Haiti at the Crossroads
Greg Beckett / NACLA Report (New York)
The current wave of protests represents something unprecedented: a widespread crisis of faith in democracy and the neoliberal state.
__________
Women-Led Protests are Shaking Up Sudan
Zainab Mohammed Salih and Tom Wilson / OZY (Mountain View CA)
Women are leading the charge to replace Sudan's Omar al-Bashir. 
__________
Communist Party of Turkey Wins Dersim Province
Liberation News (San Francisco)
For the first time in the history of Turkey, communists will be administering the municipality of a province.
__________
The Future Thailand's Junta Fears the Most
Ken Lohatepanont / Asia Times (Hong Kong)
Future Forward Party leader Thanathorn Juangroongruangkit is running on a staunch anti-military ticket, a campaign junta authorities are trying to squash.