Global Left Midweek - April 10, 2019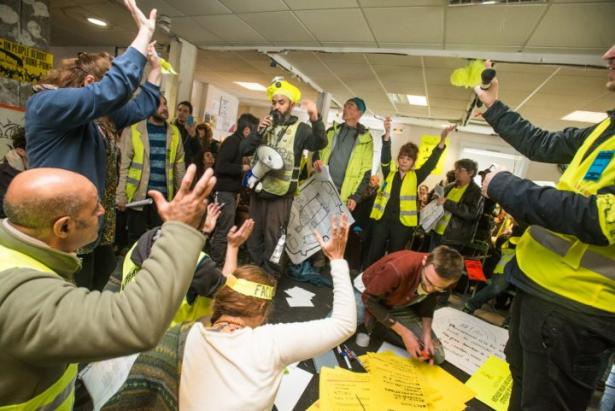 Yellow Vests assemble and vote,credit: Révolution Permanente
Sujatha Fernandes / Green Left Weekly (Sydney)

Cuban society has been undergoing a much-needed transformation from within, as local neighbourhood associations, cultural groups, and anti-racist movements are challenging old dogmas and introducing new means of participation.
France: Statement from the Yellow Vests Assembly
Faced with the charade of [Macron's] "great debate", in the face of a non-representative government which serves a privileged minority, we are setting up new forms of direct democracy.
Socialist Revolutionary Workers Party Launched in South Africa
Rafael Stedile and Zoe PC / Peoples Dispatch (New Delhi)
More than a thousand gathered in Johannesburg to attend the Launch Congress.
Germany: Protesters Rally Against 'Rental Insanity'
If the housing activists gather 20,000 signatures, Berlin's government would be required to consider taking over nearly 250,000 apartments from big rental companies. 
Algeria, Sudan, and the Arab Spring
Yousef Khalil / Africa is a Country (New York)
The mass of people in North Africa are still a force to be reckoned with and the region is still far away from a return to authoritarian stagnation.
India: Unity Around Jan Sarokar, the 'People's Agenda'
NewsClick (New Delhi)
With the watershed Lok Sabha elections just around the corner, over 200 civil society and people's movements organisations from across the country gathered in Delhi on April 6 to present a 'People's Agenda' as well as a "chargesheet" recounting the PM Modi-led NDA government's failures.
UK: A New Unionism for the Twenty-First Century
Steven Parfitt / MR Online (New York)
Henry Chango Lopez, President of the IWGB, and Petros Elia, former General Secretary of the UVW, talk about how their alternative works, and what we can learn from it.
Luka Mesec / Rosa Luxemburg Stiftung (Berlin)
Successes and challenges in Eastern Europe's most promising New Left project.