Global Left Midweek - April 17, 2019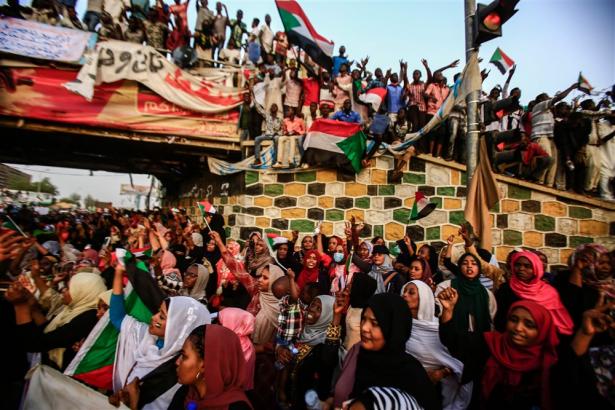 Sudanese protesters chant slogans during a demonstration demanding a civilian body to lead the transition to democracy, outside the army headquarters in the Sudanese capital Khartoum on April 12, 2019,ASHRAF SHAZLY / AFP - Getty Images
The Art of Revolution in Sudan and Algeria

Marwan Bishara / Al Jazeera (Doha, Qatar)
What went right and what could still go wrong.
__________
Indigenous Stakes in Indonesia Election
Juliana Nnoko-Mewanu / Foreign Policy (Washington)
Millions of Indonesians lack basic protections. The presidential contenders don't seem to care.
__________
Marx, Muhammed, and the Left
Gilbert Achcar / Jacobin (New York)
Why the rise of fundamentalism in Muslim-majority countries owes much to the failings of the secular left. 
__________
Cuba Targeted in Trump's War
Zachary Fagenson, Matt Spetalnick, Lesley Wroughton / Reuters (London)
The Trump administration is seeking to ratchet up U.S. pressure on Havana to end its support for Venezuela's socialist president, Nicolas Maduro.
__________
UK: Remembering Narendra Makanji
Seema Chandwani / Red Pepper (London)
Makanji, who passed away suddenly this week, was a major figure in mobilising the Labour Party Black Sections in the 1980s. He had a lifelong opposition to racism and empire, becoming a socialist and a passionate opponent of Apartheid in South Africa. 
__________
HDP: The Left in the Turkish Election
Alp Altınörs and Muhsin Yorulmaz / Green Left Weekly (Sydney)
To avoid splitting the vote of "the opposition", the HDP did not stand candidates in majority Turkish areas, running only in the Kurdish provinces where it is strongest. Thus a kind of "anti-AKP" front was able to form, representing the people's resentment.
__________
Union Victory at Audi Hungary
Philippe Alcoy / LeftEast (Bucharest)
The union currently has 9,700 members in the plant (72% of the workers) and defines itself as a "union independent from all political parties as well as from any Hungarian trade unions or federations". 
__________
Ecuador: Indigenous Peoples Go to Court to Save the Amazon
Reynard Loki / Salon (San Francisco)
Waorani elders, youth and leaders left their homes deep in the Amazon rainforest to peacefully march through the streets of Puyo, Ecuador. Their mission: to submit documents to the provincial Judicial Council to launch a lawsuit seeking to stop the government from auctioning off their ancestral lands in the Pastaza region to oil companies.
__________
The World's Left-Wingers are Feeling the Bern
Holly Otterbein / Politico (Arlington, VA)
Sanders is viewed abroad as a potential figurehead for a worldwide movement against right-wing populism.