Dispatches From the Culture Wars - April 23, 2019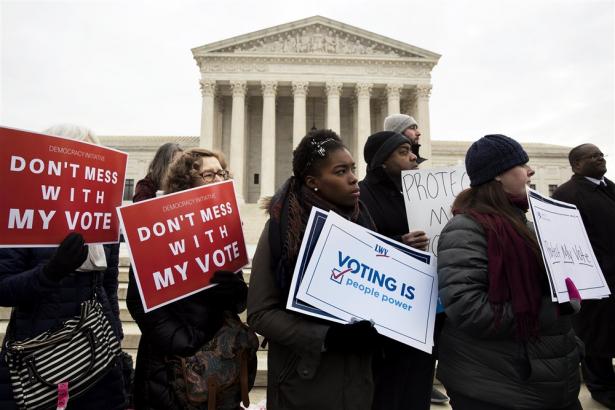 Voting rights activists rally to oppose Ohio's voter roll purges outside the the Supreme Court,Credit: Michael Reynolds / EPA
Tax Season Woes Have Complex Roots

By Miranda Sheild Johansson
April 12, 2019
Sapiens
From Bolivia to the U.K. to Sweden, how people perceive their financial relationship with the state depends on everything from local culture—and history—to what the taxes and benefits are called.
Why Democrats Like Taxes Again
By Bryce Covert
April 15, 2019
New York Review of Books
Unlike past cycles, this time Democrats won't be content to propose higher tax rates simply as a vehicle for realizing other policy aspirations. Raising taxes has become an end in itself, a way to radically reorder our economy and even the structure of power.
Democrats' Voting-Rights Push Could Begin a Third Reconstruction
By Ed Kilgore
March 21, 2019
New York Magazine
It's hard to identify a progressive priority whose success may not ultimately require the emergence of a new popular majority and the curtailment of the ancient rebel yell of states' rights.
UnitedHealth CEO Warns Against 'Medicare for All'
By Berkeley Lovelace Jr.
April 16, 2019
CNBC
Health care has been the worst-performing sector in the stock market this year. The biggest decliners have been from insurers, which are under threat from "Medicare for All" proposals.
The University Is a Ticking Time Bomb
By Aaron Hanlon 
April 16, 2019
The Chronicle of Higher Education
Treating nearly 75 percent of the professoriate as disposable is not sustainable.
Racist Graffiti Punished By Reading - 'It Worked!' Says Prosecutor
By Emma Jane Kirby
April 16, 2019
BBC News
The judge drew up a list of 35 books and ordered the offenders to choose one title a month for a year and to write an assignment on each of the 12 books they chose.
Virginia Officers Fired Over Ties To White Supremacist Groups
By Andy Campbell
April 19, 2019
Huffpost
Virginia Capitol Police Sgt. Robert A. Stamm and school resource officer Daniel Morley lost their jobs after anti-fascists connected them to racist groups.