Tidbits - May 30, 2019 - Reader Comments: Impeachment; Abortions; Medicare for All; NY Farm Workers; Pardoning War Criminals; Bolivia; Germany and BDS; Toronto General Strike; East Side Freedom Library; Faith Leaders Call To Action; more....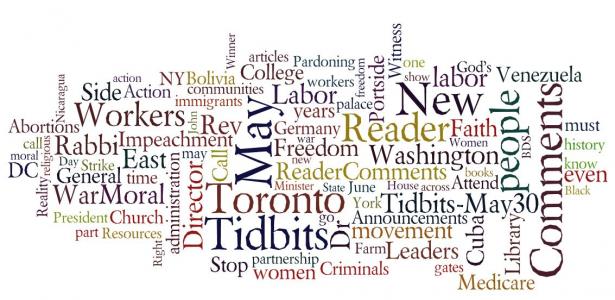 Tidbits - Reader Comments, Resources and Announcements - May 30, 2019,Portside
Resources:
Announcements:
Re: Democrats Are Overthinking Trump's Impeachment
 
impeach him, get him out of there before anymore damage
Robyn Arden Stokstad
Posted on Portside's Facebook page
     =====
They are risking losing the 52% over the 40%
Diehards
Wobee Krishnan
Posted on Portside's Facebook page
     =====
It depends on what we're impeaching him for. Being a crook and a international bully is good cause for impeachment. But Russiagate is a flimsy excuse and might indeed backfire.
Per Fagereng
Posted on Portside's Facebook page
     =====
Overthinking? Impeachment would be a high level dog and pony show based on issues not central to organizing the population, whose result, if successful, would be President Pence. Better to expend energy organizing for platform and candidates for the next elections.
Sonia Collins
Posted on Portside's Facebook page
     =====
He will not be impeached! Yes, in the House, but not in the Senate. He needs to be voted out!
Susan Seaward Cravey
Posted on Portside's Facebook page
Re: Women Who Performed Illegal Abortions Decades Ago Believe Alabama Law Is 'Assault on Women'
 
There was at least one man among the Janes. Rabbi Max Ticktin (may his memory be a blessing), then the Hillel director at the University of Chicago, during those years helped connect women who needed abortions with the necessary doctors. For that reason, for several years a warrant for his arrest was in force in the State of Michigan, and he made sure not to visit there.  He was a gutsy, independent-minded rabbi deeply devoted to Judaism, which he understood as a commitment to meet the needs of the distraught and desperate.. I was deeply taught by him as teacher and friend.
Shalom, 
Rabbi Arthur Waskow
     =====
Rabbi Max Ticktin was remarkable.  There was a Clergy Consultation Service that helped women receive legal abortions--I thought in paying for them to go out of state to where abortions were legal.  You've described a part of the illegal history that I didn't know.The Alabama law makes even going out of state illegal.More of us need your fighting spirit.And may Rabbi Ticktin's memory be a blessing.
Heather Booth
Re: 'It's a Sure Winner-Except for the Profiteers': 200+ Economists Send Letter to Congress Endorsing Medicare for All
 
But profiteers profiting from the buy-in phase-in and investor-owned facilities included in and supported by the profiteers' option, aka #HR1384, will make a killing - at "our" expense:
Corporate and "Progressive" Democrats Threaten Medicare Itself
John McDermott
Posted on Portside's Facebook page
Re: NY Farm Workers Have a Right to Organize
 
Wow New York State what took you so long? You can fight against big pharma money in a museum but invisible farm labor remained shackled til now- and denied them rights straight through the farm labor movement revolution of the 60s and 70s!
Stunned that this went on until now. While we were boycotting grapes in solidarity with Chavez we were eating apples that were picked by people who were criminals if they organized.
Laurie McKenna
Posted on Portside's Facebook page
     =====
When workers demand their right of freedom association by joining forming unions they do not need the permission of any court.
Terry Reed
Posted on Portside's Facebook page
More Troops to Mideast Trouble Zones  --  cartoon by Jeff Danziger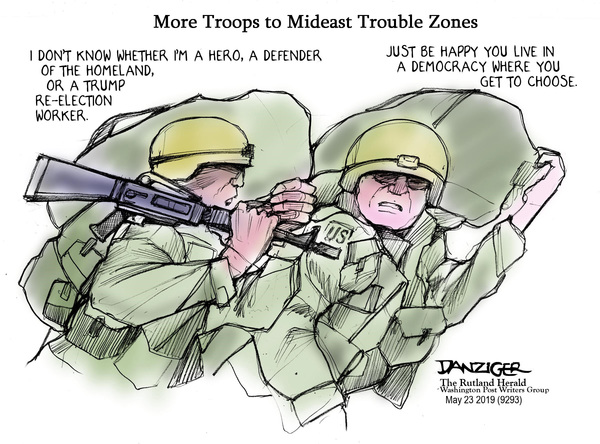 Jeff Danziger
May 23, 2019
The Rutland Herald (Everett, WA)
Re: Pardoning War Criminals Is a Monstrous Way to Honor Memorial Day
 
As far as I can tell, our military is still configured to prevent Soviet tanks from breaking through the Fulda Gap in Germany. New strategic assessments have emphasized the threat posed by Russia and China. Implicitly, these are justifications for the need to maintain the Big Armor and other paraphernalia of old-fashioned conventional war. But since Vietnam, we have been involved in mosquito wars: defeat administered through a thousand, relentless pinpricks. The Iraq War showed the difference. Saddam's convention army was totally defeated in a matter of days and Bush claimed "mission accomplished." But the insurrection that followed continues even today and most people account the Iraq War a defeat.
Peter Certo rightly calls Trump's pardoning of soldiers involved in the murder of civilians and combatants as morally "monstrous." But it is also militarily stupid. Those are exactly the sort of crimes that inflame and prolong mosquito wears. This is even more true today when the internet allows news of such actions to instantaneously spread across the globe. ("Winning hearts and minds" is another term that has fallen out of fashion along with "reactionary" and "religious fanatic.")
We ask our young men and women to go to war to defend democracy and bring liberation to the benighted peoples of the world. Then they arrive on scene to find a reality that is a virtual opposite of what they were told to expect. No one, as far as I know, has connected that cognitive dissonance with war crimes or even Post Traumatic Stress Disorder. Only one Vietnam film - Stanley Kubrick's "Full Metal Jacket" - has even come close. The last scene in that film has U.S. troops marching along a skyline singing the theme from the Mickey Mouse Club.
Our military policy is caught between a military-industrial complex making billions off defending the Fulda Gap and a military unable to confront the political realities of the wars they fight. Bear that in mind when you hear them talking about "the most powerful military in the world."
Robert Supansic
Re: Hate Heaped on Black Heroines of the French Resistance Would Look Familiar to AOC and Rashida Tlaib
 
How on earth could you forget Josephine Baker who was an incredible heroine in France during the war?
Nora Lapin
     =====
Racism used to question patriotism. The author says: "My historical research on race and gender shows that such attacks started well before the current era. In France, even black women who fought Nazis during World War II were accused of not being French enough when, later, they entered politics."
Disraelly Gutierrez Jaime
Posted on Portside's Facebook page
Re: GOP-Led Efforts to Crush Unions Have a New Target: Home Health Care Workers
 
Unconstitutional use of power to demand how and where to spend ones wages. Next step would be wage earners may not buy contraceptives, almond/ milk, or organic vegetables. Get out of my private decisions!@#@!@##$!
Kay Brown
Re: The People are with Evo: A Glimpse at a New Bolivia
 
but what of women's rights. A really horrifying article in last week's Nation.
Jon Bekken
Professor of Communications
Chair of the Faculty
Albright College
I appreciate the content brought to my door by Portside. Some of the material fills a void. Subject matter is varied and sometimes hits a spot. Who among us has not thought about ' how the hell will change, fundamental change come about?' Not an easy subject but one that needs thinking, reading and writing. From time to time there have been articles addressing this. I welcome more. It would be helpful if the selected articles are written with an non-academic readership in mind. The recent 'The Strategic Question Revisited..' was a bit opaque. Another way to address this would be to have an accompanying article which acts as a friendly translation. As the broad movement for democracy, progress and socialism grows more is required of each of us. I look forward to reading and sharing articles which make a contribution to the discussion.
Beth Edelman
Posted on Portside's Facebook page
German Bundestag anti-BDS resolution
 
Last week I wrote to you asking for clarification on this issue. Since then Mondoweiss has weighed in, by carrying a detailed Palestinian response to this resolution. But I'm still waiting for Portside's reaction. I'm well aware a) that you rarely, if ever, write articles yourselves and b) that you have some contacts with members of the German Left. In view of the above, could you please ask someone from Germany to write an article for you commenting on and explaining this very disturbing situation -- giving it some context and your readers some perspective. 
In comradeship. 
Gene Glickman
Toronto Workers' Theatre Group presents: "Toronto 1919" - The Toronto General Strike (LeftStreamed Collective)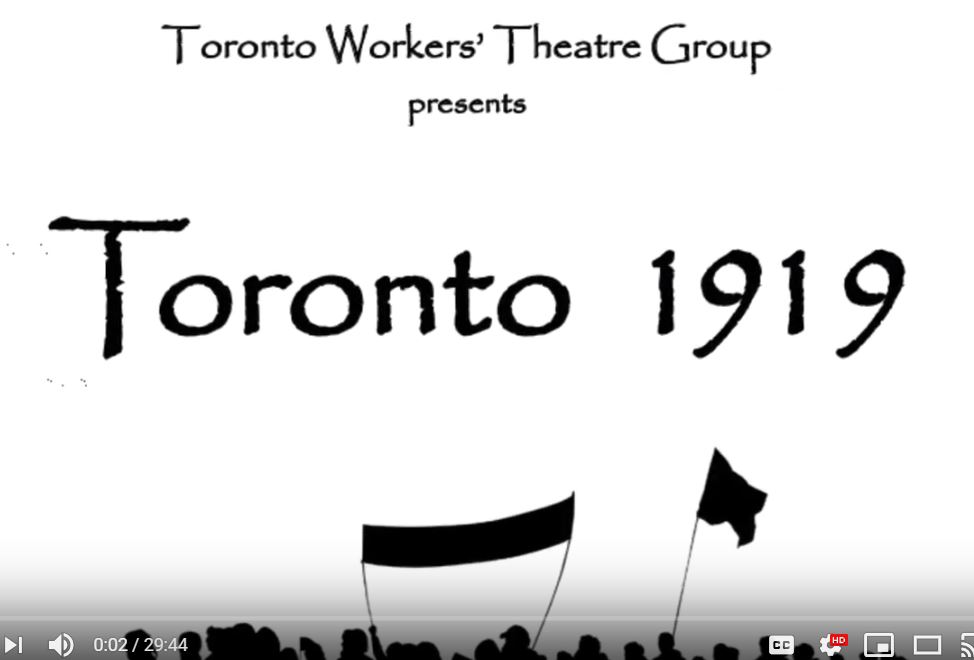 In the spring of 1919, thousands of workers were raising a clenched fist of defiance to bosses and politicians all across Canada. The most famous event was the general strike in Winnipeg. But there were dramatic moments of class confrontation in many other towns and cities too. Here in Toronto, the labour movement was rapidly signing up thousands of new members, but showing deepening signs of a divide between visionary radicals and cautious labour bureaucrats. That tension was played out in a five-day general strike in Toronto, which began on May 30th but had petered out well before the violence erupted in Winnipeg in June. It is a little-known story of determination and political struggle.
Written by Craig Heron. Directed by Aida Jordão. Performed by the Toronto Workers' Theatre Group, part of the Toronto Workers' History Project. Complete program PDF. Recorded in Toronto, 14 May 2019, part of the Cabaret 1919 evening.
Click here to view presentation
Subscribe to our YouTube channel
~~~~~~~~~~~~~~~~(((( LeftStreamed Production ))))~~~~~~~~~~~~~~~
Produced by the LeftStreamed Collective. Viewers are encouraged to distribute widely. Comments on the video and suggestions are welcome - write to leftstreamed@socialistproject.ca
East Side Freedom Library to Celebrate its 5th Anniversary (New Brookwood Labor College)
 
By Peter Rachleff
May 14, 2019
New Brookwood Labor College
In June 2014, as a new non-profit organization, we moved into the historic Carnegie library building on Greenbrier Street, with the goals to inspire solidarity, advocate for justice, and work towards equity for all.  While we seek very much to be an integral part of the East Side, our location is not only geographic.  We see ourselves as an intersection – between, among, and within diverse communities; between the labor movement and social movements; between immigrants and the native-born; between the past, present, and the future; between books and programs; between education and entertainment.  
  Most of all, we see ourselves as a Labor Hall for the Community.
  ESFL sees the labor movement as a central agent in the process to build a new understanding of what this country can be, and to build our capacity to bring it into being.  Most of us know little of the labor movement's history, both its achievements and its shortcomings. We provide resources and mentorship for middle and high school students pursuing "History Day" projects.  With our help, they are taking ownership of labor's stories by creating story boards, websites, documentary videos, and plays. In partnership with the St. Paul Regional Labor Federation, we have organized and hosted a Union Job and Resource Fair, which has educated hundreds of our neighbors, many of them immigrants, about what it means to "work union."  In partnership with the University of Minnesota's Labor Education Service and Metropolitan State University's Masters in Advocacy and Political Leadership program, ESFL has organized a series of panel discussions probing the relationships between the labor movement and other social movements, such as #MeToo, Black Lives Matter, and Immigrant Rights. In partnership with the St. Paul Federation of Educators, ESFL has hosted a summer book discussion group, and, in partnership with AFSCME Local 3800, a labor film series.  Our most ambitious venture, just getting under way in partnership with SEIU Healthcare Minnesota, the SPRLF, the Minnesota Nurses Association, and other unions, has been the launch of the New Brookwood Labor College, a project committed to promoting critical thinking and educating activists "into the working class."
  We've been busy.
  In the past five years, we have collected, cataloged, and shelved more than 20,000 books.  We have hosted hundreds and events and programs, using art, story-telling, music, and theater to tell the stories of working people, from the 19th century immigrants who created a community in Swede Hollow and the railroad workers who stood up to James J. Hill in the 1894 Great Northern strike to the Hmong Personal Care Assistants, the Mexican big box retail store cleaners, and the Somali Amazon workers who are writing the next chapters in the history of the labor movement.
  On June 12, we will mark our anniversary with a major public event, beginning at 5:30pm, featuring Jelani Cobb, one of our country's leading practitioners of activist scholarship and citizen journalism.  After teaching African American History at Spelman College and the University of Connecticut, Dr. Cobb joined the faculty at Columbia University's Journalism School and became a staff writer for the New Yorker magazine, where he has recently become an anchor of the journal's nationally syndicated podcasts.
  Dr. Cobb's articles and books on African American intellectual history, Dave Chappelle, Barack Obama, the emergence of Black Lives Matter, the power of hip hop culture, have been models of activist scholarship.  From a foundation of diligent research to presentation in accessible language, Jelani has informed, inspired, and provoked circles of activists and cultural producers across the United States. We are thrilled that he will keynote our celebration of five years of work here at the East Side Freedom Library.
  On June 12, he will address "The Half-Life of Freedom," in a program beginning at 5:30pm.  We cannot imagine a better topic or a more appropriate speaker for this event. Jelani explains: "One hundred fifty-four years ago, enslaved people in Texas learned of their freedom – more than two years after the Emancipation Proclamation had been issued.  Today we find ourselves in a battle for democracy in the United States. This is a talk about freedom, injustice, and the histories that connect the challenges of the past to the struggles of the present."
  As you probably know, our space is both handsome and limited.  There will only be so much room. Please let us know if you intend to join us by emailing info@eastsidefreedomlibrary.org.  The East Side Freedom Library is located at 1105 Greenbrier Street.  In cyberspace, you can find us as https://eastsidefreedomlibrary.org and on Facebook.
Stand with Reality Winner! Washington DC Rally - June 3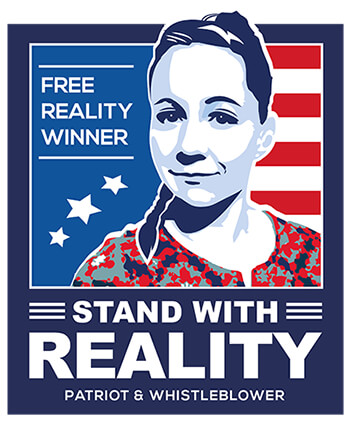 STAND WITH REALITY WINNER
Washington DC rally for OUR HERO Reality Leigh Winner
June 3, 2019 at 7pm (Monday evening)
Lafayette Square, Washington DC
Please join friends and supporters as we raise awareness of the persecution of this young veteran and brave truth teller. This marks two years of imprisonment of Reality for helping to expose hacking attempts on US election systems leading up to the 2016 presidential election.
Order "Stand with Reality"  Shirts, buttons, and banners available from:
https://left-together.com/support-reality-winner/
For more info:
 
https://facebook.com/standwithreality
https://twitter.com/standbyreality
https://standwithreality.org
Moral Witness:  A Faith Leaders Call To Action - Washington, DC - June 12 (Repairers of the Breach)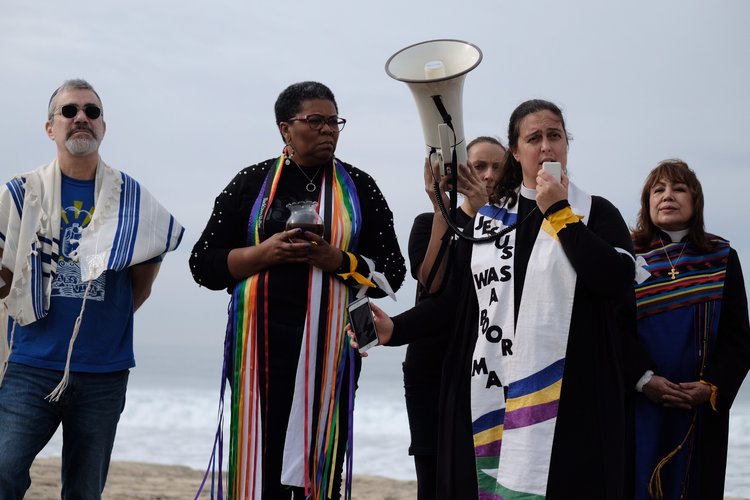 Calling all Faith Leaders to a Moral Witness Wednesday in Washington D.C. on June 12.
When: Gather at 9:00am, march at 10:30am to the White House
Where:  New York Ave Presbyterian Church - 1313 New York Ave NW Washington DC.
There comes a time when enough is enough and religious leaders must come out conspicuously and prophetically. Faith Leaders are coming to Washington, D.C. on June 12 for Moral Witness Wednesday! Sign this petition to show your support for this action.
Extremist leaders driven by the idols of racism, greed and power have broken the covenant.
With each slash at the 14th amendment and denial of people's very existence, this administration breaks the covenant. With each border agent commanded by our rulers to rip families apart; with each attempt to deny health care to millions of people; with each pipeline leaking death to communities across this country; with each ballot denied and voice defiled, this administration breaks the covenant.
The prophet Jeremiah proclaims God's orders when the leaders in a land abandon the covenant:
"Go to the royal palace and deliver this Message. Say, 'Listen to what God says, O King of Judah, you who sit on David's throne—you and your officials and all the people who go in and out of these palace gates.
This is God's Message: Attend to matters of justice. Set things right between people. Rescue victims from their exploiters. Don't take advantage of the homeless, the foreigners, the orphans, the widows. Stop the murdering!
If you obey these commands, then kings who follow in the line of David will continue to go in and out of these palace gates mounted on horses and riding in chariots—they and their officials and the citizens of Judah. But if you don't obey these commands, then I swear—God's Decree!— this palace will end up a heap of rubble." -Jeremiah 22:1-5
Sign on to show your support for Faith Leaders as they come to Washington, D.C., on June 12 as they take action for Moral Witness Wednesday at the gates of the White House!
Why is this important?
We know God hears the cries of God's people who are suffering increasingly under the vengeful leadership and harmful policies of our current administration. Policies that ignore the cries of poor and sick people, children, immigrants and refugees, women, and, even yet, the cries of the lands torn open and polluted. We, as a nation, have lost our way.
In such moments, God's call to action is made known through the voice of the prophets: "Cry aloud, spare not, lift up your voice like a trumpet, and show my people their transgression." (Isaiah 58:1)
As President Trump and his administration let the nation suffer, we must lead with a unified proactive and creative response that is not confined by "Right" or "Left", Democrat or Republican, but is rooted in the clear moral Center of right and wrong. It is time to warn the nation and call this administration to repent of their sins.
Friends, it is time for us to go together to the palace gates with a clarion call:
--Stop the weaponization of judicial appointments! Attend to the 14th Amendment, the bedrock of equal protection under the law. Uphold the constitution.
--Stop mandating a census question designed to ensure millions are uncounted! Attend to the 140 million poor and low wealth.
--Stop the abuse of executive power to pollute our communities with pipelines and privatizing public resources! Attend to our water and air.
--Stop the assault on the Affordable Care Act and on health care for women and children in poverty! Attend to the health of your people.
--Stop the brutal treatment of the stranger at the southern border! Stop warehousing children in detention camps! End child detention. Attend to compassionate and humane immigration policies that affirm the divinity within all human beings.
Instead of covenantal leadership for justice, compassion, healing and the empowerment of all, these sinful acts of the current administration pursue subjugation: subjugation of racial, religious, ethnic, and gender minorities; of women; of children; of the suffocating middle class, workers, family farmers, the poor, and people who fall sick; of immigrants and refugees; of the free press; of the Constitution; even of Earth, our common home. This hate-filled subjugation violates the Covenant. It must not stand.
Just after Ramadan, Shavuot and Pentecost, hundreds of faith leaders will journey to DC. Of those hundreds, some may hear the call upon their spirits to engage in nonviolent moral action. Some may be called there as witnesses. But all are needed to bear witness together in this moment.
The Scriptures do not call us to ideological purity tests or to precisely worded positions on each aspect of sensitive topics. Instead, Jeremiah calls to us at the heart of our deepest religious convictions and the fundamental rights enshrined in the Constitution: love, justice and equal protection under the law.
We cannot be divided. We cannot be complacent.
We must act so that people are called to a moral awakening. In the wake of the new post- Mueller report reality, we must deliver a moral report.
June 12th becomes a bridge between the sacred festivals of the Abrahamic communities. The Ruach HaKodesh, the Holy Interbreathing that gives life to ALL traditions, all communities, all life-forms, is speaking through us.
We must journey toward freedom and awaken this country once more. It is time. June 12th.
Signees: 
Rev. Dr. William J. Barber II 
Moral Monday Architect 
President and Senior Lecturer of Repairers of the Breach 
Co-Chair of the Poor People's Campaign: A National Call for Moral Revival
Rev. Traci D. Blackmon Associate General Minister 
United Church of Christ
Rabbi Mordechai Liebling 
Director of Social Justice Organizing Program, 
Reconstructionist Rabbinical College
Imam Al-Hajj Talib 'Abdur-Rashid 
Ameer/President 
The Muslim Alliance in North America
Mother Dr. Ruby Sales 
Director and Founder of Spirithouse Project
Rev. Dr. Liz Theoharis 
Director, Kairos Center 
Co-Chair of the Poor People's Campaign: A National Call for Moral Revival
Rabbi Dr. Arthur Ocean Waskow 
Director, The Shalom Center
Minister Jonathan Wilson-Hartgrove 
Director, School for Conversion
Bishop W. Darin Moore, 
AME Zion Presiding Bishop 
Mid-Atlantic Episcopal District
Rev. Dr. John C. Dorhauer 
General Minister and President
Rev. Susan Frederick-Gray, 
President of the Unitarian Universalist Association
Pastor Michael McBride 
National Director, FIA's LIVE FREE Campaign 
Lead Pastor, The Way Church
Rev. William H. Lamar IV 
Pastor, Metropolitan African Methodist Episcopal (AME) Church 
Washington, DC
Rev. Dr. Jacqueline J. Lewis 
Senior Minister, Middle Collegiate Church 
New York, NY
Aisha Hauser, MSW 
Director of Lifelong Learning, East Shore Unitarian Church 
Bellevue, WA
Rev. Dr. Christopher L. Zacharias 
Pastor, John Wesley AME Zion Church 
Washington, DC
Rabbi Elyse Wechterman 
Executive Director of the Reconstructionist Rabbinical Association
Sahar Alsahlani 
Executive Council Member, 
Religions for Peace, USA
The Rev. Jimmie R. Hawkins 
Director of the Presbyterian Office of Public Witness
Rabbi Justus Baird 
Dean, Auburn Seminary
How it will be delivered
For each signature, we will print out this petition and deliver it to the gates of the White House.
Add your name - click here.
Reports from Venezuela, Cuba, and Nicaragua - New York - June 13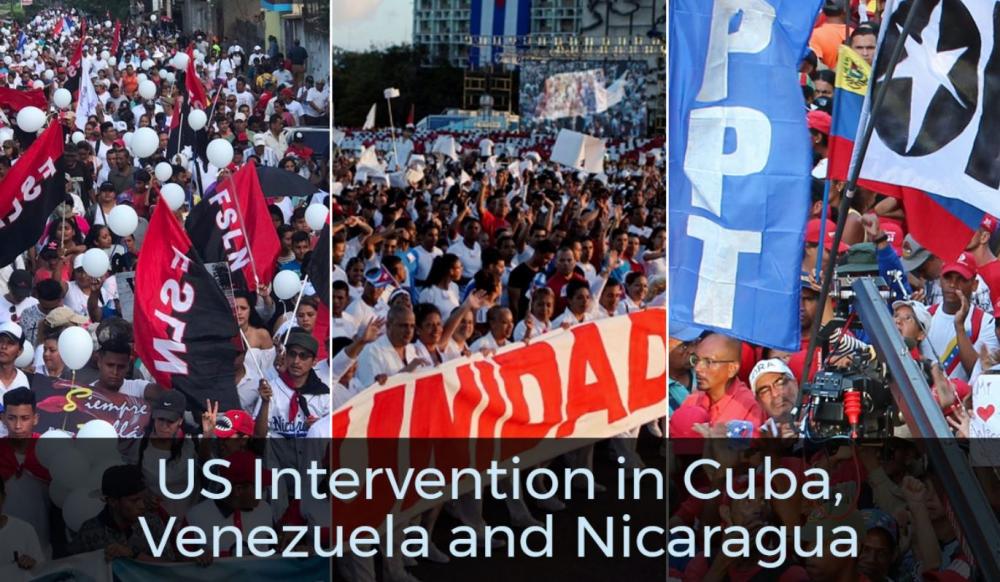 Thursday, June 13, 2019   6:30 – 8:30 pm
320 W. 37th St 
New York City
Panel and discussion with Dan Kovalik – The "Troika of Tyranny"
Dan Kovalik – On the "Troika of Tyranny"
Ann Fawcett Ambia – On the April 30th Coup Attempt in Venezuela
Representative of the Cuban Mission to the UN – On Why Cuba?
Estela Vazquez – Moderator
Find out the facts that the mainstream media refuse to report. Cuba, Venezuela and Nicaragua are in the crosshairs of the Trump administration's craven policy of destroying governments that the US cannot control. The "Troika of Tyranny" policy of Bolton, Pompeo, Abrams and Pence will be presented by activist and writer Dan Kovalik, author of several books on Latin America, including his latest "The Plot to Overthrow Venezuela: How the U.S. Is Orchestrating a Coup for Oil." A member of a May Day solidarity delegation to Venezuela will report on the April 30th failed coup attempt. A representative of Cuba from the UN Mission will speak on why the lies about Cuba. Moderated by 1199SEIU leader Estela Vazquez.
Sponsored by 1199SEIU Latin American & Caribbean Solidarity Committee, Alberto Lovera Bolivarian Circle NYC, Alliance for Global Justice, Cuba Sí Coalition NY-NJ, Left Labor Project.
Refreshments will be served
Find out the facts that the mainstream media refuse to report. Cuba, Venezuela and Nicaragua are in the crosshairs of the Trump administration's craven policy of destroying governments that the US cannot control. The "Troika of Tyranny" policy of Bolton, Pompeo, Abrams and Pence will be discussed by activist and writer Dan Kovalik, author of several books on Latin America, including his latest "The Plot to Overthrow Venezuela: How the U.S. Is Orchestrating a Coup for Oil." Brooklyn peace activist Ann Fawcett Ambia will report on the recent failed coup attempt while she was in Venezuela as a part of a May Day delegation. A representative of Cuba from the UN Mission will speak on why the lies about Cuba. Moderated by 1199SEIU leader Estela Vazquez.
Sponsored by 1199SEIU Latin American & Caribbean Solidarity Committee, Alberto Lovera Bolivarian Circle NYC, Alliance for Global Justice, Cuba Sí Coalition NY-NJ, Left Labor Project, Peace Action New York State
Refreshments will be served