Tidbits - June 27, 2019 -Reader Comments: No War With Iran; Concentration Camps - Then and Now; Sanders; Warren; Defeating Trump; Barcelona; I.F. Stone; Yuri Kochiyama; IKEA; `Cultural Marxism'; Cuba travel; LEFTFORUM2019 ...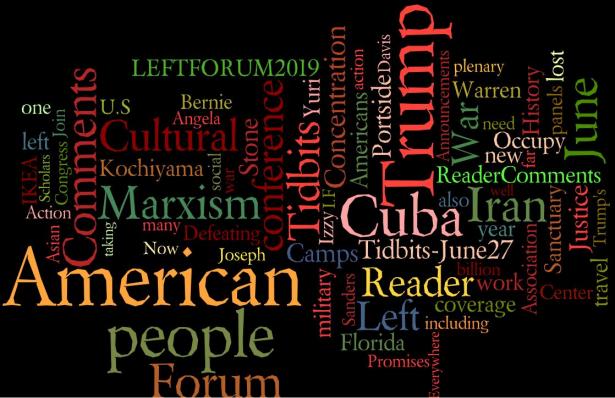 Tidbits - Reader Comments, Resources and Announcements - June 27, 2019,Portside
Resources: 
Announcements:
Call Congress: Stop Trump from Starting War with Iran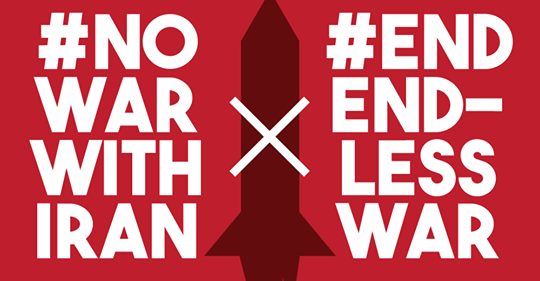 This is an emergency. We've never been this close to military action against Iran. Now is the time that we must reach out to our members of Congress to make sure they put a check on the warmongering administration. Given the seriousness of the situation, we need to act now, and calling is our most effective option.
Calling your member of Congress is easy, just follow these steps:
1) Call 1-844-ACT-NIAC to reach the Congressional Hotline and ask to be connected to your Representative.
You can find out who your Representative is by clicking here.
2) Follow this script:
"My name is XX and I'm a constituent from YYtown. I'm concerned that we are closer than ever before to a war with Iran, which would be a disaster for the United States, Middle East and people of Iran. What are you doing to make sure that Trump doesn't launch an unauthorized war?"
NIAC Action (National Iranian American Council)
1629 K St NW, Suite 503
Washington, DC 20006
P: 202-386-6325
Email: info@niacaction.org
Re: I'm a Latina Jew. My People Are In Concentration Camps Today - Just Like They Were During the Holocaust
 
Powerful piece via Portside: https://portside.org/2019-06-20/im-latina-jew-my-people-are-concentrati… "If we can accept a few children dying in CBP custody here and there, then what can we accept next?"
The Workmen's Circle
Posted on Portside's Facebook page
American made concentration camps. --  cartoon by Benjamin Slyngstad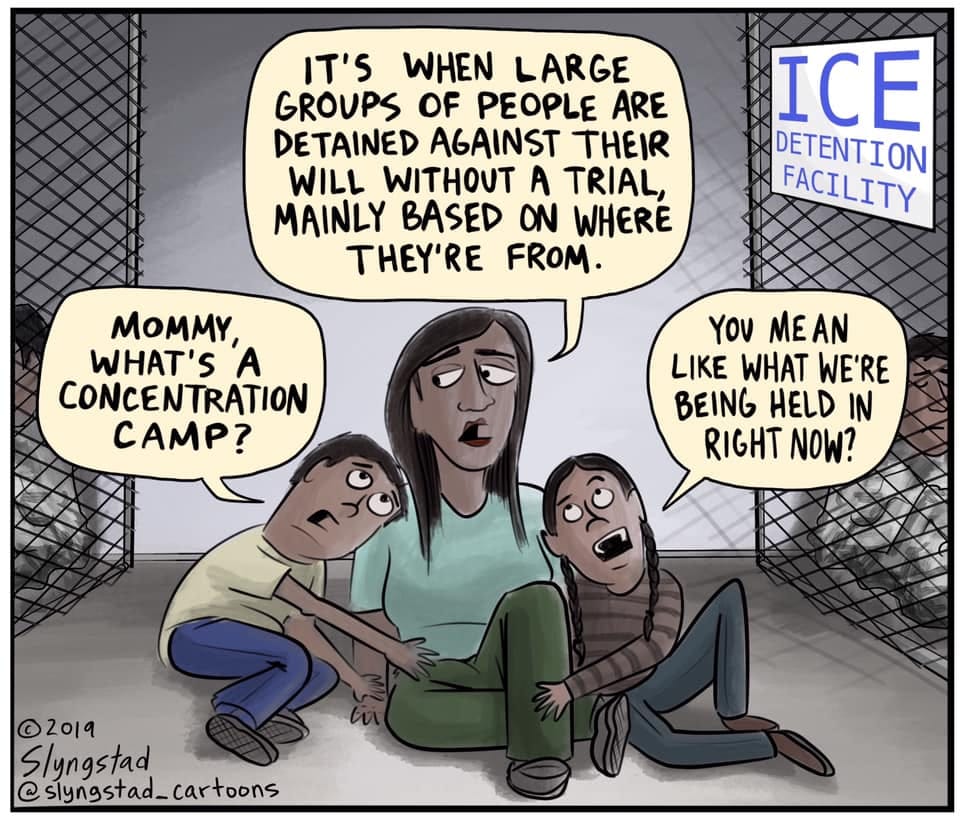 Benjamin Slyngstadt
June 19, 2019
Syngstad Cartoons
Re: A Brief History of US Concentration Camps
 
"...Trump officials have euphemistically compared to "summer camp," We've seen this before, in the 1930s there was a Nazi poster with pictures of several prisoners "vacationing in Dachau."
Stan Nadel
     =====
Concentration camps used in WWI were later used for strikers in the 1934 textile strike across the South.
Ruth Needleman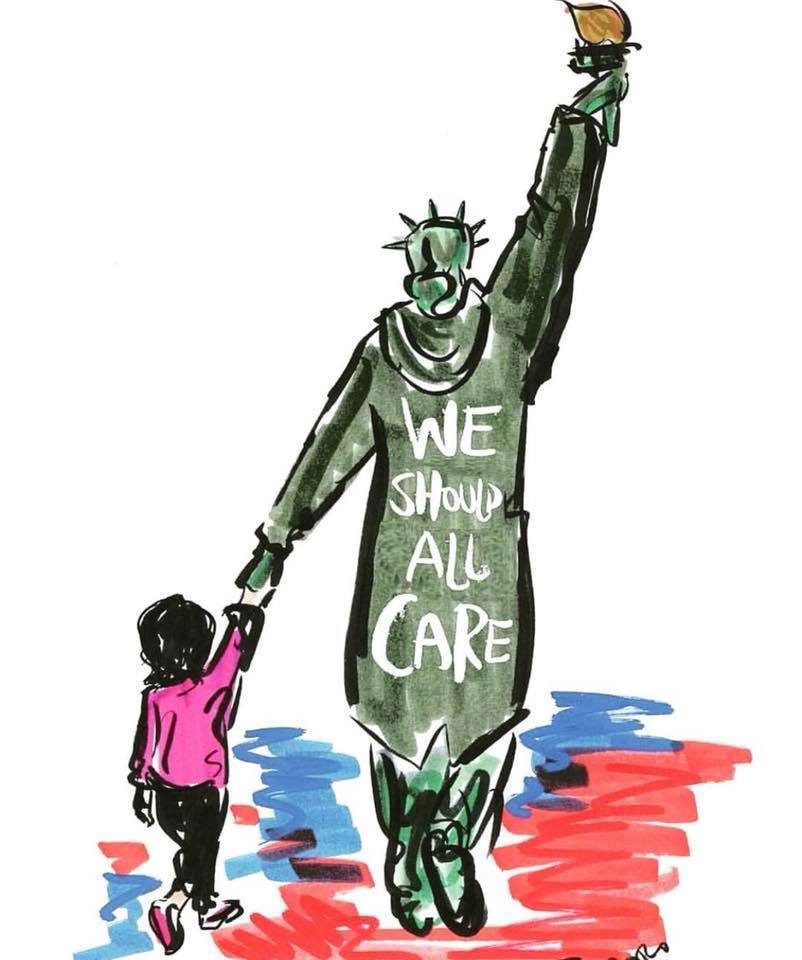 Re: I'm a Journalist But I Didn't Fully Realize the Terrible Power of U.S. Border Officials Until They Violated My Rights and Privacy
 
We may see this as a security process when this happening to some one else...but when this is a personal experience we feel violated and mistreated...I assume the reporter is white...imagine when is a biased process...I think one would be more than disappointed..but more like picked on.i think most times they find a seemingly justifiable action to
Sandy Ruiz
Posted on Portside's Facebook page
Re: Forget Bernie vs. Warren. Focus on Growing the Progressive Base and Defeating Biden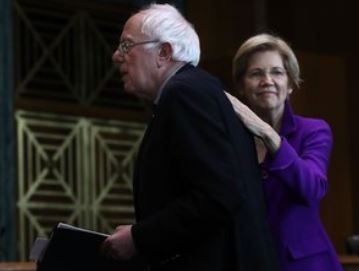 Focus on beating trump. Vote blue no matter who
Phyllis Aldrich
Posted on Portside's Facebook page
     =====
Your comment about the real need being to finally gain the power to win the
progressive agenda is 100% correct.
Jim Lafferty
     =====
"Defeating Biden" could end up defeating the Democratic Party. Any Democratic candidate is preferred, and even with Biden as President changes can be made. Even great and profound changes. What we need is not only the Presidency but Congress as well.
Jose M. Auger Marchand
Posted on Portside's Facebook page
     =====
All this means that for leftists and progressives, the name of the game is not canceling out each other's candidates. It's doing everything possible not to end up with a Wall Street-funded centrist running against a president with the power of incumbency. That means making the case against the idea that candidates positioning themselves as the "safe choice" are in any way safe, whether at the polls or once in office. And it means helping to bring more and more people to one of the genuinely progressive frontrunners. There's plenty of time to worry about vote-spitting down the road — the task now is to enlarge the number of votes available to be split (or combined).
Because Alexandria Ocasio-Cortez was absolutely right when she said on ABC's "This Week," "We have a very real risk of losing the presidency to Donald Trump if we don't have a presidential candidate that's fighting for true transformational change in lives of working people in the United States."
Dave Lott
Posted on Portside's Facebook page
     =====
This is why you people turn off many DEM's as if the DEM's are the enemy. It is about defeating trump.
Albert Preston
Posted on Portside's Facebook page
     =====
Focus on ending voter suppression of Democratic voters and almost every Democrat who wins the nomination can win.
Show that you care more about the rights of Democrats to vote than you do about tearing other Democrats apart.
David Simmons
Posted on Portside's Facebook page
Re: Trump Administration's Harmful Changes to Medicaid
 
In Arkansas, the first state to implement such a policy, over 18,000 Medicaid beneficiaries lost coverage in 2018 due to the new requirements - almost 1 in 4 people subject to the new rules. While a federal district court recently struck down restrictive waivers in Arkansas and Kentucky, the Centers for Medicare & Medicaid Services (CMS) continues to approve these policies in additional states.
Work requirements harm people with barriers to employment, which can include people with disabilities or substance use disorders; people who are working but in unstable jobs with volatile hours; and people who are looking for work. It's very likely that many people who lost coverage in Arkansas were actually working or should have been eligible for an exemption from the policy, but still lost coverage because they couldn't overcome the red tape. The number who lost coverage far exceeded the supposed target population: beneficiaries not working and not eligible for exemptions. And despite claims by Health and Human Services (HHS) Secretary Alex Azar and Arkansas Governor Asa Hutchinson, Arkansas' own data show that at most a small minority of those who lost coverage found new employment.
For people with serious health needs, even the temporary loss of access to medications or other treatment could be harmful or sometimes catastrophic. This is one reason why major physician organizations oppose work requirements, including the American Medical Association, American Academy of Family Physicians, American Academy of Pediatrics, American College of Obstetricians and Gynecologists, American College of Physicians, American Osteopathic Association, and American Psychiatric Association - as well as the AARP, Catholic Health Association, Consortium for Citizens with Disabilities, and many organizations representing patients, including the American Heart Association, American Cancer Society Cancer Action Network, and American Diabetes Association.
Elsie R Gonz-Galof
Posted on Portside's Facebook page
     =====
Since that first order in 1979, American presidents have declared 58 national emergencies. According to the Brennan Center's running count, 31 of these are still in effect. In other words, the country has been in some state of emergency for almost four decades.
These 58 national emergencies include declarations over dealings with Yemen, Syria, and North Korea, among others; sanctions against an array of terrorist groups, including one after 9/11; and various orders concerning nuclear weapons, diamonds imported from Sierra Leone, and the 2009 swine flu epidemic. Most recently, George W. Bush declared 13 and Barack Obama 12, most of which are still in effect, according to CNN. So far, President Trump has declared three national emergencies.
Tom Caves
Posted on Portside's Facebook page
Re: Soaring Insurance Deductibles and High Drug Prices Hit Sick Americans with a 'Double Whammy'
 
Corporate welfare eclipses social welfare. Without social justice, life becomes a jungle and neoliberalism turns out to be an "inequality machine" (Thomas Piketty). Without humility, there is no sense of wonder (Soren Kierkegaard).
Bernie and Elizabeth Warren are super-qualified to be president and could reverse the trend to plutocracy and/or corportocracy!.
Marc Batko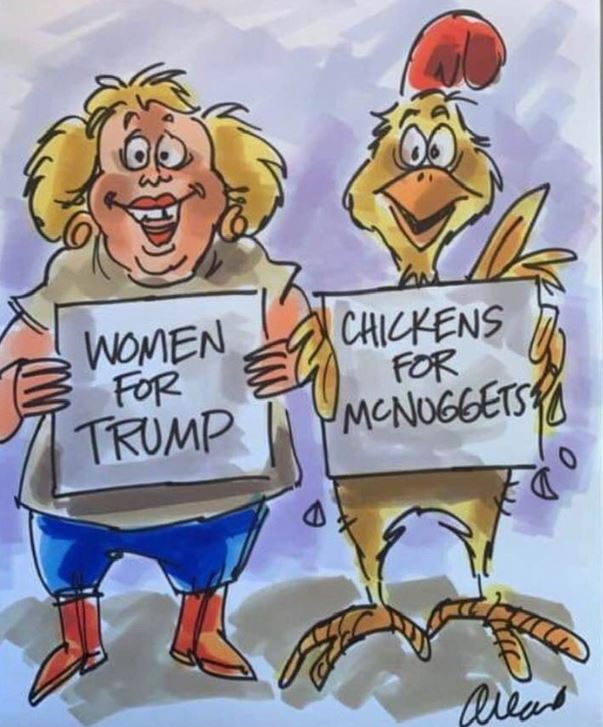 Re: Think US Media Won't Help Lead Nation Into War With Iran Based on Flimsy or False Intelligence? Looks Like They Already Are
 
If Iran were to send military ships off the US coast what would be the response ?
Aaron Libson
     =====
Agree. They, foxnews in particular were the lead cheerleaders for the misinformation and propaganda experts who sold us that war.
Amiel Summers
Posted on Portside's Facebook page
Re: Sanctions Are Genocidal, and They Are the U.S.'s Favorite Weapon
 
I was also against sanctions when Clinton invoked them against Iraq and hundreds of thousands died there. It is an equal opportunity tool of both parties.
Dan Jordan
Posted on Portside's Facebook page
Don't Confuse Dying for Oil with Fighting for Freedom  --  meme
Re: American Historical Amnesia Behind Pompeo's Claim of '40 Years of Unprovoked Iranian Aggression'
 
Amnesia? Or outright lying?
Jim Price
Posted on Portside's Facebook page
     =====
Finally a post explaining why Iran is an adversary. CIA in support of Brit oil interests engineers overthrow of Iran's democratically elected president and puts the Shah back on the throne. Years of merciless repression result in overthrow of oil puppet (Shah) and the rise of the religious crazies.
Martin Doerfler
Posted on Portside's Facebook page
     =====
History is there for the ones interested in knowing why, who, when and how.
Millie Lopez
Posted on Portside's Facebook page
Re: What Milwaukee Can Teach the Democrats about Socialism
 
"Capitalism is the astounding belief that the most wickedest of men will do the most wickedest of things for the greatest good of everyone."
~John Maynard Keynes, Economist
Vince Cushite
Posted on Portside's Facebook page
Re: Barcelona's Occupy Mayor Wins a Second Term
 
The Occupy Movement in the US was inspired by the Arab Spring, the Green Movement in Iran and the Indignados in Spain.  The latter were the inspiration of the former not the other way around, which that article seems to imply.
Leonard Ramirez
     =====
Si! Freedom trumps haters!
Joe Wanderski
Posted on Portside's Facebook page
     =====
Way to go Spain!!!
Susanne Hiatt
Posted on Portside's Facebook page
Re: Solidarity with Cuba Collection: Travel to Cuba Has NOT Ended
 
Please let me (us) know when it may be possible to travel to Cuba, specifically to Oriente, Santiago,,etc. again. I sailed there in 1967 to break the US Travel Ban, came beck to the US and spoke at campuses across the South with a  Peace Tour sponsored by the Southern Student Organizing Committee. We'll get back there some day, some how.
Thanks,
Bruce Smith
Woodbridge, Virginia
Re: In Praise of I.F. "Izzy" Stone
 
Mr. Stone wrote a book about the Korean War: The Hidden History of the Korean War which has an eerie resemblance to current efforts to false flag a war with  Iran, 
Mike Liston
     =====
A nice appreciation of Izzy, long my hero in the land of ranting and journalism. 
Izzy did not need or heed Norman Pearlstine's (executive editor of the LA Times) standard in his *Weekly*. But see if you can detect the private opinions of NYTimes national security reporters in their work.- Pearlstine writes:
"At The [LA]Times, for example, our editorial guidelines are appropriate and explicit: "A fair-minded reader of Times news coverage should not be able to discern the private opinions of those who contributed to that coverage."
--Norman Pearlstine
Michael Munk
     =====
I really loved Izzy stone. My late husband was one of the people who waited in line every week to get a first glimpse at his newsletter. What an incredible journalist ! Here's to Izzy!
I didn't realize Izzy's worked for so long at the Inquirer
Elisabeth Perez-luna
Posted on Portside's Facebook page
     =====
Admirable life. It takes moral courage to be an "Izzy Stone".
Lydia A Lopez
Posted on Portside's Facebook page
     =====
Great article! Yes indeed, we need journalists like him...now more than ever.
Kathy D. Whelan
Posted on Portside's Facebook page
Yuri Kochiyama and Asian Americans in U.S. History
 
I am sorry to bug you, but my name is Keri and I am a Social Studies Teacher. Your site is fantastic and I've been using your page Civil Rights Champion Yuri Kochiyama Dies at 93 as a resource material for my class. I have found another useful resource that I'm now also using Asian History in the US - Milestones, Famous Figures and Quotes
I have read the article and found it to be exceptionally educational which is why I decided to write to you. If you can add it to your resource page, I think it would be helpful to others as well. Please let me know any comments you have.
Keri Evans
Re: IKEA Workers Vote To Join Machinists union
(posting on Portside Labor)
 
Awesome. Keep it up!
Rooting for you!
Danielle in Northern Virginia
Broken Promises  --  poem by Seymour Joseph
 
The voters misunderstood,
They thought that he was good.
And so he was elected,
And immediately infected
His office and the nation
With woes and tribulation.
So now we are behooved
To see that he's removed!
Seymour Joseph
June 21, 2019
(posting on Portside Culture)
 
I saw that you printed Whitman's poem "To a Stranger." Some years ago I had a similar idea. 
Strangers
I pass them by as they pass me,
no smile or nod or eye contact,
busy going this way and that,
strangers, though there's nothing strange
    about us,
just people brushing by each other,
    atoms among atoms.
Life provides a circle of friends and family
    for love and comfort.
But on occasion I touch someone
    outside the circle,
and he or she touches me -
enriching both, informing both -
    there are no strangers in humanity.
Seymour Joseph
Re: `Cultural Marxism': The Mainstreaming of a Nazi Trope
 
"Cultural Marxism is a conspiracy theory with an anti-Semitic twist, [that] is being pushed by much of the American right," I wrote in a 2003 report for the Southern Poverty Law Center's Intelligence report titled "'Cultural Marxism' Catching on."
I led the story by noting that Pat Buchanan, then a prominent voice with a ubiquitous television presence, claimed that "Cultural Marxism" was being used to "de-Christianize" America. William Lind, an all-to-often unrecognized conservative theoretician, was arguing that "Cultural Marxism" was "turning U.S. college campuses into 'ivy-covered North Koreas.'" Retired naval commander Gerald Atkinson feared "Cultural Marxism" had "invaded the nation's military academies. Anti-immigration activist John Vinson suggested "Cultural Marxism" aimed "to distort and destroy" our country.
At the time, I noted that "Cultural Marxism" -- described as a conspiratorial attempt to wreck American culture and morality – was "the newest intellectual bugaboo on the radical right. Surprisingly, there are signs that this bizarre theory is catching on in the mainstream."
Now, some 16 years later, as Ari Paul recently wrote, "since the election of Donald Trump, Brexit and the rise and re-election of other far-right governments around the globe, 'cultural Marxism' has become a well-known nationalist buzzword, alongside 'globalism.'"
For his report for FAIR (Fairness & Accuracy in Reporting) -- a longtime national media watch group – Paul wrote that "The phrase is seeping into mainstream media discourse, a far cry from its former days as an extremist catch phrase, and it's creating a dangerous situation with an ominous historical context."
Read more 
Conservatives Mainstreaming Anti-Semitic Cultural Marxism Meme
Re: Portside Labor Awarded Labor Communicator of the Year
(posting on Portside Labor)
 
Honor well deserved.
Paul Buhle
Sanctuary Everywhere  --  Join Us to Create Safe, Inclusive Spaces For All People (American Friends Service Committee (AFSC))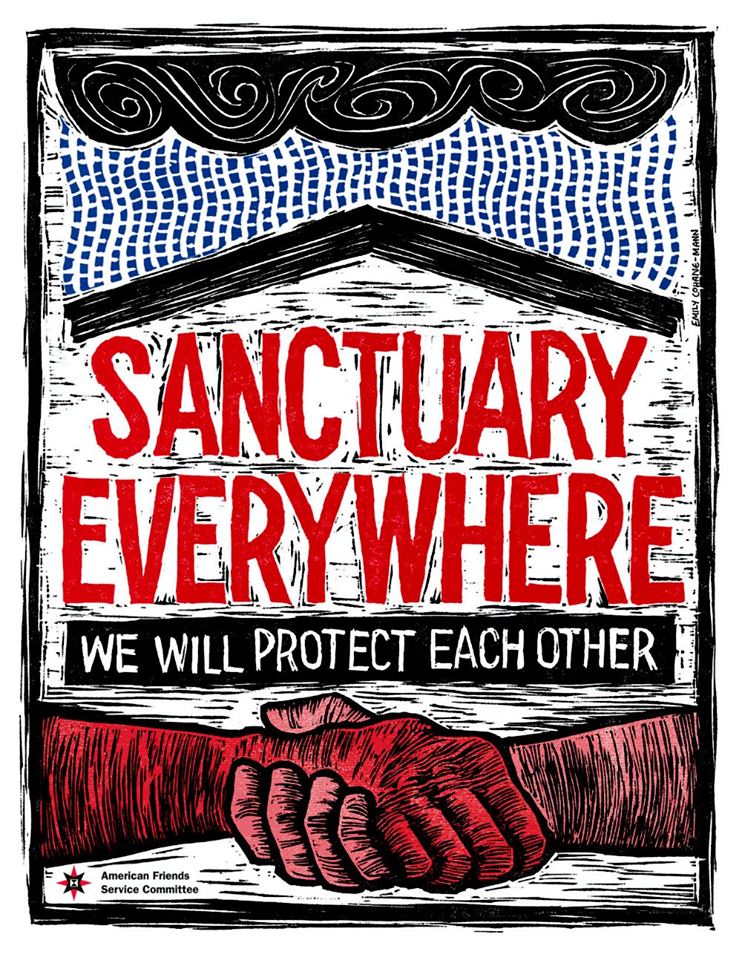 Sanctuary Everywhere is the simple idea that everyday people can work together to keep each other safe. Sanctuary can mean taking someone into a congregation to protect them from deportation, but more broadly, it's about the community coming together to protect targeted communities from state violence—including immigrants, people of color, Muslims and other targeted religious groups, or LGBTQ people. 
Join us to create safe, inclusive spaces; dismantle the school-to-prison-pipeline; and become more effective allies. 
We hope to equip thousands of people with tools and training to stop hateful acts and to encourage policies and practices that promote safety and inclusion. 
Watch our "Sanctuary Everywhere" video, and learn more.  
AMERICAN FRIENDS SERVICE COMMITTEE
1501 Cherry Street
Philadelphia, PA 19102
215-241-7000  
Promises made, promises B-R-O-K-E-N -- Trump's Broken Promises Are Hurting American Families (Center for American Progress Action Fund)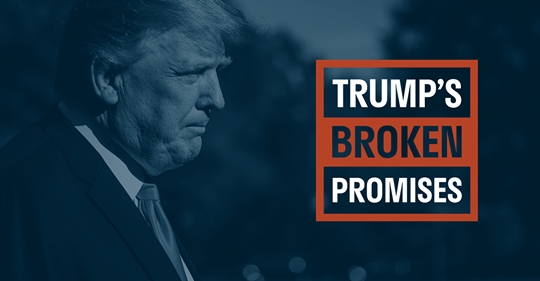 Trump's broken promises are hurting you—especially if you live in Florida
Trump is in Florida tonight, where his policies have seriously hurt Florida families.
Our new website, TrumpsBrokenPromises.org, lays out the ways Trump's policies are harming Americans. It features shareable graphics, videos, and state-by-state data, including a Florida-specific page, that lay out the various ways the Trump administration is hurting Floridians' wallets and their health care.
 
Share our new website on Facebook and Twitter to spread the word: the Trump administration's policies are hurting families in Florida and across the country.
Since he took office, here is just some of the damage Trump's administration has done to Florida:
Progress Report - Center for American Progress Action Fund
1333 H Street, NW
Washington, DC 20005

A new report from the Watson Institute at Brown University details the staggering greenhouse gas emissions from the U.S. military:  1.2 billion metric tons!  This is equal to 257 million passenger car emissions - more than double the number of cars on the road in the U.S.
The United States continues to spend far more on the military than any other country—almost as much as the next eight largest military spenders combined.  Yet the main debate in Congress is not over reducing military spending, but over how much it should be increased, with the Trump administration proposing a spending hike from $716 billion to $750 billion, including Department of Energy military nuclear programs.
The questions of peace, democracy, economic equality, and the ecological requisites for human survival never have been as inextricably intertwined as they are now. The ecological and economic challenges we face are both a cause and effect of the deteriorating political conditions that drive international conflict. The loss of varied, human-scale organizations in the social and political world, combined with the concentration of economic power in organizations of ever greater scale and scope, has left us vulnerable to authoritarian politics. The dynamic that drives the global economy—endless competition for material wealth and social power—is straining the limits of the ecosystems we all depend on. As governments fail to address these crises globally, it is necessary for people to work together, organize and take non-violent action!  
To break out of this fatal cycle, first, we need to better understand the common causes that link the many urgent challenges we face. We encourage all those on the UFPJ list to read the Costs of War project report on climate change and the costs of war, and to bring these facts to the table in your community groups.
For peace and justice,
The United for Peace and Justice Coordinating Committee
Help us continue to do this critical work and more-- make a donation to UFPJ today.
#LEFTFORUM2019 - Brooklyn - June 28 - 30
 
Long Island University in Brooklyn One University Plaza in Brooklyn, NY.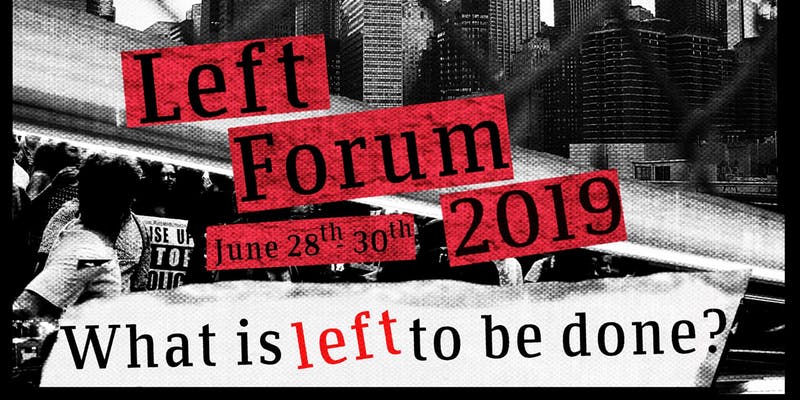 #LEFTFORUM2019 - Click for detailed program information
We envision a world in which the radical imagination becomes a tool for self-empowerment that challenges society to build a process for collaborative and emancipatory leadership.
History: From the Socialist Scholars Conference to Left Forum
In the Beginning
Left Forum was founded in the 1960s as the Socialist Scholars Conference (SSC) by Bogdan Denitch, Stanley Aronowitz, and others. The Socialist Scholars Conference was re-founded in 1981 and was meant to be a broad effort by new left academics to create a forum in which to present theoretical and historical work in a mostly scholarly format, but for an audience reaching far beyond academic circles.
When the conference was re-founded in 1981 by the leading personalities of The Democratic Socialists of America (DSA)—a 1983 fusion of DSOC and The New American Movement—it moved to a venue within the City University of New York (CUNY) where it enjoyed the active support of the socialist chancellor of CUNY, Joseph A. Murphy, giving it nearly unlimited space and many advantages. In this period, precisely during the Reagan onslaught, the conference grew to an average of 1,500–2,000 attendees a year, approximately 300 to 400 speakers, and about 50 exhibitors including book publishers, university presses, journals, and organizations. By this point, the conference had up to 200 panels and had largely lost its scholarly character, having taken on the function of being the largest annual gathering of the left in North America. Indeed, Paul Sweezy once pointed out that if it hadn't been for the hegemonic control of the media, this large gathering of the left, supported by CUNY and taking place "in the shadow of Wall Street," would have been a fascinating mainstream newspaper story for the general public.
Practically every major socialist thinker has appeared at the SSC at one time or another, along with many international unionists and political officials. By the year 2000, after Chancellor Murphy's death and with the growing costs imposed by CUNY, the organizers explored the possibility of finding a more stable anchor outside of the CUNY environment, and of making the conference economically self-sufficient. With space no longer unlimited, the SSC moved to Cooper Union and reduced its number of panels to 60–70.
 
The Socialist Scholars Conference Becomes Left Forum
Right after the 2004 Socialist Scholars Conference, the organizers associated most closely with The Democratic Socialists of America split from the newer members of the board. The latter continued to organize the conference but was obliged to change its name. One of the main differences was the perceived fading away of the social-democratic character of the large plenary sessions. However, it should be said that zealous supporters of each side of the split had exaggerated the political differences between each side and the level of felt enmity.
Due to building construction at Cooper Union, Left Forum had to move again before the 2008 conference. The new venue, Pace University, had provided Left Forum a space as nearly as unlimited as that of the pre-2001 venue. The organizers of the Forum were able to make the Forum grow to its largest size ever—with over 3,000 attendees and more than 200 panels.
The opening plenary speaker for the 2010 conference was Rev. Jesse Jackson. The closing plenary featured Noam Chomsky, and it included a tribute to Howard Zinn from Arundhati Roy and Frances Fox Piven, along with a performance of Zinn's play Marx in Soho. The Zinn tribute and Chomsky's appearance drew the expected enormous crowds with people lining up around the block.
Building on the mobilizations of the Occupy movements around the country, Left Forum 2012 brought Occupy activists from as far away as Alaska and Germany. The conference theme of this year, Occupy the System: Confronting Global Capitalism, reflected the sea change in politics in late 2011 brought on by the Occupy movement. The second day of the conference also coincided with the six-month anniversary of the Occupy movement, which gave room to plenty of discussion and action. Film producer and activist Michael Moore contributed to Left Forum that year and a year later (Left Forum 2013) when the conference centered on the twin crises of mobilizing for ecological and economic transformation.
Speaking about the absence of environmental focus in broad left gatherings, board member and plenary host Nancy Holmstrom said, "...the historical progression [of the left] was reflected in the Forum's decision this year to take up ecology as central to its theme—an unprecedented step in the conference's nearly decade-long history." The closing plenary featured Bolivian Vice President Álvaro García Linera, Marxian ecologist John Bellamy Foster, and German anti-systemic theorist Tadzio Müller. 
 
Left Forum Moves to John Jay
In 2014, Left Forum moved again and celebrated its tenth anniversary at a beautiful new conference center at John Jay College of Criminal Justice. The 2014 Left Forum achieved record attendance for the third consecutive year with 4,500 people gathering for three days of discussions, panels, art events, workshops, movement-building dialogues, debates, and direct action. With 1,200 speakers, 400 panels, workshops, and events, the Forum was organized around the theme of Reform and/or Revolution: Imagining a World with Transformative Justice. Speakers included Harry Belafonte, Angela Davis, Cornel West, Immortal Technique, and Kshama Sawant. Inclusive of a left comedy show, a workshop, and a commemoration concert for Pete Seeger, the 2014 Left Forum saw the greatest number and diversity of panels and workshops on the arts in its ten-year history.
The theme for 2015 was No Justice, No Peace: Confronting the Crises of Capitalism and Democracy, a reflection of the police violence taking place in Ferguson and elsewhere, and the nationwide response of activism headed by the Black Lives Matter movement. The conference saw 1,600 participants, and the panels linked social and political movements to the war on terror, to climate justice, and to the environment. One panel was moderated by Phil Donahue, who lost his TV show on MSNBC in 2003 for opposing the Iraq War. The plenary speakers included Glen Ford, Alicia Garza, Rev. Osagyefo Sekou, Medea Benjamin, Immortal Technique, M. Adams, Keeanga-Yamahtta Taylor, and Ashley Franklin.
The 2016 conference's theme was Rage, Rebellion, Revolution: Organizing Our Power, which reflected the hopes and momentum of organizing power from the progressive to the revolutionary spectrum, and also the intellectual and public life of individuals. Popular topics included Bernie Sanders, the 2016 presidential elections, and the way forward. Plenary speakers included Medea Benjamin, Chris Hedges, Kshama Sawant, Jill Stein, Amy Goodman, and Slavoj Žižek.
 
Looking Toward the Future
Left Forum has plans in the works to expand its activities to include a conference on the West Coast, and to gradually build its work to a year-round basis beyond the annual conference(s). Several potential projects include a regular series of smaller events which will focus on current events and topics that are relevant and important to the left, as well as music festivals and other projects to be determined.
*Left Forum is a 501(c)(3)*
Left Forum Inc
P.O. Box 763
New York NY 10272
Web Conversation with Angela Davis - The Struggle for Collective Liberation - Tuesday, July 9
 
In just a few weeks, I'll be speaking with renowned movement leader Angela Davis about the struggle for collective liberation and the mutual interest white folks have in joining the fight for racial justice.
Will you join us? The conversation is Tuesday, July 9th at 8:00 EST.  You can register for the call here and share the event with your community by posting and inviting others on Facebook. We'll be taking questions from folks who join the call - so be sure to register today!
Once you've registered head to our website to check out the June edition of our newsletter. In this month's edition you can find the latest edition of the BOLD podcast on incarceration, an invitation to take action against Christian Zionism in DC next month, and an interview with SURJ organizers working to scale organizing efforts in LA county to build support in majority white neighborhoods for transformative changes to the world's largest jail system.
See you on July 9th!
In solidarity,
Erin Heaney
SURJ National Director
SURJ
10428 Bluegrass Parkway, Suite #544
Louisville, KY 40299
Yes, You Can Still Travel to Cuba! - November 29 - December 11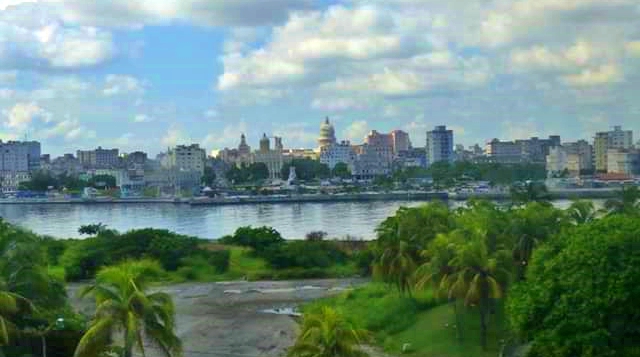 Join us in an exploration of Green Cuba
Cuba has converted much of its land to organic and regenerative agriculture.  It also has developed a significant cooperative sector in its economy, both agricultural and urban.  This sun drenched island is developing alternative energy and efficiency.  This 12 day visit to Cuba will give you an in depth look at all this and more.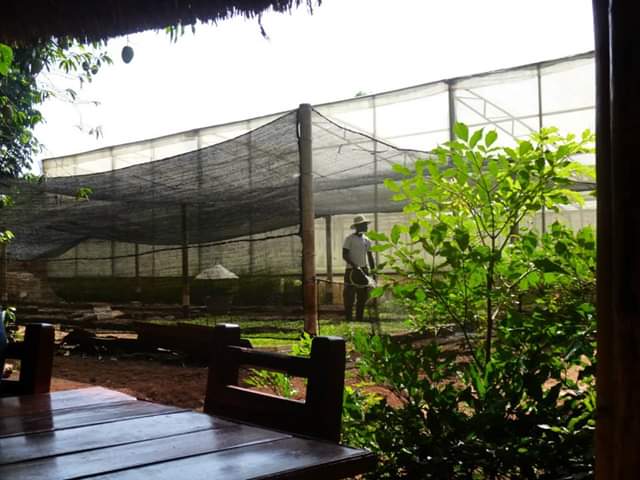 On the front line for climate change impact, Cuba is facing super hurricanes and rising sea levels.  You will learn how the country prepares for these natural disasters.  You will also drink in the natural beauty of the island by visiting an ecological preserve.  
No visit to Cuba would be complete without taking in its vibrant music and community art.  Since its 1959 Revolution, Cuba has been an inspiration to the people of Latin America as it has struggled to maintain its commitment to social justice in the face of the hostility of the US government.  Today it is undertaking reforms, re-envisioning its socialism. 
The Trump Administration has abolished the people-to-people educational license under which most travel from the US was possible.  Nevertheless, we are still able to travel under a general license for educational institutes like the Center for Global Justice.  Thus this trip is fully legal under US regulations.
This unique look at Green Cuba will open your eyes to a fascinating society and its people.  We will be staying at the Martin Luther King Memorial Center, located in the Marianao neighborhood of Havana.  They offer simple but comfortable accommodations and will prepare our meals.  They also provide our bi-lingual guide who will take you to places off the beaten tourist track.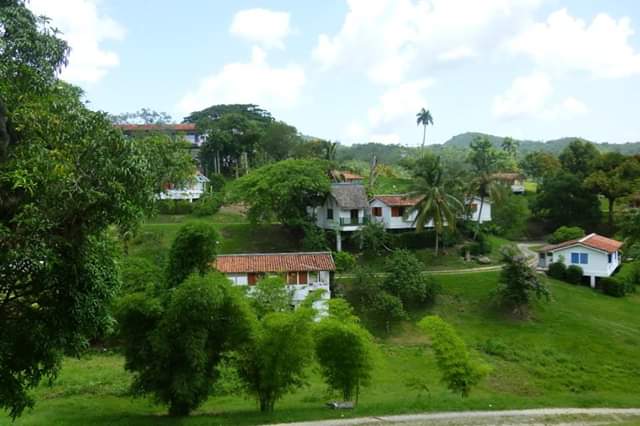 All of this for just $1,462 plus your airfare.  Applications and a $200 deposit are due September 1, 2019.  But don't wait until then since space is limited.  Any questions?  Contact Cliff atcuba@globaljusticecenter.org
The Center for Global Justice is a project of the Radical Philosophy Association.
Calzada de la Luz N° 42, Centro 37700, San Miguel de Allende, GTO. Mexico. Phone: +52 (415) 150 0025
Mailing Address from U.S.: 5802 Bob Bullock Loop C1 #84, Laredo, TX 78041. Phone direct from U.S.: 1 (347) 983 5084