Global Left Midweek - Focus: The Left in the EU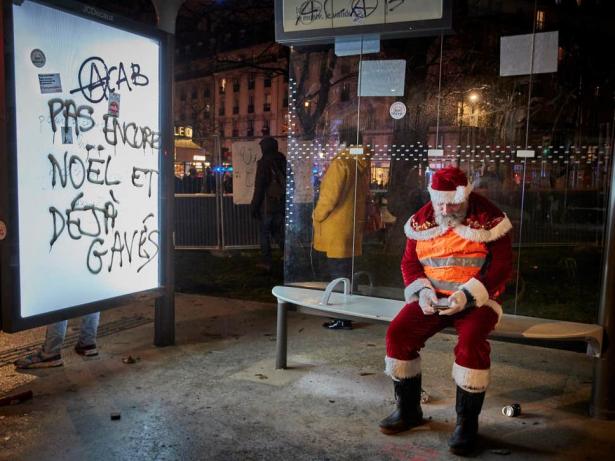 A protester dressed as Santa in a Paris bus shelter with graffiti that reads 'Not yet Christmas and already stuffed' on 17 December,Photo: Getty Images
__________
Party of the European Left Meets 
Party of the European Left (Brussels)
__________
EL: Political Overview

The European Left is now facing a new turning point, the necessity for a political re-launch. We must now work actively and purposefully towards the cooperation of all left-wing and greens forces in Europe, through struggles and common goals.
__________
EU Symposium
transform! europe (Vienna)
This seminar was focused on the results of the European Elections and their impact on the European left. The eDossier contains selected contributions for debate on the prospective European strategy of the left forces.
__________
Portugal: In and Against the EU
Hilary Wainwright / Transnational Institute (Amsterdam)
Portugal's Socialist government, backed by an alliance with the Communist Party and the Left Bloc, have shown that it is possible to implement an effective anti-austerity programme as a member of the EU.
__________
Political Substance for Europe
Mary Kaldor / Social Europe (London)
The point is that we need far-reaching measures to tame globalisation. The measures require substantive democracy at the European level—debate and deliberation, and activism, across Europe. 
__________
Fury In the Streets
India  Sushanta Talukdar / Frontline (Mumbai)
Algeria  Arezki Metref / Le Monde diplomatique (Paris)
Colombia  Kate Paarlberg-Kvam and Priscyll Anctil Avoine / NACLA Report (New York)
__________
American Eyes On Labour's Defeat
The Urgent Need for Grassroots Organizing  Sarah Jaffe / The Progressive (Madison)
What the US Democrats Should and Should Not Learn  Eric Levitz / New York Magazine
Socialist Movement-Building for the New Decade  Nolan MacGregor / New Socialist (London)
__________
Viva la France I: A Mass Strike for Christmas
Anthony Cuthbertson / The Independent (London)
Public support remains strong despite massive travel disruption amid most severe worker action in decades.
__________
Viva la France II: Fighting Islamophobia
Malia Bouattia / Middle East Eye (London)
Taking down Macron's government is far more likely to be achieved if protesters join forces with migrants, people of colour and Muslims.
__________
How Democracy Was Built in Kurdish Syria
Rojava Information Center 
Interviews and case studies give the clearest picture yet of the stated aims of the political project in North and East Syria.