Readers Respond Reflections on the Sanders Campaign so Far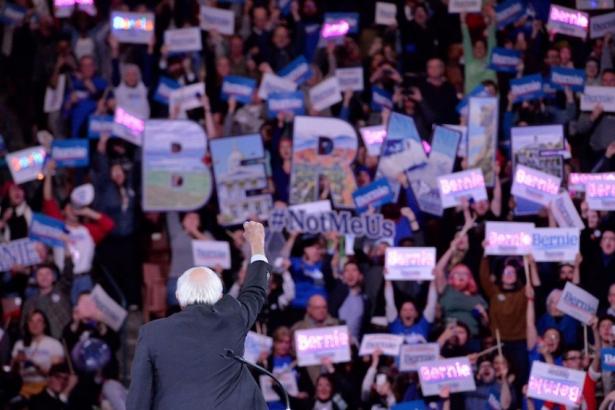 Though Sanders may be out, the political revolution is far from over.,Photo by Joseph Prezioso/AFP via Getty Images // In These Times
Reflections on the Sanders Campaign so Far
An Empire in Disarray: Time for a New Party?
Geoffrey Jacques; Sam Lewis; Carl Davidson; Dolores Dwyer; Lucy Fried; Paul Buhle; Micheal Crockford; Daniel Millstone; Louis Diamond; Damon L. Fordham; Robert Wayne Johnson respond
Reflections on the Sanders Campaign so Far

(original post here.)
This article shows me that we still have a lot of work to do to figure out why Bernie hasn't been able to expand his coalition. Sam Lewis is right about the main paradox, that voters are moving toward supporting transformative reforms, yet did not support Bernie, the main advocate of these reforms, in his bid for president. The question Lewis seeks to answer is why this is the case. It seems we need think this through more thoroughly than Lewis does here.
(The short answer is that this election is not about transformative reforms. It's about removing the incumbent president. But even though Lewis doesn't see this election in those terms, it is nevertheless useful to think through why Bernie has been unable to expand his coalition.) 
What is interesting here are two things: 
[1] The notion that we would have won if the world was different strikes me as idealist; Lewis supports this with the tired anti-Democratic Establishment screed, the point of view that anyone who has been elected to political or trade union office is, by definition, an adversary that needs to be replaced for not having supported Bernie (Lewis's discussion of black voters and those they vote for is particularly galling here); and 
[2] This analysis begs the question of whether there was anything that Bernie did wrong that might have contributed to this state of affairs. Political analysis that proceeds from the standpoint of hagiography has extremely limited usefulness.
Geoffrey Jacques
Posted on Portside's Facebook page
     =====
I do think an analysis of the tactical mistakes of Bernie's campaign is necessary, which is why I said so in the first sentence. At a minimum his campaign never really understood the full possibilities behind volunteer led, grassroots field organization. So far in my lifetime only Obama's campaign has really understood that. I think a full accounting will have come once the campaign is over and more of his staff speak.
I'm not sure why you think I disagree that "The short answer is that this election is not about transformative reforms. It's about removing the incumbent president." That is more or less the exact analysis in the quoted portion. But given that Biden is an extraordinarily weak candidate it requires more explanation ... why did voters cohere behind a candidate with worse polling, worse fundraising, lower enthusiasm, less support from independents, an a set of positions indistinguishable from the catastrophic 2016 clinton campaign would win?
Sam Lewis
Posted on Portside's Facebook page
     =====
I disagree with the premise that the Democratic Party base is increasingly committed to structural reforms -- or, should I say, those so committed are growing but still do not constitute a majority of the Democratic Party base. Hence, the results of the recent primaries. Would it be so awful if a large centrist majority were to defeat Trump? And perhaps more important, capture the Senate? If the left joined in to create a united front, it could pave the way toward moving those centrists further to the left after the election.
Dolores Dwyer
Posted on Portside's Facebook page
     =====
During the California primary, I believe the imperative to defeat Trump motivated just about all Democratic Party voters. Bernie voters (mostly youth) believed that Bernie's platform best met people's needs and therefore would or should win a majority of voters. And Bernie did narrowly take California. 
But so many older voters went for Biden. So many people I know, whether they are low or moderate income , blue collar or professional, black or white, Asian or Latino, didn't believe Bernie could win in a national election against Trump and voted against their own interests.The Democratic Party pushed that idea from the beginning, but why did so many people buy it.???
Why do so many people feel so weak, and what needs to be built to change that? Of course Bernie Sanders isn't perfect, but I don't know how useful dissecting his imperfections would be to understanding why he did not win primaries in most of the states. The campaign, though, would be good to analyze. To me it makes the most sense to explore why so many people so lack confidence in our ability to unite and win, and what is needed and possible to begin overcoming that problem in different sectors of the population. The next time a progressive arises, what needs to be in place so that the DNC is not only "leader "out there for so many good people?
Lucy Fried
Posted on Portside's Facebook page
     =====
Sam Lewis is shrewd and I admire his analysis. The problem remains: Biden is perceived as a very weak candidate. We cannot overcome through through our will and I do not...have an answer....except a compromise candidate?
Paul Buhle
Posted on Portside's Facebook page
     =====
in other words, stay in the race.
Micheal Crockford
Posted on Portside's Facebook page
     =====
I'm for Bernie even though it should be clear to even the most committed of us that he won't win the nomination.
Sam Lewis https://www.facebook.com/samuel.lewis has the beginning of a discussion of the limits of the campaign, the task ahead - beating trump - and socialist strategy for the future. Thanks to Portside https://portside.org/2020-04-04/reflections-sanders-campaign-so-far for sending this along.
Daniel Millstone
Posted on Portside's Facebook pager
     =====
Too many states did not vote for Bernie.
Louis Diamond
Posted on Portside's Facebook page
     =====
But most working class people are not "progressives" to begin with. This is based on a faulty premise.
Damon L. Fordham
Posted on Portside's Facebook page
     =====
Sam Lewis You are right that I overlooked your statement about the primacy of defeating Trump; my apologies. You are also right that the president's reelection will likely isolate, rather than empower the Bernie-associated part of the left insurgency in the Democratic Party. 
I'm not sure whether we'd disagree about this, but my view is that however much we might think about Bernie's tactical mistakes, at least some of those mistakes must be laid to his strategic, rather than to his tactical approach. It wasn't tactical errors that are responsible for his club footedness in South Carolina. It was the politics that informed and drove those tactics. His comments to Rachel Maddow about James Clyburn were symptomatic, just as his infamous comments on The View a year ago about reparations were symptomatic of a certain kind of socialist politics that have always rubbed black progressives the wrong way. 
You may be right that part of Bernie's problem involved something about the unrealized potential of volunteer field operations. However, in California, he had a robust enough volunteer operation (including my own volunteer efforts on his behalf), but had it been a two-person race, Bernie would likely have lost the state by at least 10 points, maybe more. 
Your assessment that Biden is a weak candidate just doesn't conform to the facts. He did not poll worse than Sanders; indeed, it was just the opposite. He has consistently polled ahead of Bernie almost everywhere throughout this primary season. Exit polling tells us Biden was strong among independents in states like Michigan, Massachusetts, and South Carolina. It will not do to repeat the underestimation of Biden that seems to cloud the minds of far too many people that simply don't like him. 
As for any negative assessment of his policy positions, let us remember two things. Clinton's loss was not catastrophic, at least if we're talking about voting tallies. She lost a close election. Nobody should call that "catastrophic." The second thing to remember was that many the positions Biden champions helped Democrats win the House a year and a half ago.
Geoffrey Jacques
Posted on Portside's Facebook page
Re: An Empire in Disarray: Time for a New Party?
(original post here.)
Note to Howie, et al. We're already building a new party under your nose and in plain sight. It's the left pole under the Dem tent. In addition to Team Bernie, it includes much of the Congression Progressive Caucus, Our Revolution, WFP, PDA. DSA. CCDS, Liberation Road, the pro-Bernie people in the CPUSA and more. We need more unity and greater strength and to grow. The onus for any split or purge will be on our adversaries, but the end result will be a new First Party, not a third party, as happened with the fall of the Whigs. The hard part tactically is to avoid helping the right in the process. But join in. It's never too crowded on the front lines of this project. History doesn't always move the way you imagine. It zigs and zags, and this is a case in point.
Carl Davidson
Posted on Portside's Facebook page
     =====
The system is fixed against 3rd parties- winner take all elections.
Robert Wayne Johnson
Posted on Portside's Facebook page
     =====
Agreed. That why I like the 'Whig option' tactic, the only one in our history to bring a new party to power, and with a revolutionary wing
Carl Davidson
Posted on Portside's Facebook page