They Say a Picture Is Worth a Thousand Words. Sometimes, It Screams Only One: Torture.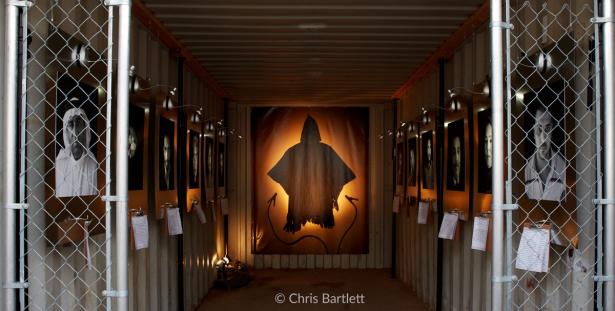 Art installation at NYC's Photoville, September 2014,Chris Bartlett
Please note that some of the links below lead to photographs and other content that contain images and descriptions of torture and other abuse.
Sixteen years ago today, CBS 60 Minutes II broke the news about the serious abuse by U.S. personnel at Abu Ghraib prison in Iraq. Dan Rather hosted an investigative report that revealed photos showing in vivid detail the horrific torture and abuse of Iraqi detainees in U.S. custody at the prison's "hard site." Human pyramids, prisoners on leashes and being threatened by dogs, widespread forced nudity, sexual humiliation and sexual assault, and the iconic image of a man, hooded, standing on a small box with his hands to his side, electrical shocks on his fingers.U.S. military personnel pose alongside the degrading scenes of their own creation, celebratory, smiling, thumbs up. Across the country and around the world, people demanded accountability. Sixteen years later, we are still waiting.
I was a college sophomore in 2004. I wish I could say that I remember hearing the news as it unfolded, but I can't pinpoint when I first did. Now, having worked at the Center for Constitutional Rights for nearly a decade, where my colleagues and I represent and advocate for survivors of U.S. torture at Abu Ghraib and elsewhere, it's hard to imagine a time when these images, along with stories of the government's widespread cruel treatment and dehumanization of Muslim prisoners it holds captive, were not imprinted in my mind. 
Sixteen years later, the photos continue to serve as a dark reminder of an unfinished chapter of American history, while memories of what happened during those dark days continue to haunt those who survived them. "It never really left me," says Center for Constitutional Rights client Salah al-Ejaili. "I have nightmares where I'm falling into a hole, where I have a bag over my head." Salah, an Al Jazeera cameraman at the time, was imprisoned at the Abu Ghraib "hard site" for approximately six weeks in the fall of 2003 and was subjected to relentless mental and physical torture and other serious mistreatment, before being released without charge. Perhaps even more devastating than what happened to him and others, is what little has been done to account for it--and how public outrage has given way to complacency. 

In 2004, the Bush administration was quick to blame the horrors depicted in the photographs on a "few bad apples," but subsequent government investigations, including by the military, painted a very different picture: there was more in the system that was rotten. 
In the weeks after the story broke, a report by Major General Antonio M. Taguba was made public. The Taguba Report showed that between October and December of 2003 there were numerous instances of "sadistic, blatant, and wanton criminal abuses" at Abu Ghraib, and that soldiers and private defense contractors CACI, Inc. and Titan Corporation (later L-3 Services and now Engility Corporation) were responsible for them. Other reports released in the following months and years, such as the Fay-Jones investigation (2004) and a Senate Armed Services Committee report (2008), also shined a light on the widespread and illegal abuse that took place in Abu Ghraib, as well as Guantánamo and other U.S.-run detention centers. The low-level military personnel in the photographs from Abu Ghraib were eventually court-martialed, but to date no high-level officials or private contractors have been held accountable for the torture and abuse took place there.
Salah continues to try to change that. In 2008, he and other Abu Ghraib torture survivors filed a federal lawsuit against CACI for its role in directing and participating in a conspiracy of torture and serious abuse of individuals detained at Abu Ghraib, where the company was hired by the U.S. government to provide interrogation services. The case, Al Shimari v. CACI, is one of several cases that the Center for Constitutional Rights has worked on since 2004, on behalf of hundreds of Iraqis, against private military contractors for the war crimes and torture that took place in Abu Ghraib and other prisons in Iraq. The case has had a long and winding history in federal court, and, last year, just as our clients were finally to have their day in court before an American jury, the trial was suspended, as CACI put forward a last-minute appeal. 
What happens next in the case depends on the Supreme Court: CACI has asked the highest Court to review its claim of "derivative sovereign immunity"--according to which the for-profit corporation argues it can and should be cloaked in immunity it says is available to the government for grave crimes--and we are now waiting to see whether the U.S. government will support the plaintiffs and recommend that the case be sent back for trial. But for Salah and our other clients, this lawsuit is only one part of their journey towards justice. They want to be able to tell their story - to be seen and to be heard. And we will continue to support them in doing that, and to ensure that the story of Abu Ghraib won't be defined by what is in those photographs, but instead what was done about it. 
Last month, Salah shared his story on Last Chance at Justice on The United States of Anxiety podcast. Please listen and share! And learn more about photographer Chris Bartlett's Detainee Project, a series of portraits of Iraqi torture survivors.  
Read more
Aliya Hana Hussain is an Advocacy Program Manager at the Center for Constitutional Rights, where she manages CCR's advocacy and campaigns on indefinite detention at Guantanamo, the profiling and targeting of Muslim, Arab, and South Asian communities, and accountability for torture and other war crimes. Aliya travels to Guantanamo regularly to meet with CCR's clients.